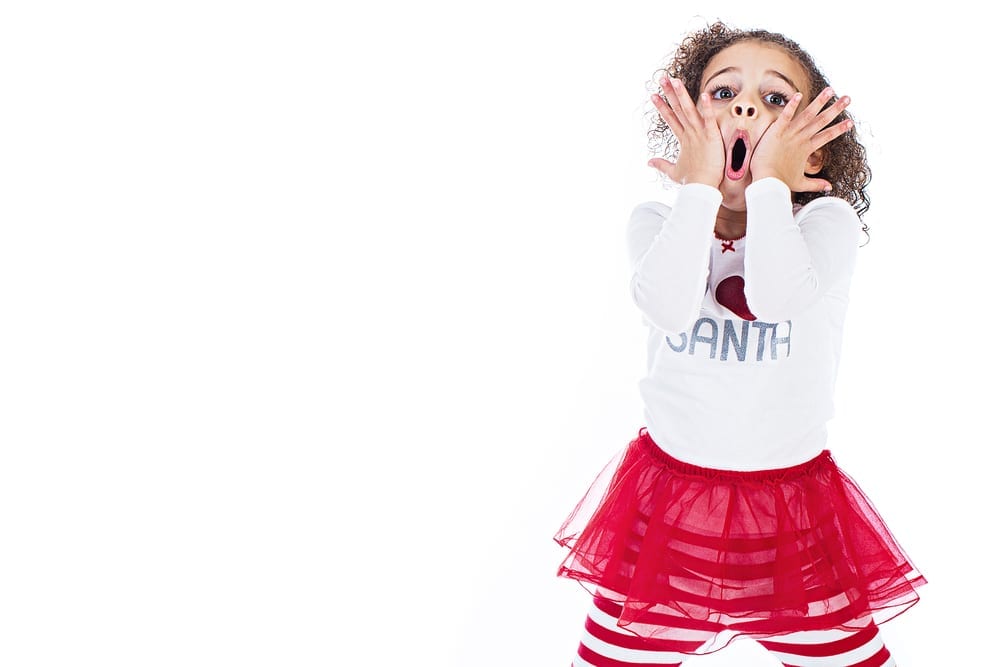 Planning a children's Christmas party is no small feat! A band of kids running around the house, dizzy with festive excitement can get more than a little messy.
Keep them entertained with non-stop fun and games. Try these hilarious kids activities and to make yours a party to remember. Merry Christmas!
1
1
Snowball and spoon race
This is a fun frenzied game to make everyone giggle.
Split into teams and give each team a basket full of snowballs (aka cotton wool balls). They also get a teaspoon.
When you say 'GO' one team member has to scoop up a 'snowball' from the basket with their spoon.
They then have to carry it on the spoon, to the other end of the room and back again. 
When they get back, the next player has to do the same.
The first team to get all their snowballs back across the room wins a prize! 
2
2
Unwrap the sprout
Sprouts have long been the most hated part of the Christmas dinner. But this game lets them shine in full focus. It's a festive twist on pass the parcel.
Buy a cool bouncy ball (or football) or another round toy. This will be the prize. Wrap it in layers and layers of green crepe paper ribbon or tissue paper.
Ask all your party guests to sit in a circle. Play the music and pass round the sprout.
When the music stops a player has to unravel the crepe paper until the music starts again.
Who will unveil the last layer and win the prize?
3
3
Human Christmas tree game
Silly, joyful fun that kids will love.
Divide party guests into teams. Give each one Christmassy decorations. These could be a length of green crepe paper, green tissue paper, ribbons, or sparkly bows. Then give them a big shiny star sticker for the tree topper.
When you say GO teams must wrap one member in the green crepe paper. This turns them into their 'human Christmas tree'.
They then stick on bows and decorations. And finish it off with a star on top of their head. When the time is up they can stand back and admire their 'Christmas trees.' 
4
4
Break the ice excavation race
Who can melt the ice to win the prize?
Another awesome Christmas party game that all the kids can chip in with.
The night before your party place little toys in a few small Tupperware boxes. Fill them with water and pop them in the freezer.
When your guests are ready to play the game, remove the boxes from the freezer and push out the ice cubes onto a tray.
Pop a bowl of warm water in the middle of the circle and give each guest a teaspoon.
The children take it in turns to pour some water over an ice cube to start to melt it. They can chip away at it with a teaspoon too!
Who will be the first one to dig out the prize?
5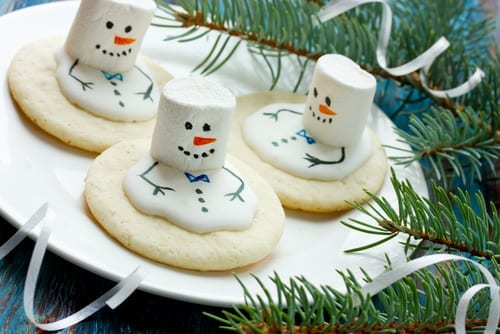 5
Melting snowman cookie making
Who doesn't love a sweet Christmassy treat?
These melting snowman cookies are super cute and kids can have loads of fun making them.
Give each party guest:
a biscuit (it could be a Digestive or plain vanilla biscuit)

a bowl of white icing

a marshmallow

some icing pens
Spoon the icing over each biscuit. Then let them have fun making and decorating their cookies with marshmallows and goodies.
You may want to help them draw on little faces at the end to complete their melting Snowman biscuits.
Kids can either enjoy them there and then as a party snack.
Or you could pop them in their going home bags as a special treat for later on.
6
6
Do you wanna build an (indoor) snowman?
Make epic indoor snow in just 5 minutes by mixing a few household ingredients together.
You can find the full recipe for snow dough here.
Then let the kids build little indoor snowmen with it. Give them twigs, cloves, raisins or pom poms, to make his arms, eyes, mouth and buttons.
You could even take some strands of wool and plait them to make mini snowman scarves.
The kids can line up all their snowmen at the end to admire their work! 
7
7
Pin the carrot nose on the snowman
This is a festive twist to a classic game.
Draw a snowman on a large sheet of card or paper.
Draw on every detail except the carrot nose.
Take some orange card. Draw and cut out a carrot nose from it. Pop a blob of blue tac on the back of your carrot.
To play the game, each child takes it in turns to be blindfolded. They're spun around and sent towards the snowman outline, holding the carrot.
See how close they can get to sticking the nose onto the snowman in the right place!
8
8
Christmas DIY Pictionary
Everyone loves Pictionary!
It's super easy to create your own homemade Christmas themed edition. It can be a fun and fast paced team game.
Start by writing down some Christmas words, songs and films. They might include things like Rudolph, North Pole, Frosty the Snowman, Santa Claus or Nativity. It helps to write each one on a small piece of card.
Divide your guests into teams. Give each some paper and pens.
When the game begins, start a timer. One player from each team must rush to you to find out their festive word.
They then have to run back to their team and draw pictures on their paper giving clues about their chosen word. Their team must guess the festive word or song.
When one of their team guesses correctly they must run to you to get the next word.
They continue until their timer runs out. Then the other team has a turn.
Which team will draw and guess all the Christmas words the quickest?
9
9
Fill Santa's stocking
Pin up some large Christmas stockings at one end of the room.
At the other end, place a bowl of marshmallows. Split your guests into teams and give each team some spoons.
When you say 'GO' teams must race to carry marshmallows across the room on a spoon and place them in the stocking.
Then they have to go back and get the next load. The team that fills their stocking first wins a tasty prize!
10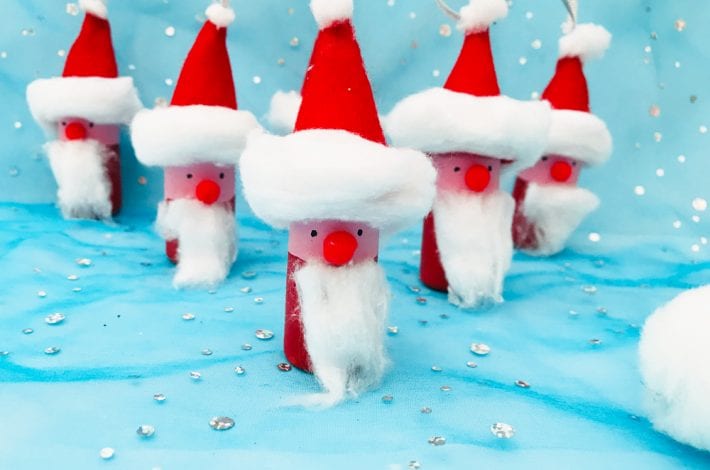 10
Santa bowling game
You could either line up some store-bought Santa figurines, or you could make your own.
For DIY Santas you can find our craft for cork Santas here.
After they're set up in a line on a table, scrunch up some white tissue paper into a ball.
Can the kids bowl down all the little Santa's using the ball? Let them take turns to try and see how many they knock over.
The Santa figurines can be given out as party gifts too at the end of the Christmas fun.
11
11
Guess the Christmas hit
This is a great game for older children. How quickly can you recognise a Christmas hit record?
Divide your guests into teams and arm each one with a paper and pen.
Play the intro to some classic Christmas pop songs and carols.
Each team has to 'buzz in' (by shouting a chosen Christmas word) and guess the song.
Which team will win by correctly identifying the most festive tunes?
12
12
Santa says…
This is a Christmas twist on the classic game of 'Simon Says'. It can lead to raucous fun at Christmas parties!
Gather your little guests into a circle. Shout out some instructions for random actions one after the other.
If you say 'Santa says…'  before the instruction, then they have to do the action.
If you don't say 'Santa says', and they do the action anyway, then they are out of the game.
13
13
Make a magical DIY snow jar
Everyone loves a snow scene. Make one in a jar and it can be turned upside down until the snowflakes fall over it.   
Making your own snow scene could be easier than you think. It's also a great Christmas activity for kids to enjoy together.
You can find full instructions to our Magical Snow Scene Jars here.
Children can choose from a selection of figurines, which to put in their jars. Then they can have loads of fun adding in the 'snow' and turning it around.
And at the end, they could take them home with them to decorate their own houses.
14
14
What's in Santa's stocking?
Who doesn't remember the excitement of stretching a hand inside a newly filled stocking on Christmas morning? And trying to guess what the presents were by feeling around for them.
Bring back the feeling of suspense with this Christmas party guessing game.
Gather some brightly coloured (maybe festive themed) socks and pop an item into each one.
Choose items of different shapes and textures. They should be interesting to feel and a little tricky to guess – such as a pine cone, cotton wool balls, jelly cubes, a nail brush or broccoli.
Each guest has to feel inside the stocking, without looking and guess what's inside.
They score a point for each item they guess correctly.
15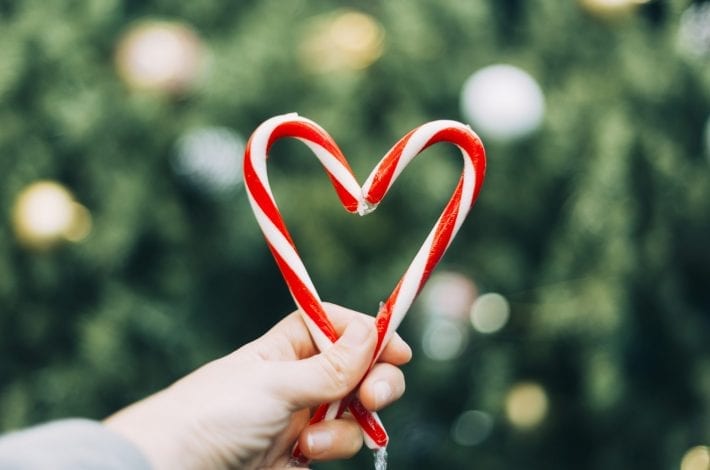 15
Candy cane scavenger hunt
A Christmas party is not complete without some sweet treats.
Buy a load of little sweetie candy canes. Hang and hide them all over the house and garden.
When you say 'GO' all guests must rush around to find as many candy canes as they can.
Then they can spend hours enjoying their sticky sweeties.
16
16
Make a snowman tea light
Turn the ordinary tea light into a happy snowman.
Give each guest a battery operated tea light, a black Sharpie and some felt and festive ribbons. They can get busy creating their very own little light up snowman tree decorations.
After making them, they might enjoy heading outside into the garden to see their little snowman illuminate the winter night.
You can the step by step instructions for Light up snowmen here. 
17
17
Jingle bell jam
Jingle all the way with this fun and festive party game.
Take a few small boxes.
In each box, place a certain number of jingle bells. It can be one, two, five or a whole load of them in each box.
Wrap each box in festive gift wrap and hand them to the children. Party guests must shake each parcel. 
Then they have to guess how many jingle bells are in each box. They can put the gifts in order from the one with the least jingle bells to the most.
They have to unwrap each gift to find out if they were right. The guest that gets it right, wins a festive prize!
18
18
Blind Christmas drawing game
How well can you draw a snowman?
It's not that easy if you are blindfolded and the results can be hilarious.
Write the names of some Christmassy objects or people on small pieces of card.
Divide your party guests into teams. On each turn one player must pick a card. Then the other team draws a card. 
Both players must pop on a blindfold. Then they try to draw the object or person on the card without being able to see.
Their team must guess what they're drawing. The first team to guess correctly scores a point.
19
19
Christmas tune humming game
The best way to spread Christmas cheer is singing loud for all to hear.
Prepare some cards in advance by cutting them into small rectangles. On each one, write down some well known Christmas carols and pop songs on the back of rectangles of card.
Divide guests into teams and find a sand timer.
When it's their go each team picks one player who picks a card. They then have to hum the festive tune written on the card, well enough for their team members to guess.
They can only pass once on each turn. They must hum as many tunes as possible before the time runs out.
They score one point for each song guessed correctly. Then it's the other teams turn. Which team will score the most points?
20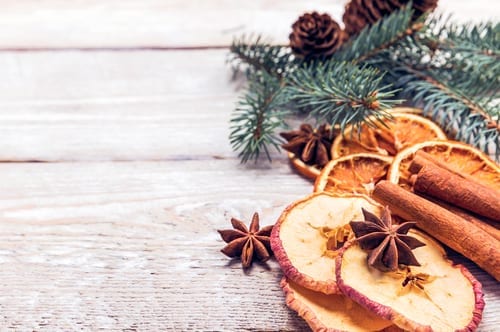 20
Guess the Christmas scent
There are certain scents that instantly remind you of Christmas.
Think cinnamon, pine leaves, mince pies, peppermint and marzipan.
To play the game, pop certain festive items that have distinctive scents into jars.
For older children you could try some spices like anise, clove, nutmeg and cardamom.
Blindfold your party guests and let them inhale the scents. How many can they guess correctly?
With all these fab and fun games up your sleeve, you can enjoy the magical festive fun together! Merry Christmas.
If you try any of these activities at home, let us know how they go over in our members' chat group All Things Christmas.