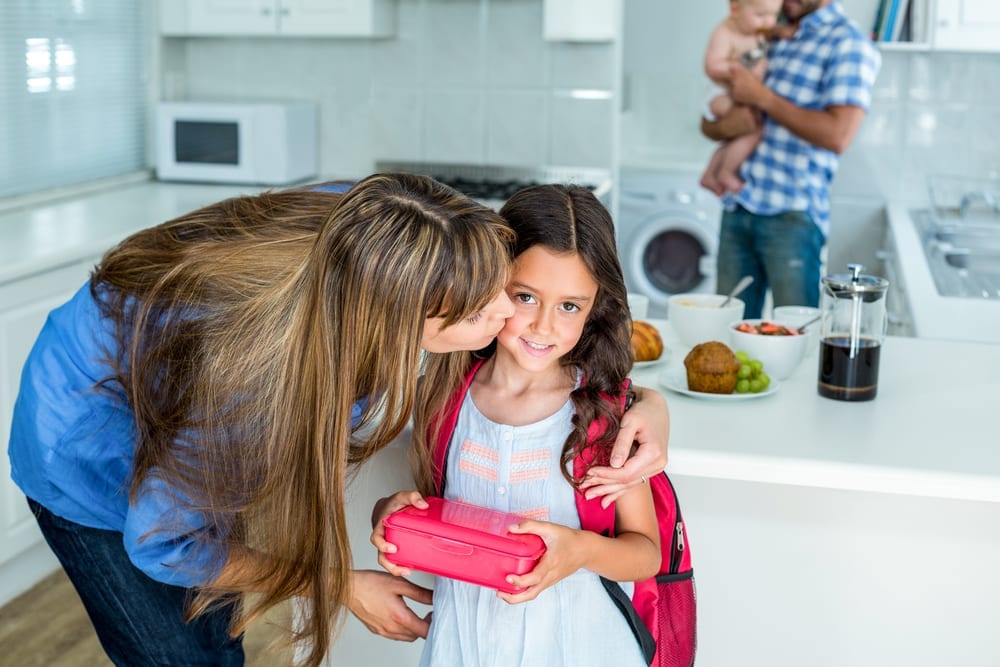 This article contains referral links through which we earn a commission at no extra cost to our readers. Some links will also offer our readers special discounts. Learn more
Making a packed lunch every morning for your child can feel like a bit of a chore. 
We all know what a mission it is to get everyone out of the house on time for the school bell. 
Making a lunch to-go, is one more job to squeeze into an already rushed school morning. It can also become all too easy to get stuck on a conveyor belt of making the same old meals, day in, day out. 
Read on for 25 awesome lunch box hacks to save you time and stress on school mornings. 
1
1
Smart dinner planning can save you a meal prep
Family dinners are a time when you're likely to be in the kitchen making a home-cooked meal for your family.
Use it to streamline your packed lunch process in one of these two ways:
1. Make extra dinner and pack leftovers for lunch
On some (or all) weeknights you could choose your dinners carefully. Serve dishes that keep well until the next day. All you need to do is make a little extra of them each evening and pop a portion in the fridge for your child's packed lunch the next day. 
Some ideas for meals that work as dinners and keep overnight for packed lunches are:  
As well as being a tasty home-cooked meal for your little one, this also saves your having to prepare a separate additional meal every day for school lunches.
2. Reinvent dinner leftovers into a new dish
Another way to use the time you have spent cooking the night before is to take the main dish, and serve it in a completely different way for the packed lunch.
For example, for dinner you could serve falafels with hummus, couscous and tabbouleh salad. By making extra falafels and popping them in the fridge, you can reinvent them the following morning. Break them up into a tortilla with a fork and add some yoghurt and salad leaves for a Middle Eastern wrap. This way your child gets two very different meals using the same main ingredients.
Another example is if you serve roast chicken with say roast potatoes and vegetables for dinner. You could keep half a chicken fillet aside and make it into a yummy chicken and avocado wrap for your child's packed lunch the next day.
These are just some examples of ways you can make a whole new meal, with little extra work.
2
2
Use dinner clearing-up time too
You're busy clearing up after dinner anyway, so why not take advantage of this time and prep as much of the packed lunches as you can at the same time? 
You can do this either while you're waiting for things to cook or while you're clearing up the kitchen after dinner. 
Set out your child's packed lunch boxes on the kitchen counter and pop in any snacks and desserts that don't need to be refrigerated. That way the lunch bags are laid out and ready to be filled in the morning. 
Make up sandwiches or wraps or portion off leftovers and pop these in the fridge. Add in any juice boxes or water bottles so that it's all ready to grab and pack the next morning. 
3
3
Make a lunch plan for the week
Each weekend take a few minutes to jot down a lunch plan for the following week with the packed lunches for each day. You could just put down the main meal and add in the extras in on the fly, or you could chart out each part of the meal including fruit, snacks, desserts and drink. 
Don't worry about repeating foods if they're your kids favourite. They definitely won't mind and it takes the pressure off you to have to come up with and try new recipes all the time! 
Planning lunches ahead will remind you of what you need to pick up at the shops each day or each week. It can help keep you on track and organised for the week ahead with no last minute scrambles.
4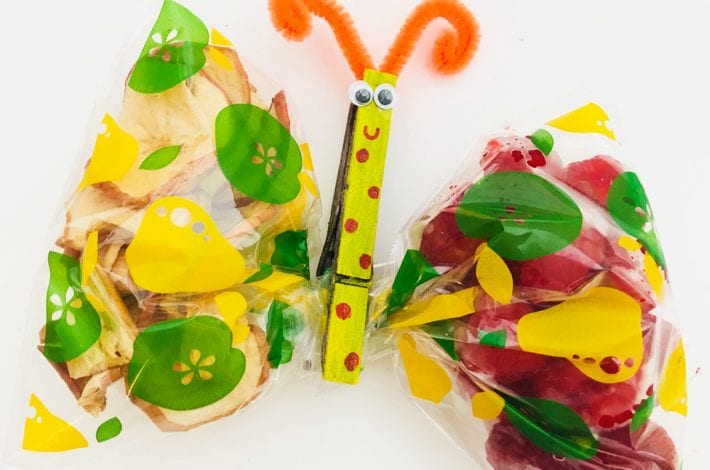 4
Encourage healthy snacking with sandwich bag butterflies
Grab 2 small, clear sandwich bags and fill them with healthy snacks. Some ideas are cut up fruit and veg, rice cakes or wholewheat crackers. 
Secure them with a peg in the middle. Colour the peg with coloured Sharpie pens and decorate with stickers. You can even glue on googly eyes and pipe cleaner feelers to make it into a pretty butterfly!
It's a quick and easy way to make those healthy lunch box snacks look more appealing and inviting to little ones.
5
5
Always have sliced bread in the freezer
We've all been caught out on school mornings by finding that there's no fresh bread left for packed lunch sandwiches. 
To avoid an early morning panic, always keep a ready supply of sliced bread and wraps in the freezer. 
You can take them out in the morning and quickly defrost them in the toaster, ready to make up into sandwiches.
6
6
Keep food cool with frozen water bottle ice packs
There's nothing worse than wilting sandwiches washed down with tepid water. To keep everything chilled in your child's lunchbox, you can use their water bottle as an ice pack. 
Fill it three quarters full and pop it in the freezer overnight. In the morning fill it to the top with water. 
Place your frozen water bottle in your child's lunch box and it will chill the other foods. When it comes to lunchtime the water will have defrosted and it will also be a refreshing drink.
7
7
Make these DIY sponge ice packs
You can also make your own ice packs by popping flat sponges soaked with water into zip-loc bags. 
Soak the sponge, place in a reclosable sandwich bag and pop it in the freezer. By morning it will be frozen and you'll have an ice pack ready to add to your child's lunch box to keep everything cool.
8
8
Elastic band apples
How often have you packed an apple in your child's lunchbox, only for it to come back home completely uneaten? 
There's a much better chance of it being munched if it's cut into slices. But how do you stop the apple slices from going brown before lunch? 
It's easy. Simply take an apple and cut it into slices in such a way that it can then be re-assembled again. 
First cut the sides of the apple off. You should have 4 pieces and a square core. 
Then cut those sides into halves or thirds. Reassemble the apple so that it looks whole again, and pop an elastic band around the middle to hold all the slices in place. 
By keeping the apple slices together you are preventing a lot of the air from getting in and causing the pieces to start browning. 
Your child will have freshly cut apple slices on demand!
9
9
Let kids run the snack station 
Set up a snack station in your kitchen and get the kids to pack their own lunch boxes each morning. 
You might choose to make the sandwiches or get the main part of the meal ready but then your child can pick their fruit, snacks, pudding and a drink from the selection you have set out. 
If it's easier you can keep some baskets on the kitchen counter with fruit and small bars or snack packets for them to choose from. You then just have to refresh them whenever supplies are running low. 
Setting up a snack station also gives your child ownership over their packed lunches and means they're more likely to eat everything they have chosen. And it saves you precious time on busy school mornings.
10
10
A week of snack bags to go
Another way to speed up the snack portion of the lunch box is to give your child 5 zip-loc bags each weekend. Ask them to fill them with a selection of snacks. 
You might include a choice of rice cakes, pretzels, crackers, whole fruit or veg sticks and other yummy goodies. 
Place their filled snack bags in baskets on the kitchen counter or on a shelf in the fridge, ready for your child to grab and add to their lunchbox each morning.
11
11
Get a food thermos for warm meals
Do you pack meals like pasta or meatballs and are finding that your child isn't eating much of their packed lunch?  
If so it might be that they prefer their food warm. For meals like chicken nuggets, risottos or soups, consider buying a Thermos food jar to keep their food warm until lunch time. 
There are a number of insulated food containers on the market. One range that we've tried and liked is this one which is actually an insulated lunch bag as opposed to a thermal food container.
Thermos Radiance zip round lunch kit.
You can then heat foods until they are very hot in the morning, and pack them into your insulated containers or bags so that they're warm for lunch. 
12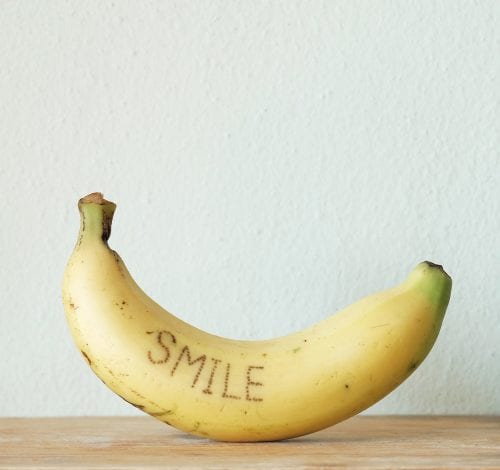 12
Cute banana messages
This might be less of a hack and more of a way to make your child smile at lunchtime, but we still love it! 
It's a quick and easy way to leave your child a little message in their lunch box. 
Take a cocktail stick and punch lots of little holes into the banana skin to spell out a word or create a little heart or smiley face. 
Let them see it as a little surprise when they open their lunch box.
13
13
Always have a back-up meal ready in the freezer
As much as we can plan, there will be days when things happen and you're suddenly in a mad rush with no packed lunch at the ready. 
Have one meal in the freezer in a little container, ready to go if you need it.
You'll thank yourself later!
14
14
Frozen fruit hack
Pop frozen fruits in bun case liners. Place them the freezer and get them out in the morning to pack into their lunch boxes.
By lunchtime the fruits will have defrosted and your child should have perfectly chilled fruits to eat.
15
15
Skewer munchies
Some kids are just not that keen on sandwiches. Or they get bored or eating them day after day. 
A great alternative is to make up yummy skewers. 
Either make hot chicken or salmon kebabs or thread cold meats, cheese, veg or salads on a wooden skewer. These lunch kebabs look pretty and are a great finger food to take the place of a sandwich as the main part of your child's lunch.
16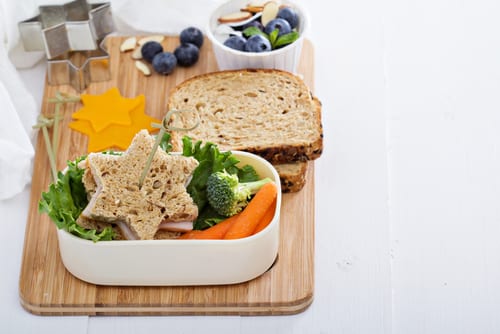 16
Jazz up lunch time foods with cookie cutters
You can use cookie cutters to turn sandwiches into stars, hearts or other fun shapes. 
You can also cut out shapes of fruit, veg, cheese slices, cake or even cookies to give packed lunches that bit of magic! 
17
17
Batch cook and freeze homemade snack bars
Make a big batch or flapjacks, cookies or muffins at the weekend. Some of ours are our Wholewheat blueberry muffins or Apple zucchini muffins. 
Pop each one in an individual container in the freezer, or wrap them up ready to go.
Freeze and keep on hand as a steady supply of snacks to add to lunch boxes.
18
18
Dips are king
Most little ones will ignore veg and healthy food given half the chance. If you add a dip though, it can be a game-changer. They're much more likely to dive in and gobble them up. 
Make a bento box with veg crudites and little strips of pitta or toast. Serve with a yummy dip, such as hummus, cream cheese or sour cream and chives and see how much more they get through!
19
19
Frozen mandarin lunch box hack
Peel and segment a mandarin. Bundle the segments together to make half a mandarin, wrap with clingfilm and pop in the freezer the night before.
You can take it out and put it in their lunch box the next morning. By lunchtime the segments will have thawed but may still have a little icy crunch inside that kids can enjoy.  
20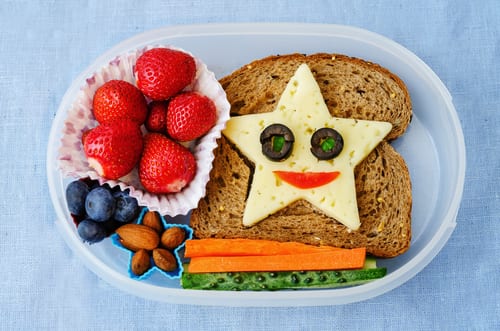 20
Use silicone bun cases to make your own Bento box
Kids love to have their food compartmentalised as they would in a Bento box. But it can be easier and cheaper to just make your own.  
Use silicone (or paper) bun cases to separate different foods. That way you'll have your own exciting mix and match Bento. 
You could pop crackers in one bun case, cut up grapes in another, slices of cheese in one more and olives in the next. 
This instant Bento box layout for packed lunches also makes it easy for kids to dip in and out of different food groups, hopefully trying a bit of everything. 
21
21
Breakfast as lunch
Some kids shirk the traditional lunch but might happily munch up breakfast foods. These can make fab lunch foods too. 
Pack pancakes, boiled eggs and waffles as dinner time goodies. 
22
22
Mini omelettes in a muffin tray
Cook up a batch of mini omelettes in the morning and keep some back for packed lunches. You can add almost anything to omelettes to make a yummy lunch time meal.
Try this scrumptious recipe for Egg muffins with feta cheese, spinach and peppers for a great egg muffin meal.
23
23
Bake and freeze banana bread slices
Whip up a batch of banana bread, slice it into individual portions, wrap and freeze them. You'll have pre-portioned slices of banana bread ready to grab, thaw and pop into lunch boxes.  
It's makes for a healthy and filling packed lunch treat. 
One banana bread recipe is our One bowl dairy free banana bread. We've topped ours with pecan nuts which you may want to leave out if you're sending slices into school (for those children that suffer from food allergies) but it's still just as tasty without! 
24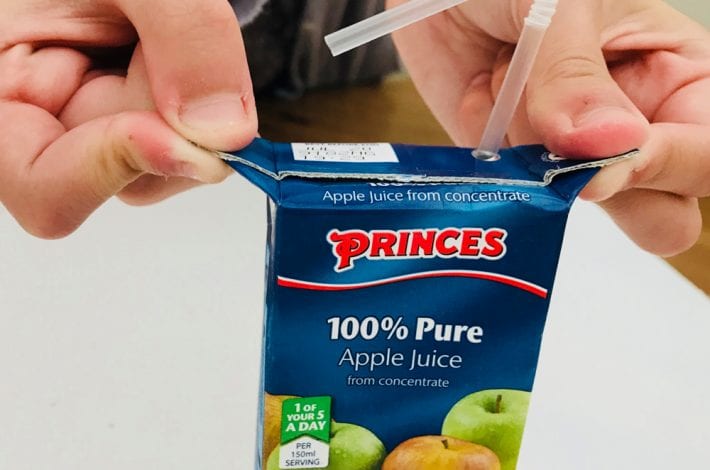 24
The non-spill juice box hack
When little kids grab a juice box and start to drink it, they often squeeze the bottom of the carton too hard, making the juice squirt out of the straw and spill all over the table. 
A clever way to stop this happening is to always lift up the two flaps at the top of the juice carton out and show your child how to hold them as they drink.
25
25
Glue a family photo to the inside of your kid's lunchbox
A really cute idea is to stick a family photo to the inside of your child's lunchbox so when they open it up to eat, they see a friendly face.
It can help little ones to calm any nerves and ease the adjustment to going back to school. A family pic is bound to bring a smile to their face at lunch time.
Once you're armed with these lunch box hacks, school mornings will be that much more stress-free.
Your little ones should have a tasty and thoughtful packed lunch. And at the same time you'll have more time to spend on the thousands of other things you have to do to get everyone out of the door on time!   
Wishing you a great school year.
What about family dinners?
If you're a busy parent or struggle to come up with new recipe ideas for family dinners every night, then we highly recommend meal subscription boxes.
These help save you time by delivering pre-portioned meals to your door each week. The meals come either cooked and ready to heat up or as measured ingredients which you cook at home with the help of recipe cards. So no meal planning, grocery shopping or, in some cases, cooking is required! All you have to do is choose the meals you want online each week.
To find out more, see our roundup of the top 8 Meal Subscription Boxes For Families.
Kids' meal subscription boxes
If you're looking just for help with kids' dinners, we recommend either Nurture Life or Yumble.
We've tried and tested both subscriptions in our article here: Yumble vs Nurture Life, Which is the Best Kids Meal Delivery Service?
So you can see what they dinners are like when they arrive.
Baby and toddler meal deliveries
For babies and toddlers, our favorite delivery service is Yumi. They have fresh, organic baby and toddler meals. You can find out more in our review: Yumi Baby Food Review.
Get 50% off your first order with our code MASANDPAS: Hello Yumi