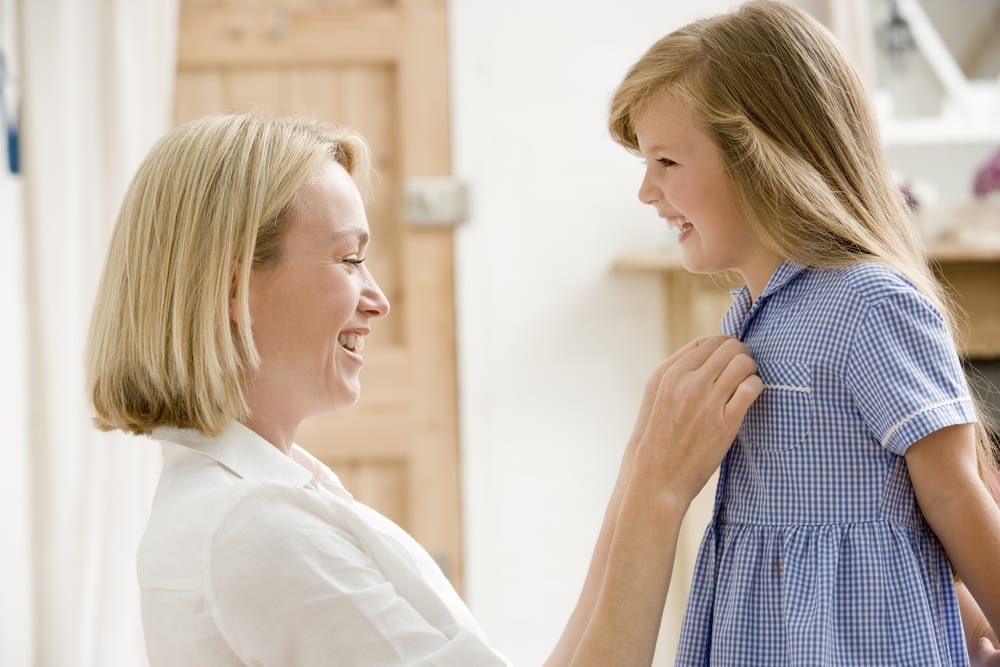 We can't believe summer is nearly over. How did the long school holiday fly by so quickly? 
After the relaxing days of the holidays getting back into the school routine can be a bit of a shock to the system. 
Start the school year off with a bang with these time-saving Back to School organization hacks. 
1
1
Make a weekly planner for the whole family
Buy a white board or pinnable calendar and each week jot down everything that each family needs on it for each day.
You can include P.E. days, after school clubs, appointments, special events, who is picking up your child from school, homework deadlines and forms to be handed in, or family dinners.
Check your planner for a few minutes each weekend and glance at it each evening to make sure everything's ready to go for the following day.
Keeping it all in one place can help you stay on top of everything you need to do for the week.
2
2
Set up your own command centre
Designate an area in the kitchen or hall to be your command centre for the family.
Pin up your weekly planner to the wall so that you can easily see key dates and events coming up at a glance.
A whiteboard or cork notice board works well for this. You can also use it to pin up any key invitations or school forms that you need to complete on time.
Have a paper tray or folder for each child there too, with your children's name on it. You can use these to pop in any school letters or admin that need doing.
If you like, add a few hooks to the wall as well. These are useful for hanging up school bags and coats, keys or even baskets with spare school stationery items that kids can grab when they need them.
3
3
Colour code the clock
Buy an economical white wall clock and colour in 5 or 10 minute segments to keep your kids on track with school morning tasks. 
Each colour coded section can have a label to let your children know what they must do within each time frame. For example get dressed, eat breakfast, clean teeth, pack bags etc.
The bright colours help kids to focus on the task they are doing. It can also help them to learn how to manage their own time in the mornings.
4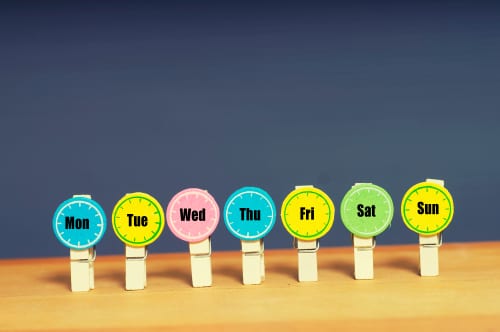 4
Start days of the week clothes hangers
Make days of the week tags for clothes hangers from white cardboard. 
On each hanger, hang up the clothes that your child will wear for the day. That way they can easily see what they need to put on each morning. 
Having a labelled system also helps you to easily spot any gaps, to keep up with the laundry and fill in the hangers in plenty of time.
5
5
Set up school bag baskets for each child
Keep track of all the things your child needs to take into school by buying some baskets and lining them up in the hall – one for each child. 
You could even add these to the Command Centre in Hack #2 above.
Teach your children to drop their school bags in their own basket each afternoon. 
You can then visit it once an evening to check for letters and forms that need filling in. You can pack bags and leave them in their baskets ready for the next day, so they can grab them and go in the morning. 
Pop anything else that needs to go to school with them the following day into the baskets too. These could be gym bags, musical instruments, wellies and coats.
6
6
Lay out breakfast the night before
School mornings are hectic and you're often up against the clock. 
To ease the pressure it can help to set the table for breakfast before you go to bed. Lay the table with bowls, spoons and water glasses. Add cereal boxes and any other favourite foods that don't need the fridge.
That way you could more than halve the amount of work you need to do in the morning to get breakfast on the table.  
7
7
Stamp names instead of sewing
One task that every parent dreads is having to label everything your child will take into school so that they don't get lost. 
There are name labels that you can sew in. But, honestly – who has the time? 
There are also some lovely washable name labels you can stick on. But some are quite expensive and can come unstuck in the wash. 
A really quick and easy hack is to buy a name stamp to print onto clothes labels and school kit in seconds. We love Stamptastic stamps. 
Alternatively, to save even more money (and time), you could also grab a Sharpie and write your child's name on all their labels and school kit.
8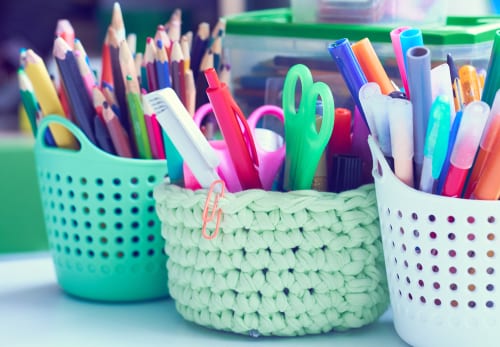 8
Set up a homework station
Designate one area to be the homework station and stock it with all the stationary and kit your child will need for every task. 
Include sharpened pencils, glue sticks, scissors, paper, rulers, calculators, protractors and a compass. Make it a comfy space where your child can sit at a desk and do all their homework, with everything they need to hand. 
One way to keep all the different stationery together is to take an old shoe box and put all the pots of pencils and pens in there. You can decorate the shoe box if you like as well. That way you have your own stationery caddy.
9
9
Create a lunch box area
Designate an area in the kitchen to be your lunch box area. Set out the open lunch boxes along with a selection of snacks for children to choose from.
This could be a selection of fruits, healthy snacks and bars and juice boxes or water bottles. 
Tell your child to grab their packed lunch box each morning and choose the snacks they want to pack. This saves you a job and some much needed time each morning. 
The main meal, sandwiches, wraps or cooked food could be made the night before and popped in containers in the fridge. You can add those to the lunchbox last, pack and go!
For more Awesome lunch box hacks see our article here.
10
10
Google and note down key school dates
Check out local council websites or your child's school website and write down all the key dates in your calendar. 
Include holidays, school concerts, non-uniform days (such as World Book Day), planned school trips and any other key events. 
Add as many dates as you can at the beginning of term, so that you have them ready in your diary. You can keep adding any extra dates as they arise. 
Staying ahead of these key dates can help you stay organised and prevent last minute scrambles to uniform stores or sandwich delis for what you need.
11
11
Set a reminder to always rummage through school bags each afternoon
Either use a phone alarm or set yourself a given time each afternoon that you'll check your child's school bag. Stick to it religiously to avoid missing anything urgent.
Look for any letters, forms, homework, squashed bananas or uneaten snacks to be binned. 
You can also ask your child if there is anything urgent that you need to do, but sometimes they can forget or be a bit vague. So it's always a good idea to double-check! 
A daily school bag rummage can unearth all you need to keep yourselves organised.
12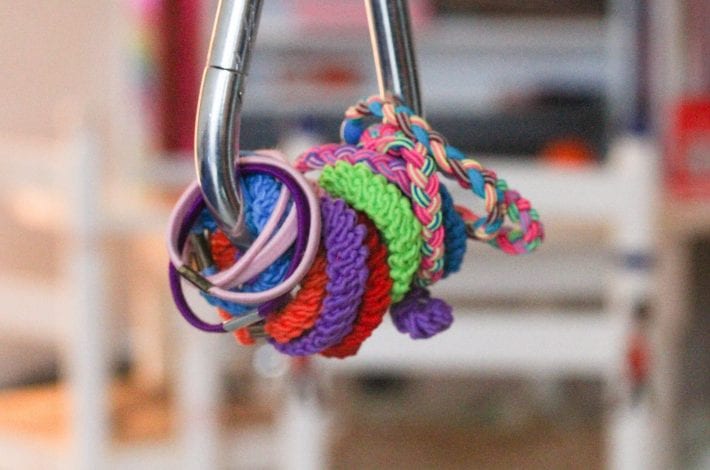 12
Do hair over breakfast
While your kids are happily munching their brekkie, make the most of this precious time that they are sitting still and use it to do their hair. 
Why keeping hair up can be a good idea
If you have daughters, plaiting or tying up their hair can reduce the chance of them catching head lice, which are often passed on easily from infected classmates. 
How to keep track of all those hair bands
Hair bobbles often go missing, however many you buy. Keeping them on a carabiner keeps them in one place and means you've always got them to hand when you need them.
Set up the systems that work for you to make the school mornings and afternoons go more smoothly. Once they're in place they should save you time each day and prevent last minute frantic searches.
For more ideas of how to make School mornings go more smoothly see our article here. 
Have a great start to the school year!