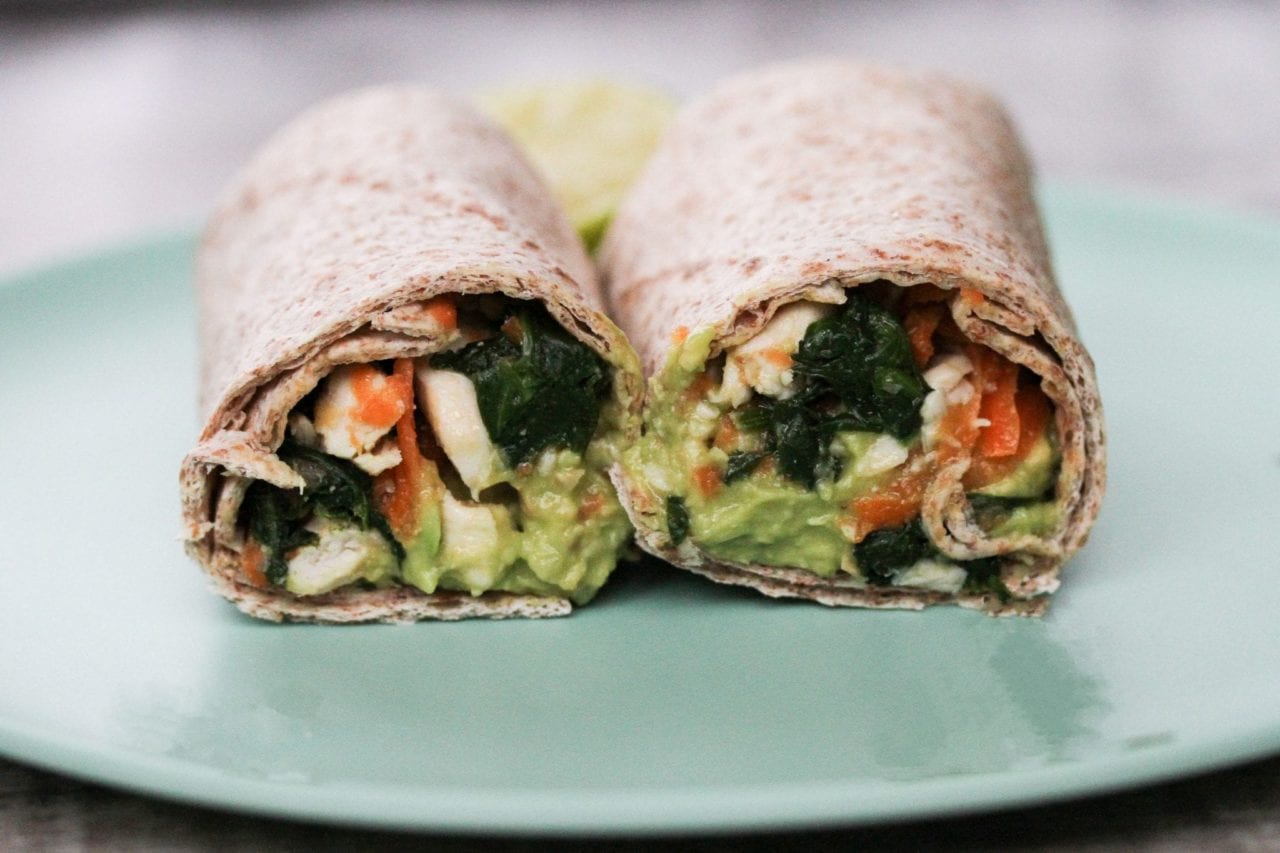 These chicken and avocado kids wraps are perfect for packed lunches or picnics, but can equally be enjoyed for dinner at home by the whole family. Spinach and grated carrots are sneaked into the chicken filling. The wrap is made with crushed avocado, chicken and a yummy cheese sauce drizzled on top. If you're in a rush you can just sprinkle some grated cheese on top instead and it will still be just as yum. Enjoy this healthy and delicious takeaway meal!
Summary
Prep: 10 mins
Cooking: 10 mins
Ages: Toddlers to Teens
Difficulty: Easy peasy
Makes: 4 tortilla wraps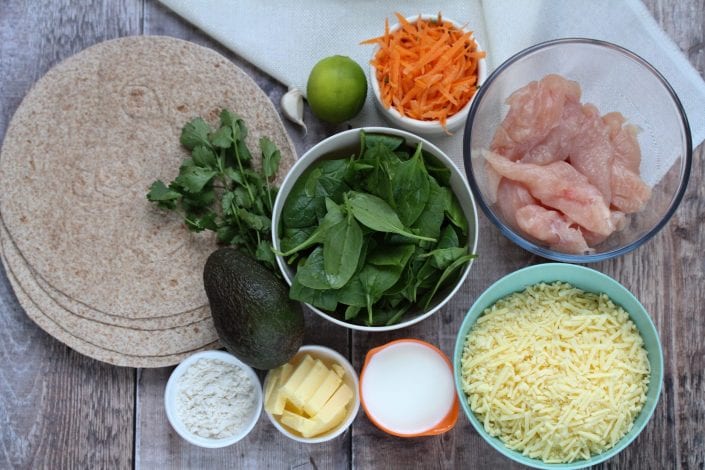 Ingredients
Chicken wrap:
2 large chicken fillets (340g)
1 garlic clove – crushed
2 handfuls spinach (80g)
1 carrot grated (65g)
4 wholewheat tortillas
2 avocados
few sprigs of coriander
salt and pepper
2 tablespoons olive oil
lime (optional)
Cheese sauce:
80 grams grated cheddar cheese
1 teaspoon flour
1 teaspoon butter
1/3 cup milk
Instructions
Chop the chicken fillets into small pieces.
Heat 2 tablespoons of olive oil in a pan and turn onto a medium heat. Add the crushed garlic and the chicken and stir until the chicken is completely browned.
Add the spinach and the grated carrots and stir for a few minutes until the vegetables are soft and the chicken is cooked through. Place the mixture in a bowl and put to one side.
Prepare your cheese sauce. Melt the butter in a saucepan and add the flour. Stir constantly. Slowly pour in the milk and keep stirring. Add the grated cheese and stir. Remove from the heat.
Now you're ready to start preparing your wraps. Line up your crushed avocado, your chicken mixture, your cheese sauce (if using) and your wholewheat tortilla wraps.
Spread the avocado on the wrap, a bit off-center.
Add the chicken mixture on top. If your children like lemon and lime you can add a squeeze of lime here also.
Pour on some cheese sauce (or sprinkle grated cheese) and garnish with coriander.
Roll it up!
Slice the burritos into two halves and you're ready to go.
Dice your chicken fillets into small pieces.
Heat the olive oil in a frying pan and add the crushed garlic and chicken pieces. Stir until browned.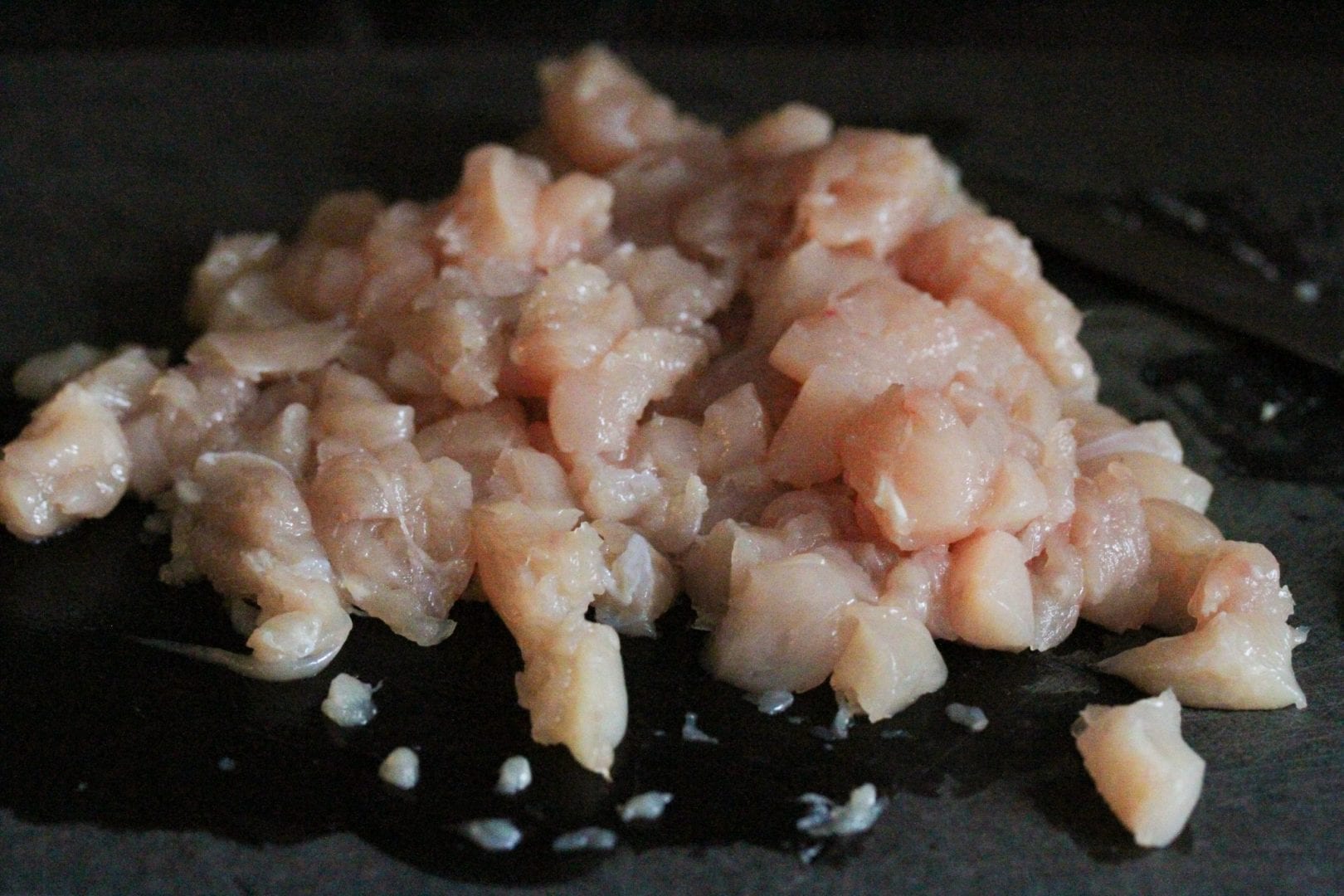 Add the spinach and carrots and cook for 5 minutes until all vegetables are soft and the chicken is cooked through.
Place the chicken mixture in a bowl and set to one side.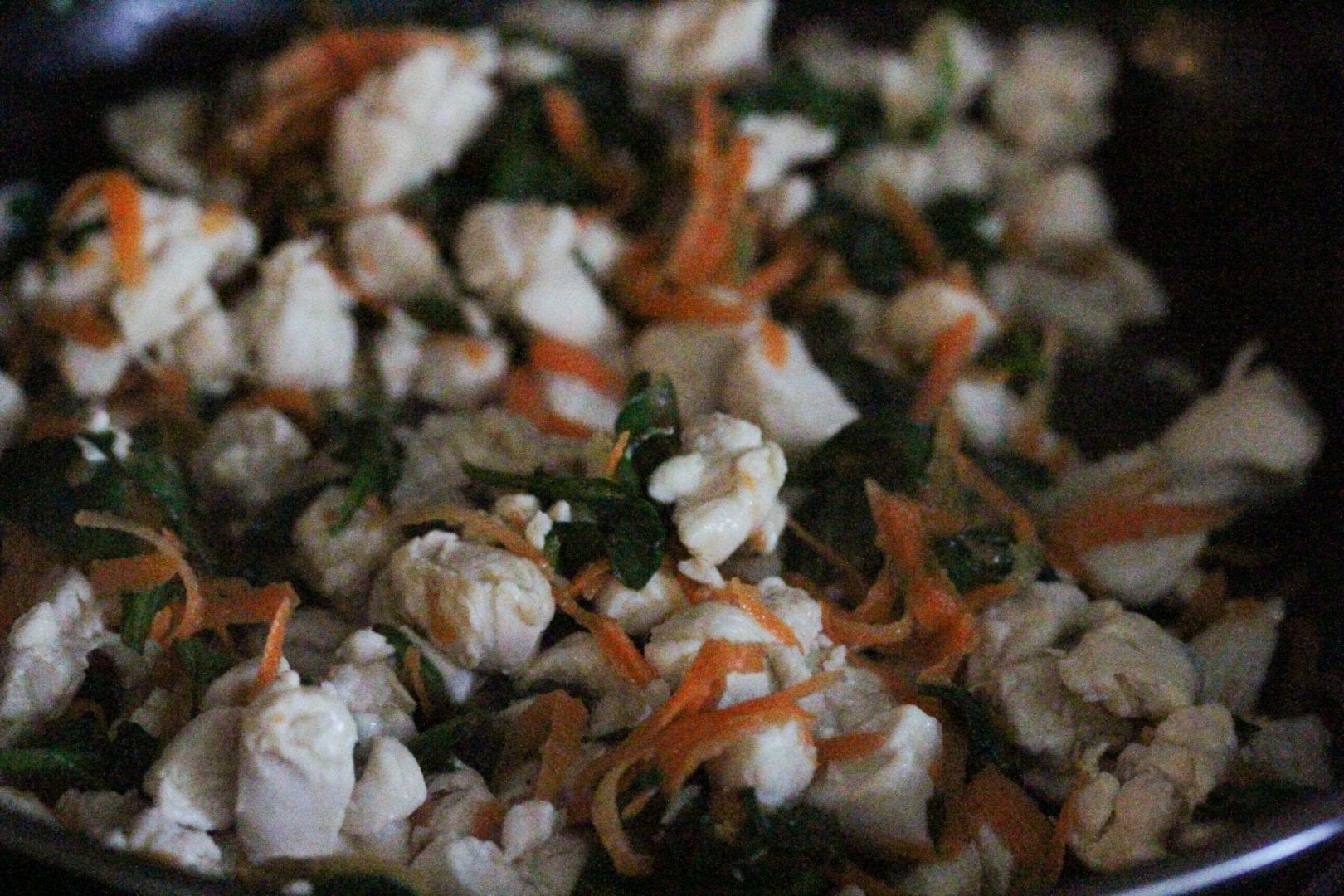 Make your cheese sauce.
First add the butter and flour to a saucepan and stir constantly.
Then slowly pour in the milk, still stirring.
Finally add the grated cheese.
It should be a thick but runny consistency, like a thick soup.
Adjust the amount of milk if necessary to make it more or less runny.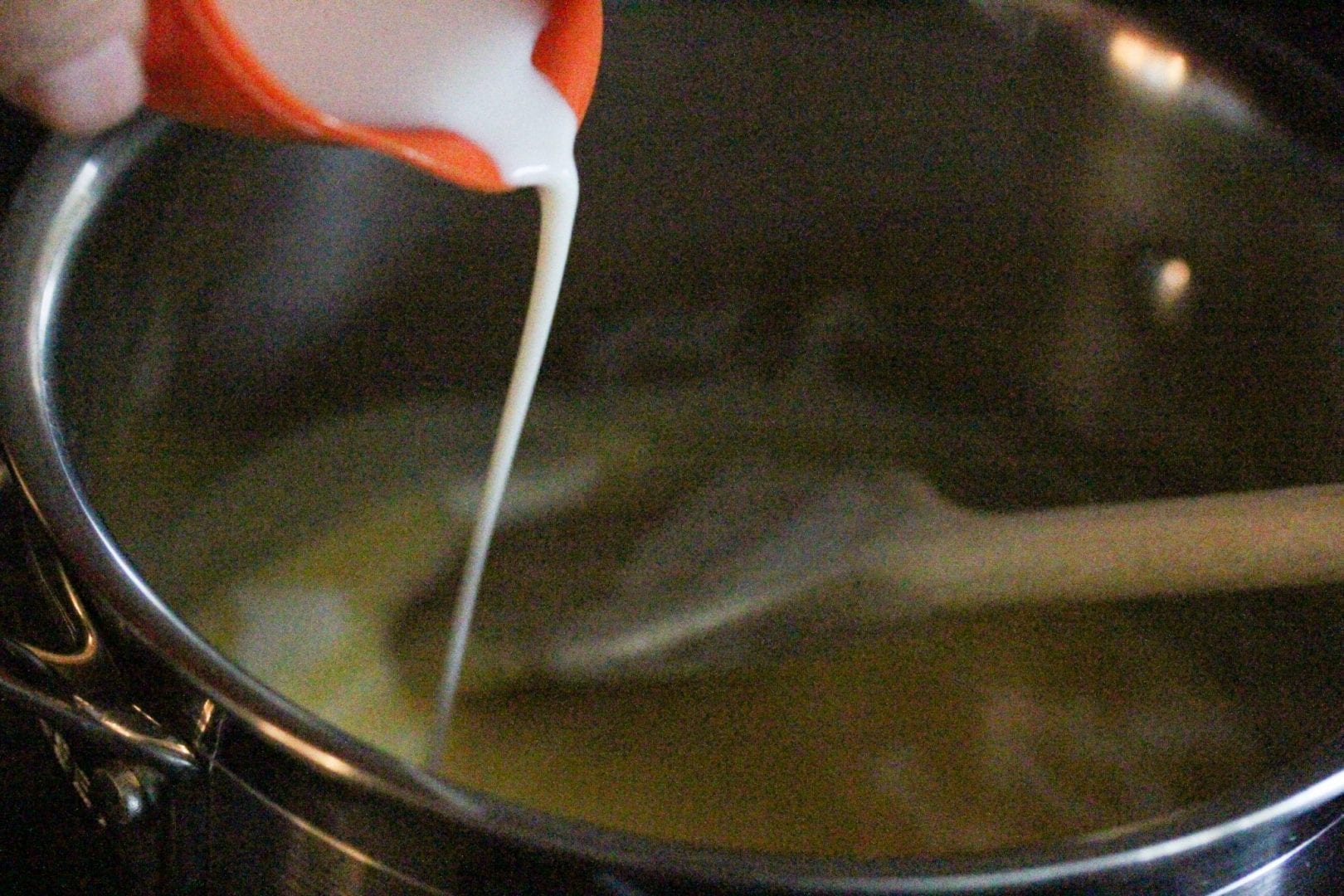 Prepare to make your chicken wraps.
Have your crushed avocado, chicken mixture, cheese sauce (if using) with your wholewheat tortilla.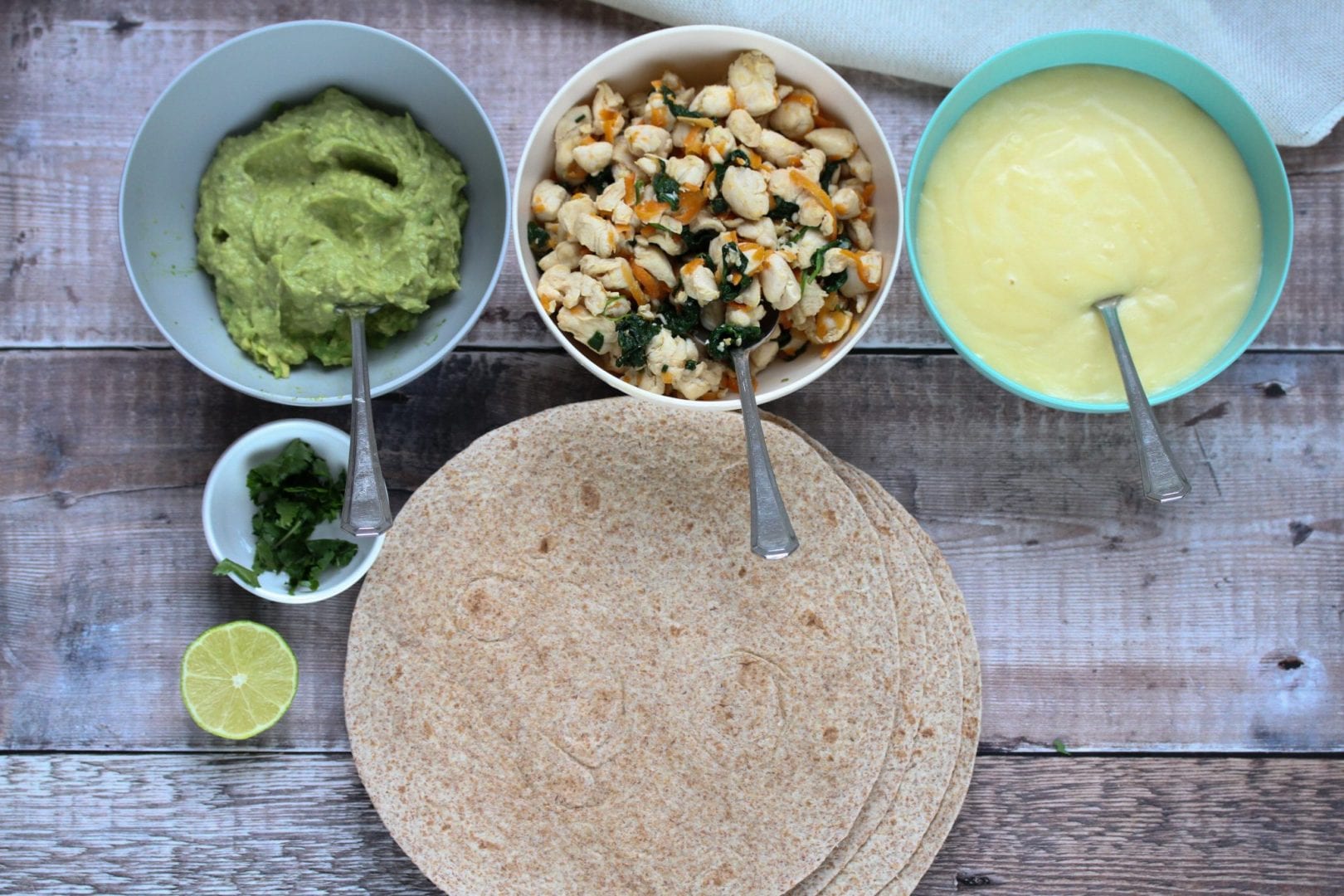 Spread the crushed avocado along the tortilla, slightly off-centre.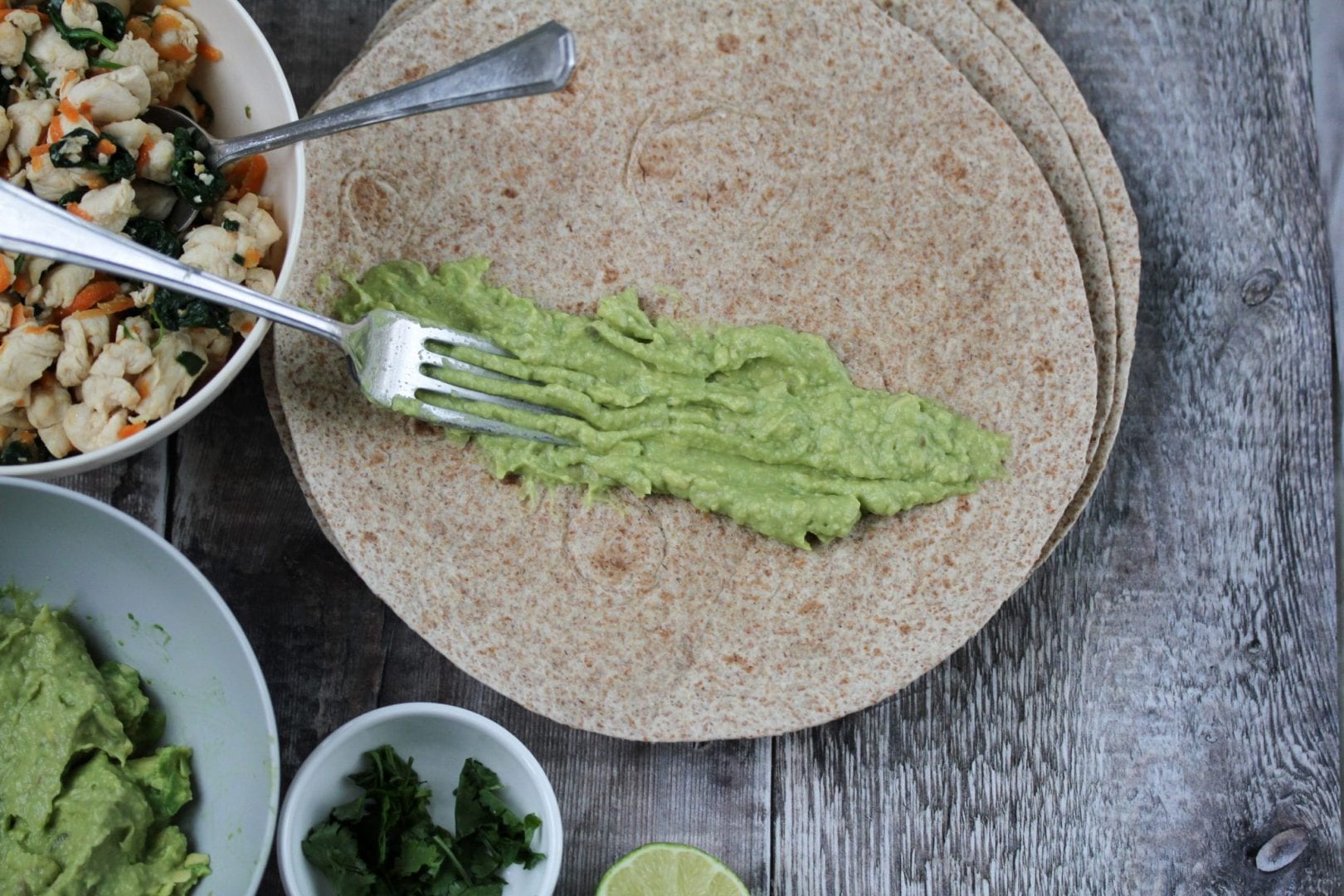 Then add the chicken mixture and a squeeze of lime if you would like.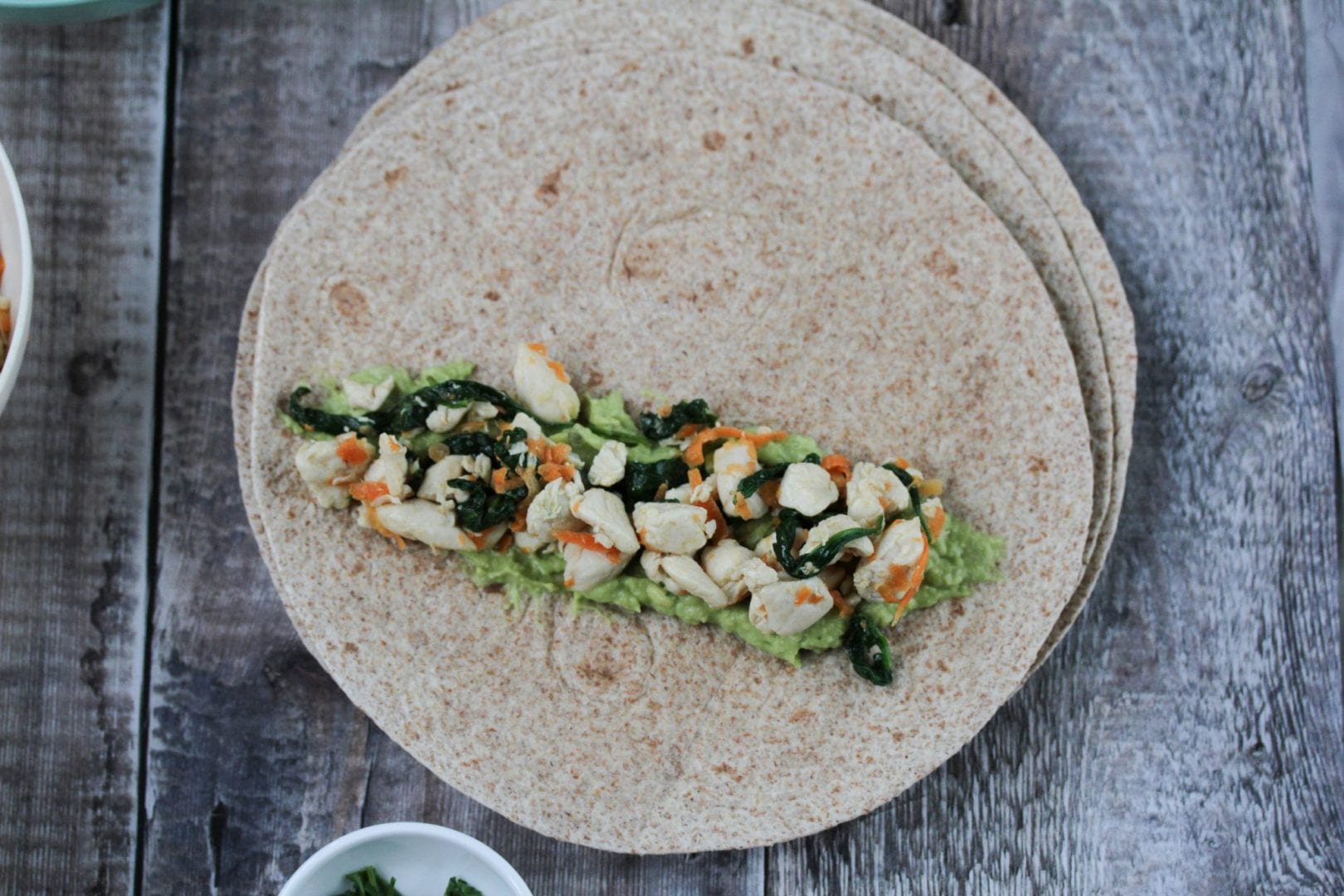 Garnish with coriander and pour on the cheese sauce (or sprinkle on grated cheese if you're pushed for time).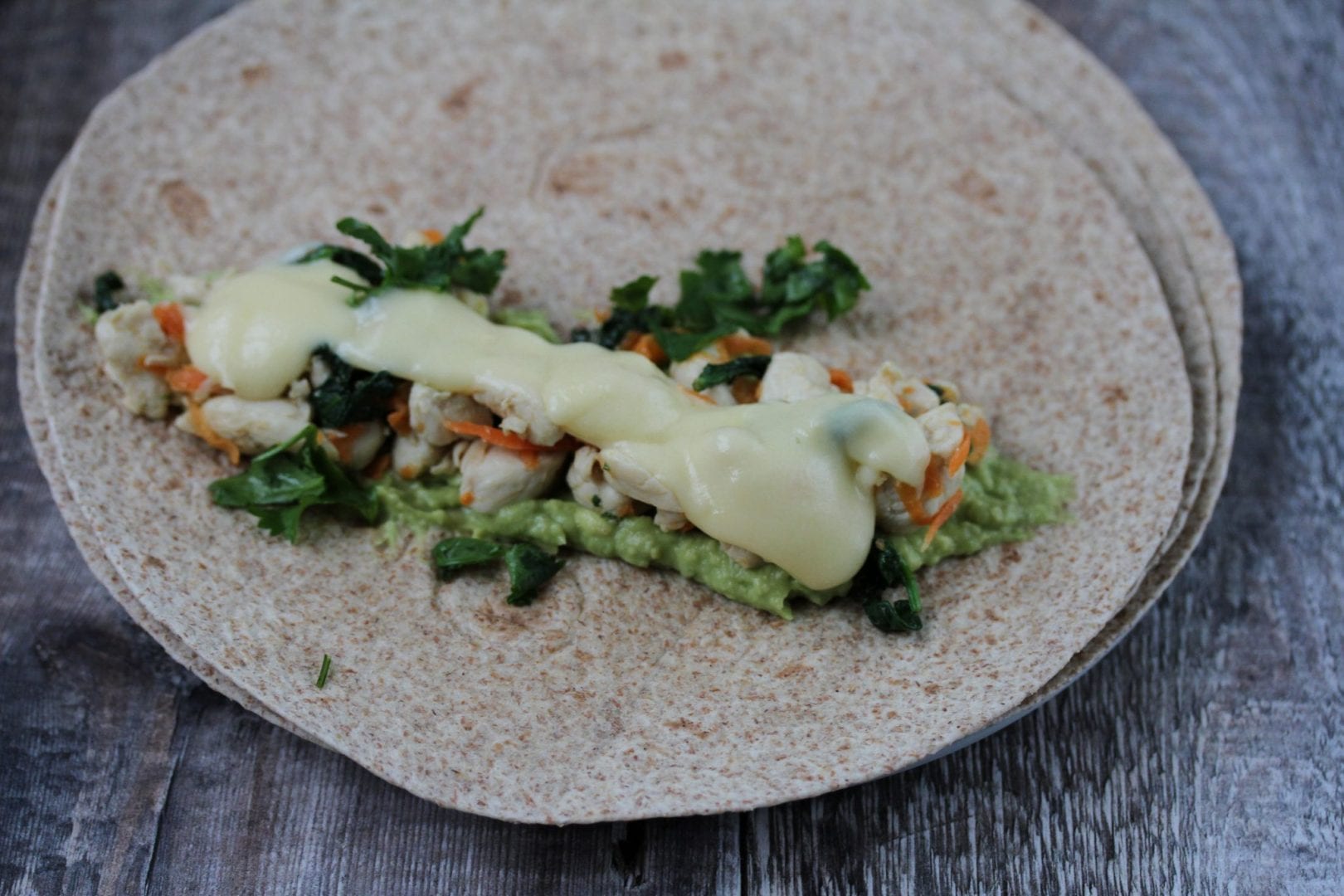 Roll it up!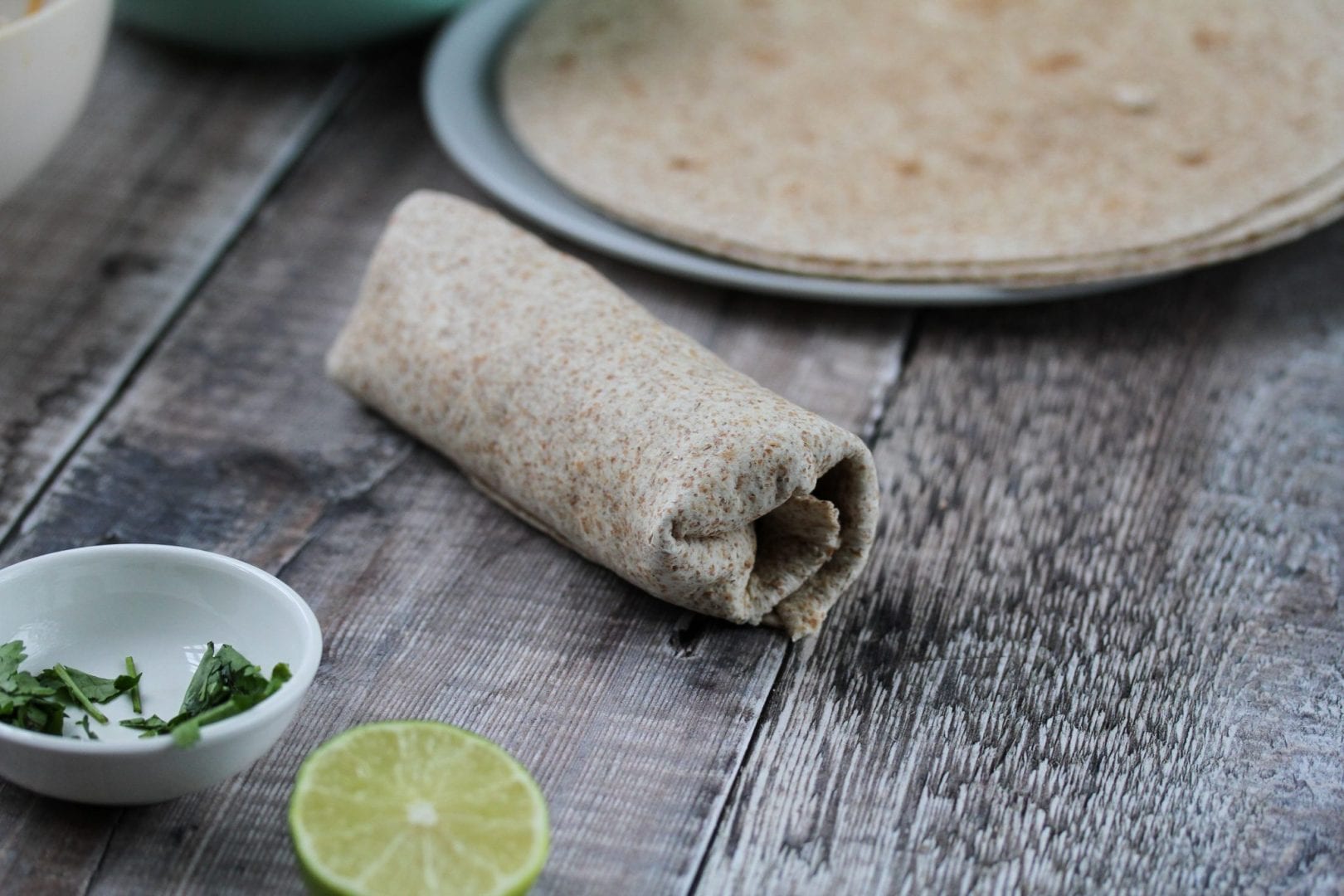 You can cut the wraps in half to make it easier for little ones to eat, and even drizzle some more sauce on top!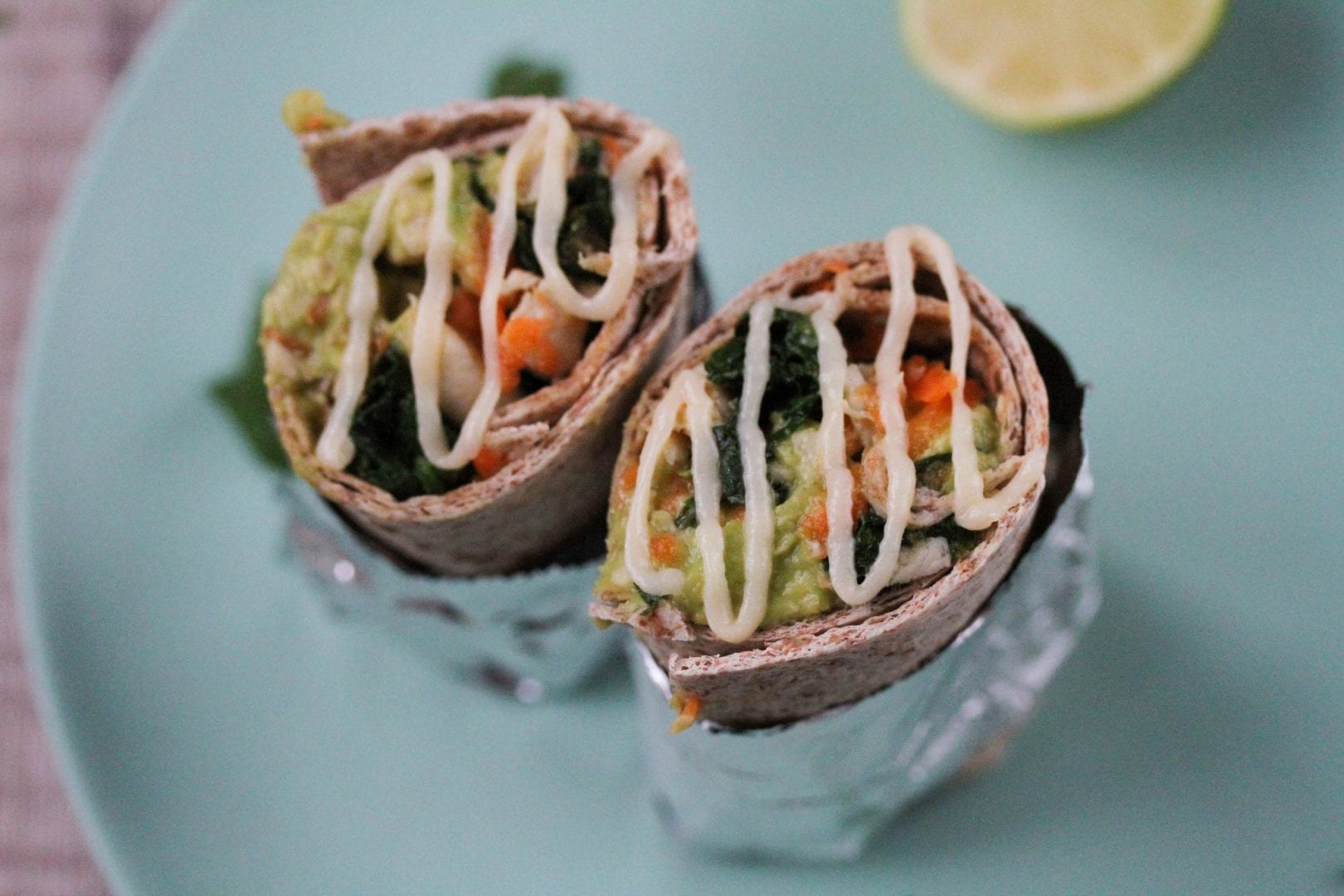 Enjoy!