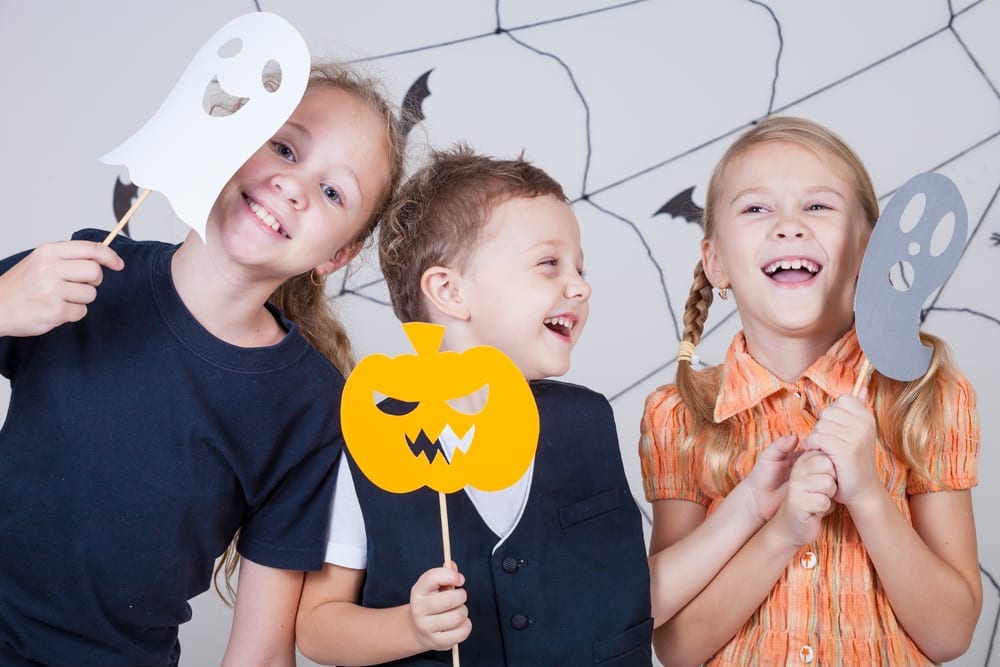 Are you hosting a Halloween party for little ones and want to make their day a blast? Or maybe you're celebrating as a family and looking for fun activities to make Halloween special for you all?
Either way these awesome Halloween activities for toddlers and little kids will give you some great ideas for games, crafts and party games that the whole family will love!
From glowing ghosts to spooky spider races, there's everything here to make sure your Halloween celebrations are spooktacular. 
1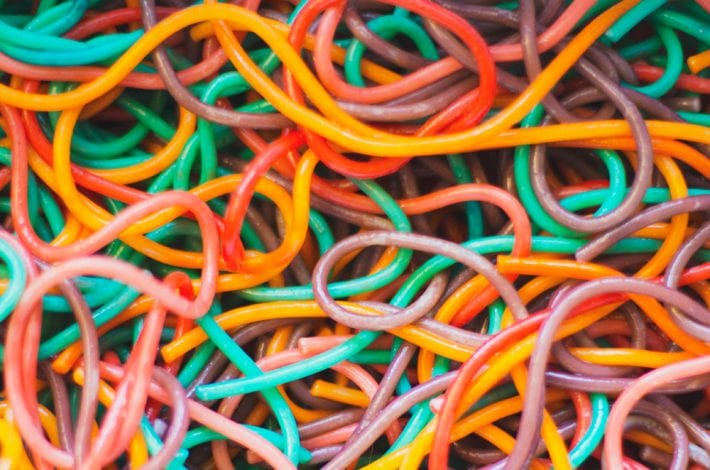 1
Ooky spooky spaghetti
Create a spooky sensory bin for toddlers by boiling a few pots of spaghetti and adding green, purple or black food colouring to each saucepan to make multicoloured spaghetti.
Let them cool, drain and lay them out in a tray for lots of sensory fun. You can add some plastic spiders and other bug toys to create a Halloween oozy goo that toddlers will love to play with.
2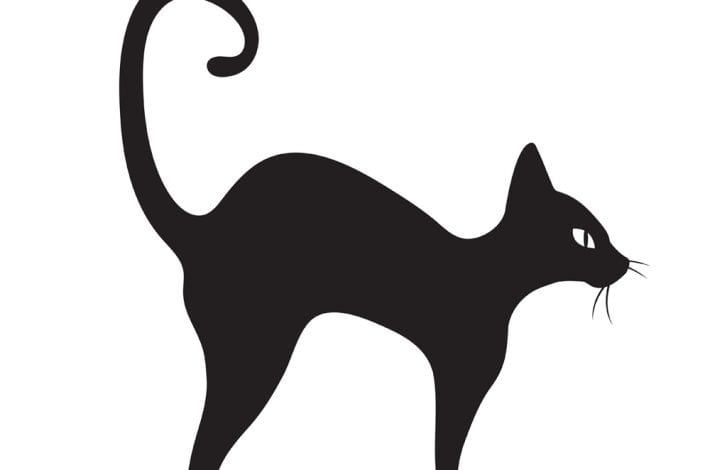 2
Pin the tail on the Halloween cat
This is a Halloween twist on the traditional party game, 'Pin the tail on the donkey'.
Draw and cut out a large black cat from card with no tail. Stick your cat to a wall.
Then cut out a tail shape. Pop some blue tac on the back of the tail. Blindfold your party guests and ask them to pin the tail on the cat.
How close can they get?
3
3
Dookin' doughnuts
We've all heard of dookin' for apples. But have you ever tried hanging doughnuts on string?
Hang a length of string across a room and then tie doughnuts to it with ribbons.
Your child and their friends have to try and eat the doughnuts hanging from the ribbons with just their mouths. No hands allowed!
4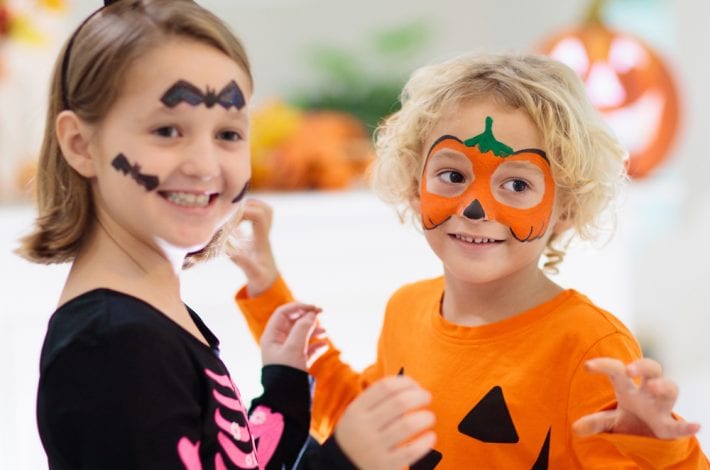 4
Musical 'spooky islands' party game
Place sheets of orange card on the floor and one sheet of black card. You need as many pieces of card in total as there are party guests.
When the music starts, the children have to dance round the room. When the music stops they must stand on the nearest island.
The child who ends up on the 'spooky island' (the black card) is out. Take away one orange island and play again until there is only one player remaining.
5
5
Wrap the fruity mummies game
Give each party guest a piece of fruit and a roll of masking tape or strips of white tissue or crepe paper and glue. You could even use real bandages.
Give each child a pair of googly eyes too. 
When you say 'Go' they must wrap their fruit to make it into a mummy and stick on their google eyes.
You could award treats for their efforts. And, of course, they might like to take their fruit mummies home to eat later.
6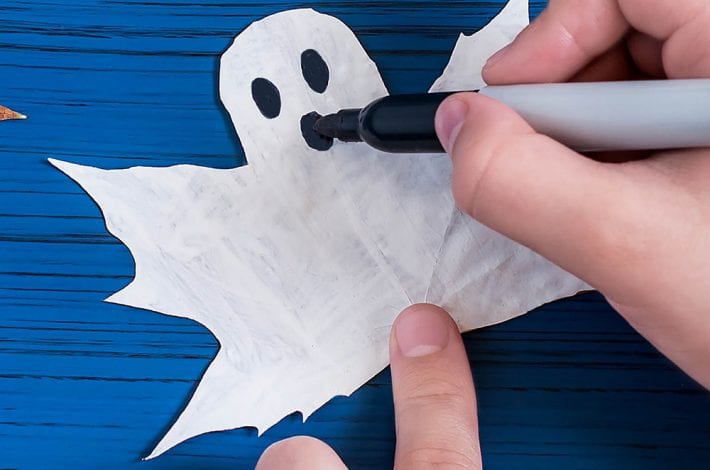 6
Make little leaf ghosts
Collect autumn leaves on a walk.
When you get home, you and the kids could paint the leaves all over with white acrylic paint. Then you can paint on black eyes and a mouth to complete the little leaf ghosts.
If you make a whole bunch of leafy ghosts, you can also hang them up on string or ribbon as Halloween bunting.
7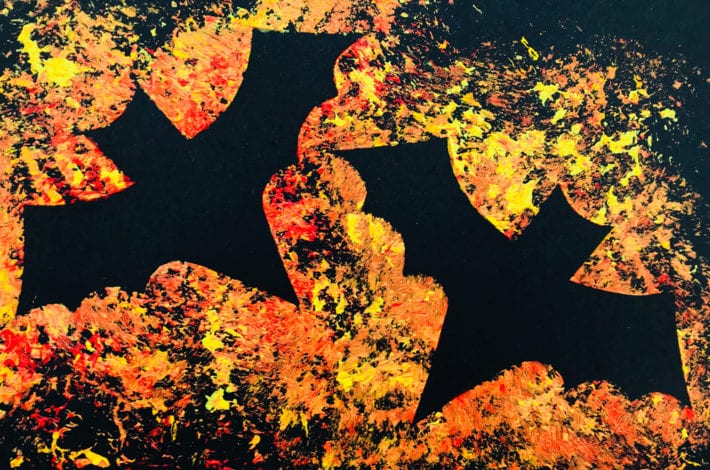 7
Halloween bat paintings
Cut out bat shapes from a sheet of card card and stick them onto a separate, black sheet of card.
Dip a round washing up brush in orange, yellow and red paint and print all around your bat shapes.
Remove your bat shape cut outs to leave a stunning picture of Halloween bats in an eerie sky. Find the step by step instructions for this fun Halloween craft here.
8
8
Spooky spider races
Buy some plastic spiders and line them up at one edge of the table.
Stick some masking tape at the other end of the table to mark the 'finish line'.
Give each party guest a straw and see who can use it to blow their spider across the table and across the finish line first.
9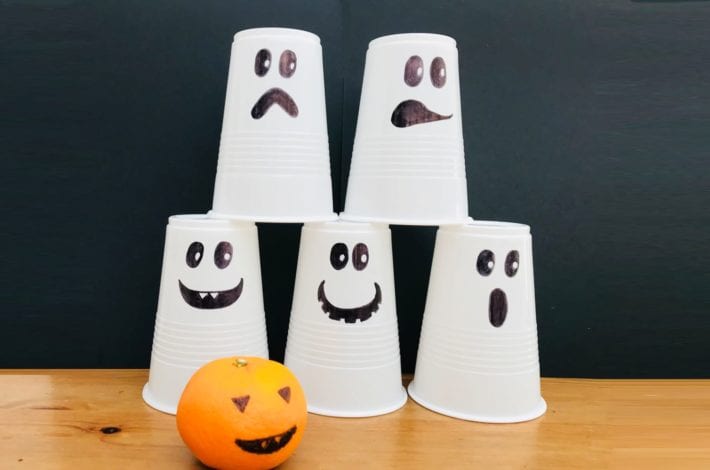 9
Halloween bowling game
Draw spooky faces on white paper or plastic cups with a black Sharpie. Then draw some eyes and a mouth on a satsuma to make it into a mini pumpkin.
Arrange the cups into a pyramid and ask your party guests to bowl the satsuma ball to see how many ghosts they can knock down. Find out how to make this fun Halloween game here.
10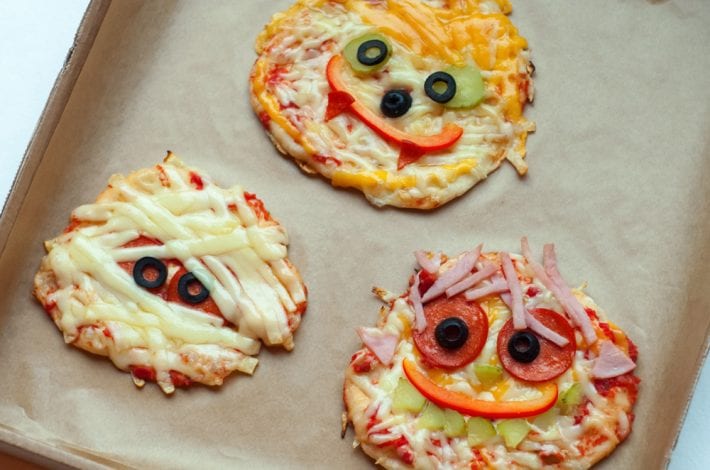 10
Zombie pizza making fun
Cut out circles of pizza dough and spread on some tomato paste or passata. Then sprinkle on a layer of grated cheese.
On top of the cheese use olives, pepperoni slices, pepper slices and other veg pieces to make fun monster or zombie faces.
Little ones will have great fun helping to create these scary pizzas and will love eating them as their Halloween party snack too.
11
11
Apple print pumpkins
Cut apples in half longways. Dip them into orange paint and let your child print them onto a sheet of paper or card.
Once the paint is dry they can then draw on eyes and mouths with black paint or a Sharpie pen. Find the step by step instructions here.
12
12
Shiver and shake Halloween party game
This is a fun game for little ones. Let all your party guests dance or walk around the room (to Halloween themed pop tunes if you like).
Every so often, stop the music and shout out a Halloween word. For each word they have to do a different action.
For example, when you say 'Boo' they have to jump in the air.
When you shout 'Shiver' they must shake their bodies from side to side.
And when you say 'Monster' they must do their best scary monster pose.
There are no knock outs – this one's just for fun and for as long as little ones want to play.
13
13
Cotton wool ghosts
Draw a rough outline of a ghost on a sheet of black or blue card.
Then let your child stick down balls of cotton wool to make spooky ghosts.
You can glue on black card circles or googly eyes to finish off your picture.
14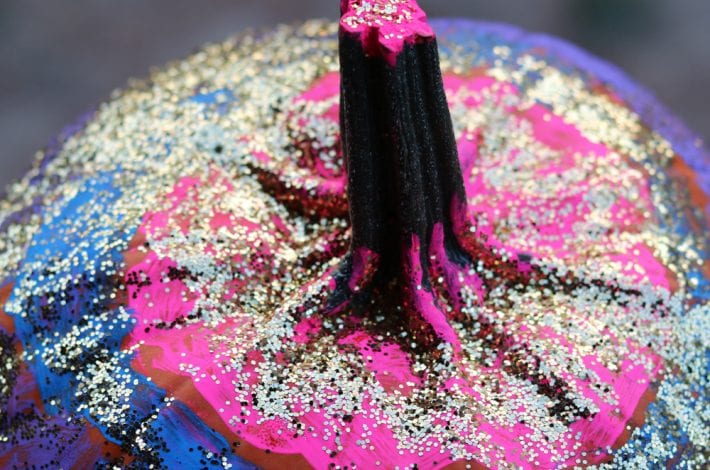 14
Painted pumpkins
Carving pumpkins is difficult for little hands.
A much easier way to decorate them for toddlers is to paint them and glue on glitter and extra decorations such as googly eyes and sequins.
Give each guest their very own pumpkin, paints and decorations to make it the sparkliest, grooviest one in town.
15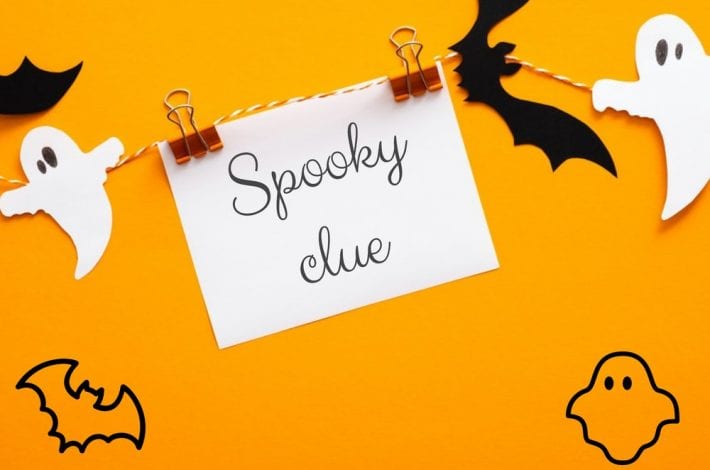 15
Ghostly treasure hunt
Cut out little ghost shapes from white card and write little rhyming clues on each one to set up a Halloween treasure hunt.
Each rhyming clue they find will lead them to the next ghost.
The last clue leads to the place where the treasure is hiding.
This can be a goodie bag of Halloween sweets or treats.
You can get some ideas for indoor and outdoor rhyming clues here.
16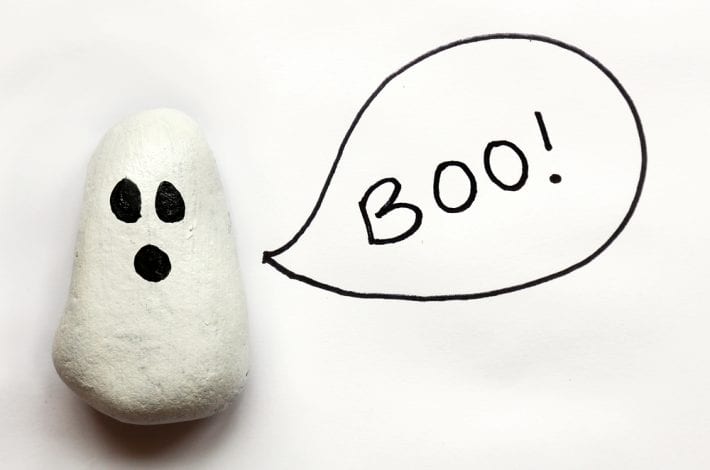 16
Glow-in-the-dark ghost pebbles
Paint pebbles with either white or glow in the dark paint. Acrylic paints work best to give a thick layer. When it's dry paint on eyes and mouths in black.
These little ghost pebbles are great decorations to line up outside your front door on Halloween to greet any Trick or Treaters.
Or you could place them up on the window shelf or mantelpiece and watch them give out an eerie glow when you turn all the lights off. 
17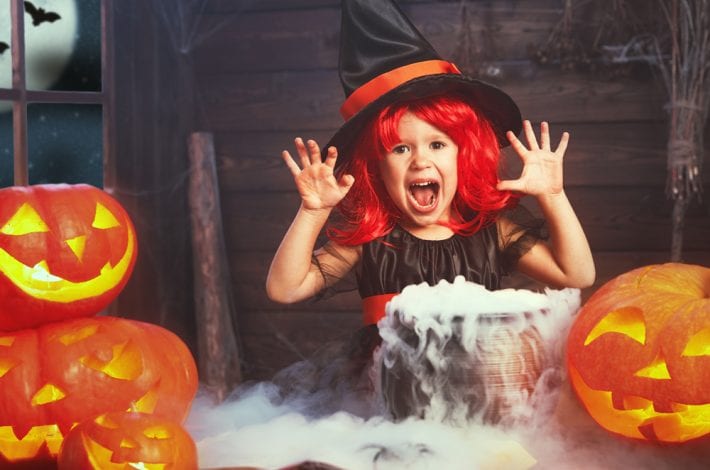 17
Cauldron dip going home pressies
A great way to end your Halloween party for little ones is to turn an old pan or bowl into a cauldron.
Fill it with sawdust or shredded green or orange tissue paper and add in little wrapped gifts.
When it's time for the party to end, each party guest gets to dip their hand into the 'cauldron' and pick out a Halloween going-home gift.
With all these fun activities at your fingertips you can plan a Halloween party for toddlers and little kids that they'll talk about for weeks to come!
Happy Halloween!