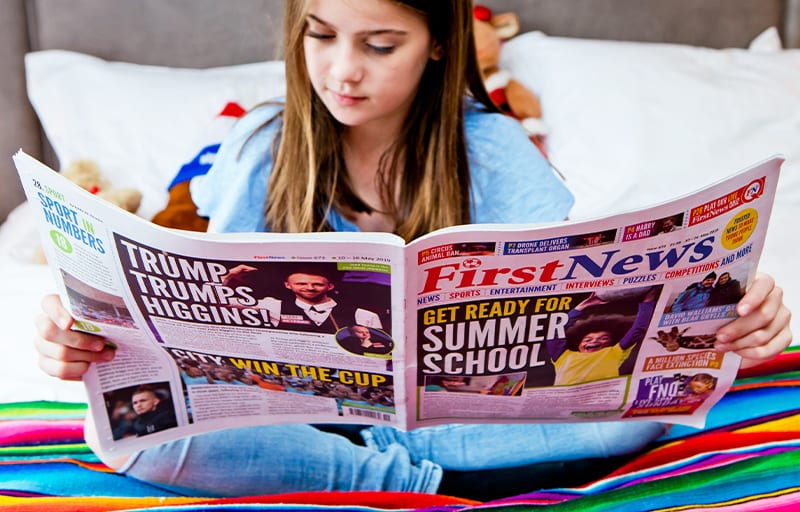 First News Review: Is This Kids News Subscription Worth It?
Are you (like me) concerned that your children spend too much time on their devices?
Or do you want to get them more interested in news and current events in a fun and easy-to-understand way?
News programmes and articles often appear boring and not relevant to children. They may also be inappropriate for their age group.
At the same time many parents want their kids grow up with a wider understanding of what's happening out in the world.
It's perhaps even more crucial now with social distancing and disruption of schooling which is isolating kids from their friends and other family members.
First News intrigued me when I first heard about it.
A newspaper subscription? Isn't that a bit old-fashioned for today's kids? Nowadays everyone seems to get their news digitally.
Yet, there may be advantages in getting the news in this format for you and your kids. You can read the newspaper together, do the quizzes and activities, and take a break from screen time.
And if you prefer digital news, they offer that too through their online app.
Sounds pretty good, right?
Well, I decided to take a deeper look at First News to find out whether it lives up to expectations.
My nine-year-old daughter can be a blunt and honest critic. So we decided to read through our first few issues of First News together. Here are our findings.
In this review I will be exploring:
What are Kids News Subscriptions?

What Does First News Offer?

What Age Group is First News Aimed at?

What's in Each Issue?

What do Other Parents Think of It?

What are the Alternatives?

Would I Recommend First News?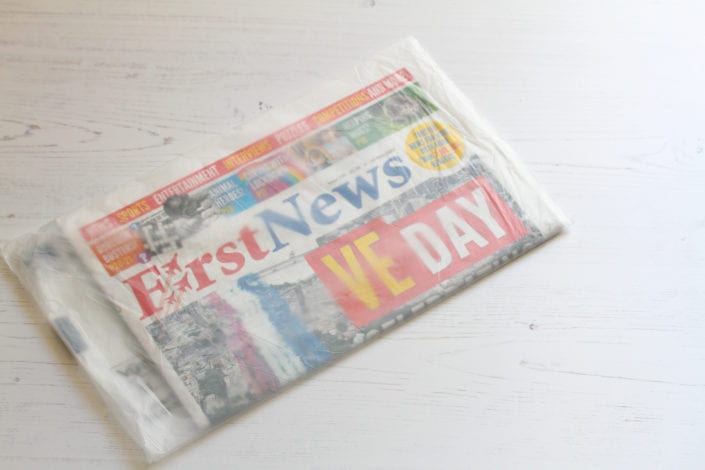 What are Kids News Subscriptions?
News subscriptions for kids are news journals that arrive once a week in the post or online. They enable kids to enjoy a traditional-style newspaper with content specifically written for children.
The once-weekly format enables your child to take their time reading the different news features, and is perfect for some weekend reading and discussion.
The newspapers feature interesting stories, appropriate for kids of different age ranges. They often include fun stuff like puzzles, quizzes, and games, not just current affairs.
A quick Google search will show that there are a lot of kids news subscriptions out there – many of them are US-based, though. First News is based in the UK and features both UK and worldwide news, so it can be a great option for UK parents.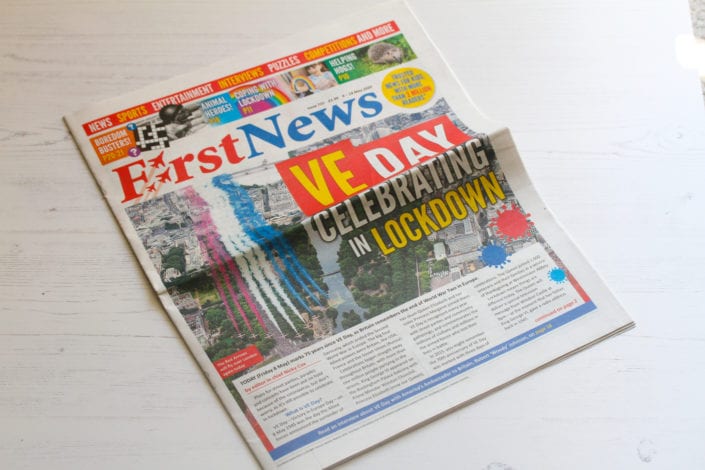 What is First News and What Does it Offer?
First News is a UK-based weekly newspaper aimed at 7 to 14-year-olds.
They state that their mission is to:
Get kids talking about the news in an easy to understand and non-threatening way.
The newspaper is offered as a print version which arrives in the post each week. They deliver throughout the UK and also abroad (although there are added costs to International subscriptions).
They also have a digital version available through their app. So if you prefer to have the news in this format or if you're not based in the UK, then this could be a good option.
The digital subscription is very popular with schools in particular, where they want a large number of children to be able to view each issue at the same time.
Both print and digital editions come out each Friday.
They cover issues that interest and affect children with a mix of UK and worldwide news. The paper also contains puzzles, games, animals, sport, and entertainment.
First News aims to include positive news stories as well as the not-so-good ones. The paper has won several awards over the years.
This includes:
Best National Newspaper at the Plain English Campaign Media Awards (2011)
Best National Weekly Newspaper of the Year (2012)
Niche Market Newspaper of the Year (2012 and 2017)
Let's take a look at what First News can offer parents and children. We're going to review the content of the newspaper, and whether it's good value for money.
We'll also look at the possible benefits to your kids, and what other parents are saying about it.
What Age Group is First News Aimed at?
First News advises that it's for children between 7-14 years old.
However in some reviews that we went through they reported that 7 year olds struggled to read through the main content. So perhaps it's safer to say that it's suitable for the 8-15 age group.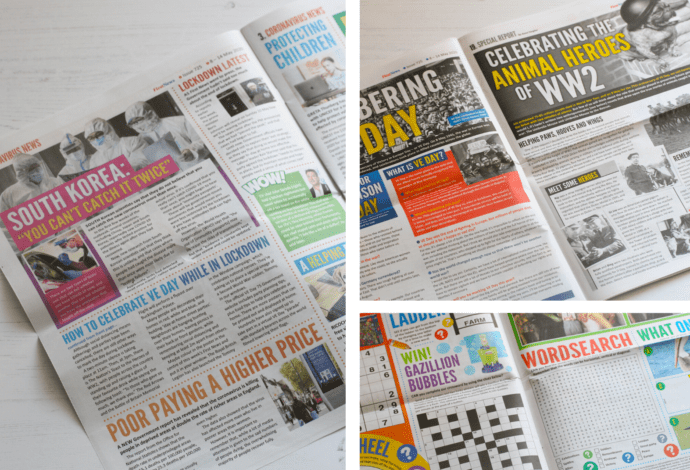 What's in Each First News Issue?
First News has about 28-30 pages which are separated into themed categories. These include:
| | |
| --- | --- |
| Main News Features | A look at the main stories of the week displayed on the front page and within the first newspaper spread. |
| Quick News | Bite-sized facts about the news that week displayed in a numbered list with a headline and brief summary. |
| News in Pictures | Certain news features are more visual. For example artwork or geological sites. Here they display these news pieces through photos with very little text underneath. |
| Home News | News stories from the UK shown in bitesize feature snippets. They're centred around a map of the UK with arrows pointing to where the news is happening, so that kids can understand the location in a more visual way. |
| Big News | Main UK news stories, presented as short articles. |
| World News | Big stories from around the world. Again these are centred around a map with arrows to show where in the world the news is happening. |
| The Week Ahead | A look at upcoming events for the week, including key dates. |
| Science News | All the latest in research findings, inventions, climate change, space exploration. They also have a weekly 'Science Museum Group' feature where different UK museums contribute a short report. |
| Animal News | Stories and photos about animals and wildlife from around the globe. |
| Special Reports | These go in-depth into a particular news feature. They aim to explain the issue in a child-friendly way. |
| Crazy But True | Entertaining yet unbelievable true stories to get kids talking. |
| Focus On You | Well-being advice for kids from Childline ambassadors. Sometimes they also have a themed activity based on that week's news, that children can tear out and do. |
| Entertainment | All the latest in film releases, TV shows, and celebrities, including celebrity interviews. |
| Big Interview | Exclusive interviews with top names in entertainment, sport, and politics. |
| Your News | Children report on their own news and get to see it in the newspaper. It could be an award they have won, a club they've started or what they think of their parents! |
| Game Zone | A look at the latest video games, with news and reviews. |
| Books | Latest book releases, author interviews, and reviews from readers. |
| Boredom Busters | Crosswords, Sudoku, Spot the Difference, competitions and more. |
| First Careers | This feature takes a look at some of the interesting jobs in the UK. |
| Sport | All kinds of sports coverage, along with fun facts. |
The features may vary slightly from issue to issue. But as you can see from the list above, there is a lot of content in this weekly newspaper!
It covers a broad range of topics so it's likely to appeal to children with different interests.
For example, for those who are more interested in nature and wildlife they can skip to the Animal News pages. Others who like to learn about science and space, may skip to the Science News features.
In the specific issues that we read through together, there were also a number of features about the virus and lockdown. It included depth reports explaining what it was and why we had to do things like social distancing and hand washing.
The broad range of topics included means that there is plenty to interest kids and adults alike. It also helps if you want to discuss the content together with your child.
Many parents feel that we shouldn't shelter children from world news. First News aims to explain serious issues in a simple way.
It doesn't come across as scary or boring to children, as adult news often does.
Visually Laid Out Features
The page layout is much like an adult newspaper, but it's far brighter and more appealing. The features have also been arranged in a much more visually appealing way.
For example they use plenty of photographs for every news piece.
Although they have a number of full length articles, other news pieces are featured as bite-sized snippets. Some are mid-sized articles which are kept short and concise to keep kids interested.
That way they can quickly look around and find what they like.
The newspapers also have some pages where the news features are positioned around a map in the middle. There are then arrows connecting the news to the location on the map where it is happening.
This helps kids to understand more about what they are reading. They can digest the information in a more visual way.
My daughter particularly enjoyed the Special Report. One of First News' junior journalists (year 6) wrote on how homeschooling was affecting her.
She also showed how she and her family were dealing with it, and her tips for coping in lockdown.
Jen also loved the Animal News (which nine-year-old girl wouldn't!). Ditto the Crazy But True section (one of my favourites, too!)
Not Too Much Advertising
The level of advertising isn't intrusive or used to pad out the content.
The adverts are also relevant to children and parents. For example there are ads for theatre workshops, animal adoptions, and kids books.
First News Pricing: Is it Good Value?
First News offers 3 types of subscriptions:
Newspaper Only
Digital Only
Newspaper & Digital
First News is currently running a promotion where you get to try the first 6 issues free.
Special Offer for Mas & Pas Parents
For Mas & Pas parents we have an special offer: you can now get your first 4 issues for just £1.
Thereafter there is also a slight discount for the first 3 months of the subscription which will be offered at £18.99.
MP20
Or follow the link below and the discount will be applied automatically: First News subscriptions
This is a great way to try the newspaper out without spending a fortune. You do have to sign up for a direct debit upfront before you can take advantage of this offer.
After the initial promotion period the pricing is as follows:
Newspaper Only

£51.99 for 26 weeks (23% saving)

£1.99 per issue

£92.99 for 52 weeks (21% saving)

£1.34 per issue

Digital Only

£6.99 per month

£1.75 per issue

Newspaper & Digital

£57.99 for 26 weeks (49% saving)

£2.23 per issue

£104.99 for 52 weeks (55% saving)

£2.01 per issue
*prices quoted are at the time of publishing
So each weekly issue ranges between £1.34-£2.23 per issue, depending on the option you go for, it's a good deal cheaper than many children's magazines that you can buy in the shops.
Cancellations and Refunds
After first taking out the subscription you have 14 days within which to cancel and you will get a full refund. You do this by emailing or writing to them. They recommend cancelling your Direct Debit with your bank as well.
After that time there is no refund for the remainder of the subscription period that was taken out. But you can choose not to renew.
You can find information about this and other questions in the FAQ section of the First News website.
Possible Benefits to Your Child in Reading First News
There are several possible benefits that reading a newspaper subscription like First News could have for your child:
1
1
Reading news can get kids interested in building the future
If our kids grow up uninterested in any news or current events apart from the latest reality TV show, what kind of future will they shape?
It can be a good idea to get children interested in current affairs, issues, and worldwide news from early on. Your child may grow up to become a politician, a climate change advocate, or scientist. All because they became inspired by what they read.
Your child can also learn about future careers. They may find something that encourages them on a specific path after reading about a job that intrigues them.
2
2
Kids can enjoy activities that are not on devices or computer games
It's very easy for kids to get stuck in a bubble of gaming and apps. A newspaper is a great way to reduce screen time.
First News will hopefully get your kids away from their devices for a while without a fight.
There is a small section of the paper devoted to gaming. But they also have a spread full of kids activities like Sudoku and Word Search that kids can do with a paper and pen.
As well as all the other entertaining and informative content that there is to read in each issue.
3
3
News articles could enhance their knowledge and education
Learning about news, science, and current affairs could benefit your child's education.
First News is a fun way to learn about different subjects, and the bite-sized facts can be easy to remember.
The general knowledge and awareness of current affairs gained from a newspaper can give your child the edge if it comes up at school.
Knowledge of the latest news can also help prepare your kids for school assessments or interviews.
4
4
Reading news enables kids to start debating issues they care about
I enjoy talking about current events with my daughter. I like hearing her point of view on things, and reading First News has given her plenty to talk about.
If your kids have a good grasp of news events and hot topics, then they may find it easier to chat with others about them.
They can debate the different points and exchange information. This can even help improve social skills too.
What do Other Parents Think of First News?
I looked at parental reviews across different websites.  The general opinion is that First News gets a thumbs-up from both parents and kids.
The reviews I researched were from 6 websites. Out of the 28 people who had left reviews, 23 rated the newspaper as good or very good. Of the 5 reviews that were negative, most concerned the First News app from Amazon. These focused on glitches or download issues rather than the newspaper content, though.
One negative review stated that although the reviewer thought the newspaper was good, the letters on the problem page were not relevant, (and sometimes a little inappropriate) for younger readers (boyfriend problems, GCSE's, etc.).
However any activities aimed at teens could easily be skipped over for younger readers. There are a large number of 'boredom busters' to choose from.
Others said that their older children enjoyed First News but that younger KS2 readers struggled at times with comprehension. So perhaps kids towards the middle of their age range would benefit the most from it.
The majority of parents and professional reviewers agreed that First News was a good buy for their children.
What are the Alternatives to Kids News Subscriptions?
Kids News Websites
There are lots of options for kids news online. If you want to get your kids away from screens and devices, news sites somewhat defeat the purpose, though.
There are several news websites aimed at kids of different age ranges like Dogo News and First News Live.
Watching or Reading Grown-up News with Your Kids
Another alternative is sitting down with your children and watching adult news programmes. You could also read the newspaper with them.
It is the more difficult of the alternatives to kids news subscriptions. It means you have to explain what's happening on the news in a way your kids will understand. Drawbacks include your kids seeing inappropriate or scary content.
Pros and Cons of First News Summarised
Pros

Cons

Lots of content included in each issue
Some content was too advanced for the 6-7 year old age group.
Good value for money
If you want to take advantage of the 3 issues for £1 offer you have to pay by Direct Debit.
Non-screen based news (although there is a digital option too)
Some parents reported glitches with the First News app.
Visually laid out news features make it easier for kids to digest and understand them
Includes both UK and world news
Presents world news in a way that is appropriate for kids
Independently owned newspaper – not politically biased
Not many adverts in each issue
Would I Recommend First News?
First News offers lots of child-friendly topics and educational content. Current affairs are presented in a visual, easy-to-digest way and worded so that they are appropriate for kids.
Getting a weekly newspaper deliver is a great way of getting kids interested in news and also cuts down the time spent staring at a device screen. Having said that, First News also has weblinks and extra resources online.
The price for a subscription is reasonable, and you do get a lot for your money. Each issue has 28 pages of content, each separated into varied categories with different themes.
The majority of parents are very pleased with First News. Many said that it was a great way for them to sit down with their kids over the weekend (First News usually comes on a Friday). to read and talk about the stories in the paper.
My own daughter gave First News her seal of approval. She told me that it was good to read things that other kids have written.  She loved the crazy-but-true facts, the animal news, the world news, and puzzles.
She liked the bright and colourful format of the newspaper and the bite-sized facts.  She was pleased there were lots of photos and pictures, too.
We were able to talk about the news stories together and how some of the topics related to our own lives. I certainly enjoyed reading First News and learned a few new things, too!
I also like that the newspaper is independently owned. So, no political affiliations to muddy the waters.
We both liked the newspaper very much, and my daughter asked if we could continue our subscription after the £1 per copy trial offer. I was more than happy to continue buying First News for the full subscription price after the trial.
It has given us plenty to think and talk about and I hope it does the same for you too.
Special Offer for Mas & Pas Parents
For Mas & Pas parents we have an special offer: you can now get your first 4 issues for just £1.
Thereafter there is also a slight discount for the first 3 months of the subscription which will be offered at £18.99.
MP20
Or follow the link below and the discount will be applied automatically: First News subscriptions
Or follow the link below and the discount will be applied automatically:
[/wrap]
Happy Reading!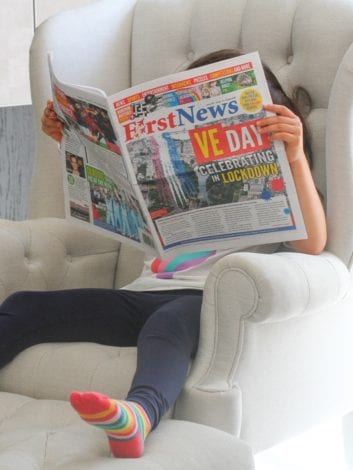 Other Educational Activities and Subscriptions for Kids
Getting your kids engaged with current affairs is just one way to enrich their learning outside of school. Here are some of our other top suggestions you might be interested in:
Cooking Courses for Kids
For aspiring chefs or homecooks, the Kids Cook Real Food online cook classes are a great way to help kids pick up essential kitchen skills.
This could also benefit parents who want some help with preparing meals too! For more details see our review of Kids Cook Real Food where real kids tried and tested this course.
STEM Activity Boxes
Kids who love science or technology topics may want to try STEM subscription boxes from KiwiCo or MEL Science.
They deliver all sorts of cool, hands-on projects like building a hydraulic lift or making balloon-powered cars on a regular basis! See our MEL Science Review here or our KiwiCo vs. MEL Science comparison here.
First News
FAQs
What age is First News aimed at?
First News is aimed at 7-14 year old readers. 
Who writes First News?
First News articles are written by adult journalists who frequently get story ideas from online polls conducted with kids.
Where can I buy First News?
You can buy First News newspapers through their website.