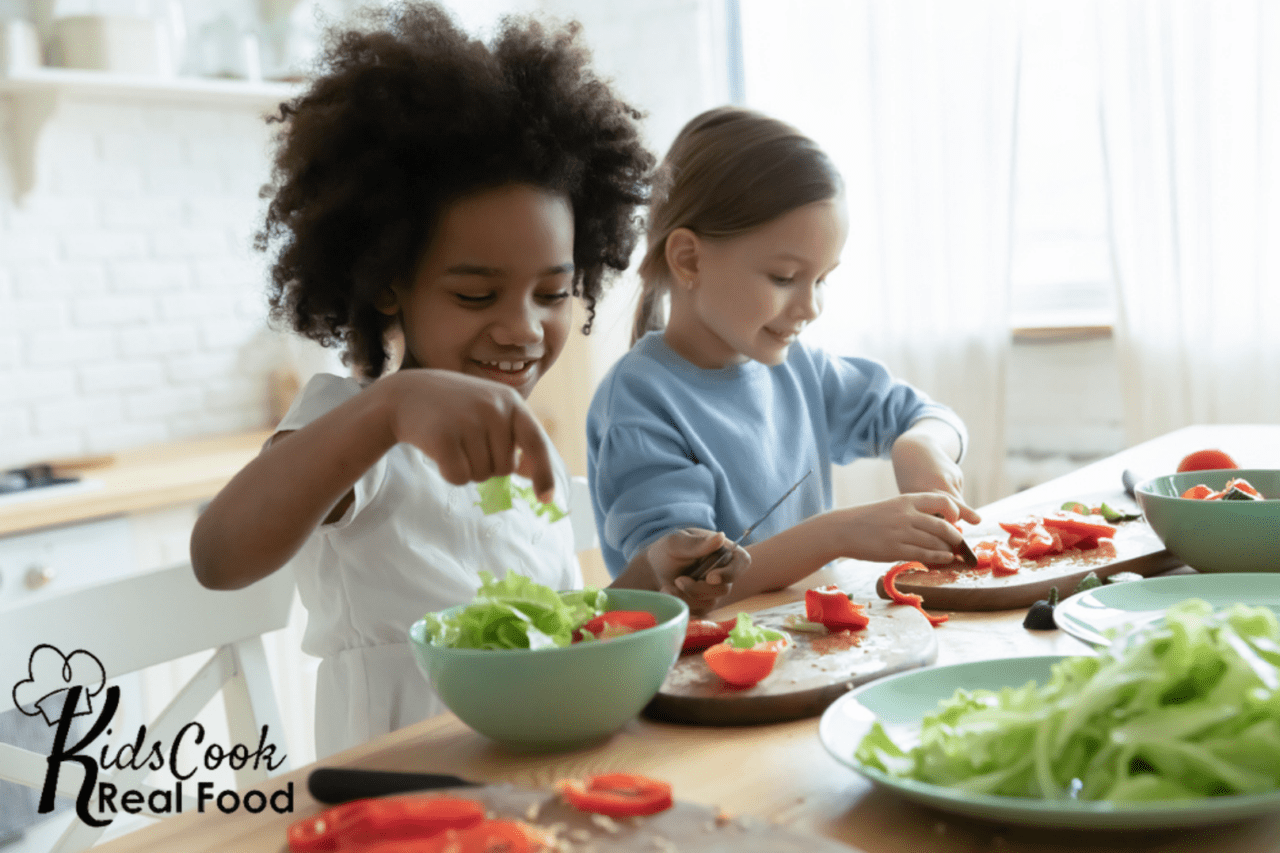 When my kids were small and the days were long, they loved "helping" in the kitchen. They started by banging spoons, pots, and pans. Soon, they graduated to squashing bananas for banana bread, cracking eggs, stirring pancake batter and rolling out biscuit dough.
But as the kids got older and life got busier, I too often neglected to include them in the process. Even when they offered, I wasn't always eager for help. "Thanks, honey, but I just want to get this in the oven!" I'd say, as we prepared to dash off to a school concert or softball practice.
But recently, my 10-year-old son watched me dipping chicken breasts in egg and bread crumbs for a baked chicken dish. "Can I try?" he asked. He loved helping and did a beautiful job. While we worked side by side, he rattled off a list of dishes he'd like to learn how to make.
With life slowing down a bit—and all three of my kids past the stage of dumping flour on the floor for fun—I realized I would actually welcome the assistance and enjoy having kitchen helpers again.
Where to start? First, I hit the internet to do some research. I read loads of articles about teaching kids how to cook and ordered a few children's cookbooks.
But I realized that what I really wanted was some hands-on assistance in teaching them. My kids tend to balk when I so much as help with a math problem—"My teacher didn't say to do it like that!" is a common refrain—and I wanted cooking lessons to be fun.
I know my limits, my life is busy, and my kids do love taking online classes. I knew exactly what we needed: an online kids cooking course.
For this review, I tested the Kids Cook Real Food eCourse developed by Katie Kimball, who's a mom herself. She's been featured on TEDx Talks and various media outlets. So I wanted to see what all the hype was about.
Keep reading to see the outcome of my experience and you can decide if it's the right online cooking course for you and your kids!
The Benefits of Cooking for Kids
After doing some reading, I realized my kids would reap many rewards from learning how to cook.
Childhood obesity is on the rise, Type 2 diabetes has increased, and more children than ever struggle with anxiety and depression. I see cooking with my kids as a way to empower them to embrace healthful eating.
Cooking is educational. Kids can utilize a variety of crucial skills in the kitchen, such as critical thinking, problem-solving, and collaboration. Plus, they'll gain confidence and self-esteem.
Working in the kitchen also means applying knowledge of school subjects: math, science, and even art. Kids use fractions in measuring, create chemical reactions by baking bread and explore art through the color, texture, and patterns found in food.
At ages 13, 10, and 7, my kids are more than ready to take on more kitchen-related responsibilities.
That might mean helping to plan menus and shopping lists, packing their own lunches now and then, or preparing a side dish for the dinner table.
If you're interested in exploring online cooking lessons for your kids, I hope you will find some useful information in my review of Kids Cook Real Food.
Free Online Cooking Class for Kids 8+
Before we get into the full review, it's worth mentioning that Kids Cook Real Food are currently offering a free cooking lesson.
As part of their Kids Cook Solo program, older children learn to cook independently. So if your child is age 8 and up it's suitable for their age and you can sign up for it for free.
In this review I will cover the following topics:
What Do Online Kids Cooking Classes Offer?

What's Special About Kids Cook Real Food

What's Included in the Course?

Does the Course Work?

What Do Other Families Say About It?

Would I Recommend Kids Cook Real Food?
What Do Online Kids Cooking Classes Offer?
With an online cooking class, students can learn how to cook from the comfort of home, using simply a computer and some basic kitchen tools and ingredients. You'll find no shortage of online cooking classes, both live and pre-recorded.
Some courses are one-offs, teaching a specific skill or recipe, while others offer recurring lessons on a range of topics and cuisines.
Kids of all ages can use an online cooking course to get more comfortable in the kitchen, learn about nutrition and have fun.
Why Choose the Kids Cook Real Food eCourse?
There are loads of online cooking courses out there, but there are a few features that I felt set Kids Cook Real Food apart from the competition. Here are the factors I found unique:
1
1
The Recipes use Fresh (and Realistic) Ingredients
The recipes for snacks and meals mainly call for whole-food ingredients.
During lessons, kids do things like soak beans, chop celery and carrots to make soup, cook scrambled eggs, and make homemade salad dressing.
Even better, the ingredients are items that many families typically have on hand.
2
2
The Classes Focus on Practical Kitchen Skills
The lessons are designed to equip kids with skills they can use in different situations.
Kids start out learning the basics (such as handwashing) and move on to mastering knife skills, measuring, and spatula techniques.
During lessons, they explore practical tasks like cooking rice, rolling out dough, and browning ground meat.
3
3
Learning Cooking Skills Instills Independence and Confidence
The course gives kids confidence in the kitchen as well as a sense of independence. Even very young children can prepare foods all by themselves.
The instructor offers encouragement, reminding kids that learning to cook takes practice and they shouldn't get frustrated if they don't master a skill immediately.
4
4
The Cooking Course is Comprehensive
One look at the curriculum map reveals that this program is thorough. It's not about making a specific dish or using a single kitchen tool.
Although the program is lengthy, the bite-size videos make it easy to do a little or a lot at a time without becoming overwhelmed.
5
5
Parent-Child Cooking Classes
Mrs. Kimball announces in the first video that parents can join in too:
We are so excited to help your adults teach you how to cook real food!
While some kids may interact more independently, there is an emphasis on spending quality time as a family.
At one point, the instructor tells kids that they can work together with their parents—for instance, if the family is making nachos, the child can brown the meat while the parents assemble other parts of the meal.
As a busy mom, I like the idea of my family working together to make dinner.
6
6
The Instructor is Experienced and Skilled at Teaching
Katie Kimball is a former teacher and mother of four who has been featured on local television in four cities, an internationally viewed talk show, as well as in podcasts, magazines, and newspapers.
But what most appealed to me was the kind, positive way she speaks to the kids.
She has modified many concepts to make them clear to even the youngest children.
She talks about "roller coaster" stirring techniques and shares fun sayings to remind kids how to hold a knife while they chop.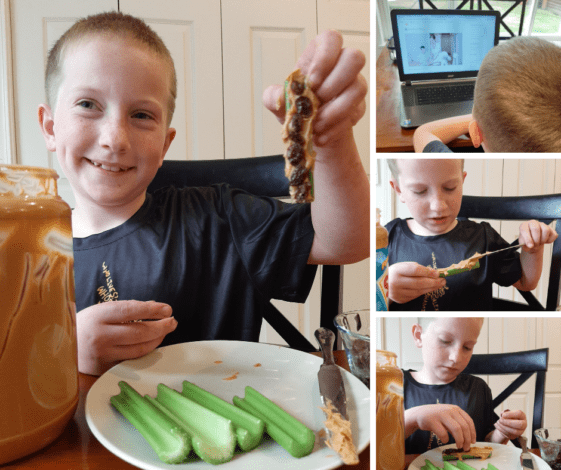 What's Included in the Kids Cooking eCourse?
The video lessons feature Katie Kimball and her team of young apron-clad assistants. The course is broken into five segments:
1
1
All-Kid Lessons
These videos are intended for kids of all ages to watch together. There are videos about how to explore spices, wash produce and get creative with leftovers. These courses connect with the specific lessons—for instance, kids can watch the video on washing produce right before they make a salad.
2
2
Foundations 101 Videos
These videos are quick tutorials that kids can watch before certain classes. They cover key techniques like stirring and cutting safely.
3
3
Beginner Level Videos
These videos are designed for kids and parents to experience together. There are eight lessons, and topics include cutting safely with knives, making salads and working with dough.
4
4
Intermediate Level
At this stage, videos cover more complex topics like preparing eggs, cooking rice, and making pancakes.
These videos all connect with hands-on topics—for instance cooking rice means learning stovetop safety, and making pancakes requires learning spatula skills.
5
5
Advanced Level
These videos get into the nitty-gritty of cooking, with demonstrations on making steamed broccoli with homemade cheese sauce, crushing garlic to include in veggie stir fry, and using small appliances to shred cheese and mince veggies for a homemade wrap.
You can track your kids' progress using a printable curriculum checklist or online. After each video lesson, there is an option to mark the lesson as completed.
There are also lots of extra materials included with every topic:
Groceries & Supplies Needed list: A list of every item necessary for kids to complete the lesson, including notes on what you might need to buy if kids are not at the level to make them (such as tortillas).
Quick Start Guide: The guide gives tips for how parents can prepare for each lesson. That might include a heads-up so families can soak beans the day before the lesson, a list of alternatives to a specific appliance or advice on simplifying the recipe.
Detailed Lesson Plan: This document gives advice for each specific video. Topics include how to tweak the structure, coach children on how to be independent and deal with specific challenges that might arise.
Recipes Used: This recipe card provides ingredients and instructions for every recipe covered, as well as links to extension recipes to apply certain skills. For instance, kids using a food processor to make chickpea wraps can extend the lesson by making black bean brownies.
Allergy Notes/Adaptations: This note accompanies each lesson. It offers alternatives to adapt recipes for certain dietary preferences, allergies and even tastes ("for bean haters," one adaptation reads.)
Adult Guide Planning & Video: Every lesson features a comprehensive guide and video adults can read and/or watch beforehand. These feature an overview of the lesson as well as hands-on advice like overcoming challenges. There are also helpful notes on developmental readiness for kids, so parents can have realistic expectations.
Shopping List for Next Lesson: If you're completing the lessons in order, week by week, this list lets you know what foods to add to your grocery list.
There are several printables you can download in PDF format:
Flash Cards: These simple cards feature a visual and a bulleted list of material covered in the course, such as the five stirring techniques or tips for making a salad.
Daily Nugget Cards: These cards feature words of wisdom about health and nutrition topics ranging from the importance of eating breakfast to why we should soak grains.
Curriculum Map: This document features a map of every lesson, including the new skill, the applications, the revisited skills, and the recipe titles.
Tools Needed Checklist: This printable document lists every necessary and optional tool, down to the toothpicks.
Entire Recipe E-Book: This is a downloadable booklet of every recipe featured.
Certificates of Completion: You can download a printable certificate for each level your child completes (with a spot to add the date).
Optional Extras:
Books
Kids Cook Real Food also offers options for families who don't want to print anything. You can order the following books to be delivered:
The Cooking Class Curriculum book includes information from all the adult guides as well as the other resources such as flash cards, shopping lists, tools needed checklists and daily nugget cards.
Recipes for Kids Cook Real Food book: This is a professionally bound and printed version of the downloadable recipe book.
VIP Bonuses
VIP members get various add-ons for the additional cost:
Support on a private Facebook group.
A downloadable e-book of extension recipes.
Downloadable video lessons on topics such as hospitality and Instant Pot use.
Access to pre-recorded webinars with topics such as Meet the Kids, Beyond Baking Cookies and Raising Adventurous Eaters.
Cost Options
VIP Membership: $149.95 (one-time fee, over 65% off)
Single Level Membership: $49.95 for 12 months of access
Money-Back Guarantee: Kids Cook Real Food offers full digital refunds within the first 30 days of purchase for any reason.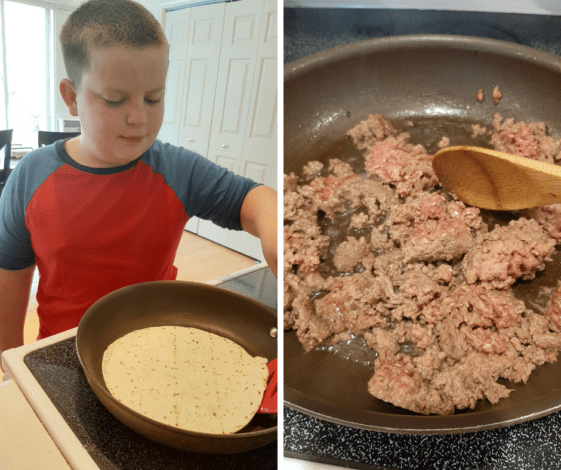 Do the Cooking Lessons for Kids Work?
I did not see a single negative review about the Kids Eat Real Food program, and I read several blog posts and comments raving about the program. But I didn't know if people were exaggerating.I can now say with confidence that the course works—at least it did for my kids.
My 7-year-old was excited about the cooking lessons. He loves watching online videos and found the lessons engaging and easy to follow.
He particularly enjoyed being a "kitchen artist" and preparing visually appealing snacks and meals. I liked that he could complete many of the lessons without a whole lot of hands-on assistance.
My 10-year-old already fancies himself a cooking expert, and he was not thrilled that I had him start at the intermediate level. But he admitted that he still learned a lot.
He progressed to the advanced level, where he enjoyed the higher-level skills like using the stove and food processor.
My 13-year-old also watched the advanced lessons, and while at times she felt "too old" for them, she did get some handy refreshers as well as fun new recipes to try. She also seemed to get more out of the nutrition advice than her brothers did.
Our whole family enjoyed the chicken rice soup, pumpkin muffins, and potato salad. The homemade ranch dressing was a hit, too, and we make it regularly to eat with our carrots and celery.
When searching for online cooking courses for kids, I discovered my kids could learn how to decorate Harry Potter cupcakes, bake Spanish desserts, or prepare sushi. But I wanted something more comprehensive and practical.
For me, the emphasis on everyday skills was effective. I am happy my kids can now make rice, brown ground beef, and scrambled eggs. The spice exploration was also particularly neat.
One highlight was the "leftover bowl," which teaches students how to prepare a healthful and tasty meal using leftovers from earlier courses—real, actual leftovers.
The lessons also opened my eyes as to how much of what I buy at the store could be made at home! From here on out, we will aim for making our own mayonnaise and shredding our own cheese.
What Do Other Families Say About Kids Cook Real Food?
I found dozens of positive reviews for the Kids Cook Real Food course, mainly in the form of blog posts written by parents who had tried it with their kids.
Reviewers appreciated the course for its bite-sized videos, friendly instructor, all-inclusive format, and tasty recipes.
On the Facebook page, 65 people gave it an average of 5 out of 5 stars.
On Amazon, the companion cooking curriculum book received 4.3 out of 5 stars from 22 reviewers. The Kids Cook Real Food website also features dozens of testimonials from experts and families.
Here's a look at some comments left by other users: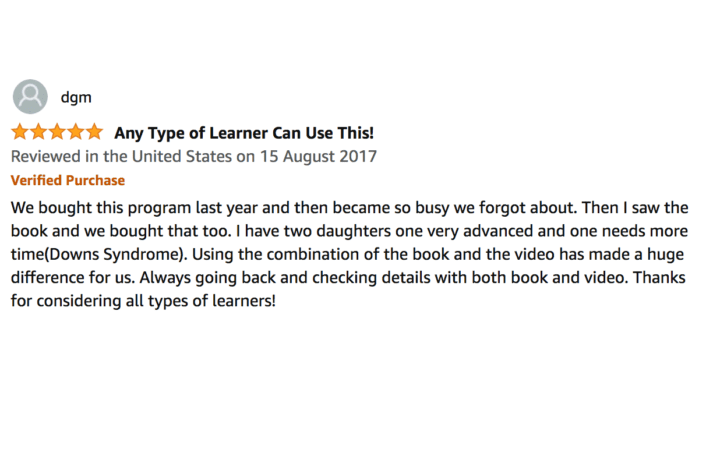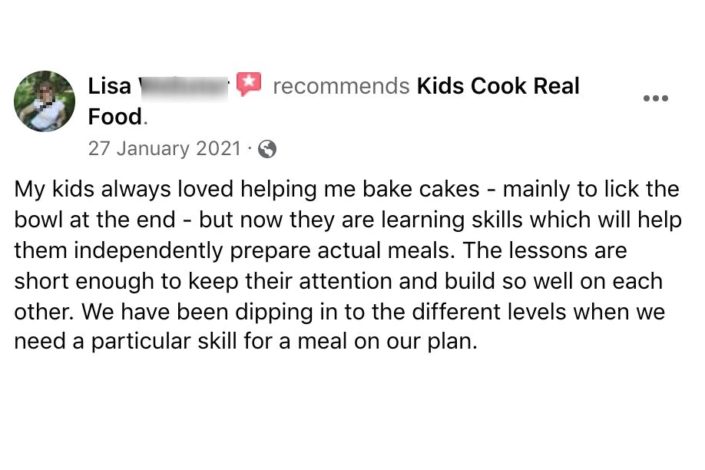 Pros of Kids Cook Real Food
The course is comprehensive, focusing on skills rather than recipes.
This is no one-off cooking course teaching a child how to bake brownies or cupcakes: The course instills practical skills, such as knife use, measuring, pouring and spatula use.
Kitchen safety is covered in depth.
The lessons prioritize safety when handling knives and appliances. The instructor repeatedly emphasizes key points, including how to hold a knife while at rest, exactly where to position fingers when holding sharp knives and where to look at any given time.
The ingredients are healthful and generally on hand.
Many of the recipes call for common veggies, rice, beans, dairy products and other staples. While there are shopping lists, in many cases, a trip to the store may not be necessary.
Lessons have modification options for dietary needs.
Many of the recipes are inherently allergen free, and the course also has an emphasis on gluten-free cooking. The notes also offer suggestions and modifications to replace allergens, create a paleo version, or try an alternate activity.
The lessons are age-appropriate and skillfully taught.
The instructor speaks kindly to the children in her videos as well as to her viewers. She is explicit in her explanations and demonstrations. The program also includes a comprehensive curriculum map, well thought-out lesson plans and a focus on child development.
The course lays the groundwork for a healthier lifestyle.
Along with learning cooking skills, kids actually glean practical advice about nutrition and healthful living. In each class, the instructor shares a "daily nugget," which is a tidbit of information for kids to take away.
These nuggets included fun—and sometimes funny—facts about topics like gut health, fiber consumption, and vitamins.
Lessons integrate to suit families with multiple children.
The beginner, intermediate and advanced classes focus on unique age-appropriate skills, but they also integrate. At our house, the kids were able to watch the all-kids lesson together and then proceed to their own lesson. Often the dishes would overlap in ingredients or produce a meal when put together.
Some things to keep in mind
Some reviewers made these comments which are worth mentioning:
The program can be overwhelming at first.
One look at the Kids Cook Real Food website shows that there is a lot to it. Upon gaining access to the program, it can seem quite overwhelming, with all the modules, levels, lesson plans and printables.
However, if you start by reading over the curriculum map and watching the "Ultimate Guide to Getting Started in the Kitchen for Kids," you can get a better idea of how to tackle the course. And ultimately, more content is better than less as it offers more value and options.
Some of the conversation is geared to younger kids.
I saw in other reviews (and experienced) that at points, it feels as though the instructor is mainly addressing younger children. Teens and tweens may roll their eyes at the cute phrases about snow plows, sandcastles and soldiers. However, they can handle it for the benefit of younger children.
The classes should be completed in order.
If you like to jump around videos to see what looks like fun, you may need to rethink the strategy. In this course, the skills and recipes build upon one another, so it's best to complete the lessons in sequential order. For many people, this may actually be desirable.
Any Cons to Kids Cooking Real Food?
The Kids Cook Real Food e-course is great in many respects. But there are a few instances where it may not be for you:
Like any course, it does require you to invest time and effort into coaching your children through the course.
Website looks a little outdated. This may not be too much of a problem for younger ones. But some older kids might want more engaging visuals.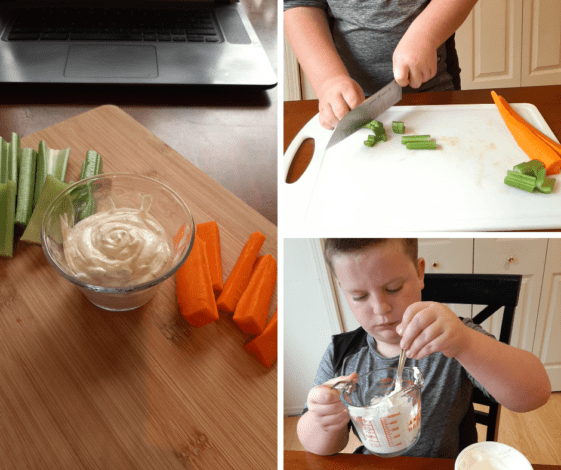 Would I Recommend Kids Cook Real Food?
Kids Cook Real Food is a comprehensive, high-quality program for any family with children who have any interest in learning how to cook.
My favorite part was the fact that all three of my kids could participate in ways that best suited their interests and skill levels.
Even though they are old enough to complete many of these lessons independently, I still enjoyed being involved. We watched the videos together, discussing the concepts and bouncing ideas off one another, and I modeled tasks for my 7-year-old.
My kids learned kitchen skills I had not yet taught them, and we all enjoyed the snacks and meals they created. I also appreciated the fun ideas I hadn't thought to do with them in the past, like experimenting with a variety of spices and discussing how to be food artists and make an appealing plate.
I appreciated the integrated lessons. Sometimes, all their dishes together made a meal for our family, such as wraps and a side salad. One week, my youngest made a salad, my middle child made tortillas, and my oldest prepared the wrap fillings.
My kids also enjoyed the daily nuggets about various health and nutrition topics. Some of the facts were surprising and inspired me to change some of my habits (like buying pre-shredded cheese—yikes.)
If you feel like your kids are too young to cook, I would highly recommend you give that a second thought. Even very young children can do this.
I hope this review helped you make up your mind if you are on the fence about purchasing Kids Cook Real Food. See what your kids think, my three sure enjoyed it! And if not, remember there is a 30-day money-back guarantee. Happy cooking!
Frequently Asked Questions – Kids Cook Real Food
Alternatives to Kids Cook Real Food eCourse
If you're not ready to commit to a full e-course, sometimes some kid-friendly recipes is all you need to get started.
We like Food Network Magazine's The Big, Fun Kids Cookbook which has simple, great-tasting meals that's well loved by both parents and kids.
Is Kids Cook Real Food eCourse free?
You'll need to sign up for a paid subscription to enjoy all the features of Kids Cook Real Food. However, they do offer a free sample lesson (for 8+ year old kids) so that you can get a feel of whether it's the right choice for you!
Is Kids Cook Real Food eCourse healthy?
Yes the Kids Cook Real Food eCourse is specifically designed to help kids understand healthy food choices and build confidence in the kitchen.