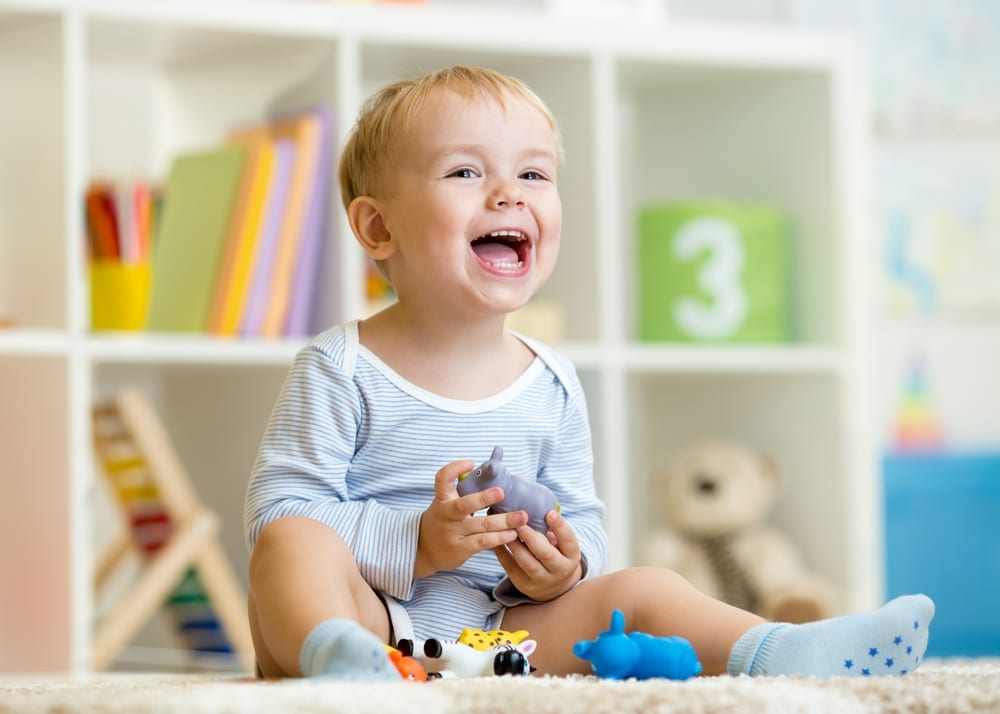 Toddlers are full of beans. They launch themselves into each day with gusto. It makes them fab little people to be around and their enthusiasm is infectious. But as a knackered parent, it can be hard to keep up. It's good to have a few tricks up your sleeve to keep them busy and entertained. 
We've put together a list of 30 awesomely fun activities for toddlers at home that are easy to do. So you can have plenty of ideas at your fingertips.
1
1
Colour in the kitchen table
Don't panic. We don't mean let your toddler free with felt tipped pens to scrawl all over your best dining table. 
Make your kitchen table into a giant colouring surface by covering it with paper. A long roll of old wallpaper or lining paper works well. Or you can purchase drawing paper rolls easily on Amazon.
Secure the paper with masking tape or Blu Tack. Then let your toddler draw and colour all over it.
2
2
DIY sponge building blocks
Cut kitchen sponges into different shapes: squares, rectangles, triangles and semi circles. You now have soft building blocks for your toddler to play with. 
They can stack them up or build towers and arches.
3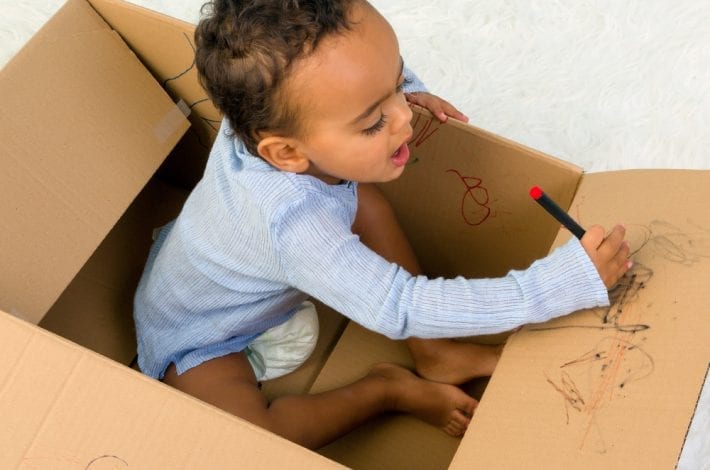 3
Is it a cardboard box or a spaceship?
A simple box can provide hours of play for a toddler. Especially a big one.
It could become a rocket, a house, car garage, a truck or a castle. Help them get started by cutting out a few openings and drawing on some details. Then let them go wild! 
The only limit is your child's imagination.
4
4
Kitchen pot percussion fun
Take out pots and pans and place them on the kitchen floor. All you need next is a wooden spoon and you have your own toddler drum kit.
5
5
Blanket forts
All little kids love a den. You can make one by draping a blanket over chairs or a clothes horse. Make the inside snug by adding cushions or even some toys that have lights. Put piles of books and toys inside.
6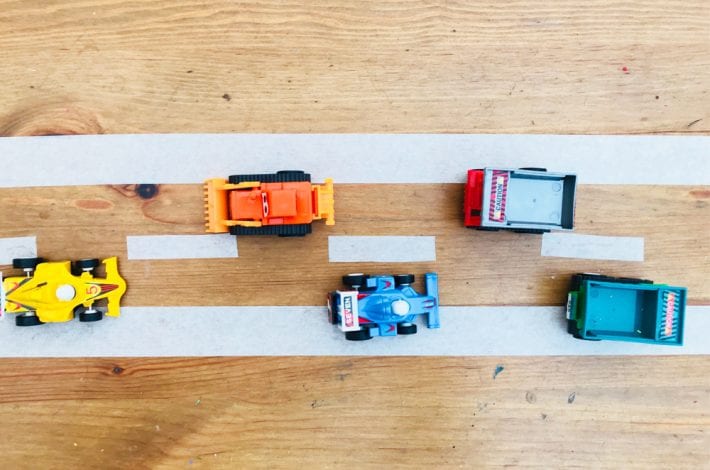 6
Masking tape roads
Create roads for toy cars in no time. Lay out the roads by taking some masking tape and running it along the floor of the room. It can even go up furniture to create some off road terrain.
Then get out all the toy cars. Let your toddler have fun driving them up and down the roads you have created.
7
7
Hunt the teddy
Take it in turns to hide your toddler's favourite teddy around the room. Let them count to 10 and then search for it.
You could shout 'cold' when they are miles away and 'hot' when they are close.
8
8
Spaghetti threading 
Get thready with spaghetti. Give your toddler uncooked spaghetti and a bowl of Cheerios. Let them have fun threading the Cheerios hoops onto the sticks of spaghetti.
9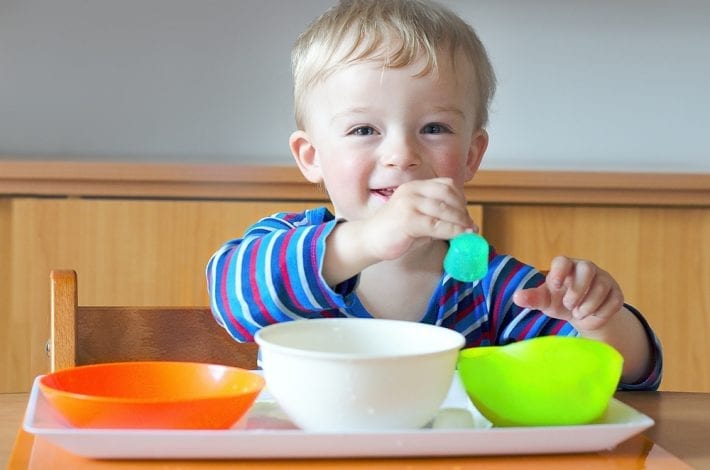 9
Sink or float water experiments
Splish splashy fun whatever the weather. Fill a washing up bowl with warm water. Give your toddler a selection of objects. Which will float and which will sink? Can they guess beforehand?
10
10
Shake it up, shake it up…
Don't throw away those empty Pringle tubs. Turn them into shakers by filling them with rice or dried pasta! Close the cap and let them go wild with the different sounds.
11
11
Brilliant busy bags
Fill a bag with small toys and games. You could pop in colouring books, crayons, plasticine and little toy figures. Hand your child their fun busy bag to explore when you want them to have some indoor fun.
Every week or so, take something out and add in a different activity so the busy bag never gets boring. You can even take your busy bag out and about with you, so you've always got exciting distractions to hand.
12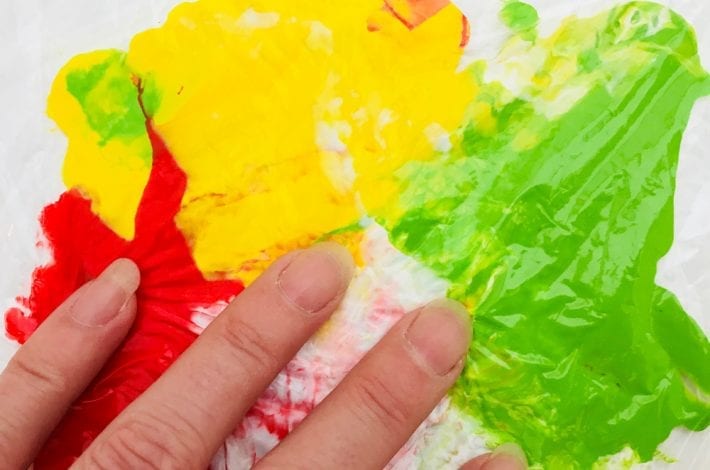 12
No mess squidgy painting fun
All the fun of painting, with none of the mess. What's not to love?
Take a piece of thick white card. Then take a zip lock plastic bag and squeeze in a few blobs of paints. They should be different colours.
Seal the bag and then tape it to your card, placing the tape across the zip lock seal. Your toddler can squish and squeeze and move the paint around through the bag to mix it together. They can also use their fingers to trace shapes into the paint. It's so much fun!
13
13
Pipe cleaner colander threading
Who knew a kitchen colander could keep a toddler entertained for so long? Especially when you give them a bunch of pipe cleaners as well.
The idea's easy. Your toddler has to poke pipe cleaners through holes in the colander. By the end your colander will never look boring again after it has colourful pipe cleaners poking out of it every which way.
And while they play they'll also be developing their fine motor skills.
14
14
Shaving cream messy play
Squirt shaving foam into an oven tray. Add some of your toddler's plastic toy figures or animals.
Give your toddler spoons, tubs and forks and let them play to their heart's content.
15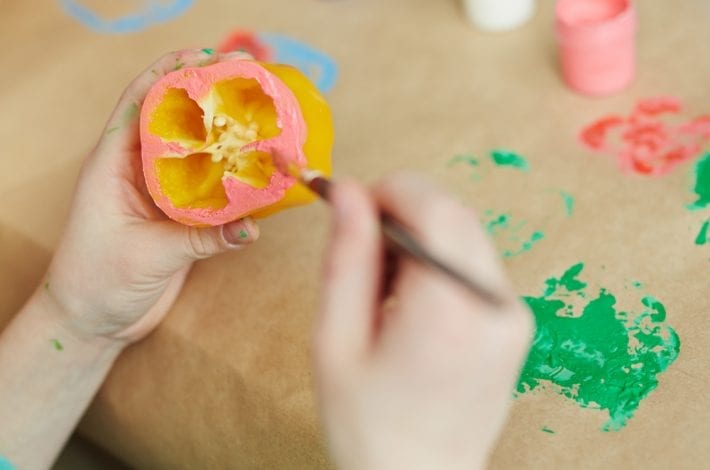 15
Vegetable printing
We've all heard of potato printing but there are so many other vegetables that make great prints when you dip them in paint.
Set your toddler up with big sheets of paper, paper plates of paint and a selection of veg to dip and print. Try broccoli florets, carrots, celery, halved pears or apples and sliced peppers.
16
16
Playdough impressions
Every toddler loves playdough. Extend the fun by giving them a blob of playdough to roll out. Then give them a selection of objects to press into the playdough to make marks.
You could include things like pasta, keys, pine cones, a fork, a potato masher, buttons and coins. Each one will leave different marks and impressions. If you've got a garlic press add that to the mix too so they can squeeze out lots of playdough worms.
If you want to make homemade playdough we've got a simple no bake playdough recipe here. Or we have this one for edible playdough if you're worried about your toddler putting playdough in their mouths.
17
17
Collage sticking fun
Gluing and sticking is a favourite toddler activity. All you need is a sheet of card, glue and a collection of things to stick down. These could be pieces of tissue paper, sequins, stickers, pasta shapes, buttons or pictures cut from a magazine.
18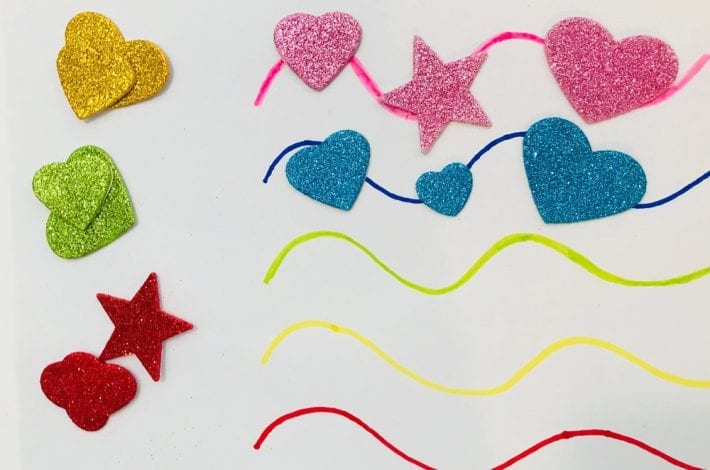 18
The colour matching wall game
Stick a sheet of paper to the wall and draw wavy lines in different colours. Can your toddler stick coloured stickers along the matching coloured lines?
19
19
Instant finger puppets
This is the quickest and easiest way to make finger puppets for your toddler to play with.
Take a washing up glove and snip off the fingers. Draw faces on them with a Sharpie. Within seconds your toddler has a finger puppet to play with.
As with all small toys toddlers should be supervised while playing with these and don't let them put these puppets in their mouths.
20
20
Card lacing fun
Threading ribbons through holes can keep little ones busy for ages. It's a great way for them to practice their fine motor control too. It's so easy to make your own lacing cards.
Cut rectangles of card and punch holes in them with a hole punch. Laminate them beforehand to make them sturdier if you like. Your toddler can thread ribbon or shoe laces into and out of the holes.
21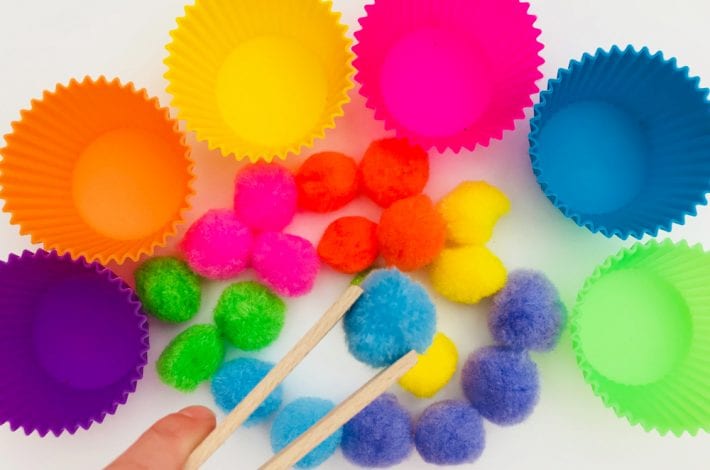 21
The pom pom tweezer challenge
Give your toddler a heap of pom poms, some wooden tongs and an ice cube tray. Let them see if they can pick up the pom poms and pop one in each section of the tray.
Can they name the colour or make any colour patterns?
If you prefer you can use coloured silicone bun cases instead. That way you can also make it a colour matching game. Ask them to put all the green pom poms in the green silicone bun cases, all the purple ones in the purple silicone bun cases and so on. 
22
22
Play shops
Set your little one up with a toy till and plastic money. Then get out tins and packets from the kitchen to set up their shop.
You can have lots of imaginative play visiting their shop and buying the produce they have on offer.
23
23
Basket sorting
Give your toddler some empty mixing bowls or baskets and a selection of toys or objects. They can be different things like toy animals, toy figures, or foods like fruits, vegetables and pastas. 
Ask them to put all the matching objects into their own basket or bowl. So all the vegetables could go into one, the fruits into another and the pastas into a third.
24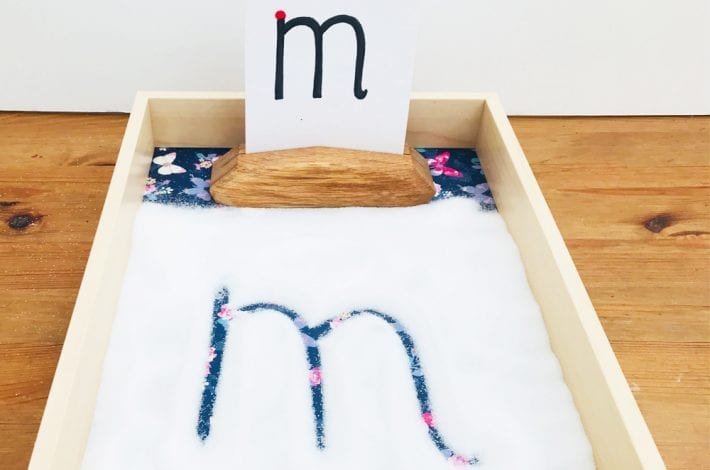 24
Sand tray writing
Pour a shallow level of sand into a tray. You can also use sugar, flour, icing sugar or even grains of rice instead. Your little one will have lots of fun using their fingers to draw lines, shapes and pictures in the sand.
You could give them a selection of utensils to use to make marks like a plastic spoon, a stick and a fork.
You can find our full Montessori tray craft here.
25
25
Copy the picture
Draw lots of simple shapes or pictures on card in a thick black pen. Then cover your picture with a sheet of tracing paper and secure with some sticky tape.
See if your toddler can trace over the lines to copy what you've drawn.
26
26
Bubble wrap runway
Grab a roll of bubble wrap and place it on the floor to make a fun walkway for your toddler. They will have fun walking across it and making the bubbles pop.
You can hand them some pens to draw all over it too if you like.
27
27
2 ingredient silky soft cloud dough
All it takes is two ingredients. Mix them up to produce the softest, most sumptuous cloud dough that your toddler will love. You can find the full recipe for 2 ingredient cloud dough here.
28
28
Glittery window stickers
SO much fun. Take a sheet of sticky backed plastic. And ask your child to sprinkle glitter on it and place down strips of tissue paper.
Then cut out heart or star shapes from the sheet and stick them onto your window. You now have your very own glittery DIY window stickers to brighten up your day.
29
29
Indoor bowling fun
Set up your own indoor bowling game. Grab a ball from your child's toys. Then set up a few empty water bottles as pins. You can also use kitchen towels, cardboard tubes or other household items instead.
Take it in turns to bowl the ball towards your 'pins' and see how many you can knock over! Adjust how far away from the pins you're standing depending on how well your toddler can hold and throw a ball.
It can be such a fun game!
30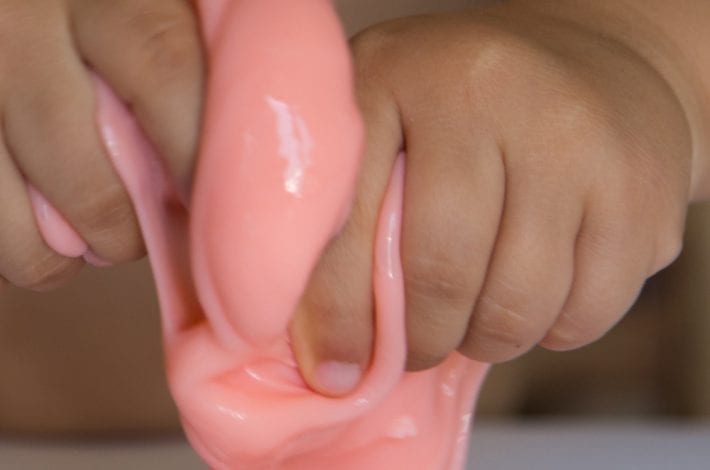 30
Go wild with gloop
Before the slime craze there was gloop. Never heard of it? Or not tried it for a while?
It's so easy to make. Mix two parts cornflour with one part water. Add some food colouring if you like.
Gloop can give hours of fun. Your child can scoop it up and hold it in their hands as a solid but then it trickles through their fingers like liquid. 
These exciting and easy indoor activities will keep your little one busy and entertained for hours.