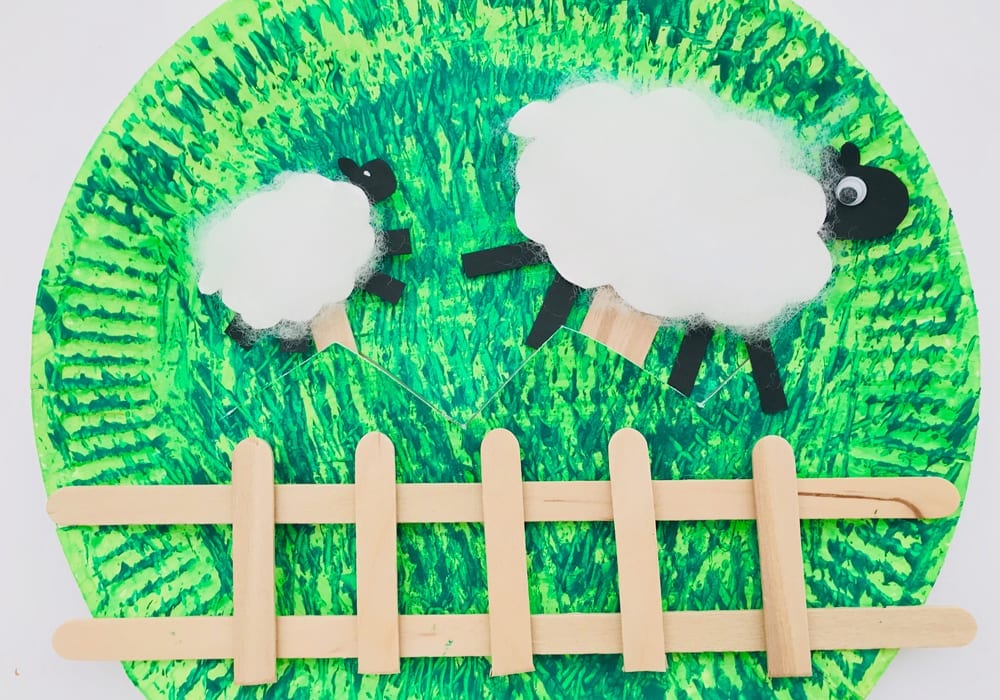 Fun Kids Craft
Try a different kind of paper plate craft with these paper plate sheep that jump the fence. Make easy sheep puppets and then move them across the paper plate in zig zag slots, as they leap across the field. Your child can play with them and make them move around themselves.
Enjoy this as an easy and fun craft on its own, or you can use it as a starting point for learning about farm animals.
Which animals are ones that live on a farm? What are baby farm animals called?
Summary:
Time: 15 minutes
Age: Little kids
Difficulty to make: Easy peasy
Skills: Learning farm animals
1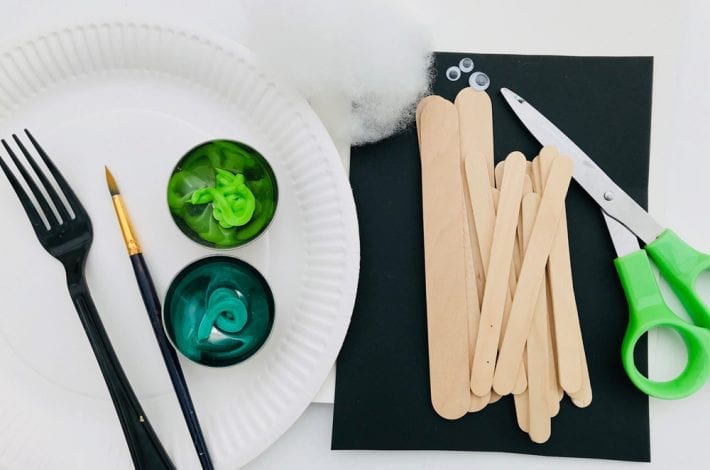 1
You will need:
Paper plate
Paint – light and dark green
Paintbrush
Fork
White and black card
Scissors
Googly eyes
Cotton wool
Glue gun or Tacky glue
Wooden popsicle sticks
2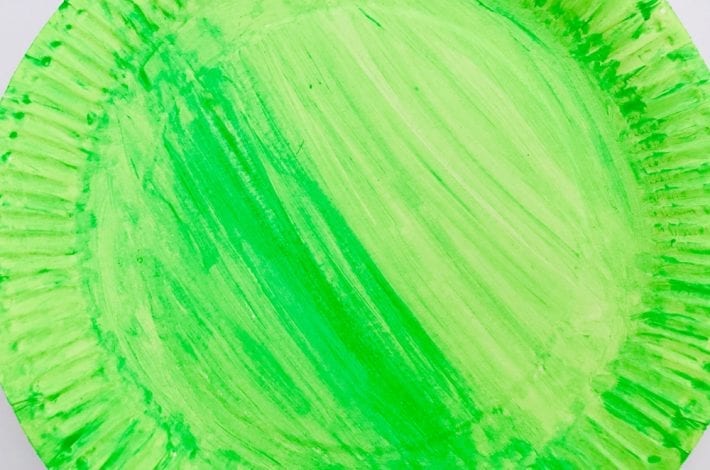 2
Step 1: Paint the background
Paint your paper plate with light green paint. This will be the background to the grassy field so don't worry if it's not super neat.
It will soon be covered over with 'grass'.
3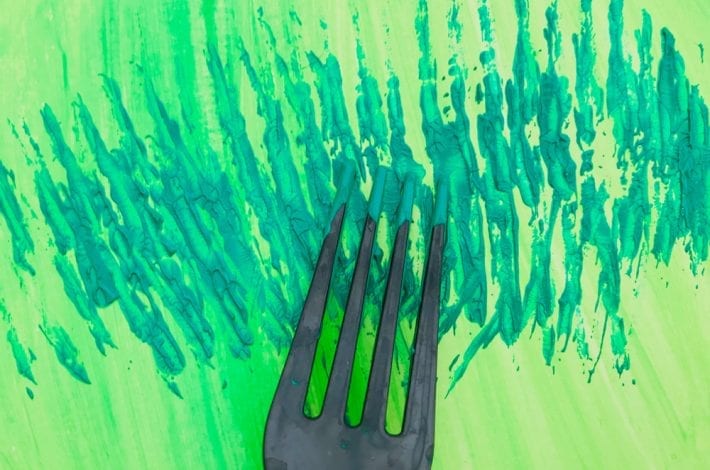 3
Step 2: Fork printing
Dip a fork in dark green paint and start printing on your green background. Make lots of prints, overlapping one another.
Cover the whole plate with fork prints. It should now look like a grassy field.
4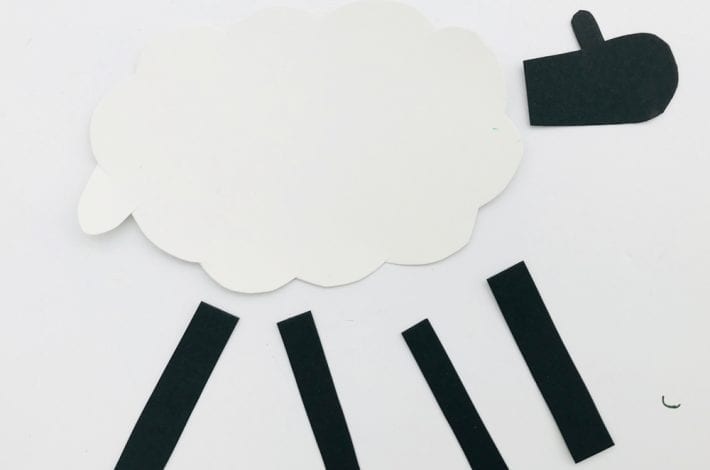 4
Step 3: Cut out shapes for your sheep
Cut a cloud shape from white card for your sheep's body.
Take the black card and cut out 4 thin strips for its legs, and an oval shape for its head.
5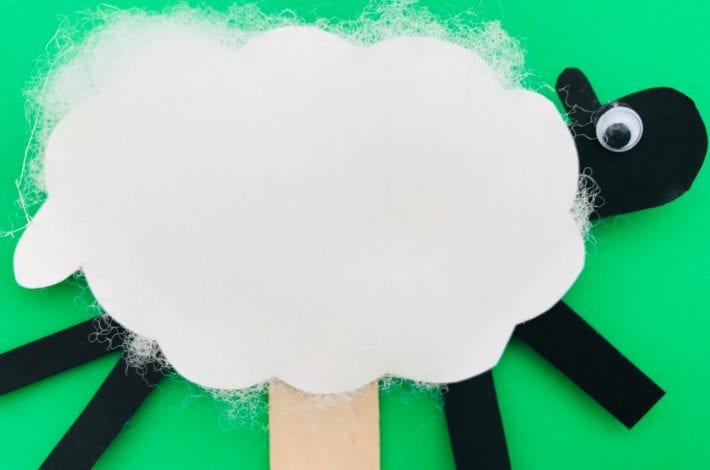 5
Step 4: Complete your sheep puppet
Glue all the card shapes in place to put together your sheep.
Glue a googly eye onto its head. Spread out some cotton wool balls with your fingers and glue them on to make your sheep nice and fluffy.
Stick your sheep to the top of a wooden popsicle stick.
Repeat the process again to make a smaller sheep or little lamb.
6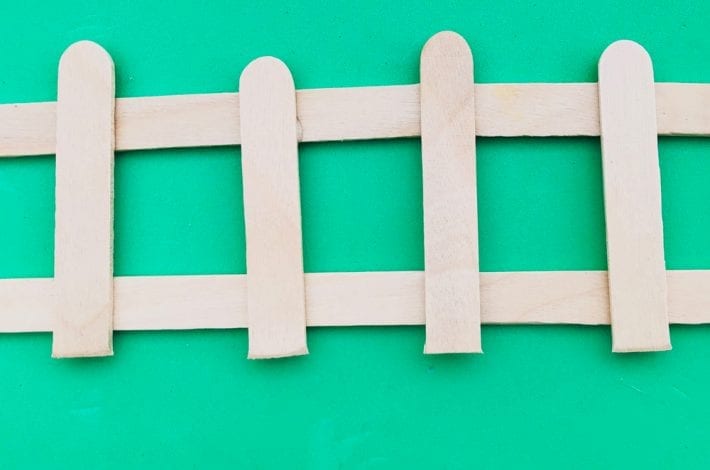 6
Step 5: Make a fence
Glue two popsicle sticks together to make a long strip. Repeat with another two so you now have two very long wooden sticks.
Cut a few popsicle sticks in half. Glue them across the long sticks so that they look like a fence (you can use the photo above as a guide).
7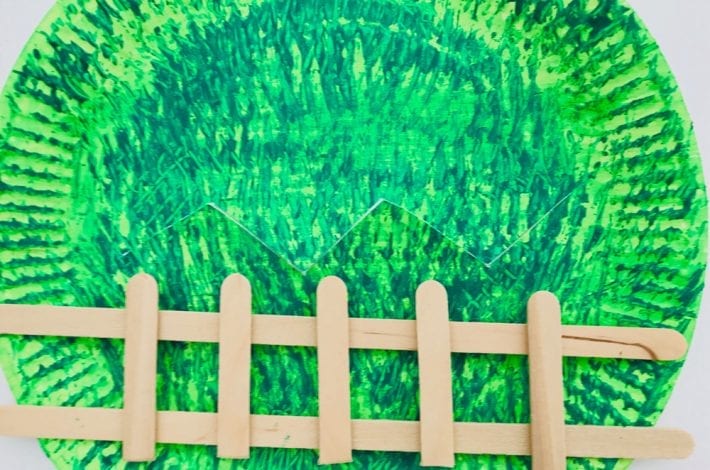 7
Step 6: Glue your fence onto your field
Glue your fence to the bottom of your paper plate.
A glue gun works well. If you don't have one use strong or tacky glue.
8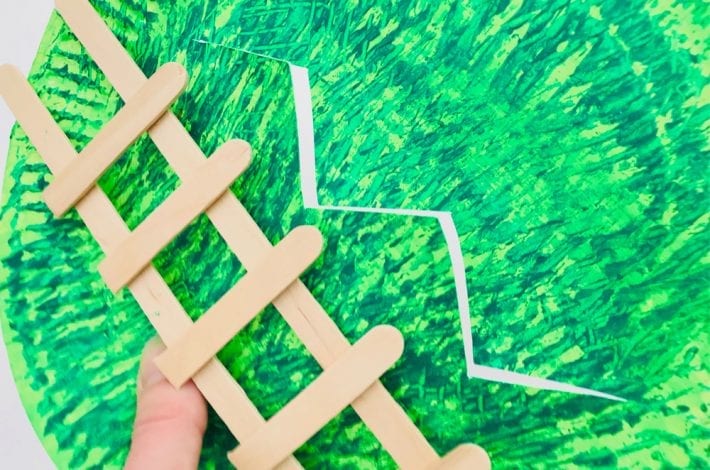 8
Step 7: Cut a zig zag slot
Using either a craft knife or a pair of sharp scissors cut a zig zag line along the centre of your paper plate.
Don't cut right to the sides of the plate. Leave a border or 1-2 inches on either side. This bit is best done by an adult.
9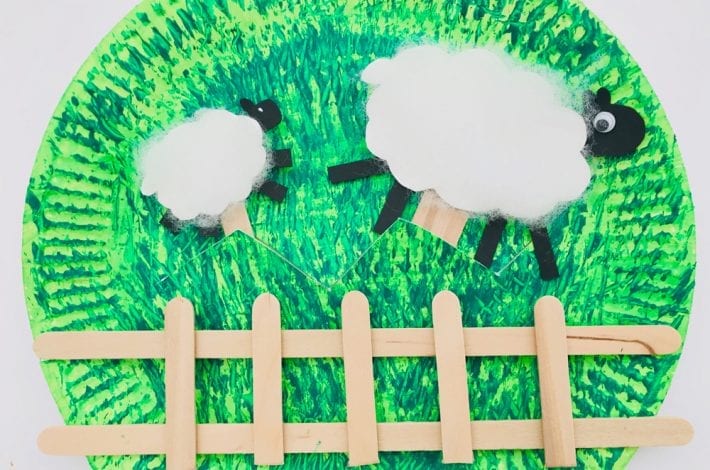 9
Step 8: Make your sheep jump over the fence
Place the sheep puppets through the zig zag slot.
Your child can hold the bottom of the lollipop sticks and move the sheep along the zig zag slot.
It will look like the sheep are leaping across the field and over the fence.
10
10
Learning about farm animals
If you are using this craft as a way to start children learning about farm animals then here are some ideas of how you could continue the learning journey.
Sing songs and read books about farm animals together. While you do talk about which animals live on a farm.
Use plastic farm animal toys and green felt to make a quick farm style sensory bin. Children can see and play with animals. They will become familiar with which ones live on a farm together.
Use photos of baby farm animals to talk about what these animals are called.
11
11
Classics for Learning About Farm Animals
Spot Goes to the Farm, Eric Hill
Good for: Learning what baby farm animals are called
Find on Amazon here.
In this book Spot the dog hunts all over the farm looking for some new baby animals. Each animal he meets tells him that there are no baby animals hiding with them. Each also tells Spot the name of their babies.
As you read the book again you could say the names of each farm animal and the names of their babies. Your child will learn about cows and calves, sheep and lambs, ducks and ducklings and pigs and piglets – as well as other baby animals.
Old MacDonald Has a Farm (lyrics)
Good for: learning farm animals and the sounds they make
Old MACDONALD had a farm
E-I-E-I-O
And on his farm he had a cow
E-I-E-I-O
With a moo moo here
And a moo moo there
Here a moo, there a moo
Everywhere a moo moo
Old MacDonald had a farm
E-I-E-I-O

Old MACDONALD had a farm
E-I-E-I-O
And on his farm he had a pig
E-I-E-I-O
With a oink oink here
And a oink oink there
Here a oink, there a oink
Everywhere a oink oink
Old MacDonald had a farm
E-I-E-I-O

Old MACDONALD had a farm
E-I-E-I-O
And on his farm he had a duck
E-I-E-I-O
With a quack quack here
And a quack quack there
Here a quack, there a quack
Everywhere a quack quack
Old MacDonald had a farm
E-I-E-I-O

Old MACDONALD had a farm
E-I-E-I-O
And on his farm he had a horse
E-I-E-I-O
With a neigh neigh here
And a neigh neigh there
Here a neigh, there a neigh
Everywhere a neigh neigh
Old MacDonald had a farm
E-I-E-I-O

Old MACDONALD had a farm
E-I-E-I-O
And on his farm he had a lamb
E-I-E-I-O
With a baa baa here
And a baa baa there
Here a baa, there a baa
Everywhere a baa baa
Old MacDonald had a farm
E-I-E-I-O

Old MACDONALD had a farm
E-I-E-I-O
And on his farm he had some chickens
E-I-E-I-O
With a cluck cluck here
And a cluck cluck there
Here a cluck, there a cluck
Everywhere a cluck cluck
With a baa baa here
And a baa baa there
Here a baa, there a baa
Everywhere a baa baa
With a neigh neigh here
And a neigh neigh there
Here a neigh, there a neigh
Everywhere a neigh neigh
With a quack quack here
And a quack quack there
Here a quack, there a quack
Everywhere a quack quack
With a oink oink here
And a oink oink there
Here a oink, there a oink
Everywhere a oink oink
With a moo moo here
And a moo moo there
Here a moo, there a moo
Everywhere a moo moo

Old MacDonald had a farm
E-I-E-I-OOOOOOO………