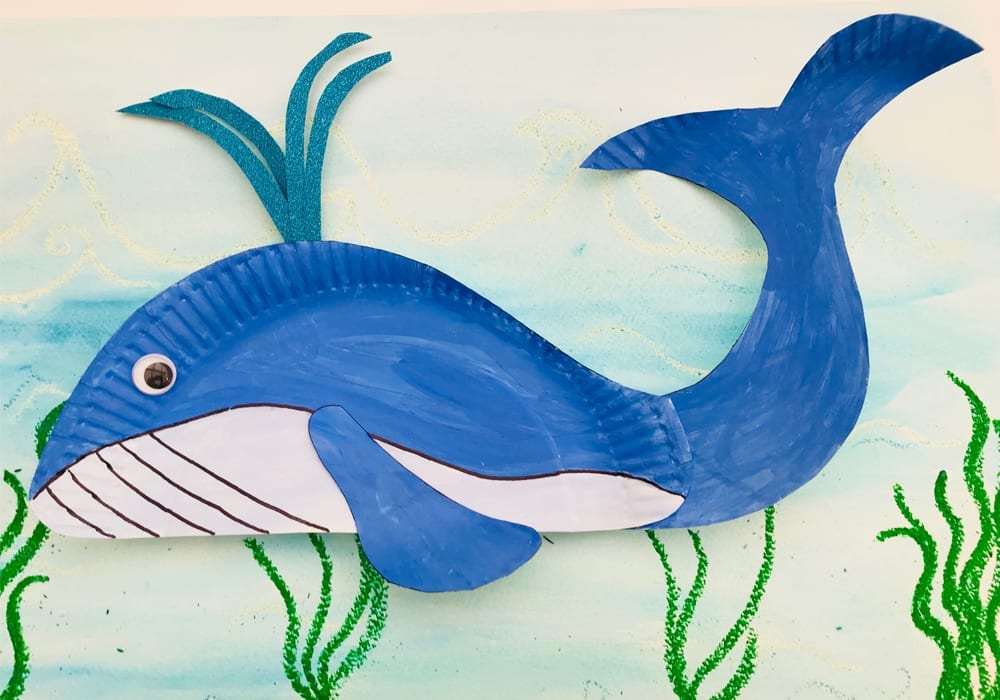 Fun Kids Crafts
Make this easy blue whale craft in minutes with just some paper plates and paints.
You can enjoy making it as a quick and easy craft on its own. Or use it as a starting point to teach children about these wonderful ocean animals.
We've included some fun facts about the blue whale here to get you started. And we've even got a video of them 'singing' so that you can hear what these creatures sound like.
Summary:
Time: 15 minutes
Age: Little kids to Big kids
Difficulty: Easy peasy
Curriculum: Ocean life
1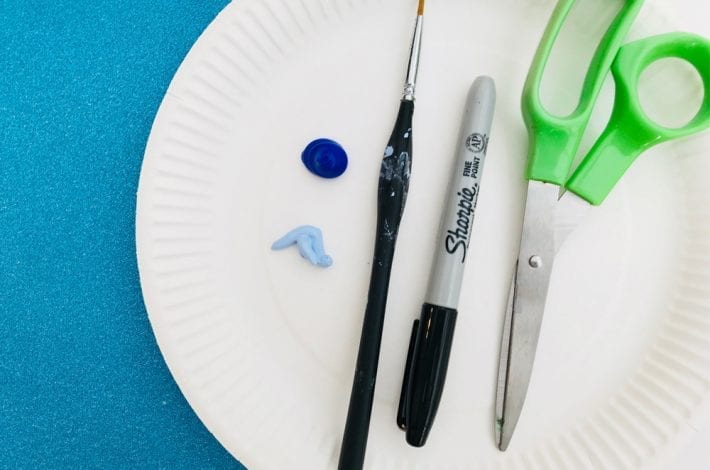 1
You will need:
Blue whale craft
Paper plates (2)
Scissors
Paints – blue, grey and white
Glue
Black felt pen or Sharpie
Glittery blue card
Googly eyes (optional)
Ocean Backdrop (optional)
White card
Crayons or oil pastels
Blue paint
Paintbrush
Water
2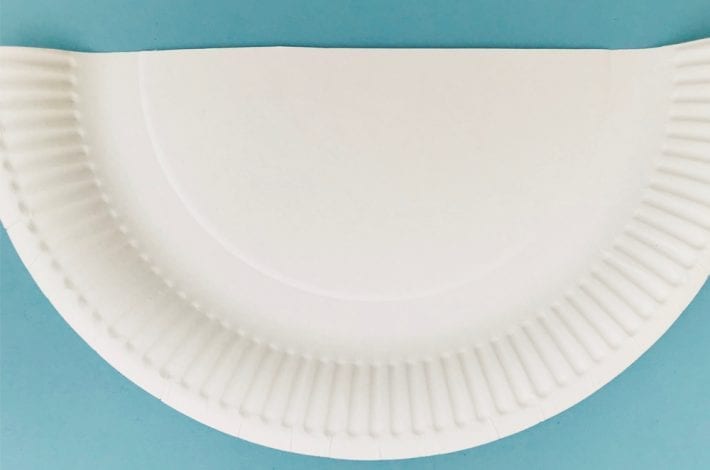 2
Step 1: Cut a paper plate in half
Take a paper plate and cut it in half down the middle.
3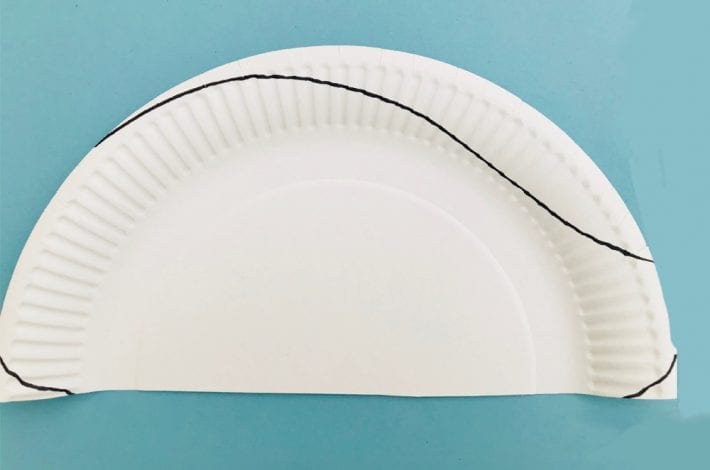 3
Step 2: Trim the paper plate
Draw the shape of the body of your whale on one half of the plate. Use the photo above as a guide for the shape.
Using scissors, trim the paper plate along the lines you have drawn.
4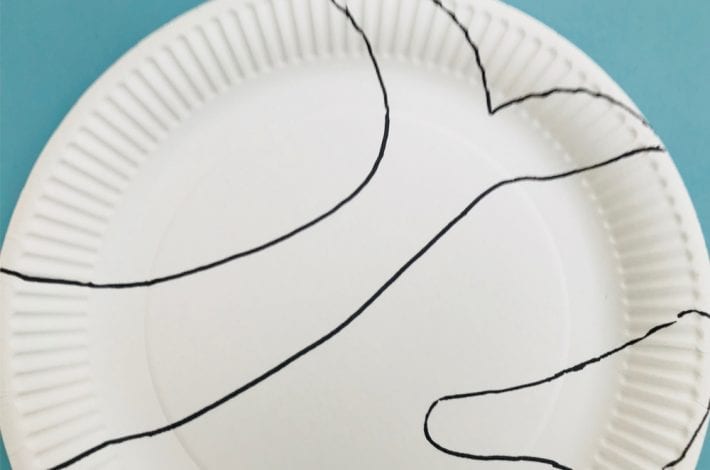 4
Step 2: Cut out your whale's tail and fin
Take a second paper plate.
Draw out the shapes for the whale's tail and fin. Cut out along the lines again.
You can use the photo here to guide you as to their shapes.
5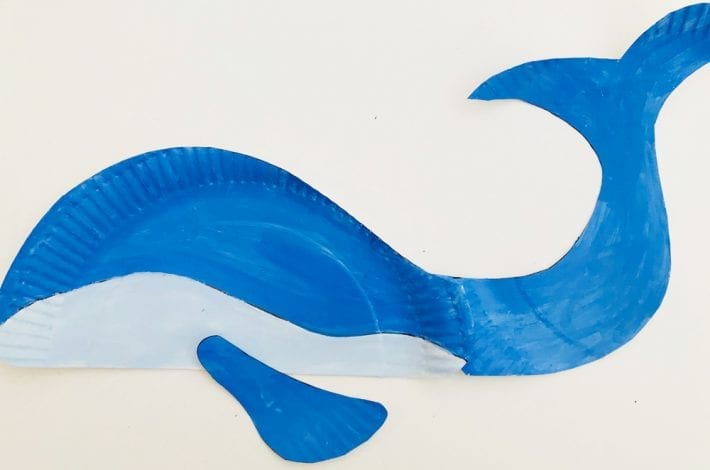 5
Step 2: Paint your whale
Start with your whale's body.
Draw a wavy line across the bottom of the body to mark out the whale's paler underbody.
Paint the top half of your whale in a blue-grey paint color. Paint the tail and fin in the same shade.
Then paint the underside in a much paler grey-blue paint color.
Glue the tail and fin to your whale's body.
6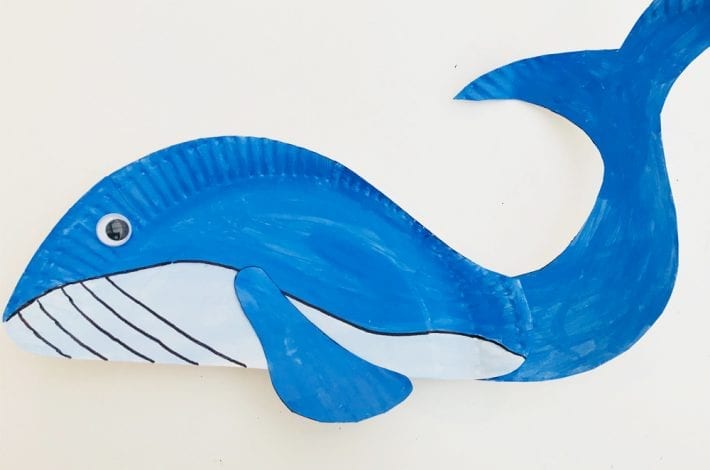 6
Step 4: Add some finishing details
Stick a googly eye onto your whale. If you don't have googly eyes you can paint an eye on using white and black paint.
Draw lines onto your whale's underbelly using a Sharpie pen or black paint.
7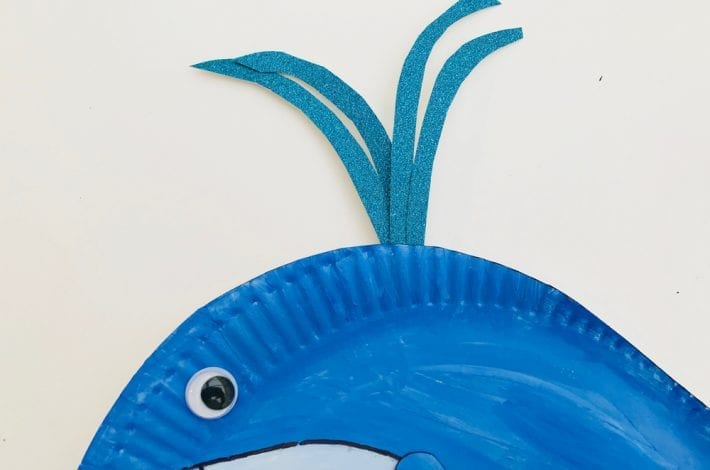 7
Step 5: Add some spurts of water
Take some glittery blue card. Cut out some curved, thin strips.
Stick them to the back of your whale so that they look like water spurting out from their blowhole.
8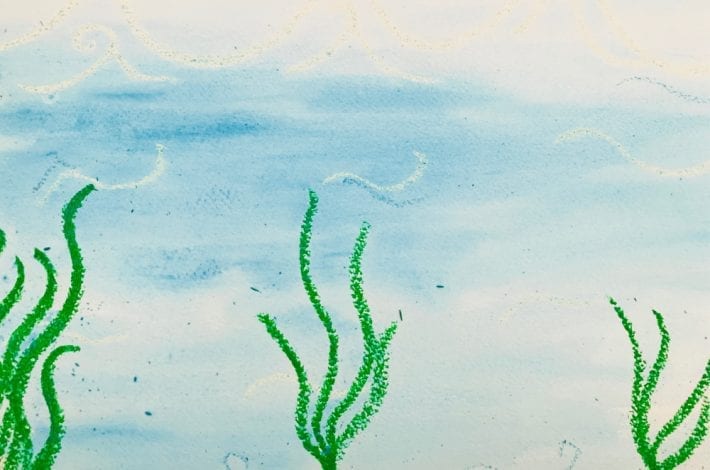 8
Step 6: Make an underwater background
This step is optional. If you want to give your whale a watery background take a sheet of white card.
Using crayon or oil pastels, draw on some wave shapes across the card. Draw some seaweed shapes coming up from the seabed.
Then mix some blue paint with water. Paint your sheet of card with the watered down paint. Make some areas more watered down than others.
Once your watery background is dry, glue your whale onto it. That way it looks like it's swimming under the ocean.
9
9
Learning about Whales: Resources
If you would like to teach your child about whales as part of ocean life, then this is a great book for preschoolers.
It gives them a taste of the different kinds of whales in the ocean, where they live and what they eat.
If I Were a Whale, by Shelley Gill
Find on Amazon here.
"From best-selling children's author Shelley Gill comes this colorful, rhyming board book playfully featuring whales found in the Pacific, Atlantic, and Arctic Oceans.
If I could be anything, do you know what I'd be? I'd be a whale in the deep blue sea.
Scooping up fishes and flipping my tail, I'd be a minke or beluga whale."
10
10
Fun Facts About Blue Whales
Blue whales are fascinating creatures. Here are some amazing facts about blue whales that you could share with your child.
How big are they? The blue whale is the largest known animal on earth.
How long are they? They are about 30 metres (98 feet) long. That's as long as 3 buses end to end.
How much do they weigh? They weigh over 100 tons. That's as much as 25 average cars.
Blue whale's tongue. A blue whale's tongue alone weighs as much as an African forest elephant
Blue whale's heart. A blue whale's heart is the size of a small car.
What do they eat? Blue whales are ginormous, but they eat tiny foods. They feed on krill which are very small shrimp like animals. As the blue whale is so enormous it needs to eat thousands of little krill each day to fill its tummy. They can eat 36,000 krill every day or 4 tons.
Whale songs. Though we can't hear them blue whales are one of the loudest animals on earth. The sound they make is noisier than a jet engine. They make noises such as pulses, groans and moans which sound a bit like songs.
How fast are they? Blue whales swim along through the ocean at a leisurely pace – at around 5 miles per hour. This is about twice the speed that humans walk. They can speed up to 20 miles per hour – which is the as fast as a car going quite slowly along the road.
How long do they live for? Blue whales live for about 80-90 years. Some blue whales are reported to have lived until they are 110.
Blue whales have feelings. Whales that have washed ashore are reported to have shown affection towards humans rescuing them. This is as if to say thank you.
11
11
What does whale song sound like?
12
12
Ocean Life
Learning about ocean life and all the creatures in it is a fascinating part of early years learning.
Not only is it fun to learn about all the underwater animals, but in the future it can help children to appreciate the creatures in our oceans.
They might grow up to love to snorkel or scuba dive. Hopefully it can also help them feel the importance preserving healthy ocean life.
This post may contain some affiliate links. This means that if you click to make a purchase that we may earn a small commission at no extra cost to you.