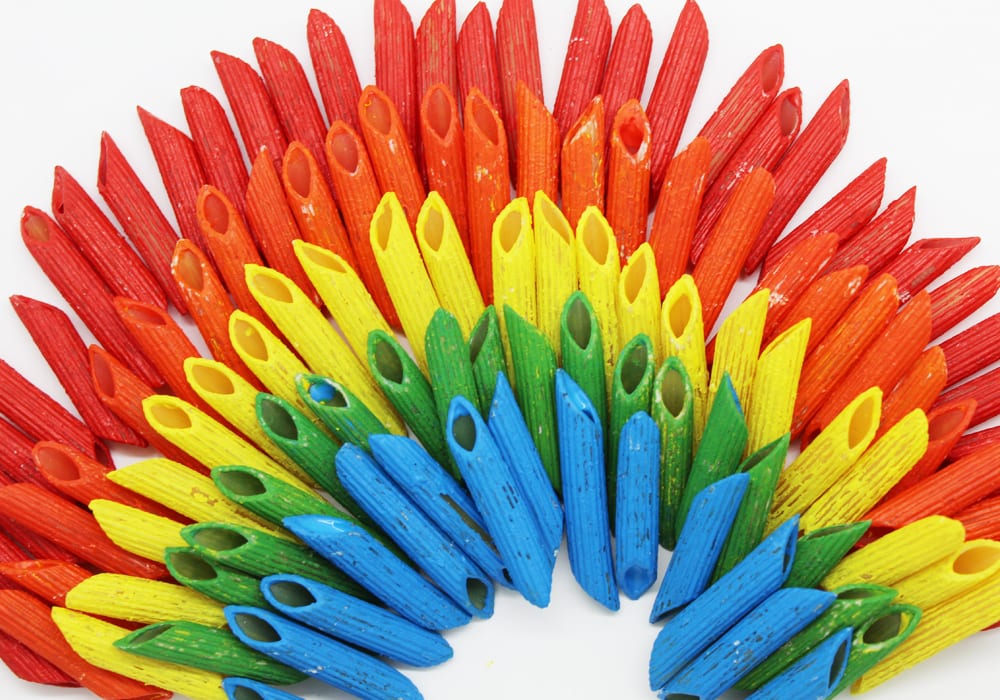 How to Make Colored Pasta
Colored pasta pieces lead to some awesome craft activities. You can stick it onto paper or card to create pictures or thread it on pipe cleaners or string to make pasta necklaces or pasta snakes.
You can use it for sensory play trays as well. Lay them out in bands of colors. Or mix them all up and ask your child to sort them out into piles of colors.
But how to make colored pasta?
It's actually so easy. Especially with this shake-a-bag technique. You can dye large quantities of pasta quickly and with little mess.
Summary
Time to make: 10 minutes
Drying time: 2 hours or overnight
Ages: Toddlers and Little Kids
Difficulty: Easy peasy
1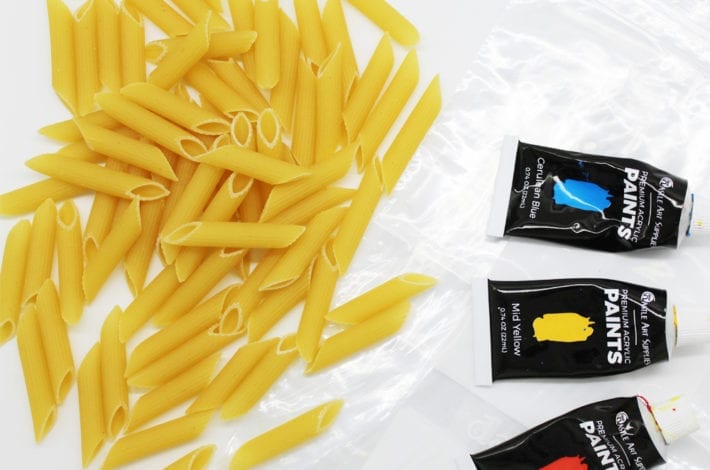 1
You will need:
Penne pasta
Red, blue and yellow acrylic paints
Sandwich bags
2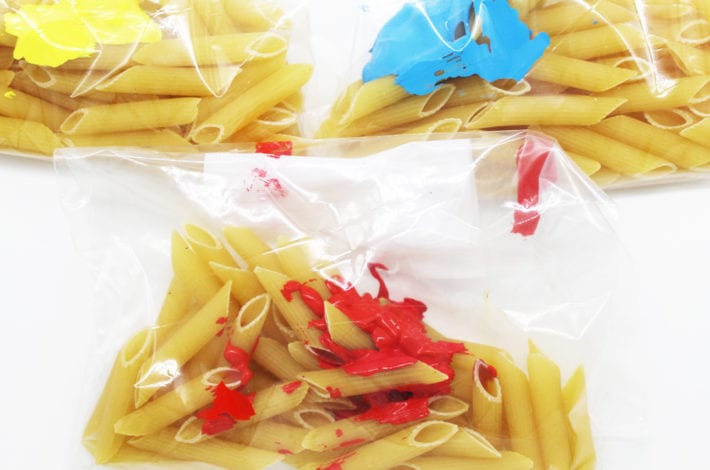 2
Step 1: Paint in a bag
Put some penne pasta in a sandwich bag and add a good squeeze of paint.
Start with the primary colours. So add blobs of red, yellow and blue paint into bags of pasta. Just squeeze in a good amount. You can always add more later.
3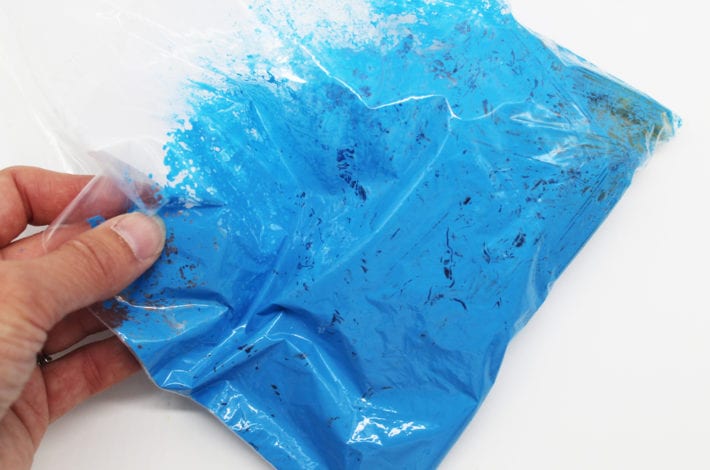 3
Step 2: Shake it, shake it
Seal the bag and shake it around. Kids love helping out with this bit.
Shake the bag well so that the paint covers all the pasta. You can squash it around with your fingers as well to get every piece of pasta covered.
4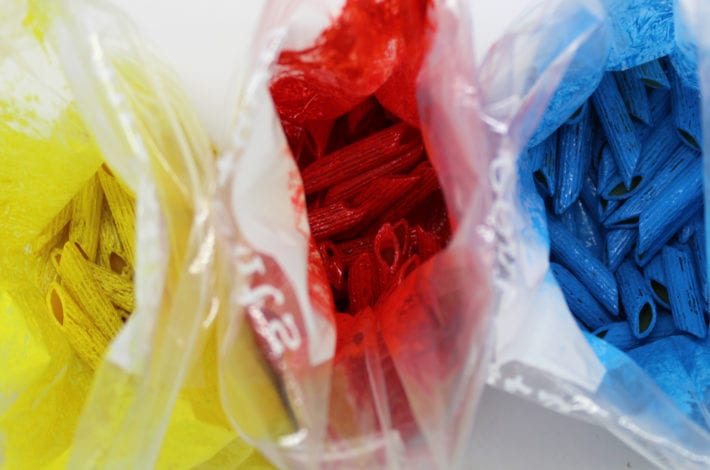 4
Step 3: Peak in to check
When you're done open the bag to check how well the pasta has been covered by paint. If they're not completely covered, squeeze in some more paint and shake it again.
Here we have done the pasta in primary colors.
5
5
Step 4: Mixing colors to make new ones
You can also show your child how you can color the pasta by mixing two primary colours together.
Add the two primary paint colors to the plastic bag and squash them around until they mix to make the new color.
Once again place some penne pasta in a sandwich bag and shake until they're covered. Here are some ideas of color mixes you could try:
red and yellow to make orange
red and blue to make purple
blue and yellow to make green
6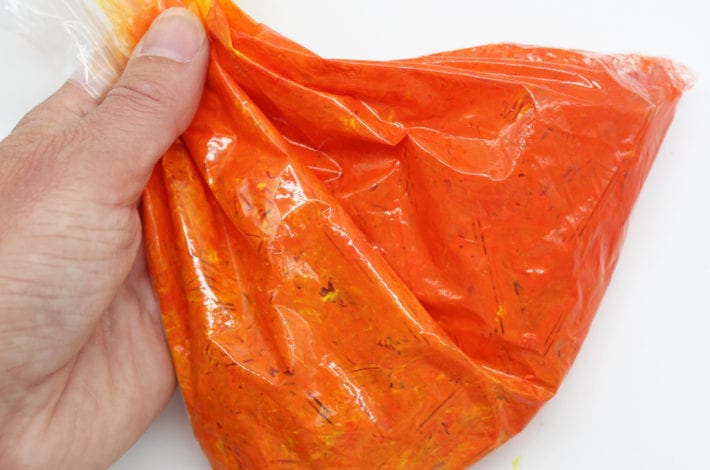 6
Step 5: Keep shaking until covered
If your mixed colour is too dark add a little more of the lighter coloured paint and shake again. If it's too light, add a blob of the darker colour and shake.
7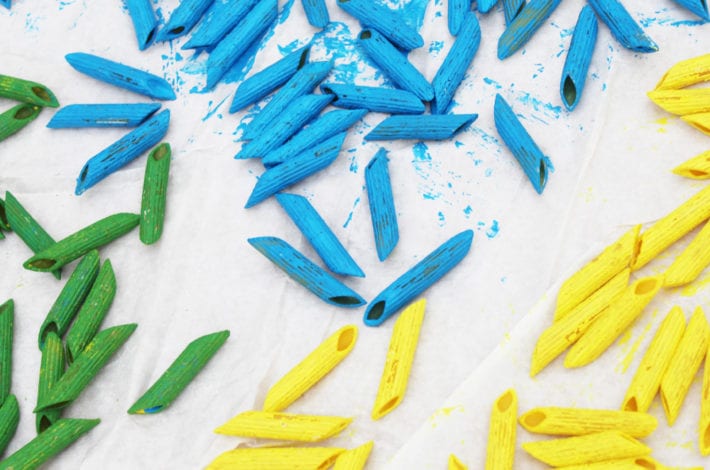 7
Step 6: Leave your pasta to dry
Empty out all your painted pasta onto sheets of greaseproof paper.
Separate the pasta out so they don't stick together and each has their own space. Leave for a couple of hours to dry.
8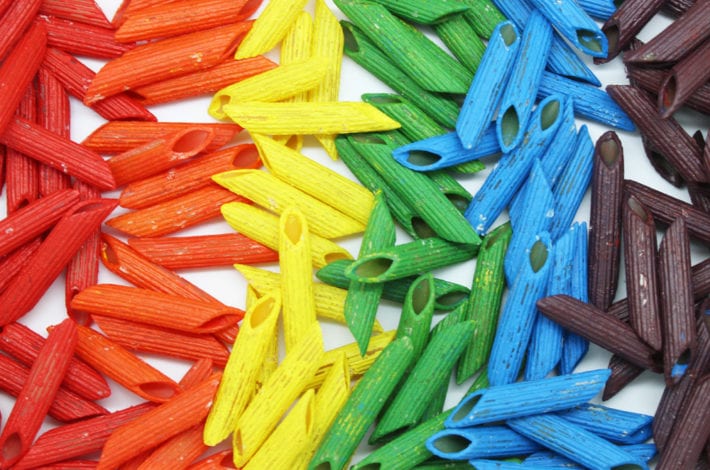 8
Use Colored Pasta Pieces for Sensory Play
Now your pasta is dry you can pour it out onto a tray and let your child play with it. They will enjoy scooping it up in their hands and making patterns with the colours.
9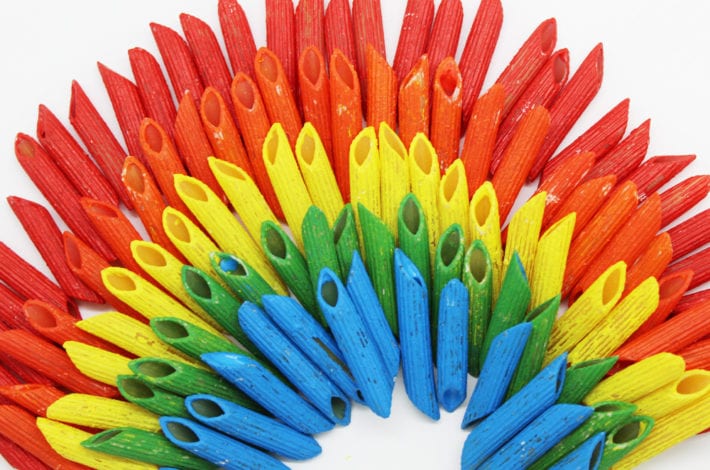 9
Making Pasta Rainbows
The spectrum of colours means they make for a great rainbow activity. You can ask your child to arrange the painted pasta into a rainbow. Or they can stick pasta pieces onto card to make a rainbow.
Once you've made your colored pasta you can use it in all sorts of ways. They keep for ages so you can store them away in a bag or box to bring out when your child wants to play.
Toddlers will love playing around with the pieces in a sensory tray. Older children will love making things with them. Perhaps threading it onto pipe cleaners to make patterns or pasta necklaces.