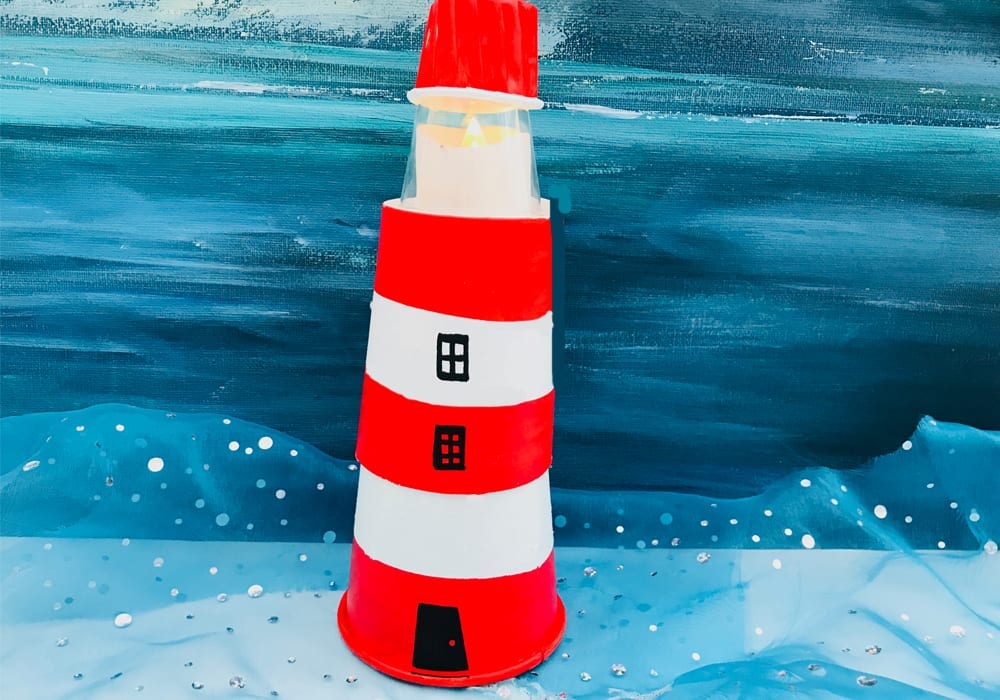 Fun Kids Crafts
Paper Cup Lighthouse Light-up Craft
Have loads of fun with this paper cup lighthouse which lights up too.
Simple to make, your child will love switching on the light and imagining it guiding ships at sea. 
All you need are some cups, paint and a battery tea light to start. It's a lovely craft to enjoy together.
Summary
Time: 10 minutes
Ages: Little kids to Big kids
Difficulty: Easy peasy
1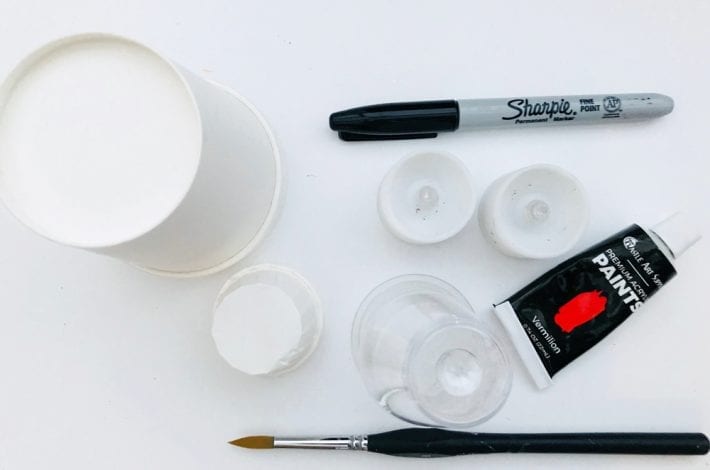 1
You will need:
2 white paper cups
Scissors
Glue
1 small clear plastic cup or pot
1 small paper cup or condiment pot
Red paint – we prefer acrylic paints
Paint brush
Black Sharpie
Battery operated t-light
2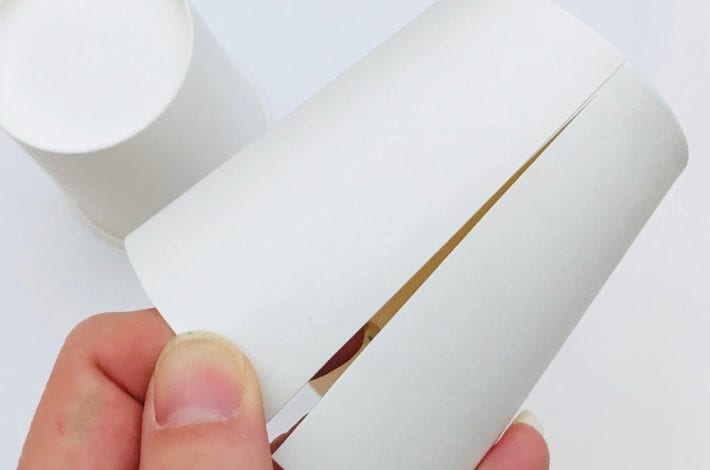 2
Step 1: Cut one of your cups
Take one of your paper cups and trim off the lip. Then make a cut from the lip to the bottom of the cup.
This is so that you can fit this paper cup on top of your second paper cup to make a really tall lighthouse.
The slit means you can make the top cup fit more snugly. You'll glue it into place in the next steps.
3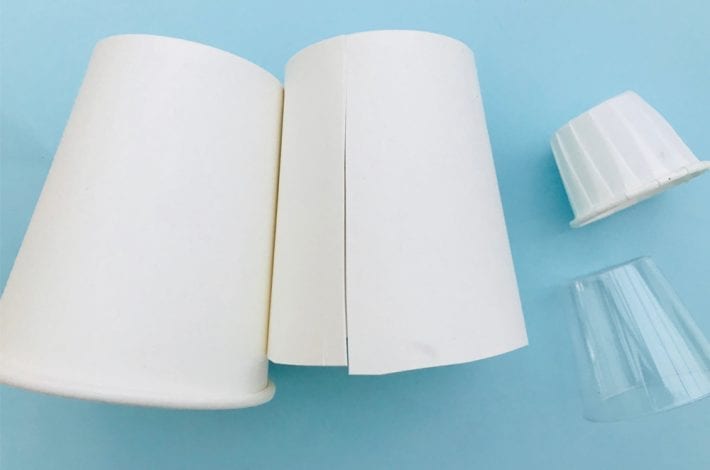 3
Step 2: Gather your lighthouse materials
For your lighthouse you will need:
2 paper cups (1 trimmed and cut as shown above)
1 small plastic cup
1 small paper cup or paper sauce pot
4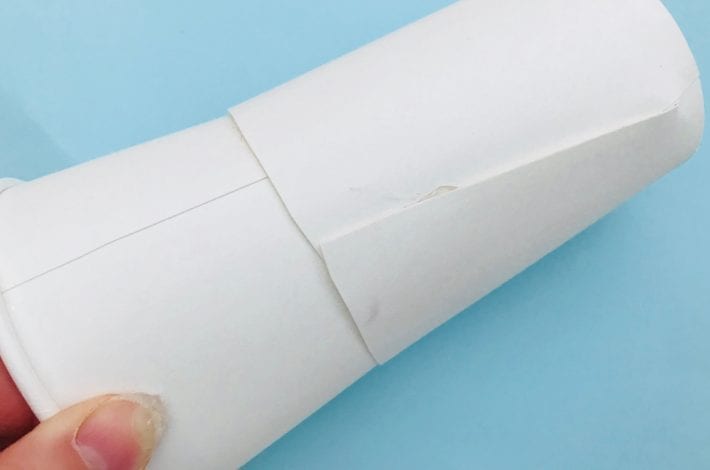 4
Step 3: Fit your paper cups together
Glue your trimmed paper cup on top of your other paper cup to make a really tall lighthouse.
Spread some glue along the trimmed edges of your top cup.
Glue it in place so that it fits snugly over the bottom cup.
5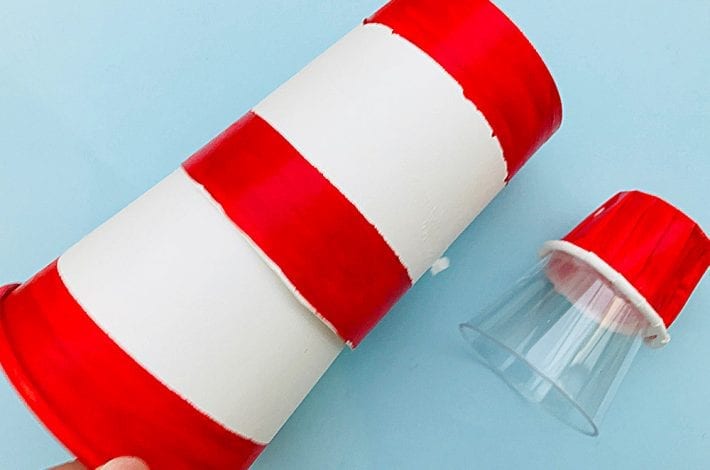 5
Step 4: Paint on some stripes and prepare the lighthouse top
Paint some wide red stripes onto your lighthouse. We always find that acrylic paints work best but you can use any paints.
Glue the little paper cup on top of the clear plastic cup. Then paint the little paper cup red too.
If you can't find a small paper cup or paper sauce pot then you can still make it work.
In this case either paint a stripe around the top of your plastic cup. Or glue a strip of red card around the top.
6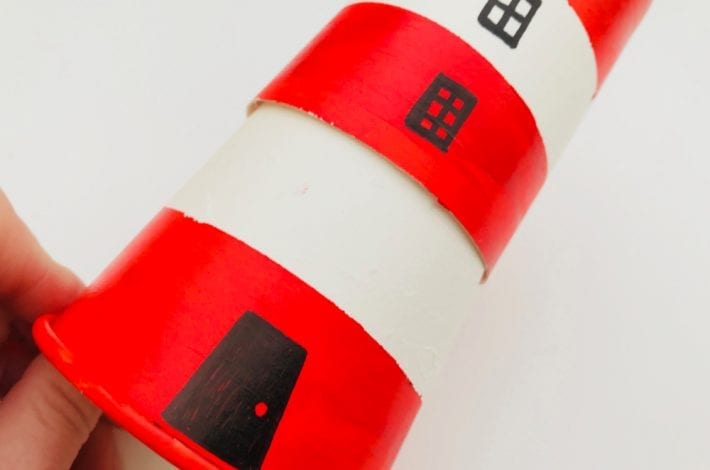 6
Step 5: Draw on the door and windows
With a black Sharpie pen, draw a door and some windows onto the bottom two cups.
Your lighthouse is almost complete. It just needs a light to warn ships away from the rocks.
7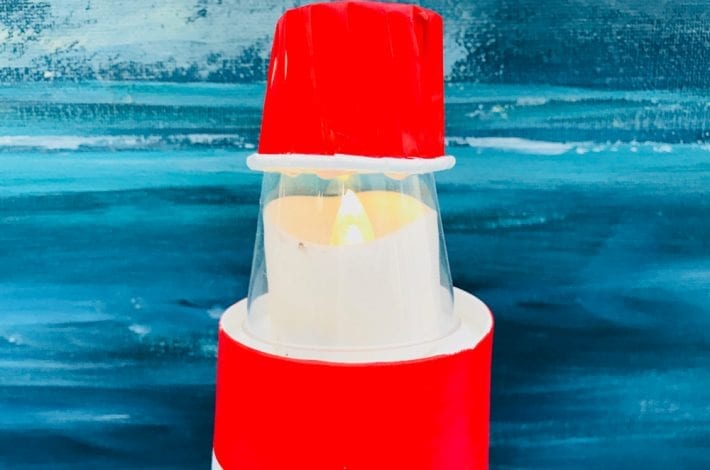 7
Step 6: Add the light
Place your battery operated tea light onto the top of the first two cups.
Add the clear plastic cup on top of the lighthouse, along with the painted red top.
Switch it on and your lighthouse is ready.
Easy paper cup lighthouse craft