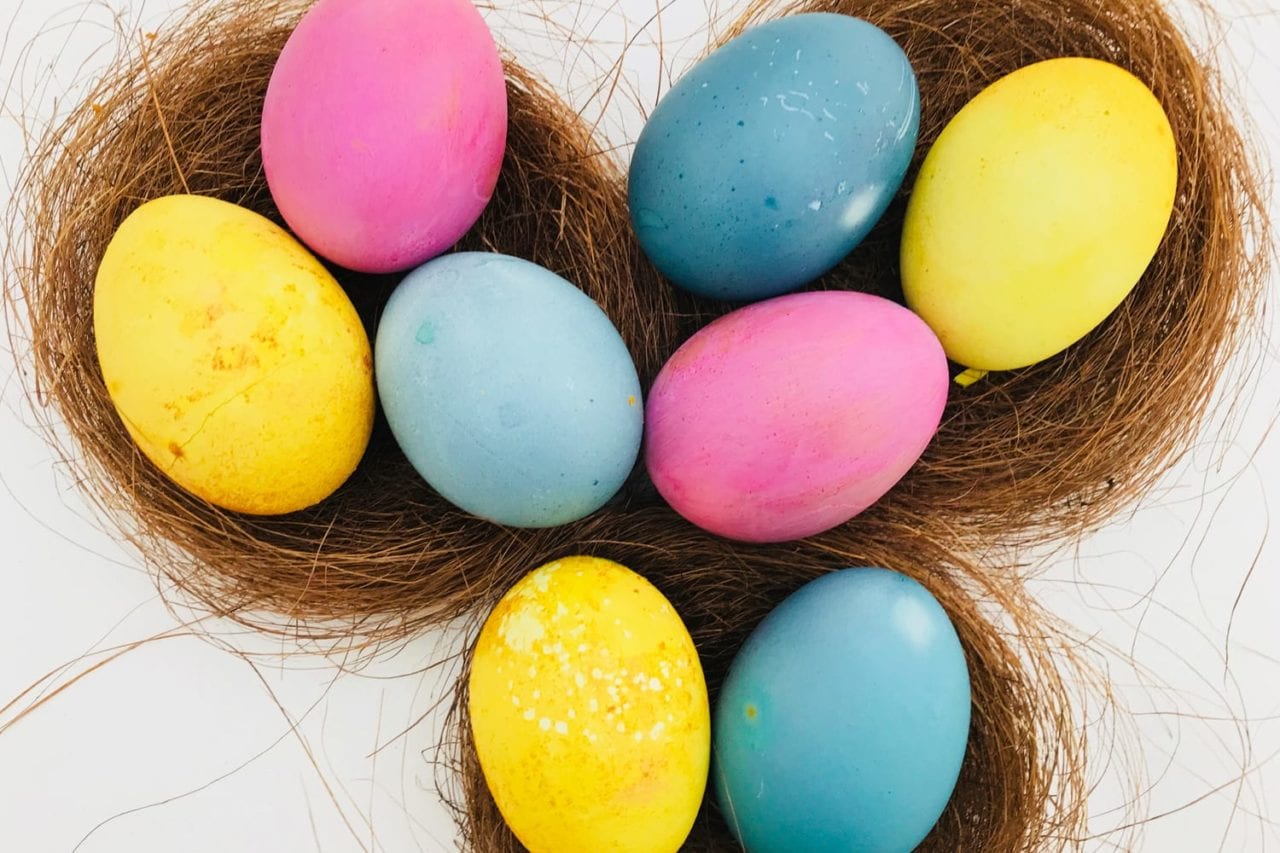 It's not just food colourings that make great Easter egg dyes. 
Plenty of everyday ingredients can be used to dye your Easter eggs!
Natural Easter egg dye can give your eggs a lovely matt pastel colour and look beautiful decorating the Easter table.
And it's fun to do too as each egg batch looks unique.
In this craft we show you how to dye eggs blue, using red cabbage, yellow using turmeric and pink using beetroot.
Summary
Time: 30 minutes
Ages: Little kids to Teens
Difficulty: Easy peasy
1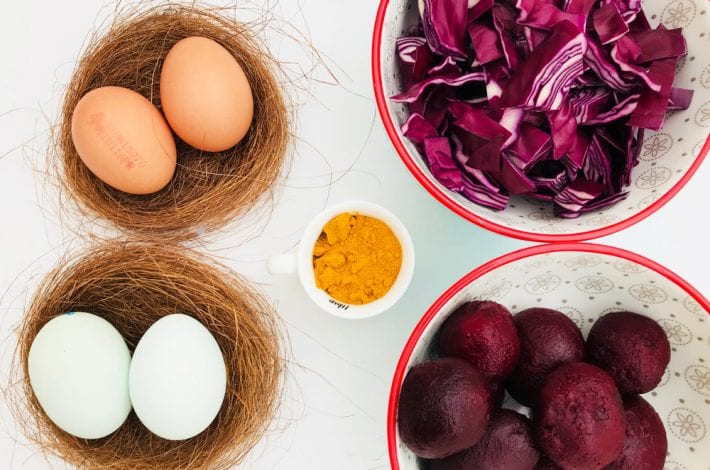 1
You will need:
Eggs. We recommend white or pale blue eggs as they take up the colour of the natural dye the best, if you can find these.
Beetroot
Red cabbage
Turmeric
White vinegar
Glass jars (3)
2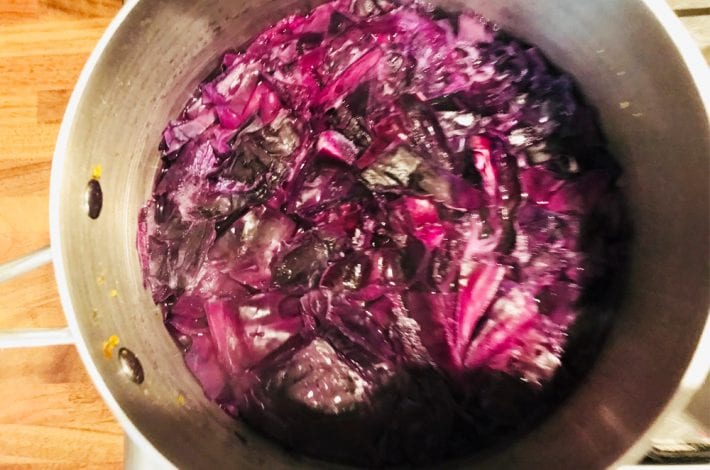 2
Step 1: Make your dyes
First boil your eggs in a pan for about 10 minutes.
While your eggs are boiling you can start making your natural dyes.
Chop up half a red cabbage.
Chop up a few beetroot (you can roast them yourself of buy them ready cooked to save time).
Pop the cabbage in one pan, the beetroot in another. Then cover with water. You need to add the same amount of water as your vegetables. You can measure them out, so if there's one bowl of cabbage add one bowl of water. Or you can just eyeball it. It doesn't have to be exact.
In the third pan add a bowl of water and then two large tablespoons of turmeric.
Bring all three pans of dye to the boil and let them simmer for a good 30 minutes.
3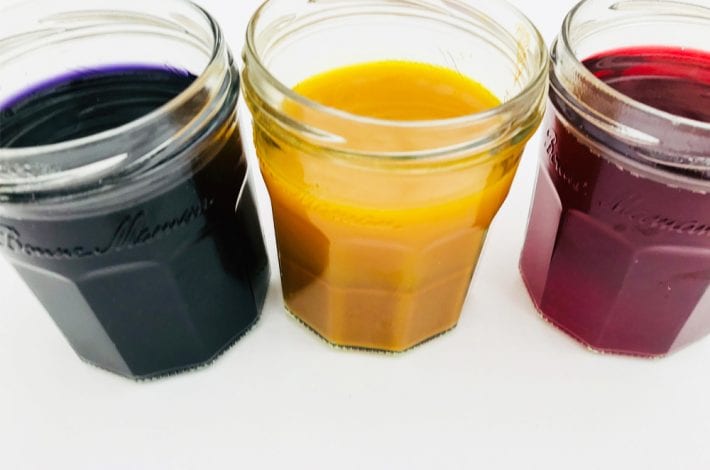 3
Step 2: Finish your dyes
After your pans of water and ingredients have simmered for 30 minutes, take them off the heat.
Set out 3 glass jars.
Using a sieve strain the beetroot and red cabbage and pour the liquid into each of the glass jars.
Simply stir the yellow dye with the turmeric to make sure it's all dissolved and pour it into a jar too.
Add 2 tablespoons of vinegar to each dye.
Now leave them to cool to room temperature.
4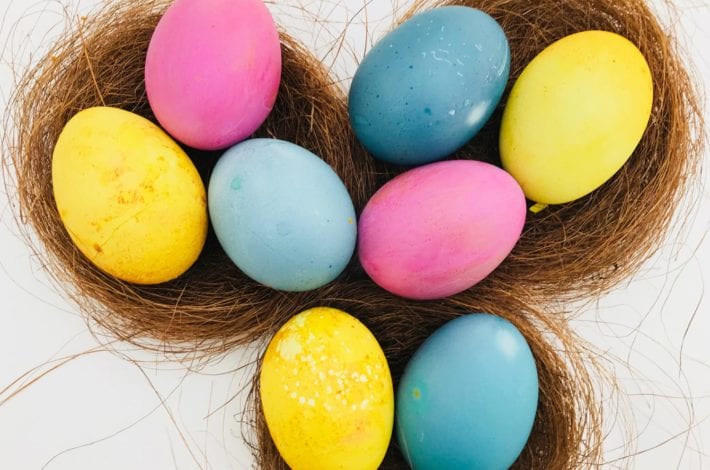 4
Step 3: Dye your eggs
Once the dyes are cool carefully lower your eggs into the jars, making sure they are entirely submerged.
Leave them in the dye for a few hours. The longer you leave them the darker the colour will be.
We left the eggs in the blue and yellow dyes for about 3 hours.
We left the eggs in the red dye overnight in the refrigerator.
Now take out your eggs from the jars with a slotted spoon and lay out somewhere to dry.
Lay out your pastel eggs in bowls or little nests for Easter day! Don't they look beautiful?