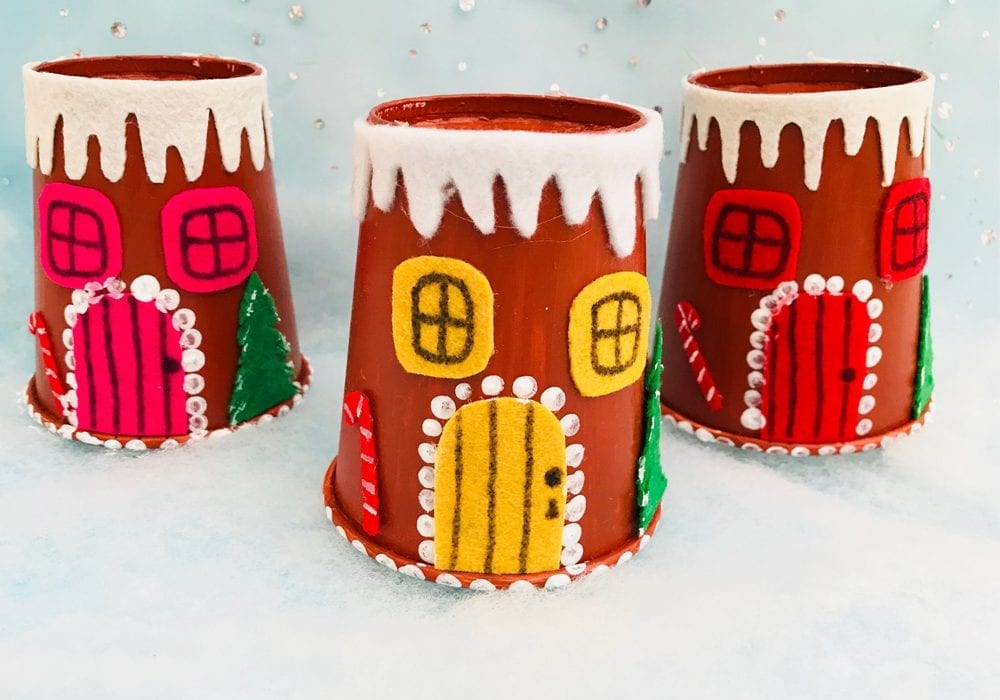 Santa's elves in the North Pole live in the prettiest gingerbread houses. You can make your very own in minutes and using just a paper cup.
Set them out as festive Christmas decorations, maybe even arranged as a snowy scene. Gather the kids on a quiet afternoon and enjoy this enchanting Christmas gingerbread house craft.
Summary:
Time: 15 minutes
Age: Little kids to Big kids
Difficulty: Easy peasy
1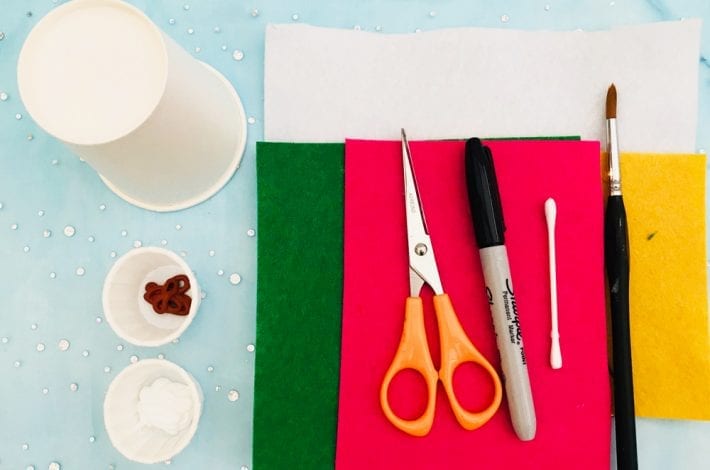 1
You will need:
Paper cups
Brown paint – we prefer acrylic paints
Paint brush
White, red and green felt
Scissors
Glue
Black Sharpie
White paint
A cotton bud
2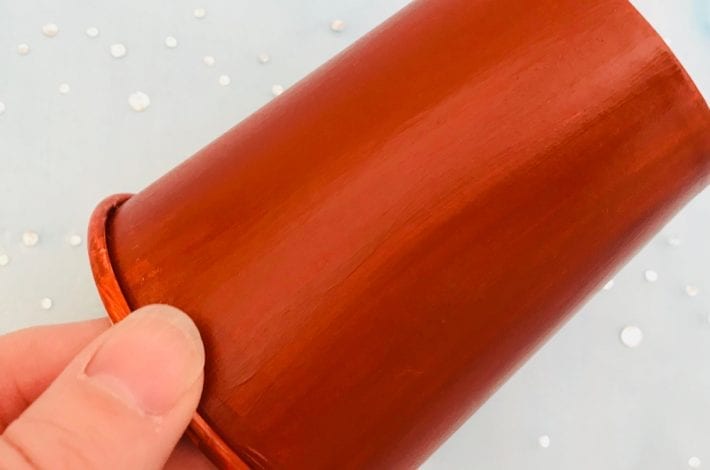 2
Step 1: Paint your cup
Paint your paper cup all over with brown paint. Acrylic paint works well and leaves a nice shiny finish.
3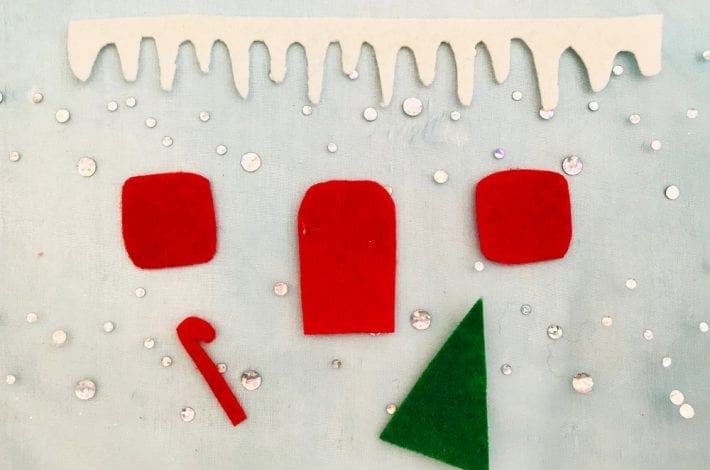 3
Step 2: Cut out some felt shapes
Cut a long thin rectangle out of white felt. Then use scissors to cut lots of little snowy icicle shapes along one edge.
Next take some brightly coloured felt. Cut out shapes for your door and windows.
Finally cut a triangle shape from green felt (this will be you Christmas tree) and a little candy cone shape from red felt.
If you don't have any felt then you can also use coloured paper or card to cut the shapes out of instead.
4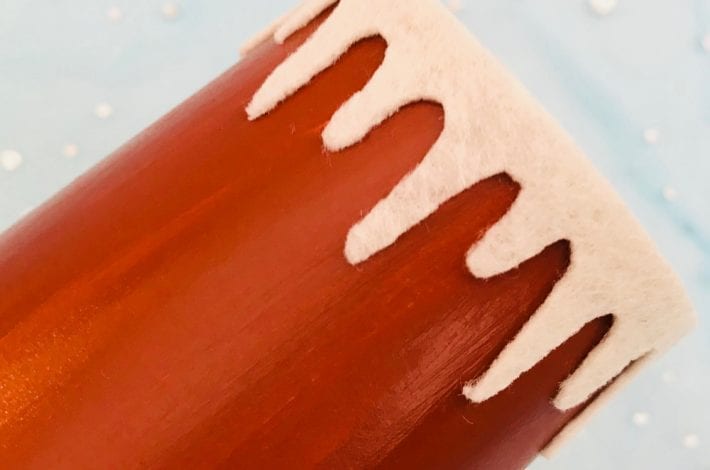 4
Step 3 – Stick on some snow
Spread glue all around the top of your cup and stick your snowy piece of felt all the way round.
A glue gun works well. Or use strong PVA glue.
5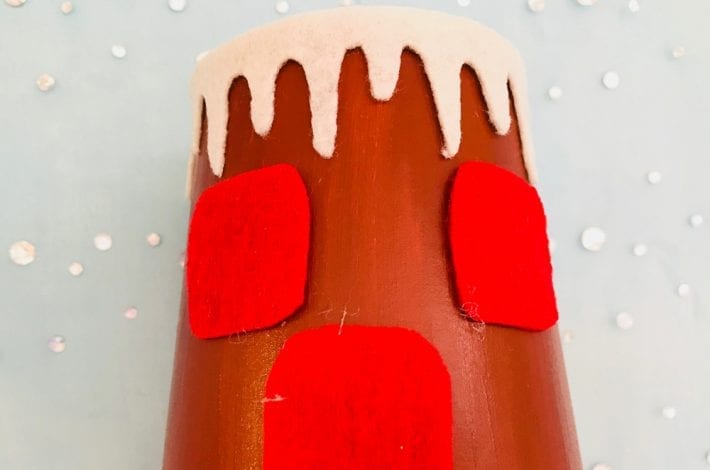 5
Step 4: Glue on the windows and doors
Stick on your felt door and window shapes. You can make them any size, shape and colour you like.
6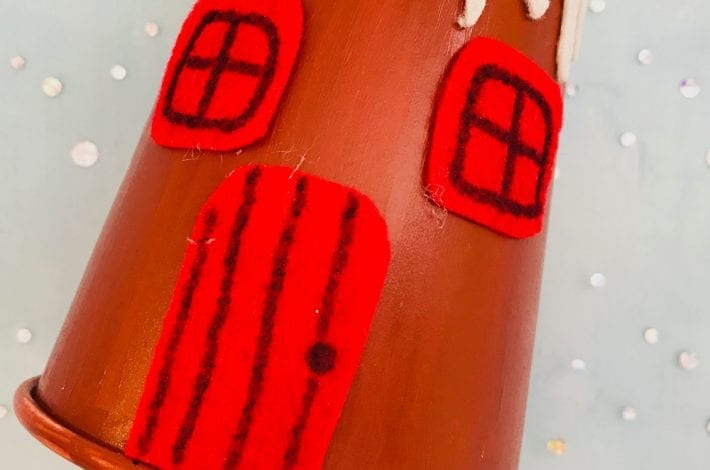 6
Step 5: Decorate your doors and windows
Add some details to your doors and windows with a black Sharpie.
You could draw lines for the window frames and add a door handle and keyhole.
7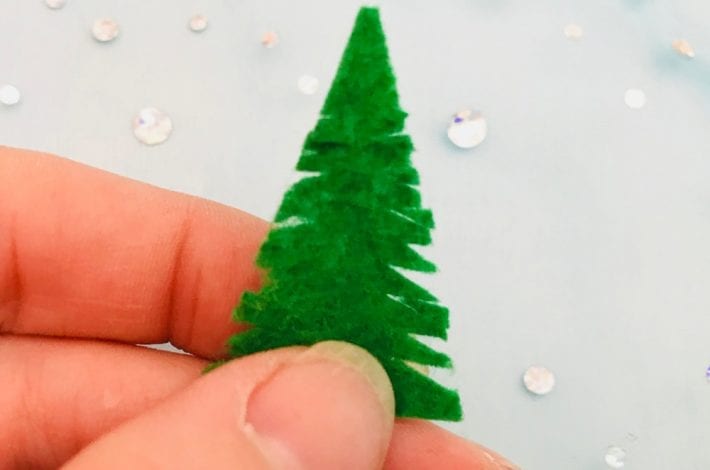 7
Step 6: Make a little Christmas tree
Make lots of little snips on along both sides of the green triangle you cut from felt to make it look like a fir tree.
This is a nice decoration to stick onto your gingerbread house.
8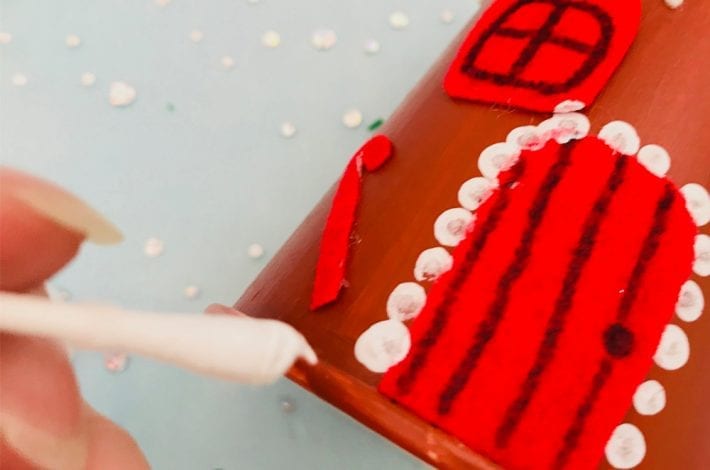 8
Step 7: Let it snow, let it snow…
Dip a cotton bud into white paint and print lots of little dots around your gingerbread house to look like snow and give it more detail.
You could paint a line of dots around the door or windows and along the bottom edge.
9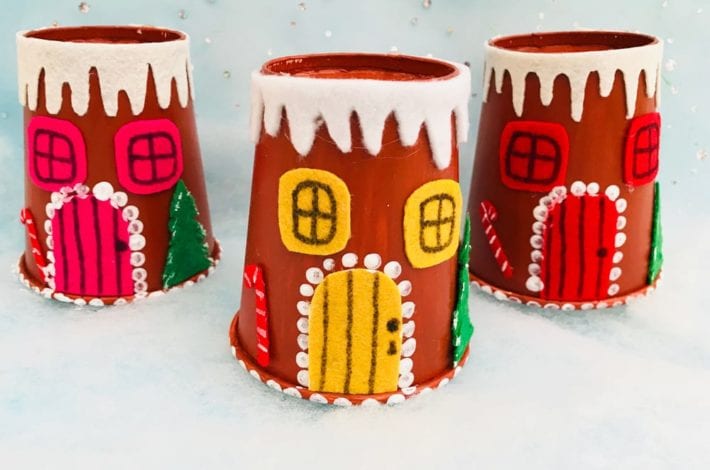 9
Step 8: Add the finishing touches
Step back and look at your gingerbread house. Does it need any more tiny details to finish it off?
We stuck a candy cane shape cut out of red felt on ours and then painted white stripes on it.
We also dabbed the edges of the Christmas tree with white paint to look like it had some snow on it.
These paper cup gingerbread houses look lovely lined up on the window sill.