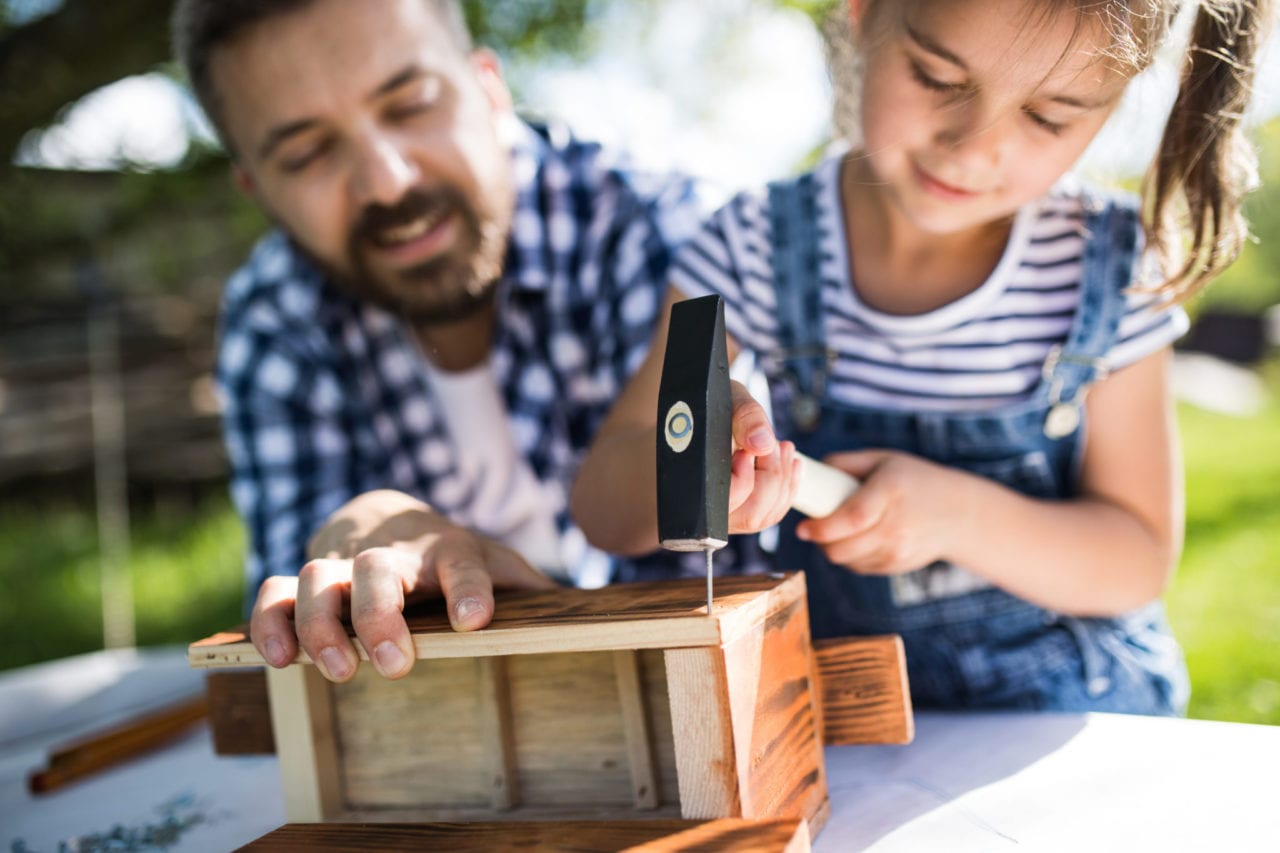 Fun Kids Activities
30 Family STEM Activities to Wow the Kids
What makes a cloud? How are rainbows made? How do people build bridges that won't collapse?  
If you have an inquisitive child  in your life, you could hear 100 questions like this every day.
Which is why STEM (Science, Technology, Engineering and Maths) activities are so much fun.
You can set up easy experiments and science projects at home that will help your child to experiment with how things work. And wow them at the same time.
Here are 30 awesome family STEM activities that you can enjoy with your child. Most are made with simple things you have around the house or in the recycling .
1
1
Elephant's Toothpaste
Imagine if an elephant had to brush its teeth, what would their toothpaste look like? Pretty big I imagine!
And what if they squeezed toothpaste from a tube? It would ooze out of a giant bottle.
This is an amazing experiment to make coloured foam which reacts with the ingredients and squirts out of the bottle (or jar).
2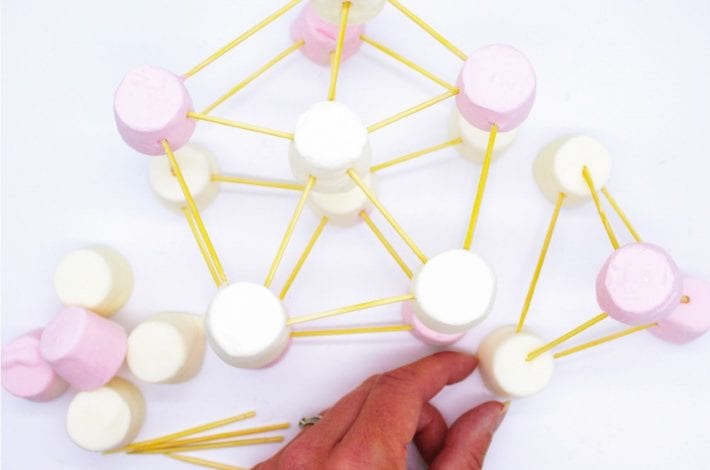 2
Marshmallow Towers – Build Stem Structures
Build up marshmallow towers using marshmallows and toothpicks or spaghetti.
We've created 8 challenges, suitable for kids of different ages, in our full post here:
3
3
Shaving Cream Rain Cloud
Fill a jar with water and top with shaving foam. Add some pretty colours and watch the colourful rain 'fall' through the jar.
This awesome shaving cream experiment needs just a few ingredients to set up and kids will love watching the coloured drops fall.
4
4
Make Your Own Lightsaber
One for any Star Wars fan. Here's how to make your own lightsaber using everyday materials.
Then you can enjoy many battles afterwards!
5
5
Magic Dancing Stick Man
This one will not only amaze the kids but you too.
Draw a stick man on a glass tray or plate, pour on water and watch him dance!
6
6
Learn to Walk on Eggs
Challenge your chid to walk over a line of eggs without cracking the shells.
It's not possible. Is it?
Set up this science experiment to prove it is possible and then try to figure out how!
7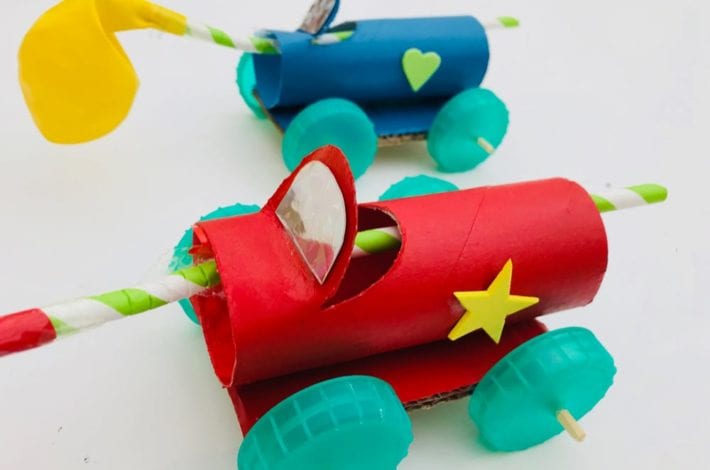 7
Paper Roll Cars Powered by Balloons
Make small cars out of leftover toilet roll tubes, paint and plastic bottle caps.
Add a straw and balloon to give them some balloon power and watch them zoom across the room.
You can find the full tutorial for this activity:
8
8
Hammer and Nail Activity for Preschoolers
Such a simple preschooler activity from the Dad Lab.
Kids take a piece of thick foam and hammer wooden pegs into it using a toy hammer.
It practises those fine motor skills. They have to balance and hold the 'nails' as well as coordinate their hands around the nail and hammer.
9
9
Build a Straw Maze
Remember those childhood games where you had to guide a ball through a maze to get to the hole in the centre?
Here's how to make your own using drinking straws and a marble.
Great for STEM stills and spatial awareness.
10
10
How to Make Your Own Lava Lamp
Lava lamps are mesmerising to watch as the bubbles float up and down. Making your own is surprisingly easy.
Just mix a few ingredients and then sit back and watch the magic flow.
11
11
Make Your Own Bubble Wands
Gather sticks from the garden and use pipe cleaners to create your very own awesome bubble wands.
12
12
Leak Proof Bag Experiment
Fill a plastic bag with liquid. Then pierce it with a skewer or pencil.
You'd expect the liquid to leak out all over the place. But, in this experiment, all the liquid stays in the bag!
It's amazing. This video can show you how it works.
13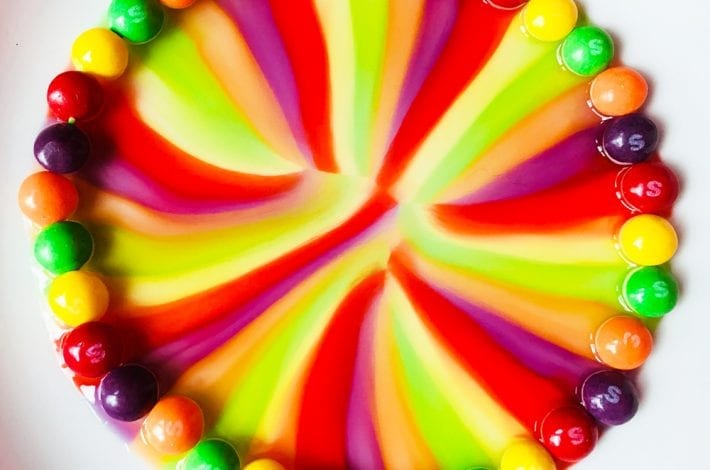 13
Skittle Rainbows
One of the easiest experiments to set up.
Line up skittles all round the edge of a plate. Add warm water and watch the colours blend in towards the middle.
Magic rainbows appear!
You can find the full post on this activity here:
14
14
Make Your own Hot Wheels Racing Track
Fun to make, even more fun to play.
Make a cardboard sloped racing track. Then add a holding area at the top to keep the cars in before the race begins.
When the whistle goes the front of the holding area flips up and the cars can all zoom down the ramp.
Whose car will make it over the finish line first?
15
15
Mini Roads With Popsicle Sticks
Paint popsicle sticks black. Add white stripes down the middle to create an awesome road track for toy cars to zoom around on.
An easy make and one that you can bring out again and again.
16
16
Pool Noodle Marble Run
Pool noodles can be recycled to make epic marble runs.
Kids can have fun designing their own course and then have races to see whose marble will pass the finish line first.
This video shows a really easy one you can make with just one pool noodle. You can add more and connect them to each other to extend the marble run.
Make yours as simple or as complicated as you like.
17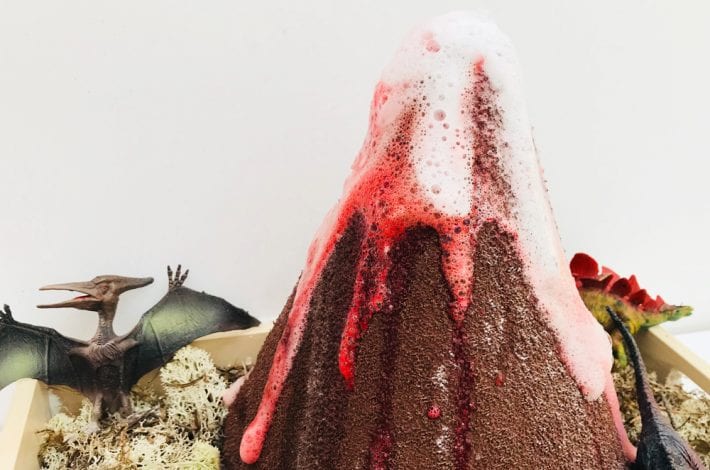 17
Make Your own Exploding Volcano
This erupting volcano is surprisingly easy to make. Build the volcano itself with a plastic bottle and some felt.
Use baking soda, vinegar and water to make it erupt!
You can find the full tutorial for this experiment here:
18
18
Homemade Kinetic Sand (Moon Sand)
Kinetic sand (or moon sand) is so tactile, it's a lot of fun to play with.
It sticks together just enough to be moulded, in the same way that damp sand does.
You can crumble it, mould it, squash it into clumps or sprinkle it out onto trays.
This also means it doesn't go everywhere the way that plain or dry sand does.
Play with it on its own or make it into shapes with jelly moulds or sandpit toys.
19
19
Make a Foil River
Such fun for some garden play. Scrunch foil to create a river. Then fill with water and sail homemade boats down it.
If it's a windy day you may have to weigh it down with some stones.
20
20
Make a DIY Toy Car That Goes
A great little DIY project to enjoy with the kids.
Make a small car toy that has wheels which actually roll, out of just cardboard.
Adults are needed for some of the trickier bits but kids can do a lot of the steps too.
They can add their own ideas and designs to make their car their own.
21
21
Plastic Bottle Cars Powered by Rubber Bands
An easy but cool activity you can set up with things you have lying around the house.
After making the cars using plastic bottles with bottle caps for the wheels, you can then power them using card and rubber bands. They go pretty fast!
Make two (or more) and have hours of fun racing.
22
22
String Abstract Art Painting
Take a blank canvas and cover it with white paint.
Then add on some blobs of acrylic paint in different colours with a string placed on top of each row.
Pull the strings to make the paint colours merge and to create some awesome art!
23
23
Make a Robotic Hand
Use cardboard, drinking straws and string to put together a robotic hand.
Can you pick things up with it?
A really cool project to make and play with.
24
24
How to Make Straw Rockets Fly
Make your very own rockets that blast high into the sky just by blowing through a straw!
25
25
Grow your own Rainbow
Use kitchen roll, felt pens and water to grow your own amazing rainbow.
A quick and fun science experiment for kids.
26
26
String Phone
Remember threading paper cups onto string as a child and using them to talk into them to make your own 'phones'?
Go retro with this easy and fun activity that kids will love.
You can explain how it works too, which this great video from SciShow helps with.
27
27
Shaving Cream Marbling Art
Squirt out some fluffy shaving cream, add a few drops of watercolour paint onto it and swirl the paints together.
Then press a sheet of card stock onto the top of your mix to create colourful marbled paintings.
28
28
Jellyfish in a Bottle
Make a jellyfish from up-cycled materials and watch as it 'swims' in the blue water.
It swims from top to bottom in the bottle as you turn it over. A fascinating little project for kids.
See the step by step walk through by this father and son team.
29
29
Make a Fizzing Magic Potion
Every child dreams of making magic potions. And you can make them right in your home.
Fizzy magic potions that crackle and explode before your very eyes.
30
30
Popsicle Paddle Boat Powered by Elastic Bands
A great project to introduce kids to building things from planks of 'wood' or in this case, popsicles.
Wind it up and the paddle boat will be powered by the elastic band which will help it move forward across the water on its own.
All these family STEM activities and DIY projects are quick and easy to make.
They could give your kids hours of fun at home, as well as teaching them about building or learning something new.
If you prefer to have STEM activities curated with all materials prepared for you, check out educational subscription box brands like KiwiCo or Green Kid Crafts. (see our full review and unboxing of KiwiCo vs. Green Kid Crafts activities here)
We hope you all enjoy some of these projects together!