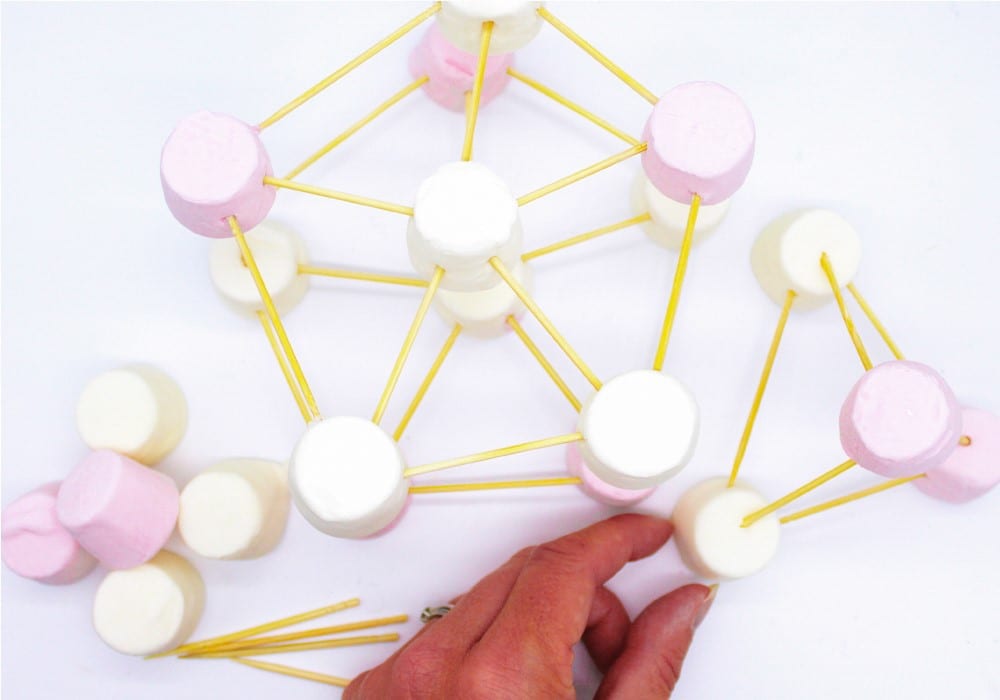 STEM Structures
Marshmallow Tower Challenges
Marshmallow and toothpick towers are a great STEM activity for kids and only need these two items to get started.
You can adapt the activity to suit your child's age. For example younger children can focus on making 2D shapes.
Older children can build 3D structures and then expand on them to build the tallest or longest towers.
This STEM tower building activity encourages creativity and problem solving. And it's great fun too.
Summary
Time: 20 minutes
Ages: Little kids to Big kids
Difficulty: Easy peasy
Skill: Marshmallow STEM structures
1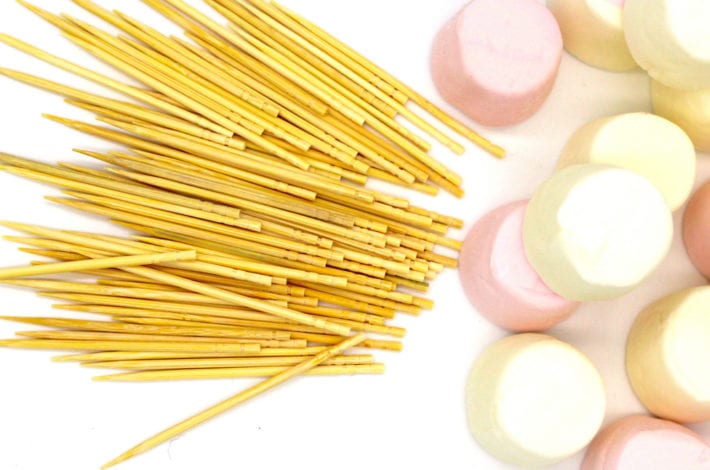 1
You will need:
Marshmallows, medium sized
Toothpicks
2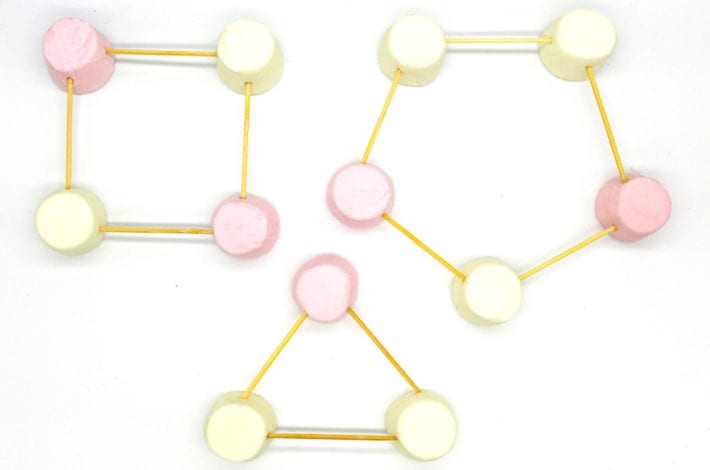 2
Challenge #1: Make 2D Shapes with Marshmallows and Toothpicks
2D shapes are a great place to start. For the first challenge make some of these shapes:
Connect the marshmallows with toothpicks to make each shape.
You can make this activity easier for younger children to complete independently, by giving your child the right number of marshmallows and toothpicks for each shape. So for a triangle you would leave them with 3 toothpicks and 3 marshmallows and ask them to connect all 3.
At the end you can help them count the sides of the finished shape. Reinforce that a triangle has 3 sides and 3 points.
Extend the Challenge
You could move onto more 2D shapes such as a hexagon, an octagon and more.
3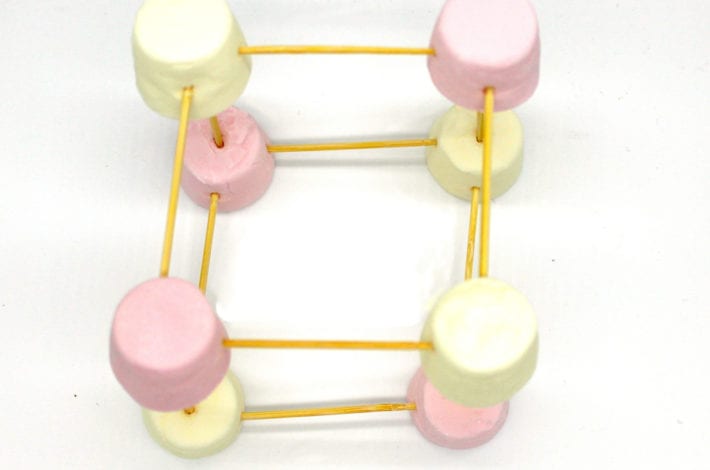 3
Challenge #2: Build a Cube
After your child has made a 2D square, you could ask them to add onto it to make a cube.
First they need to add four toothpicks to each corner, sticking up vertically. Then they need to carefully build another square shape to go on top.
Extend the Challenge
Make a cuboid.
You could make a 2D rectangle by making 2 sides of the square longer. You can do this by adding on anther toothpick and marshmallow to the 2 longer sides. Then build this up in the same way to make a cuboid.
4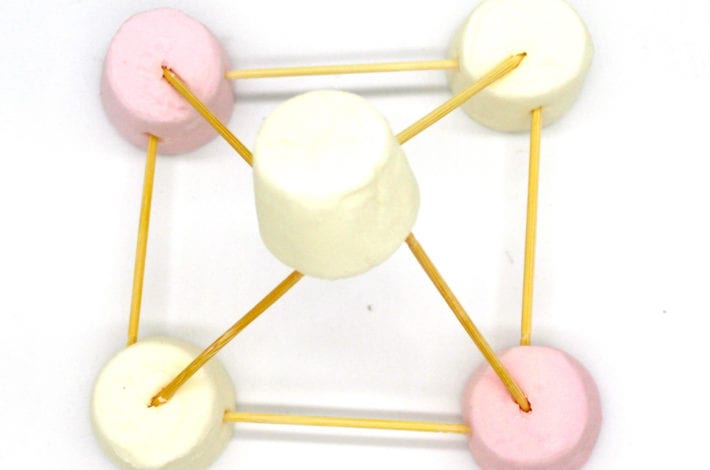 4
Challenge #3: Build a Pyramid
You can use 2D square bases to build up different 3D structures.
This time your child could try to make a square based pyramid by adding on 3 toothpicks pointing upwards and one more marshmallow at the top.
5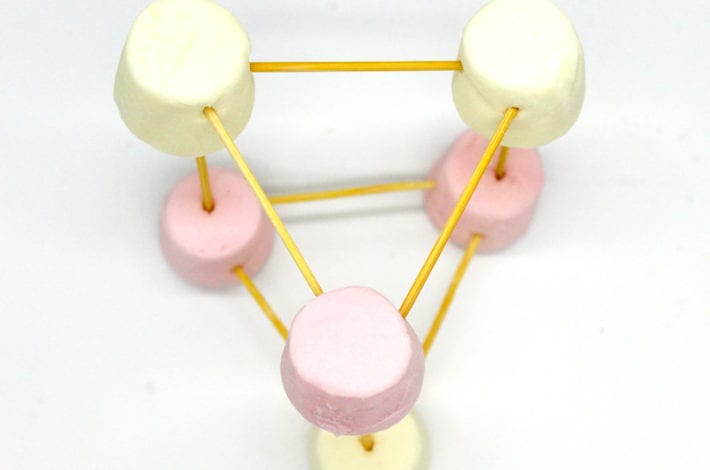 5
Challenge #4: Build a Triangular Prism
For this 3D shape you can start with your 2D triangle shape.
Build it up from all 3 points to make a triangular prism.
6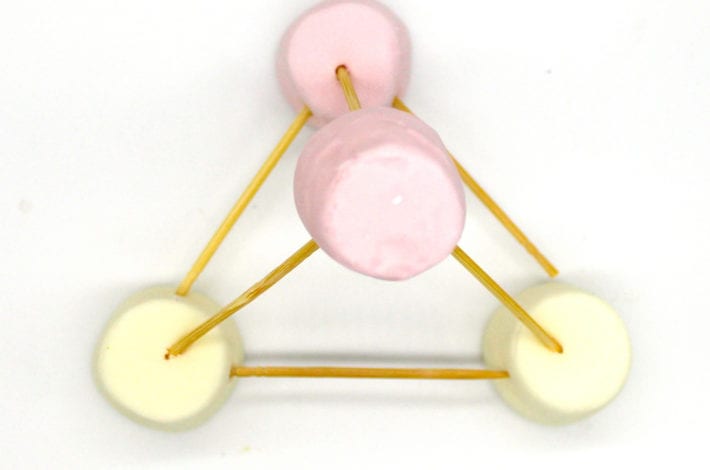 6
Challenge #5: Build a Triangular Based Pyramid
Another way to make a 3D shapes starting with your 2D triangle as a base, is to turn it into a pyramid.
Again add some toothpicks and one marshmallow at the top to make your own triangular based pyramid structure.
7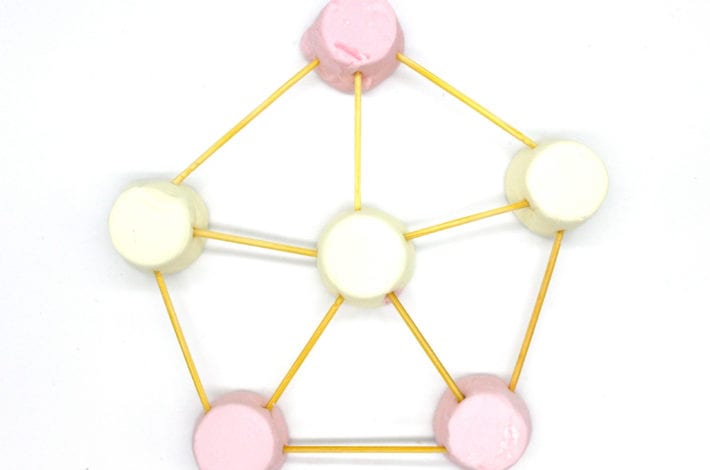 7
Challenge #6: Build a Snowflake
Your child could start making more complex shapes, like this 2D snowflake shape with spokes.
8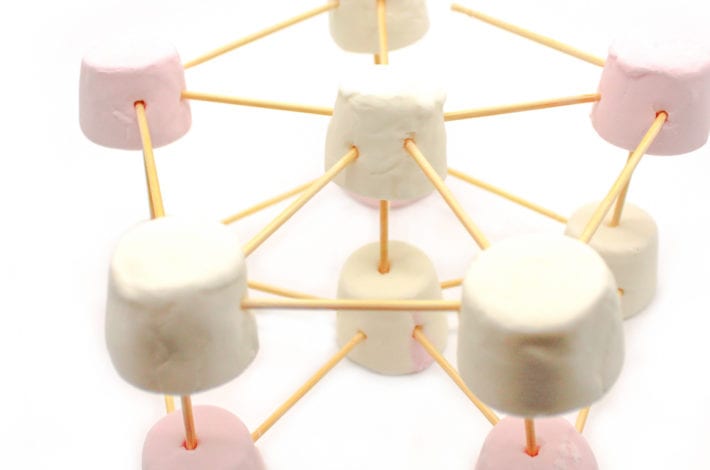 8
Challenge #7: Build Up A Hexagonal Prism
Use your snowflake base to build up a hexagonal prism.
You can use the same method to build up octagons or pentagons into 3D shapes too.
9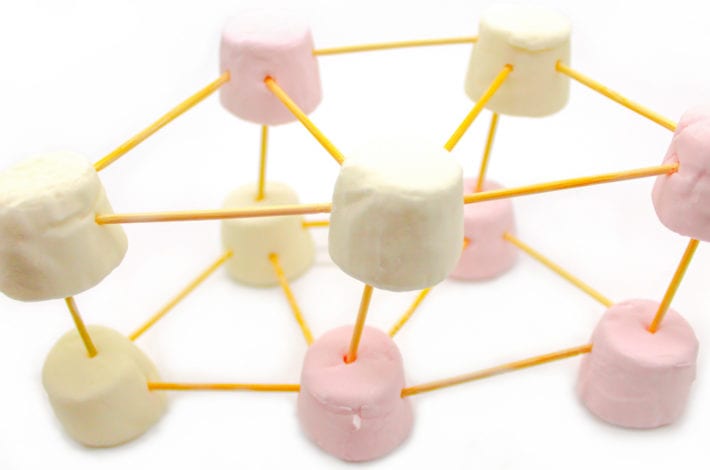 9
Challenge #8: Join 3D Shapes Together
For each 3D shape that your child makes, they could add to their structure by repeating the pattern and adding more of the same shapes to the sides (or the top).
How high or how long can you extend yours to?
This is such a simple activity to set up with only 2 items needed.
It can also be adapted for all ages. Little kids will have great fun making simple 2D shapes (and eating the marshmallows!). Older children can be more creative and experiment with building 3D shapes and more complex creations.
You could even give them challenges to do. Maybe they could:
build the tallest (or a very tall) tower.
build a strong tower which can support the weight of an object.
build a tower using a set amount of sticks and marshmallows.
There are so many options for them to try and learn from. And most importantly, have fun doing it!
Pin it for later
Marshmallow STEM Structures