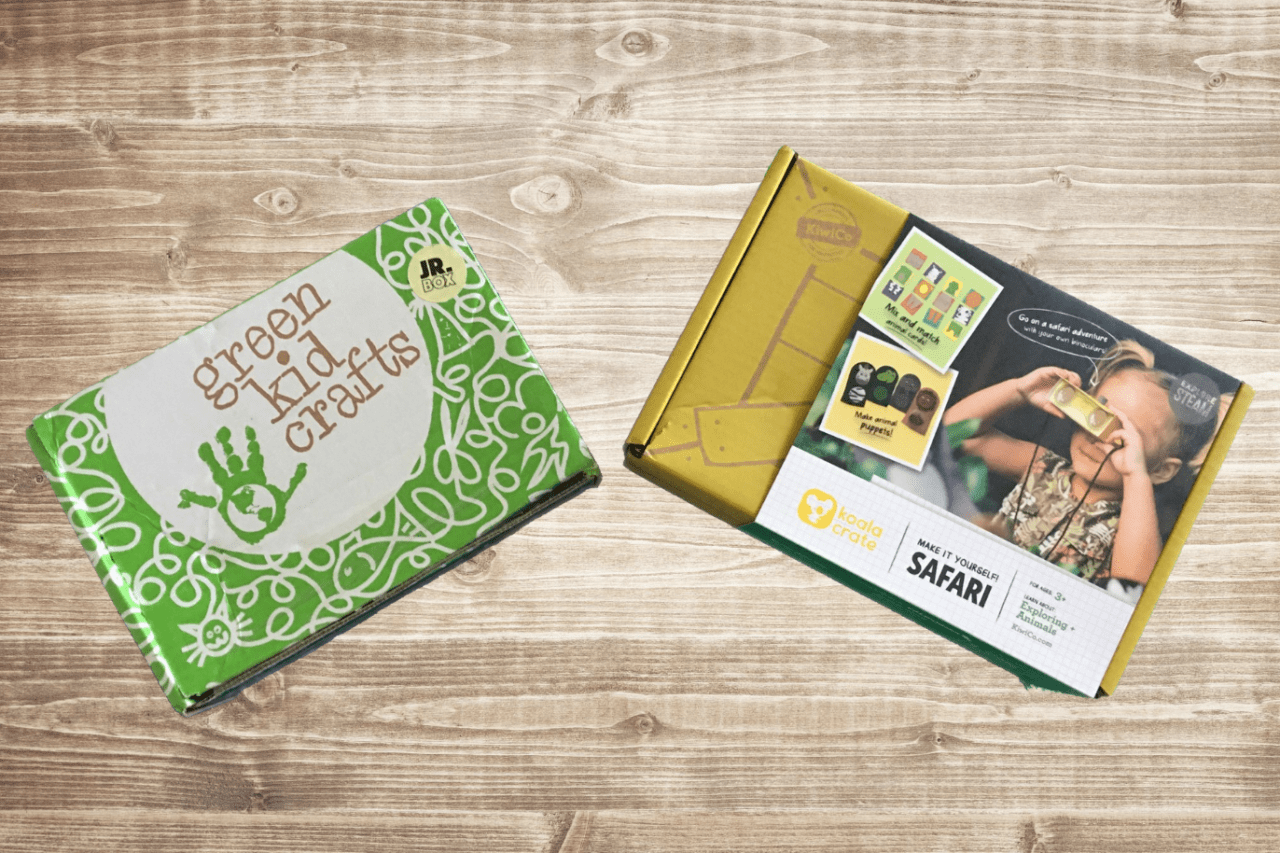 KiwiCo vs Green Kid Crafts Review 2020: Best Kids' Educational Subscription Boxes
As a mom to an active 2 year old, our rainy weekends at home together have started to feel really long.
I try to find fun and engaging projects for him to release his creative energy. If not, he ends up doing things like coloring the walls just for something to do!
Initially I would set up some DIY activities that I found online or on social media.
Although these projects seemed easy to make, in reality they took about half an hour to put together. I had to search around for it, order the supplies and then set it up for him to play with.
And after the time and effort and expense, I never knew if he would enjoy them or how long they would keep him happy for. Some worked like a dream and kept him busy for hours, others he lost interest in after just 10 minutes.
Then there was the learning element. I felt like he could be doing an activity that helped him to discover something new at the same time.
He doesn't have a lot going on during the weekends, and I'm around with him. I loved the idea of sitting down to do some fun enriching activities together. I just didn't know where to begin.
So when I stumbled across kids' educational subscription boxes on Instagram, I was very keen to find out more.
With these subscriptions, you are sent a box every month. Each one has ready-made activities for your kids.
What I liked about them is that they were educational as well as being creative and fun.
The activities inside the box aim to make science and technology understandable for kids. All through hands-on projects that are ready to start.
I wanted to find out if these subscriptions were worth it so I had a look at 2 of the most popular activity box subscriptions: KiwiCo and Green Kid Crafts.
I tried both subscription boxes out with my 2-year-old son. Here I share both my experience as well as what other parents had to say about each one.
In this guide, I will talk about:
What Are Kids' Educational Subscription Boxes?

Comparing KiwiCo vs Green Kid Crafts

Full KiwiCo Review

Full Green Kid Crafts Review

Are Kids' Monthly Subscription Boxes Worth It?


Which One Would I Recommend?
What Are Kids' Educational Subscription Boxes?
Educational subscription boxes for kids have pre-packed learning activities that are suitable for your child's age. They're mailed straight to your home every month.
Each box usually contains a few projects related to a particular theme. This could be a science or creative craft theme.
All materials needed for each activity are within that box. So you can literally just open the box and start enjoying the projects with your child. You don't need to get out any other supplies.
With KiwiCo and Green Kid Crafts in particular, they send all their projects through testing with the experts — kids themselves!
So you'll know that each activity has to have passed a certain level of fun to have made it to the final stages of development.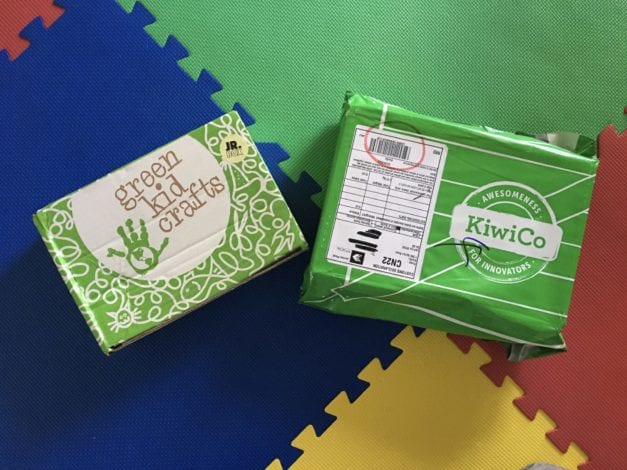 Comparing the 2 Best Educational Subscription Boxes for Kids: Kiwico and Green Kid Crafts
In this review, I will be comparing KiwiCo and Green Kid Crafts education subscription boxes.
Each box contains a number of activities for you to enjoy with your child, along with a magazine.
The magazine has things like fun pictures or comics to explain more learning points about the topic, as well as extra activity suggestions.
Here's a quick overview of how they compare:
Comparison Table: KiwiCo vs Green Kid Crafts
Full review

Jump to full review

Jump to full review

What's included in each box?
1-2 larger projects
2-3 smaller projects
Instruction booklet
Magazine
All related to the crate's theme. (Exact number may vary)
4-6 projects
12-page magazine with instructions and explanations of the box theme
Achievement badges
Age ranges
0-24 m (Panda Crate)
2-4 yrs (Koala Crate)
5-8 yrs (Kiwi Crate)
6-11 yrs (Atlas Crate)
9-16+ yrs (Doodle Crate)
9-16+ yrs (Tinker Crate)
14-104 years (Maker Crate)
14-104 years (Eureka Crate)
2-4 years (Junior Discovery Box Subscription)
5-10+ years (Discovery Box Subscription)
Educational focus
Younger Kids: creative projects, developing curiosity.

Older Kids: STEAM activities (science, technology, engineering, art, and math) and culture.

Science and Art activities.

Focuses on STEAM (science, technology, engineering, art, and math) topics.

Prices (USD)
Starts from $19.95/month
Starts from $24.95/month
Special Offers
Get 30% off your first month's box with code SHARE30: Get offer on kiwico.com
Get 10% off any new 3+ month subscription with code GREEN SUMMER: Get offer on greenkidcrafts.com 
Termed subscriptions (no auto-renew) available?
Yes
Not available
Sibling add-on option?
Not available
Yes

You can get 2 project boxes for the same age group at a discounted rate (starts at $44.95/month for both). You cannot mix age groups.

Shipping Cost (US)
Free shipping in the US
Free shipping in the US
Ship outside the US?
Yes. Including Canada, the UK, Australia, and many European countries.
Yes.Including Canada, the UK, Australia, and many European countries.
International shipping fees
Ranges between $4.95-$6.95.
Flat fee of $6.50/box for all international orders.
Trial boxes available?
No, but they have a termed subscription option where you can subscribe for a limited time (e.g. 1 or 2 months).
No, but you can purchase individual boxes.
Cancellation Policy
Cancel anytime through your online account after you have received the first box.
Cancel anytime through your online account after you have received the first box.
Social Responsibility
–
Partners with the One Tree Planted foundation – 1 tree gets planted with every order.
Website
kiwico.com
greenkidcrafts.com
KiwiCo Review
As a busy working mother of 3, Sandra Oh Lin (CEO of KiwiCO) knows how hard it is to find fun and educational hands-on projects to keep the kids busy.
When she discovered that other parents shared this same struggle as her, she decided to start KiwiCo.
Her hope is that these specially designed STEAM-themed boxes will help to shape our kids into curious, confident creators.
Over 1000+ hours goes into the development and designing of each KiwiCo crate. And the best part is that it even gets tested by kids themselves.
So if it doesn't pass the "fun" test, it won't make it out of their workshop.
My Experience With KiwiCo
I ordered the Koala Crate for my son as he's 2.5 years old. The theme of the box that we got was safari animals.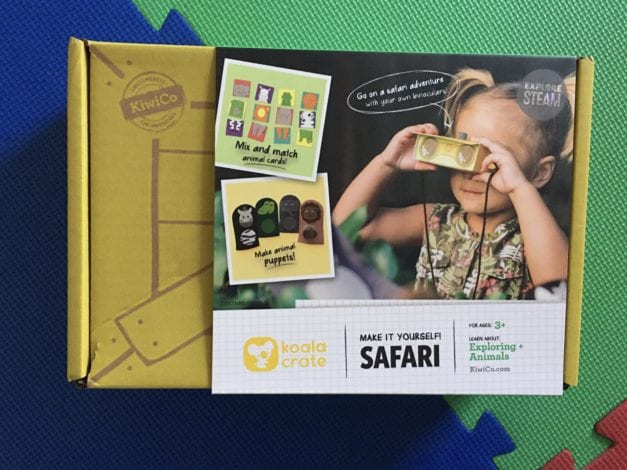 Koala Crate Review
Unboxing KiwiCo – what was inside?
The koala crate box came wrapped in a KiwiCo-branded poly mailer bag.
The box inside had a thick paper sleeve on it describing the main activities within the box.
I felt that it looked fun and premium and it seemed like a lot of thought went into the designing of everything — from the outer packaging to the actual activities themselves.
The crate I ordered contained 3 main activities, and all materials were provided for it.
So it was literally zero preparation work for me. It would be very convenient for parents who want everything to be provided, ready to go.
Here's a look at the 3 activities:
Create felt safari animal puppets — I really liked that the felt materials. All came with a sticky back so there was no need to use any glue. Just peel and stick.
Animal matching cards — This was like an extra little toy made from high-quality thick cardboard.
Make binoculars out of the KiwiCo box — They provided the lens and the cardboard for the body of the binoculars.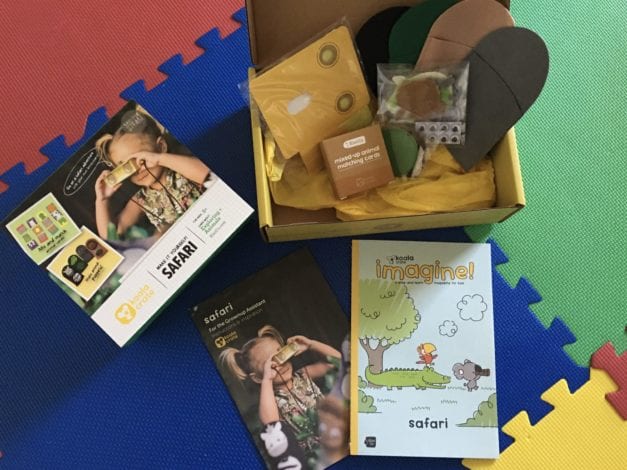 There were also 2 booklets provided:
Instruction booklet for the 3 main activities.
Small magazine explaining more about the safari animal theme with stories and pictures. It also had the bonus activity ideas for you to complete. I liked that the bonus activity suggested how to repurpose the box itself.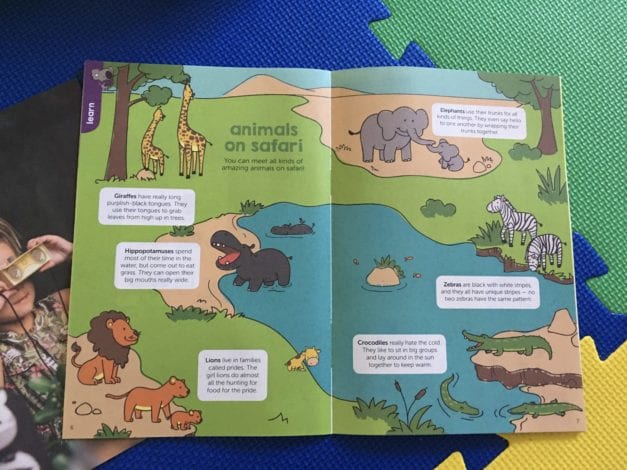 Did my son enjoy the activities?
My son really enjoyed the process of doing the activities like sticking the felt puppets together.
Were they suitable for his age?
The steps were simple enough for his level of fine motor skills and weren't overly complicated to the point where he would lose interest.
A parent would still need to help young kids with the activities, but it still gives the child enough opportunities to complete certain steps — which I feel gives them a sense of accomplishment.
How long did the activities keep him engaged?
I was quite impressed with how long the final product managed to keep my son engaged because he's got a pretty short attention span.
Most toys usually keep engaged for 1-2 minutes, and the toys that are able to sustain his attention are the "open-ended" ones that allow for more creativity.
Of all the activities, the KiwiCo puppets were a big hit with my son (partially because he's really into animals at the moment).
It's been about a week since making them and he's still playing with it every day.
My favourite bit?
The learning points from the magazine were very helpful and gave me some ideas on things that I could teach my son.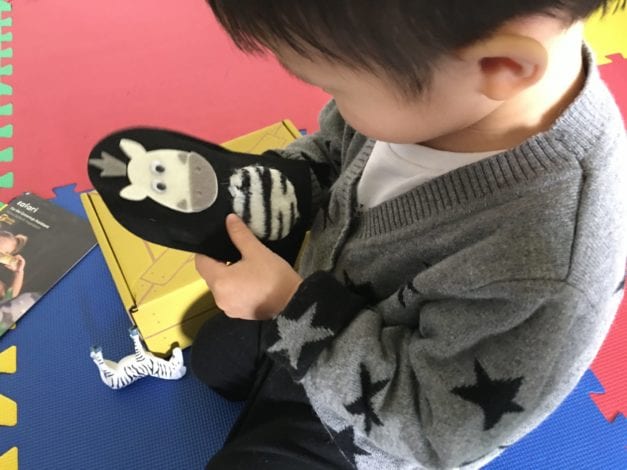 Ordering and billing process
The ordering process for KiwiCo was pretty straight forward and like any other online subscription service.
Just enter in your preferred subscription length, delivery address, billing details, and wait for your first box to arrive.
Should I choose auto-renew or termed subscriptions?
KiwiCo offers the flexibility of auto-renewal or termed subscriptions.
In both cases you pay for a period up-front, such as a 3 month subscription.
With the auto-renew option you get a notice at the end of the 3 months that you will be billed for the next 3 months.
With the termed subscription you have to log in and purchase the boxes again.
The auto-renew subscriptions are offered at a discounted price so they're more economical.
Panda Crates deliver 1 box every 2 months
Do note that the subscription terms are slightly different for Panda Crates (0-24 months), where you will be sent 1 box every 2 months rather than 1 box every month.
Delivery Times
For me, it took about 4 weeks for the box to arrive. Given that I'm in Australia (and ordered the box during the COVID-19 period), I felt that it was a little slow but still within what I would consider acceptable.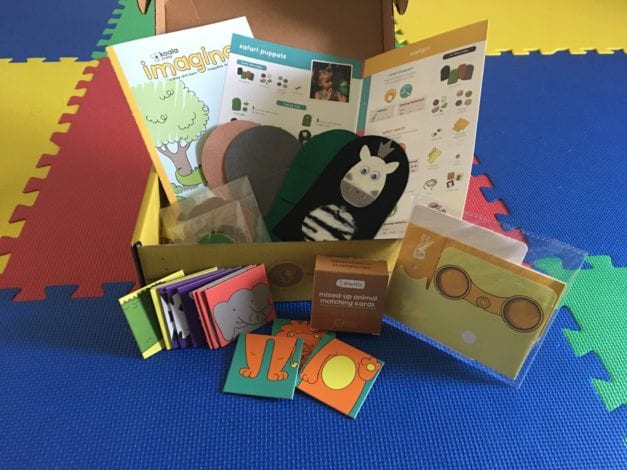 KiwiCo Review Summary
What did other kids and parents have to say?
Pros:
Kids loved their KiwoCo boxes: Overall, many reviewers said their kids really enjoyed the activities which parents felt were unique and creative. They were impressed with how well the projects engaged their kids.
Explained educational concepts to kids well: Many parents liked how the crates introduce difficult concepts in child-friendly ways.
Saved parents time: The activity boxes helped parents save time in preparing their own DIY activities.
Premium quality materials: Reviewers were impressed with the quality of the materials for the projects.
Activities were age-appropriate: And had a good balance of things that the child could do on his own with parts that need adult help.
Great customer service: Most people reported that customer service was prompt and was able to assist them with their issues.
Variety of learning subjects: Parents liked the different learning topics each month.
Great bonding experience: many parents enjoyed time with their kids while doing the activities together.
Cons:
Younger children need parents to help with the activities: I think some parents had the expectation that these would be activities kids complete on their own. But I think part of the fun is for children to make the activities with their parents.
Price. Some families found it too pricey.
Billing issues: A few reviewers had mentioned that they were automatically signed-up for auto-renewal subscription even though they were on a termed subscription. This could have been an error on the customer's part or KiwiCo, but I did see that KiwiCo responded to every review. So I'm confident that they didn't ignore the issue. But it's also important to carefully check your order before making payment.
Some crates not delivered: Some waited for over a month and did not receive their crates. I felt that this is an issue to be expected with any type of delivered product as parcels do get lost in the mail.
Here's a look at a few of KiwiCo's reviews:
Love the kiwi crate subscription we got for my 4 and 6 year old. The projects are fun and engaging but not overly challenging that it is just the parents doing the whole activity. We got 6 months but will probably add more once these are up! Stephanie J. on Influenster
I signed up to this for my daughter (13) to help keep the stem spark alive during lockdown and I have been so impressed with the kits. She gets the Eureka one, and it's fantastic! Really interesting and varied things to make, good quality and most of all she cannot wait to get started when they arrive. Great value for money and a brilliant idea. Thank you! Susannah S. on trustpilot.com
Example Activities in the KiwiCo Subscription Boxes:
Panda Crate (0-24 months) Explore and discover
Sensory-oriented activities for younger babies like black and white cards, teethers, and rustling fabric toys.
Older babies get cause and effect toys like stacking and sorting cups.
Koala Crate (2-4 years) Play and learn
Assemble and decorate a medical kit using felt and cardboard materials.
Kiwi Crate (5-8 years) Science, art and more
Assemble your own arcade claw games and use it to grab your own pom pom prizes.
Atlas Crate (6-11 years) Geography and culture
Make your own globe and create your own travel book.
KiwiCo Subscription Boxes For Tweens & Teens (Example Activities)
Doodle Crate (9-16+ years) Create and craft
Create handmade soap.
Make your own faux leather folio.
Tinker Crate (9-16+ years) Science and engineering
Build a walking robot.
Construct a hydraulic claw.
Maker Crate (14-104 years) Art and design
Make a punch-needle pillow.
Craft a macrame hanger for your plants.
Eureka Crate (14-104 years) Engineering and design
Make your own adjustable desk lamp.
Build your own mechanical pencil sharpener.
Green Kid Crafts Review
Penny Bauder is a mom of 2 kids and founder of Green Kid Crafts. As an environmental scientist, she believes in the importance of fostering a love for discovery and creativity in children.
With this desire in mind, she created STEAM-oriented educational activity boxes as a way of giving children the opportunity to develop these skills.
Her hope is that each little hands-on activity will sow the seed of creative leadership in every child for the better of their future.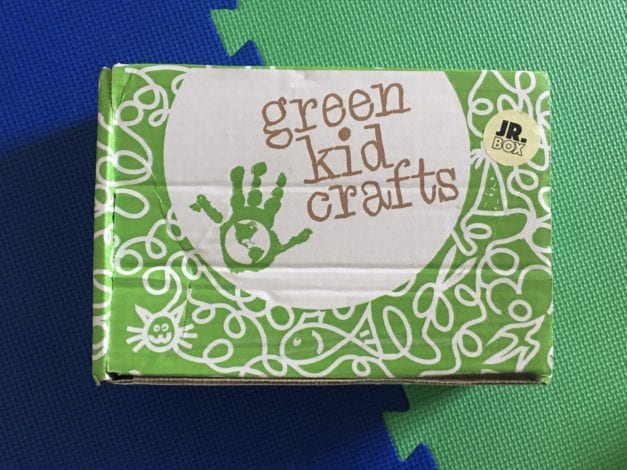 My Experience With Green Kid Crafts
Unboxing the Junior Discover Box
I ordered the Junior Discovery box for my 2-year-old, and the theme was weather science.
It came in a green and white cardboard box with the Green Kid Crafts logo on it. The design was colorful and it made my son curious to see what was inside.
What was inside the Junior Discovery Box?
With this box, there were 4 main activities and I really liked how everything I needed for the projects was provided.
So you can literally open the box and start working on it with your child.
Here's a look at the 4 activities:
Craft a windsock: This was an easy activity that my son really enjoyed, which involved coloring the main part of the windsock and sticking it together. There were glue dots provided which I felt was very handy.
Make a cloud viewer: My son really liked this easy activity of pasting pictures of different clouds together on a cardboard viewer.
Build a wind vane: This involved putting together a small plastic model wind vane. My son had some difficulties building this as he didn't really have the fine motor skills for it. But he liked spinning it once I built it for him.
Create a weather station: This was another pasting activity that was enjoyable for my son. I was impressed that sticky velcro dots were provided which made putting the parts together very simple.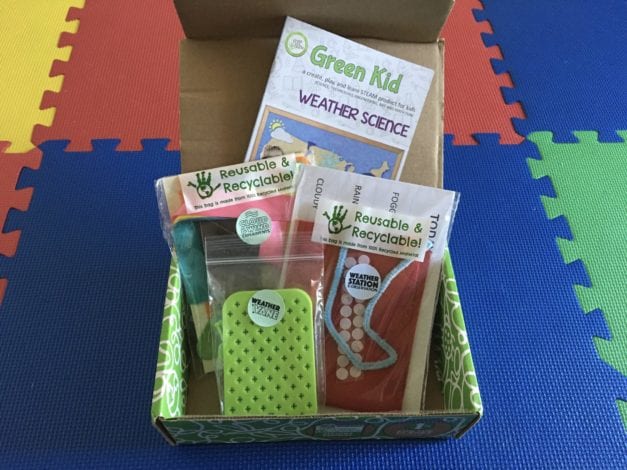 It also came with a handy magazine with instructions for the activities. It also included extra comics and fun learning points about the theme.
There were extra activity suggestions for me to complete with my son, which I thought really added value to the box.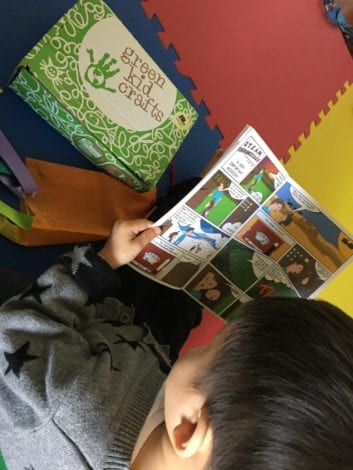 Did my son enjoy the activities?
Overall, my son had fun with the craft aspect of the activities — sticking things together and decorating it.
As he's only 2 and at the youngest side of the age group, he still needed a lot of help from me to complete the tasks. But this may be different for slightly older kids.
When I first saw the booklet with the comics and explanations of weather ideas, I thought the educational part of the activities would be great too.
However, it turned out that some of the learning concepts were slightly beyond what he could understand as a 2-year-old.
This box caters to 2-4 year-olds, and I think a 4-year-old would be able to better appreciate the ideas behind the activities.
For example, my son still doesn't really understand what the weather station is all about, but he does now have a basic idea of what the windsock does.
Despite this, I still felt that it was a good way to introduce the topic to him. He may not get it now, but it does give me ideas on building on his current understanding in the future.
In terms of how long his interest lasted in the final products of the activities, my son was still playing with his handmade weather instruments after a week.
Even though he doesn't fully understand what they are, he uses them during his make-believe play.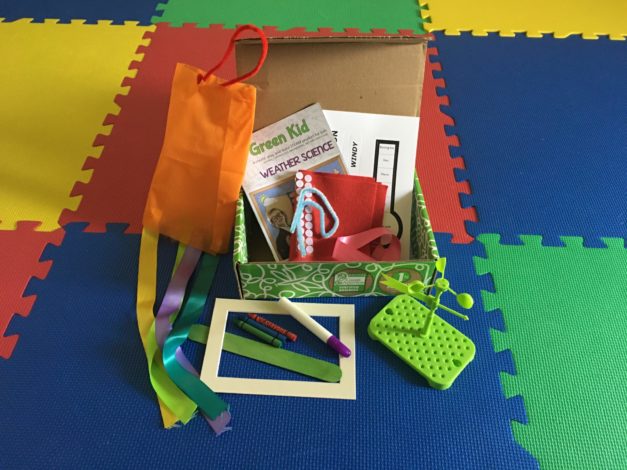 Ordering and billing process
I found the ordering process for Green Kid Crafts easy and convenient. Just select your preferred age group, length of subscription, billing details, and that's it.
There are only 2 different age groups for Green Kid Crafts:
Junior Discovery Box (2-4 years)
Discovery Box (4-10+ years).
After placing my order, it took about 6 weeks for the first box to arrive — which I felt was a little long. However, I am based in Australia (and the box was ordered during the COVID-19 period), so it could be that international shipping was delayed because of this.
Green Kid Crafts Review Summary
What did other kids and parents have to say?
Pros:
Fun activities that keep the kids occupied: Overall, most kids enjoyed the projects — especially because of the hands-on crafting.
Good bonding activity: parents and kids enjoyed doing the activities together.
Time-saving for parents: they don't have to come up with their own activity ideas
Continuous theme: Parents liked how the activities linked well to the theme of the box, along with the extra learning points in the magazine
Environmentally friendly packaging: Reviewers liked that many of the materials were recyclable.
Multiple activities provided: having 4-6 activities in each box meant that the children were engaged over a few days.
Sibling add-on option offered: it's convenient that you can add another box for the same age group at a discount.
Art meets science: parents liked the mix of art and science activities within 1 box.
Additional project ideas: many parents liked the additional project suggestions in the magazine.
Cons:
Long shipping times: This was one of the biggest issues with Green Kid Crafts as several other reviewers had the same issues I did with shipping delay. I believe this issue could be partly because they ship all boxes once a month. So if you order after the shipping deadline of that month, your box will only be shipped the next month. Therefore, the first box may take a while to arrive, but the next boxes should arrive 1 month after the first box.
Quality of materials could be improved: Several reviewers felt that what they received were materials that they could have simply gotten from the craft store on their own. Some reported that the final product fell apart quickly. I didn't have these issues with the box I tried.
Some activities were too advanced for younger age group: some parents felt that the boxes catered to the higher end of the age groups.
Here's a look at a few of Green Kid Craft's reviews:
I love Green Kid Crafts! Our daughter has learned so much from all the different projects. Every box has multiple lessons in regards to science, physics, art, weather, etc…. Everything needed for the project is contained within the box. It has been a wonderful time of learning and bonding. I also like that the kit bags and box are reusable and recyclable. Reviewer from mysubscriptionaddiction.com
My husband and 3 year old have been busy and having so much fun with our first box! I have to work from home now, so this has been an awesome way to keep them both busy, and do something a little different! I appreciate there are a few experiments in one box! We look forward to the next box! Laura W. from cratejoy.com
Example Activities for Green Kid Crafts Subscription Boxes
2-4 years (Junior Discovery Box Subscription)
Weather Science theme box:
Create your own weather station using felt and cardboard
Make your own windsock and wind vane, and cloud finder
5-10+ years (Discovery Box Subscription)
Arctic environment theme box:
Create a color-diffused snowflake
Decorate your own Northern Lights postcards to send to loved ones
Make beaded snowflake keepsakes
Are Educational Subscription Boxes Worth It?
So did I find the concept of educational subscription boxes (in general) to be worth the price?
Apart from being really fun and enriching for the kids, I found that the boxes had one big benefit for me as a parent — no preparation work on my part!
On the weekends that I tried setting up a craft activity on my own, it took me up to an hour from prep to starting the activity with my child.
The convenience factor definitely plays a big part in activity boxes. They arrived at my door with activities ready to begin. It saved me so much time with planning and making a trip to the craft store.
My child was also exposed to new concepts and ideas in a really hands-on and interactive way.
I felt that the magazines provided with each box, guided me with how to teach my child about different educational topics. I wouldn't have been able to explain them as well otherwise.
Therefore, educational subscription boxes are great for you if:
You want to enjoy activities with your kids without spending time preparing and setting up.
You're looking for interactive educational activities for your child to do at home.
You want a special activity for your child to look forward to each month.
You want to spend some bonding time with your child through making fun projects together.
These subscription boxes may not be for you if:
You're a really crafty parent with lots of supplies on hand— you may find it easy to set up your own projects.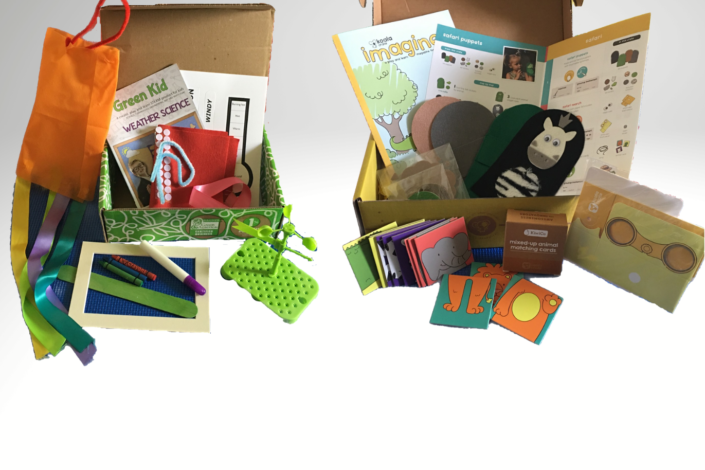 Would I Recommend KiwiCo or Green Kid Crafts?
It was really hard choosing between KiwiCo and Green Kid Crafts because I found that these activity boxes had many benefits for both me and my son.
As a parent, I wanted activities that were convenient and that didn't take too much time to set up. Both subscriptions ticked the box here. I didn't have to plan the activities or hunt down materials. I just had to wait for them to arrive at my door.
I also found the activities in each box to be really creative and beneficial to my son. They introduced different learning themes in a fun and hands-on way. I definitely wouldn't have thought of these projects myself.
The pricing was roughly the same between boxes. Depending on which box you purchase, KiwiCo could come out slightly cheaper.
Delivery was faster for the KiwiCo crate over the Green Kids Craft box, but there were a number of factors that could have caused this as they were delivered during COVID lockdown.
Which Subscription I Preferred Personally
Overall if I had to choose between the two boxes themselves, I felt that KiwiCo has a slight edge over Green Kid Crafts. This was mainly because the materials were more unique and a higher quality. There were many things that I wouldn't be able to find easily at a craft store. Any materials provided were prepared so that I didn't have to do any cutting or gluing at all.
The Green Kid Craft activities were also interesting and engaging. But the materials were all a little more basic — e.g. strips of ribbon, and small rectangular pieces of fabric. Of course, it still provided me with the convenience of curating everything and delivering it to my home.
In the boxes that we tested, my son did enjoy the theme of the KiwiCo Koala Crate (which was Safari Animals) a bit more than the weather theme of Green Kid Crafts' Junior Discovery Box. However this could be because he's on the younger side of the age group (being 2 years old) and this topic happened to appeal to him.
Older kids and those who are naturally into science, may get more out of Green Kid Crafts projects. They are more experimental and they also have ideas on how to continue the projects on.
If you're still having trouble deciding between the two, why not give both a try with a termed subscription or single box purchase?
Whichever brand you choose, your child will definitely have fun learning about different STEAM topics in creative new ways.
Special Offers:
Green Kid Crafts
Get 10% off any new 3+ month subscription with code GREEN SUMMER: www.greenkidcrafts.com
KiwiCo
Get 30% off your First Month's Box with code SHARE30: www.kiwico.com