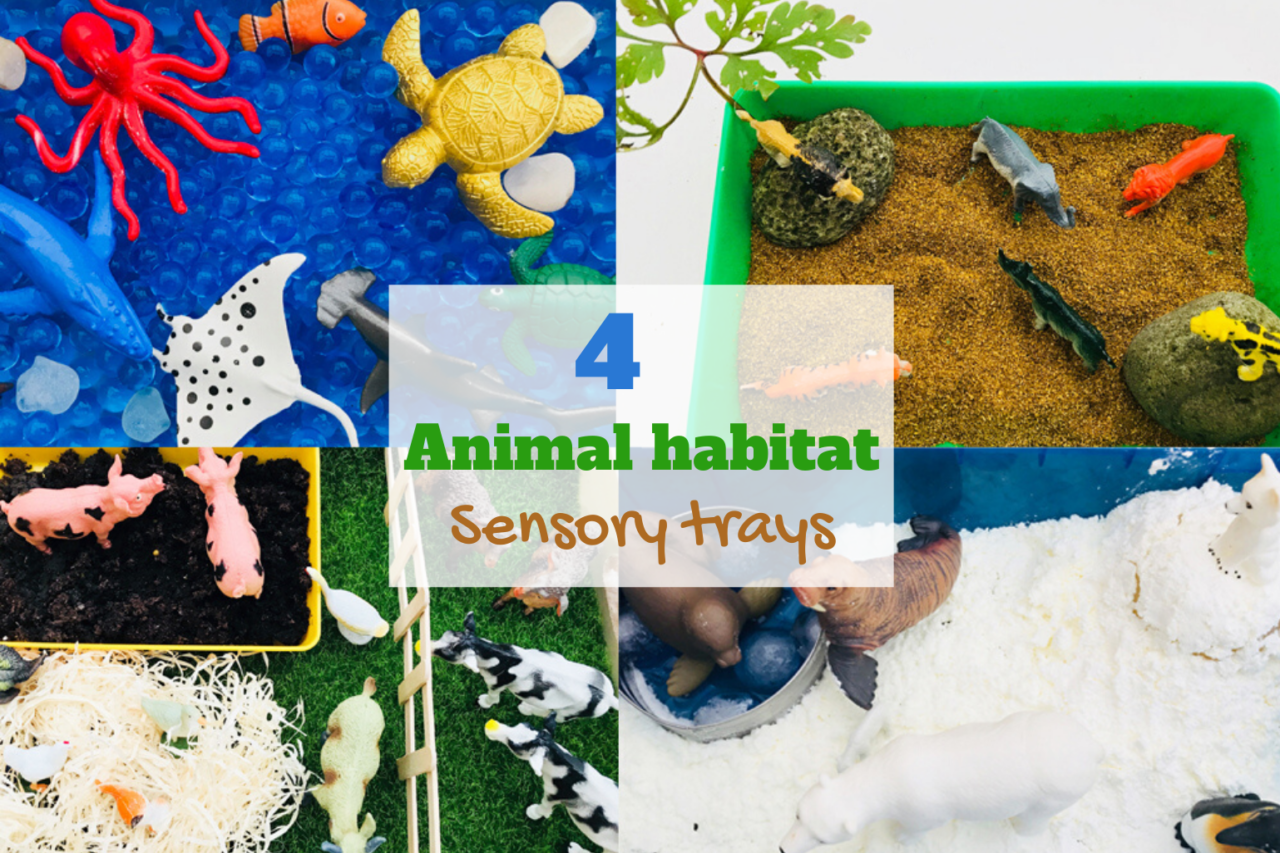 Playtime Learning Activity
Kids learn through seeing, touching, feeling, moving and playing with different shapes and textures. That's why we love sensory trays and activities.
These 4 easy animal habitat sensory trays help you build a scene for 4 very different habitats. Add in the right plastic animal toys for each one and let your child touch and feel their way around them.
Some animals live on a farm, others live under the sea. Some live in lands covered in ice and snow, others in vast deserts covered in sand. Can your child try to match the animals to the habitat? 
We've included 4 simple sets of instructions below. You can always add your own items to them as well though. 
Your child might have some wonderful ideas to add to each animal land. These could be using things they find around the house or garden.
Summary:
Time: 15 minutes
Age: Little kids to Big kids
Difficulty: Easy peasy
Skills: Animals and their habitats
These sensory trays contain small items such as small beads so they are not recommended for under 3 year olds.
You will need (for each of the 4 habitats):
Under the sea sensory tray
Plastic tray or tub
Underwater animal toys
Water beads
Pebbles
Products you might like for this:
Sea Colored Sensory Water Beads
Find on Amazon here.
"5-color combination of Blue, Dark Green, Light Green, White, and Transparent"



Ocean Sea Animal Toys
Find on Amazon here.
"Sea animal toys, approximately 2 inch…including Octopus, hippocampus, seahorse, jellyfish, turtle, clown fish, crab, shark, otter"
Farm Animal Sensory Tray
Plastic or wooden tray
Farm animal toys
Fake grass or real grass
Soil
Straw
Popsicle sticks
Glue
Products you might like for this:
Farm Animal Figurines – 16 Piece Playset
Find on Amazon here.
"Includes a Horse, Cow, Donkey, Duck, Sheep, Chicken, Rooster, Pig, Dog, Cat, Goat and some duplicates."



Decorative Nativity Straw
Find on Amazon here.
Loose straw for crafts such as Manger Scenes, Holiday Village Scenes and Gingerbread Houses. By FloraCraft



200 Popsicle Craft Sticks
Find on Amazon here.
Popsicle sticks for ice lollies or for crafts.
Savannah Desert Sensory Tray
Plastic or wooden tray
Desert animal toys
Sand
Rocks
Twigs
Small leaf branches
Products you might like for this craft:
Assorted Miniature Wild Animal Toys (60 pc)
Find on Amazon here.
"Includes Cheetahs, Moose, zebras, Giraffes, bears, rhinos, lions, Tigers, camels, elephants, Hippos & gorillas."



Desert Sand 
Find on Amazon here.
"Suitable for decorative use in clear vases, dish gardens and terrariums."
Arctic Sensory Tray
Plastic tray
Arctic animal figurines
Baking soda
Hair conditioner
Sauce bowl
Round cookie cutter (or foil)
Ice cubes
Products you might like for this craft:
Arctic Animal Toys, 13-Piece
Find on Amazon here.
"Perfect for imaginative play, school projects, dioramas, ice age party favors, cake decorations."
How to make 4 easy sensory trays for each animal habitat
1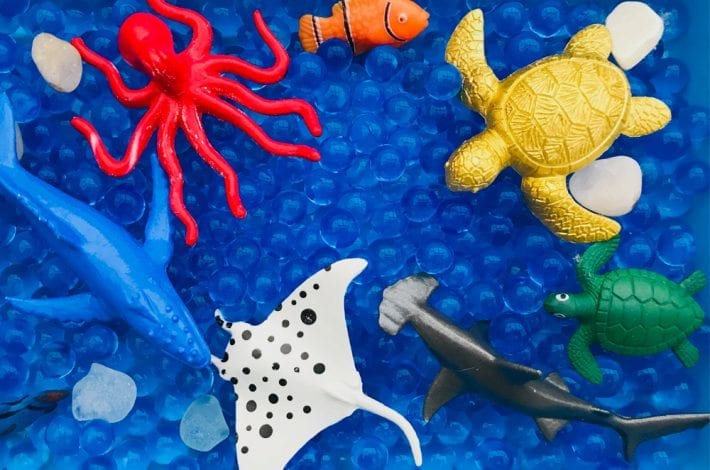 1
Under the sea sensory tray
Fill a shallow plastic tray with blue water beads. These are tiny little beads, which swell when you mix with water. (You can find some on Amazon here).
Add the same amount of water to water beads. Let them swell until they are bigger and really soft and tactile.
Add some small pebbles, and if you have some, a bit of sea glass.
Introduce lots of different sea creatures to their new home.
Move them around while you squish and squeeze the water beads.
2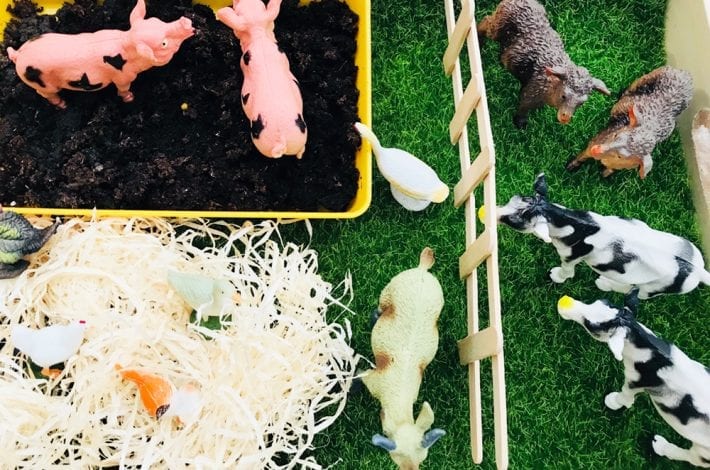 2
Down on the farm sensory tray
This farm animal sensory tray is so much fun to create.
Line the bottom of your tray with some fake or real grass. If you don't have any you could use some green felt instead.
Take a small food container and fill it with soil. This is a muddy patch for pigs to wallow in.
Add some loose straw or mini straw bales for ducks and chickens to scratch about it.
You could even make some farm buildings or animal pens from cardboard boxes if you would like.
Create a little fence from lollipop sticks to divide the field.
3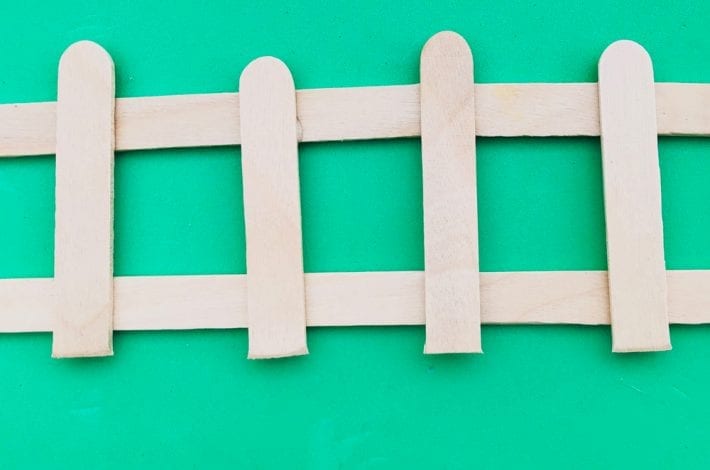 3
How to make a popsicle stick fence
Glue two popsicle sticks together to make one longer one.
Repeat with another two popsicles so that you end up with two long sticks.
Cut popsicle sticks in half and glue them down across the longer two to make your fence.
4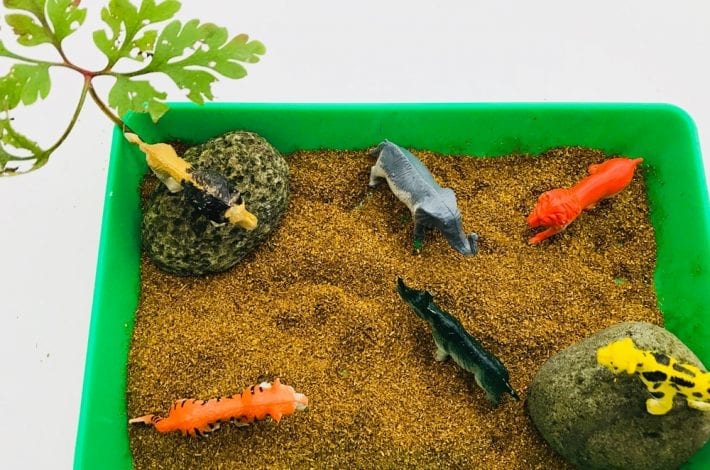 4
Savannah desert sensory tray
Fill a plastic tray with sand.
Add one or two rocks here and there.
Stick a small leaf branch into the sand.
Add your desert animals to roam about in the Savannah.
5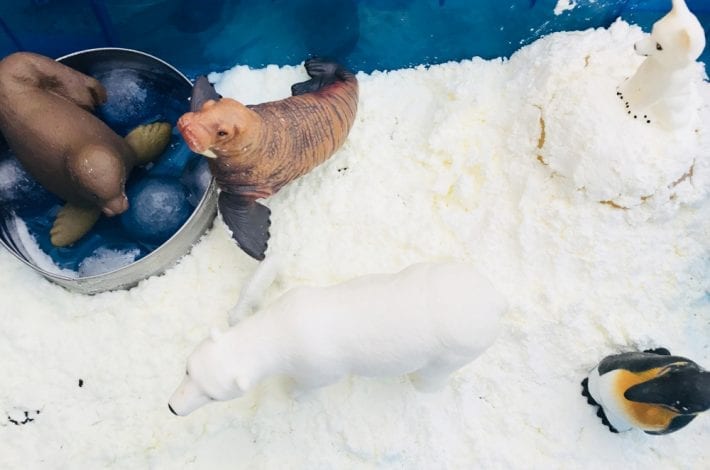 5
Snowy Arctic sensory tray
Cover a plastic tray with some DIY fake snow. You can make 2 ingredient fake snow by combining 1½ cups baking soda with ¼ cup of white hair conditioner. (The full DIY snow craft can be found here.)
Take a sauce pot or small bowl and place it upside down in one corner of the tray. Cover it to make a snowy hill.
Place a cookie cutter in another corner. Fill with water and small ice cubes to make a water area. You could also use foil to make an icy lake instead.
6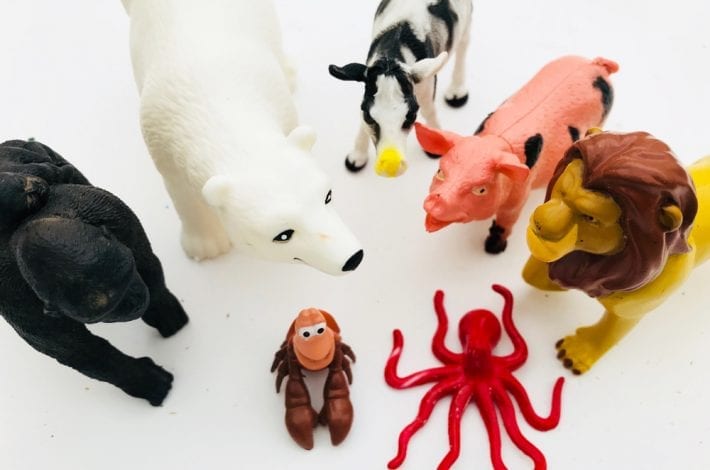 6
Reverse the activity, where does each animal live?
For older children, you can reverse the activity.
After you have made your four sensory trays place all of your animal figures on the table.
Can your child place each one in the right habitat?
If you want to go deeper into animals and habitats you could read books together about different animals and where they live.
This can widen their knowledge and help to solidify what they have learned already through sensory activities like these.
Animal habitat sensory trays
Making sensory trays is a hands-on and visual way to help your child learn about animal habitats.
Choosing what sorts of materials to use in each sensory tray can be guided by reading about and researching the different places where animals live.
As you make each habitat you could also talk about why each animal has adapted to living in each place.
For example you could talk about the fact that polar bears are round and hairy so they don't get cold in icy environments. And how farm animals need grass to graze on.
This post may contain some affiliate links. This means that if you click to make a purchase that we may earn a small commission at no extra cost to you.