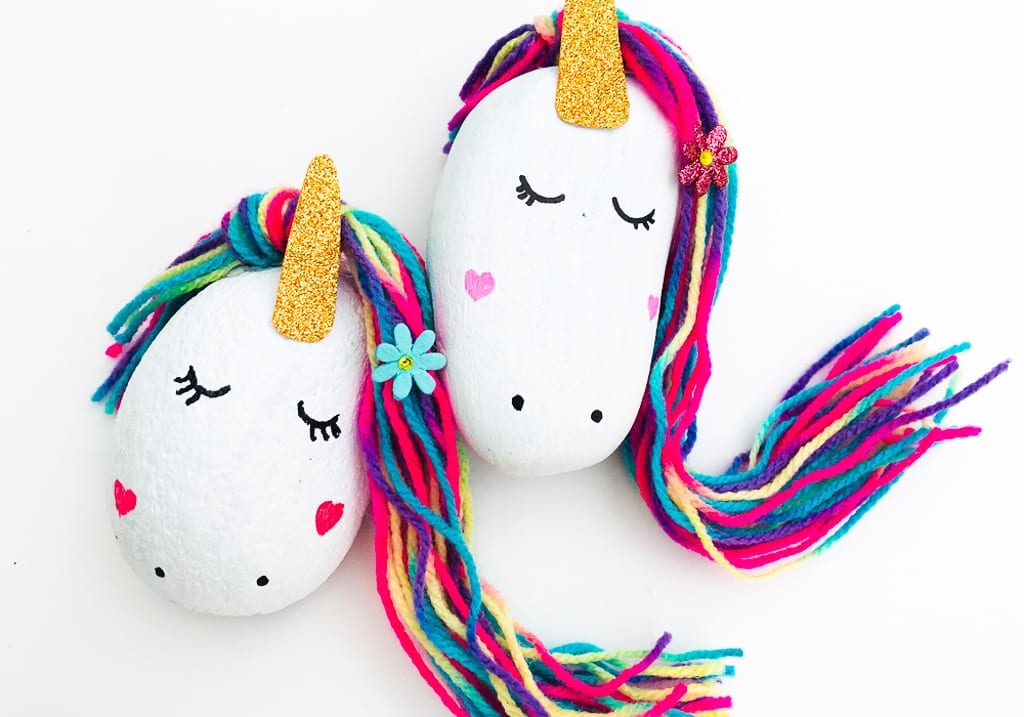 Fun Kids Crafts
Magical Unicorn Stones
Kids are loving all things unicorn. With this activity you can turn an ordinary pebble into a magical unicorn stone!

Use just some paints and glitsy accessories to make your unicorns come to life.

It's great kids craft to enjoy together on those rainy afternoons in.
Summary
Time: 20 minutes
Age: Little kids to Teens
Difficulty: Intermediate
1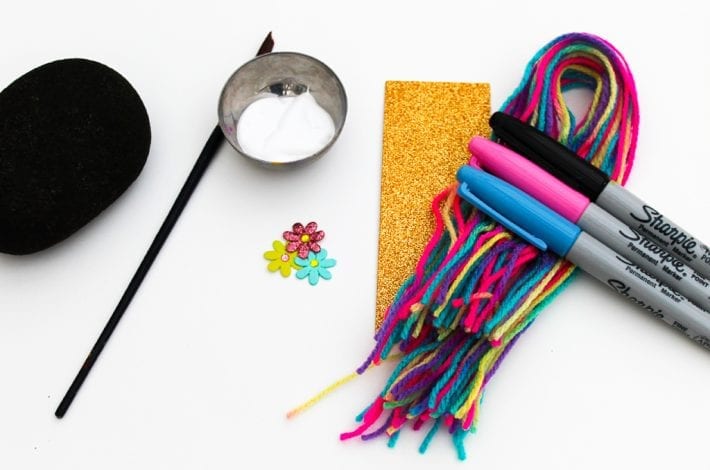 1
You will need:
Large smooth pebbles
White paint (we recommend acrylic paints)
Paintbrush
Rainbow wool (colourful wool strands)
Glue
Sharpie pens
Glittery card
Scissors
Stickers – little gems or flowers
Gather some smooth, flat pebbles on a family walk.
Give them a wash and pat them dry before you start painting them.
2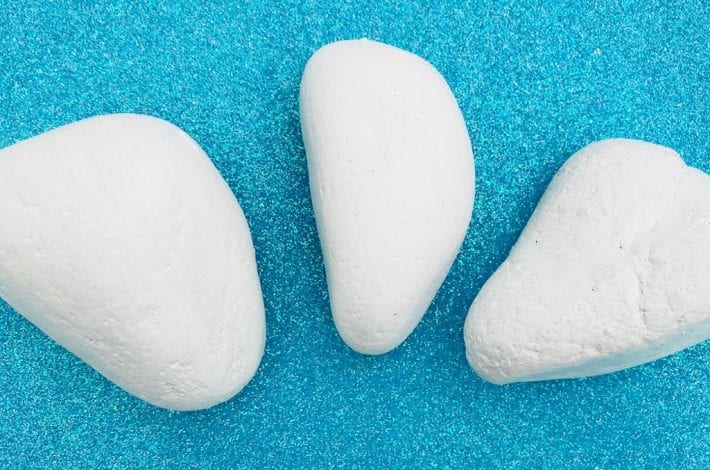 2
Step 1: Paint your pebbles
Paint your pebbles all over with white paint. Acrylic paint gives a good coverage and dries with a nice shine.
You will probably find that your pebbles need two coats to look really neat.
3
3
Step 2: Make your colourful unicorn mane
Take a few strands of rainbow wool and tie a knot at one end to secure them.
4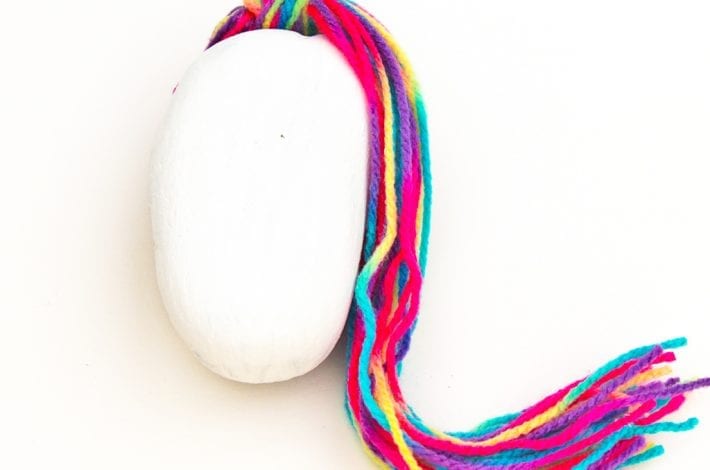 4
Step 3: Glue your mane in place
Glue your unicorn's rainbow mane in place.
A glue gun works really well for this or if you don't have one you can use a strong tacky glue. (Adults should be the ones to handle the glue gun).
5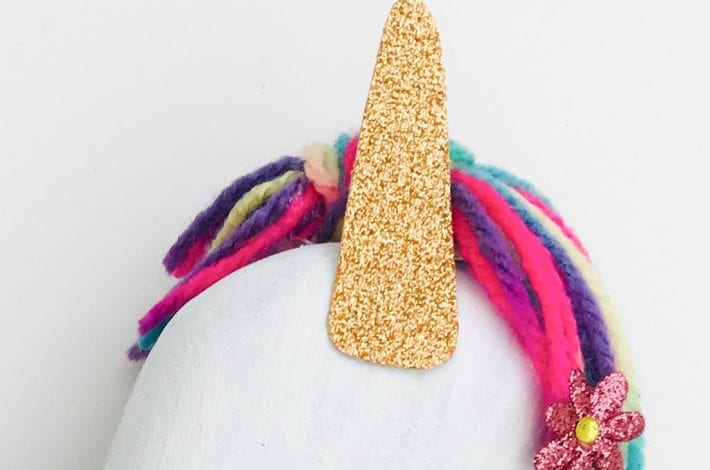 5
Step 4: Glue on a glittery horn
Cut little triangles from glittery card to make the horn.
Stick them onto your painted rock, either using a glue gun or Tacky PVA glue.
6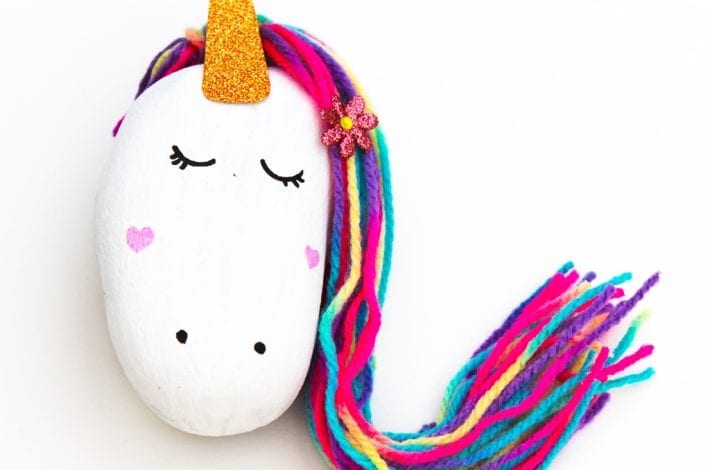 6
Step 5: Add eyes, ears and magical decorations
Use a black permanent marker to draw on the eyes. Then draw on the outline of their ears.
Add two dots for their little nostrils.
Then add on your chosen magical decorations.
You could draw on little love hearts, rainbows or stars with pastel coloured Sharpies.
You could also add some sparkly gems or flowers to the mane with stickers.
Magical Unicorn Stones Craft
Pin it for later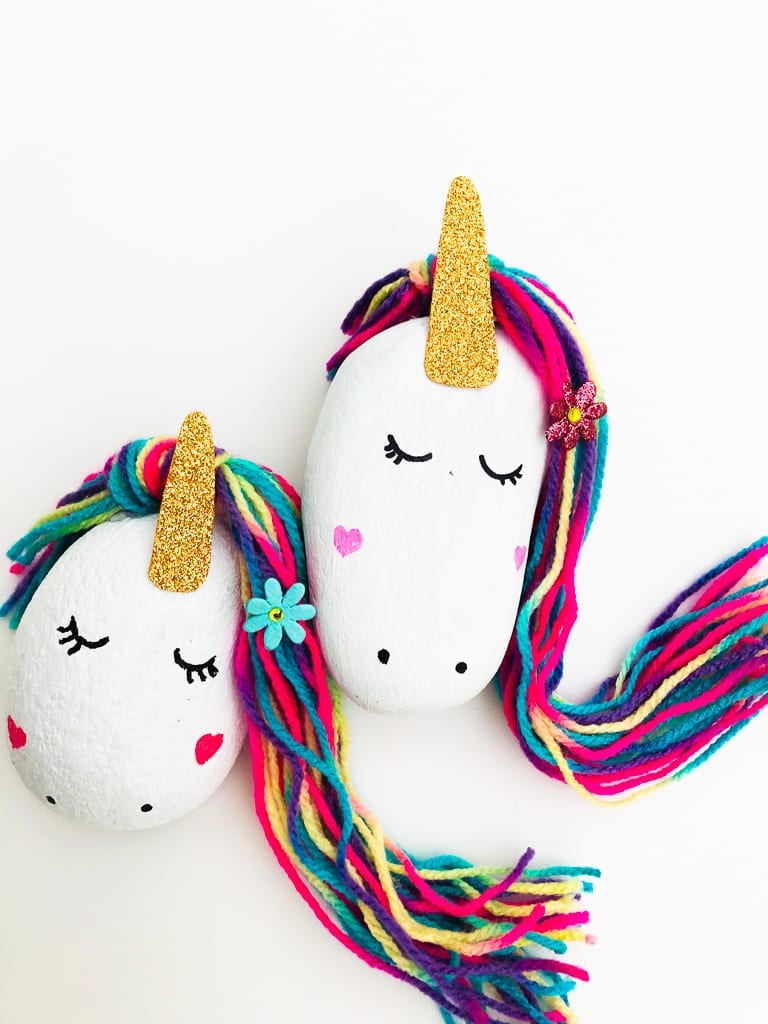 If you loved this craft, you could join the #LoveontheRocks craze on social media.
Find pebbles in your area and leave your own pebble crafts for other little monsters to find.
Have you heard about the #Love on the Rocks craze? It started in America but has made its way over to our shores and keeps on growing. The idea is simple but really lovely.
Paint some stones however you like. You could make these Unicorn Stones, or paint stripes or dots. You could even write on kind messages.
Take your painted rocks with you on a family walk. Hide them along the way for other people to find on their walks as a nice surprise.
You could even post about it on social media. Facebook groups are popping up all over the UK where you can add photos. Members also include little messages about where they have hidden their rocks as well as where they've found them in their local areas.
Search 'Love on the rocks UK' on Facebook to see if you can find a group near you or visit: Love on the Rocks UK.