Deciding how to choose the right car seat for the first time can be utterly confusing.
You might think you can just go to your local baby store and pick out a car seat that you like the look of and  – job done. If only it was that easy.
We've put together a complete beginner's guide to car seats to help you navigate your way through the minefield.
The UK law on car seats
All children need to use a car seat from birth until 12 years old or until they are 135cm tall, whichever they reach first.
By law, all children must use the child car seat for every single journey, no matter how short.
Children must use a rear-facing car seat until they are 15 months old. This is a new change to the law, which was introduced in 2017.
In 2017 another new law came in, outlawing backless booster car seats. Now all new-to-market backless booster seats are only approved for children weighing more than 22 kg or taller than 125 cm.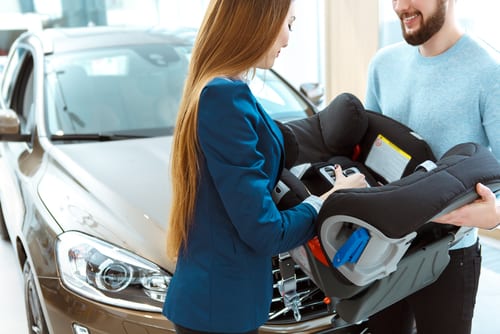 Height based seats
These are also called i-Size seats and vary according to the height of your child.
Only seats approved by the EU are legal in the UK: these will have a label with a capital 'E' in a circle and 'R129'.
Weight based seats
These car seats depend on the weight of your child.
Only EU-approved weight-based child car seats can be used in the UK. These have a label showing a capital 'E' in a circle and 'ECE R44'.
Choosing the right car seat
You should buy the correct car seat for your child according to their age and weight.
Car seats are arranged into groups, depending on the weight of your child. They range from group 0 to 3.
Group
Weight
Age
Notes
0+
up to 13kg (29lb)
birth to 1 year

These will last your baby from

birth

until he or she is around

12 to 15 months old.

0+/1
birth to 18 kg (20-40lb)
birth to 4.5 years old
These will last your baby from birth to around four years and a half years old.
1
9-18kg
9 months – 4.5 years old
These are for toddlers from about nine months old up to around four and a half years old.
2

15-25kg (33lb-3st 13lb)

4-8 years old
These are for children about 4 – 8 years old. These need to have a back as backless booster seats are no longer allowed.
3

22-36kg

8-12 years old
These are larger car seats. Backless booster seats are also permitted if your child is over 22 kg or taller than 125cm.
It can be handy to buy car seats which can cover several weight groups so you don't have to spend money buying several different car seats every time your baby puts on a few kilos.
This is the case for car seats categorised as Group 0+/1 and there are also car seats which are Groups 2/3 or even Groups 1/2/3. 
One way to manage crossing over all the different groups of car seats would be to first buy a Group 0+/1 car seat which would take you from birth to about 4 and a half years old. You could then purchase a Group 2/3 car seat for the older years. 
Alternatively you could buy one Group 0 car seat for baby's first year, and then buy a Group 1/2/3 car seat which will take them from toddler to 12 years old. 
Making sure your car seat is fitted correctly
When you've chosen your car seat, one of the most important things is to make sure your car seat actually fits in your car.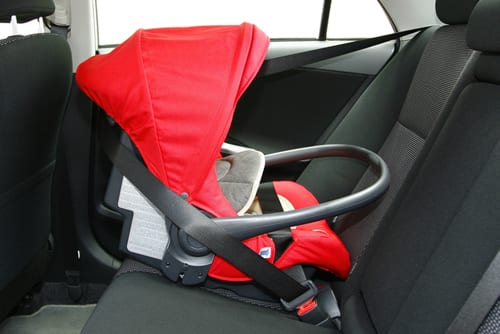 Not all seats are compatible with all cars and it is
really
confusing.
The seat must fit snugly in your car and shouldn't be able to move back or forth or side to side more than one inch in any direction.
Before installing any seat you need to read and carefully follow the safety seat manufacturers directions, safety belt labels and even the vehicle owners manual.
For your own peace of mind it is best to get it checked by a store assistant to make sure it is installed correctly.
Most shops selling car seats will check that the car seat you choose fits your car model and will also demonstrate and talk you through how to fit it correctly.
To make this process a bit easier, the RoSPA have put together a handy checklist of all the car seat manufacturers, with details on how to find out which vehicles they fit into and videos showing you how to install them correctly.
ISOFIX car seats
One of the things that takes away the headache of making sure your car seat is installed correctly is the ISOFIX system.
Many new cars made after 2004 have an ISOFIX system built in.
Instead of securing a car seat by using the car's seat belts, an ISOFIX car seat locks into the ISOFIX anchor points built into the car. One click and it is secure.
But you still need to check your car seat is compatible with your car because again not every ISOFIX car seat is suitable for every car.
Ask staff at the shop for advice over which ISOFIX car seat fits which make and model of car.
Look for side impact protection
As 25-30% of collisions happen to the side of the car, choosing a car seat with side impact protection is very important.
Side impact testing for car seats have even been made a requirement as part of the UN R129 Regulations.
Don't buy a second hand car seat
You will often see second hand car seats for sale on auction sites but it's best to steer clear.
If you buy a second hand seat then you don't know it's history and if it's been involved in an accident.
Even if it looks fine there might be internal damage to the seat that you can't see.
Second hand seats are also likely to be older and might not meet current standards.
They might not come with instructions too.
Match your car seat to your buggy
Many car seats are able to fit into a buggy so that you can then move around with the baby in their car seat.
Some car seats are made to be compatible with certain brands of strollers.
Others come with adjustment attachments which are an additional purchase, to enable them to clip onto different brands of buggies. Check the specifications of your car seat to see which prams they go with.
It's not a requirement to match your car seat to your pram but if you want the flexibility of putting the car seat out of the car and onto a pram when out and about, it might be something worth considering.
Front seat or back? Where should I put the car seat?
It can feel comforting to put your baby's car seat in the front passenger seat so you can see her as you drive. In fact, though, children are safer in the back seat of the car.
It's important to note that you must never fit a rear-facing car seat in the front of the car if there is an active airbag on the passenger side of the car. It's illegal and dangerous.
If you do put a car seat in the front of the car then deactivate the airbag first. And make sure the seat is as far back as it will go so your baby is as far away from the dashboard as possible.
It's much safer for your child to sit in the back of the car.
Making sure your child is strapped in safely
So you've picked your car seat and made sure it's installed into your car correctly. Now it's important to make sure that your child is strapped in safely when they sit in it.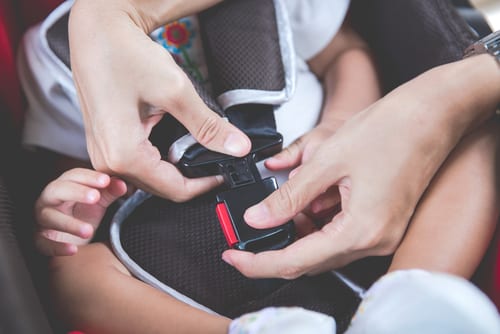 Car seats have a 5 point harness that fits across your child's shoulders, the hips and the crotch and across their waist, secured with a clip. Some 5 point harnesses have a chest clip as well as a clip at the crotch.
Pull the harness straps over your child. Buckle the car seat and close the chest clip.
Make sure that you pull the harness straps so they are nice and snug. This means that the straps will lie in a straight line without any sagging.
'Snug as a hug'
To check that the harness is pulled tightly enough, see if you are able to squeeze two fingers in between the strap and your baby. You should only just be able to get two fingers into the gap. If it's any looser then it could be unsafe. [/wrap]
We like to keep in mind the phrase 'snug as a hug' to help us make sure the straps are pulled tight enough.
If your harness has a chest clip then move it to your child's armpit level. If it's in the wrong place then the shoulder straps can easily slip off your child's shoulders.
Take off their coat
An important thing to remember is that there should never be anything thicker than sweatshirt material between your baby and their car seat harness.
The extra padding of a winter coat could mean that your child would not be restrained tightly enough.
In the event of a collision they could move too much within the car seat for it to be safe.
So take off a child's coat before strapping them in.
Impact shields
Some car seats use an impact shield instead of a 5 point harness.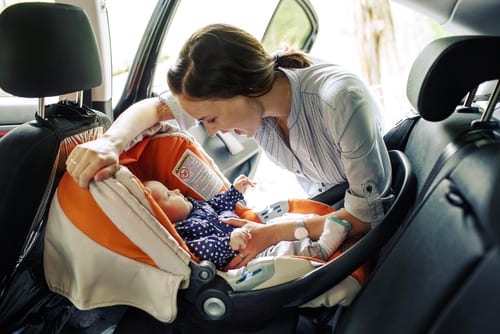 These seats have an impact cushion or shield to hold your child in place instead of a strap. The shield is usually secured with your car seat belt so check the instructions and make sure they are secured correctly.
You're good to go
Phew! We warned you it was a minefield. We hope our guide has given you a great starting point to finding the right car seat for you.
If you're still unsure, the easiest way to make sure you buy the right car seat is to buy it from a shop that has car seat advisers on hand.
These handy staff members can talk you through all the different car seat models and check whether seats are compatible with your vehicle.
Most can even fit them for you and talk you through all the instructions. Happy shopping!
Are you getting ready for baby's arrival?
Get in touch and ask our community any last-minute questions in the Bump Club Pregnancy Chat Room.
Share advice and experiences in this pregnancy chat forum exclusively for expecting mamas.