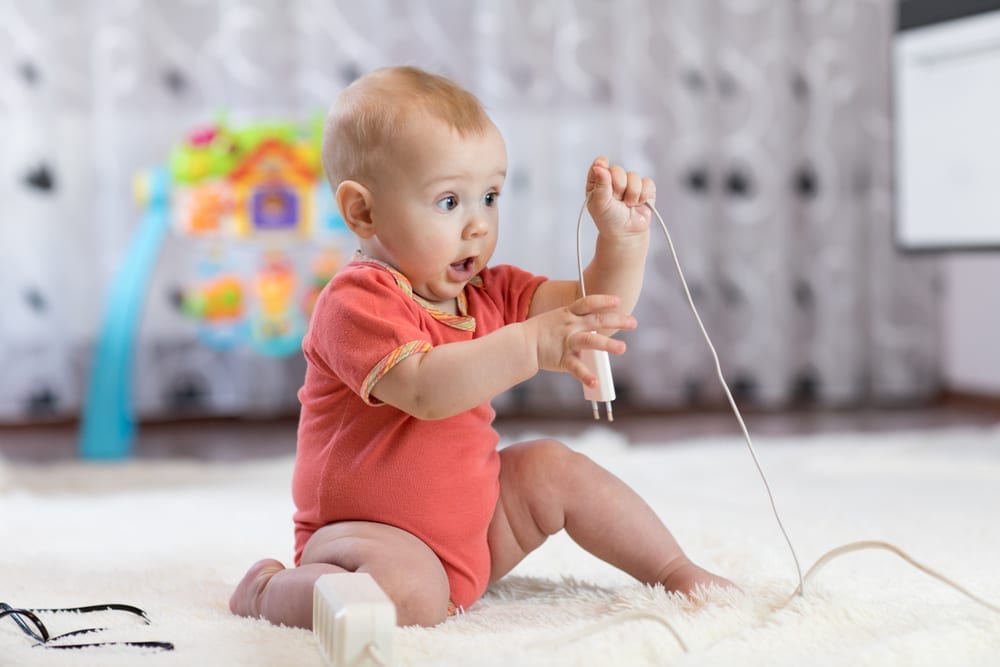 Every new parent worries about dangers in the home. Especially when baby starts moving around. Here are 16 things you can do to make your home so much safer with this babyproofing 101.
When should you start babyproofing your house?
You can take those first steps to babyproof your home, a few months before baby is born. Things like positioning the crib away from other furniture, cables or hanging objects, are important to have in place right from the beginning.
Once your baby becomes mobile every square inch of your home becomes an adventurous and potentially dangerous territory.
Everyday items that you haven't given much thought to, become exciting things for your baby or toddler to pull, push, gnaw, grab or climb upon. You can't take your eyes off your little explorer for a minute and you need to make sure that everything they will encounter is safe and will do them no harm.
Although we can't wrap kids in cotton wool, we can take steps to make sure they don't come to harm through their everyday exploring and curiosity in their toddler years.
Baby proofing the home and some babyproofing essentials
Disclosure: may contain affiliate links
1
1
Beware of looped blind cords
There have been some devastating articles in the press about young children being strangled by window blind cords.
It's not something that we naturally think about being a risk but it's scarily easy for a child to get tangled up in a looped blind cord. A number of tragic stories have been shared on YouTube by parents whose toddlers got caught up in them.
ROSPA's own research shows that there have been at least 30 deaths across the UK due to looped cords since 1999 (18 of which have occurred since the start of 2010).
Some tips that the ROSPA shares for preventing accidents with looped blind cords are:
Install blinds that do not have a looped cord, particularly in a child's bedroom
Cords on blinds (and also curtains) that are elsewhere in the home should be kept short and out of reach of children – tie up the cords or use one of the many cleats, cord tidies, clips or ties that are available
Do not place a child's cot, bed, playpen or highchair near a window
Do not hang toys or objects that could be a hazard on a cot or bed
Do not hang drawstring bags where a small child could get their head through the loop of the drawstring.
2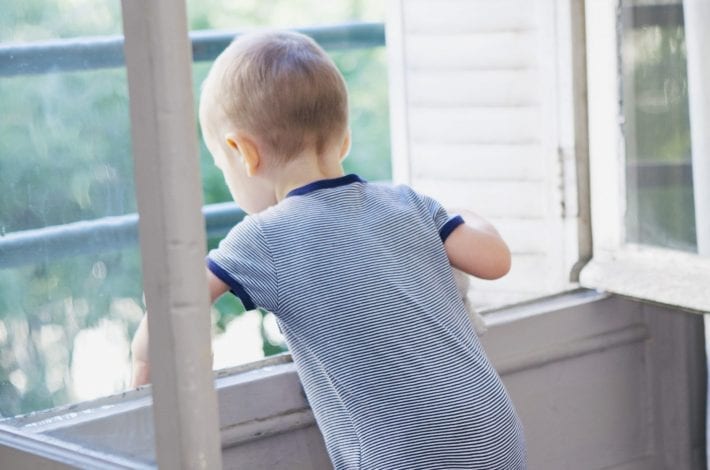 2
Protect your child from your Windows
Windows which open fully can pose a significant risk to toddlers and babies. They can climb up onto the sill and lean out. This is especially dangerous with low silled window openings.
A few ways to window proof your windows include:
Window guards – these are like stairgates for the window and block it with bars.
Window stops – these prevent your window from opening fully.
There are a number of products online for different window types and opening sizes for you to choose from. These are best installed from before baby is born.
3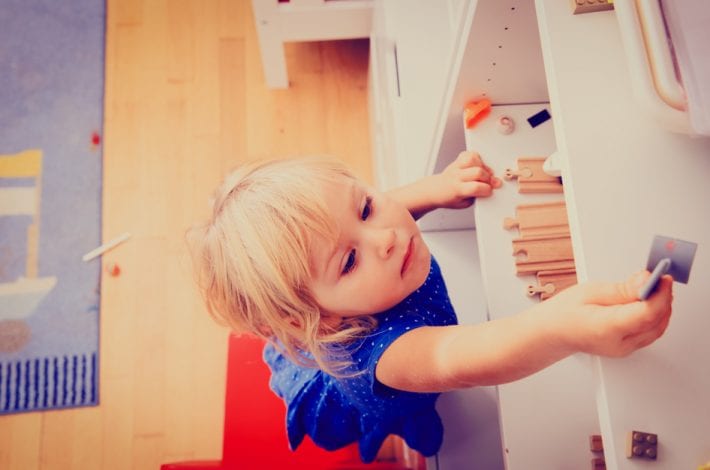 3
Secure heavy furniture to the wall
Babies and toddlers are curious little things and will often pull themselves up against items of furniture.
You need to be sure that when they do, the furniture will not topple and fall down on top of them.
Take a tour of your home and make a list of any furniture that could tip over. These could be heavy items like bookshelves, changing tables, desks, cupboards, wardrobes and free standing TVs.
Make sure you secure any furniture that might topple to the wall before baby arrives. However large it is.
How do you secure furniture to the wall?
You can buy safety anti-tip kits that help you to easily fix heavy furniture to the wall. This prevents them falling, even when children climb up onto them.
There are a variety of kits available online. They are usually straps which you fix to the back of the furniture and then to the wall.
We recommend:
12 Pack Anchoring Kit
Amazon link: https://amzn.to/2QtYAzb
We like: that they're strong, flexible and individually packaged so they're easy to use.
4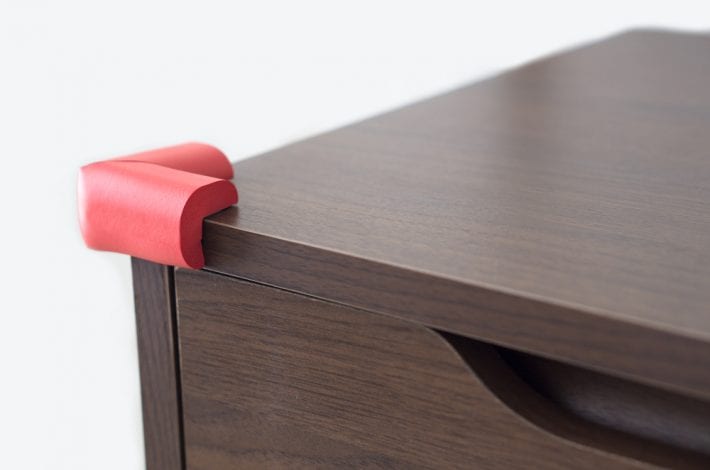 4
Cover up sharp edges
A mobile toddler can easily fall and hit themselves on sharp edges of furniture.
And when they do they can fall quite hard, causing serious injury.
One of the most common first steps parents take to babyproof the home, is to look for furniture with sharp edges or corners. Cover these with soft bumper strips and corners.
We recommend:
Edge and Corner Guards – Furniture Bumper
Amazon link: https://amzn.to/35qahuX
Available in brown, white and black colours.
We like: thicker, more cushion-like material than other guards, easy to cut to size, sticks down.
Table Corner Guards
Amazon link: https://amzn.to/2N20PYm
We like: more transparent corner guard protection.
5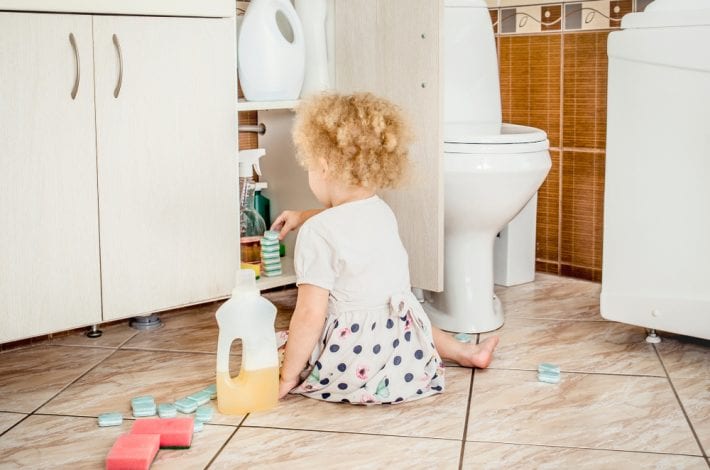 5
Lock up household cleaning products and other toxic substances
Any household cleaning product will contain chemicals. Their ingredients may be harmful to your child if ingested or if it goes in their eyes.
So keep them out of reach in high cupboards away from little explorers.
We like
No drill safety cabinet locks for knobs
Amazon link: https://amzn.to/2FmTmPu
We like: Easily keeping cupboard doors with knob handles shut for young children.
There are a variety of cabinet restrictors for different cabinet types and even toilet seats. Check which ones are suitable for your furniture and easy to use.
6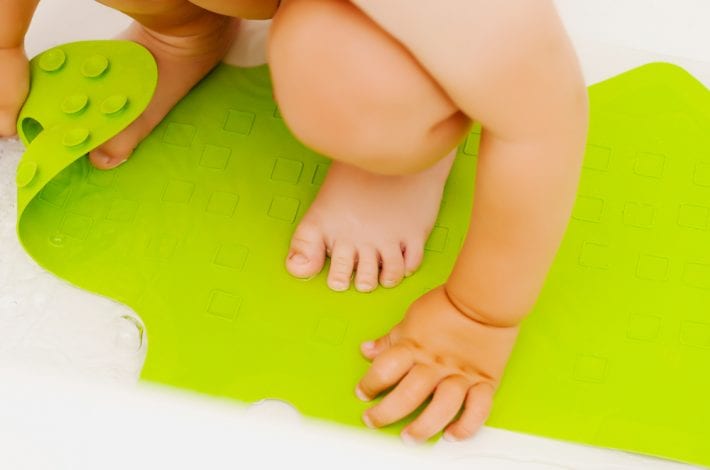 6
Follow safety rules with bathing baby
Baths are pretty slippery and small children are oh so wriggly, so there are a few safety precautions you can take.
Non-slip mats. Always have a non-slip mat in your bath or shower. Have another softer non-slip mat right outside the bath too.
Bathtub tap covers. Cover bathtub taps with soft covers.
Never leave baby alone. Always supervise your child in the bath. Young children can drown in only 2 inches of water so never leave a young child in the bath unsupervised, no matter how short the time.
Water temperature check. Check bath water temperature. It can be easy for a bath to end up too warm. Always check the temperature with a bath thermometer or your hand, before putting baby in.
We recommend:
Bath Spout Cover Universal Fit
Amazon link: https://amzn.to/35vY7AX
We like: that it's a fun way to cover up hard bathtub spouts, and fits on most taps.
7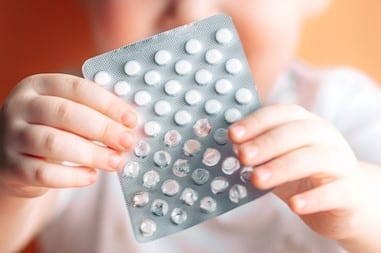 7
Keep pills and medicines out of reach
Brightly coloured pills can look like exciting sweeties to toddlers.
Always keep any pills or medicines safely out of reach in high cabinets.
You would be surprised how quickly they can find them and start popping them in their mouths when they want to!
8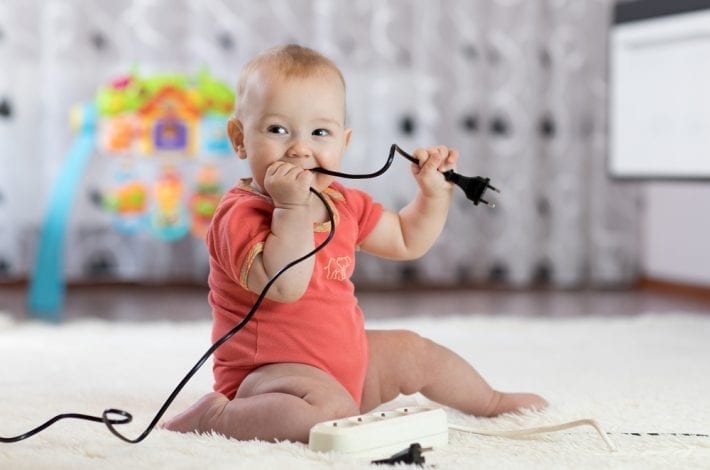 8
Secure any loose cords
Loose cables, especially electrical cables, can create a number of risks to babies and toddlers. They can:
Trip over long cords.
Chew on long cords.
Tip over whatever they are attached to, like a lamp. This could then fall on them.
Get tangled up in them and risk of strangulation.
Risk of electrical shock if they pull out the cord from the plug socket.
For these reasons it's very important to tidy away any loose cords or cables.
Some steps you can take to make electrical cords and cables safer are:
Avoid using extension cables.
Tape down any long cables to the bottom of the wall or along the floor.
Roll any extra cord lengths up and tie them securely together so that baby can't untangle them.
Purchase a cord shortener or cover.
If you have multiple cords going to the same outlet you can bunch them together in a cover.
9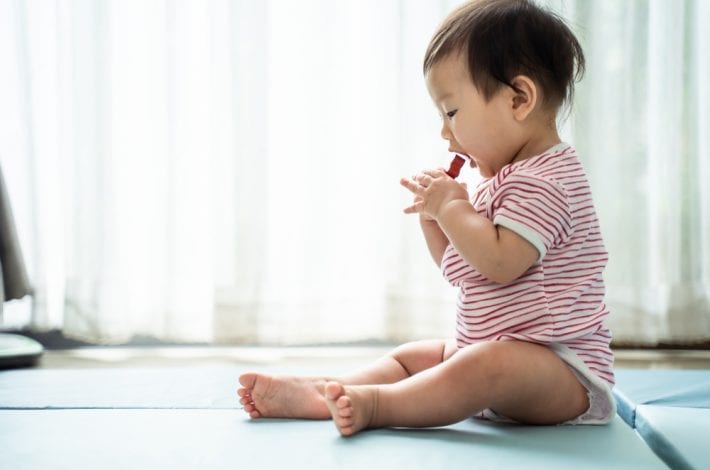 9
Place small items like fridge magnets away or way up high
Fridge magnets, coins and small toys are all choking risks to babies and young toddlers.
It's easy to leave some of these everyday items lying around. So make it a rule that they all go somewhere up high, that your toddler can't reach.
Use the toilet roll choking rule
If a toy is small enough to fit into a toilet roll then it poses a choking hazard to babies and toddlers. Keep any tiny toys like these well out of reach or tucked away in a cupboard up high.
If your baby has older siblings, you might want to do a quick scan of their toys. Do a round up of any that aren't safe for baby.
Remove any small parts from dolls houses, or other toys. Put them away until their younger sibling is old enough to play with them.
10
10
Follow food safety guidelines
Certain foods have high choking risks in babies and young toddlers. Some of these are:
whole grapes
whole cherry tomatoes
whole cherries
whole nuts
hot dog sausages
popcorn
marshmallows
There are other foods that can get stuck and swell in the throat. Some are banana and melon.
Make sure you cut them into nice small pieces before giving them to your baby.
Always cut grapes in half lengthways to minimise risk of choking.
How do you help a choking infant?
If the worst happens and your baby or toddler starts choking, the best way you can help is to be prepared. Attend a first aid course before baby arrives so that you know what to do.
You can also inform yourself by watching videos such as this one to guide you in case of emergency.
Find more information about food safety and how to prepare solid foods here: 30 first foods for baby and how to prepare them.
11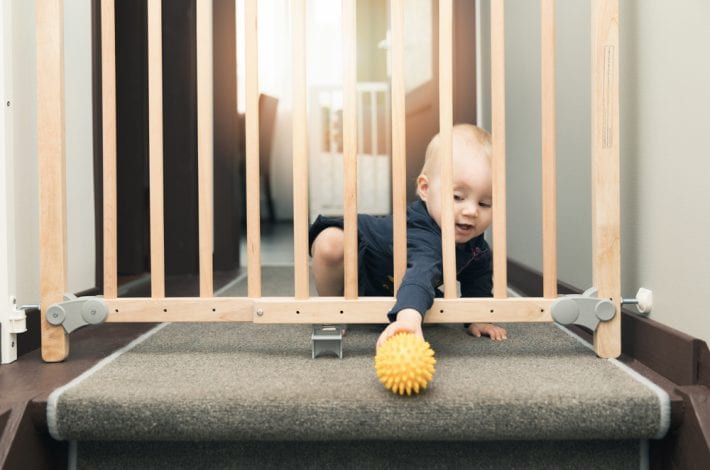 11
Install stair gates
Use stair gates to prevent a child from climbing up or down the stairs unaided. They also work to stock them entering any rooms which are off limits, such as the utility room or the pet's room.
Do you need a baby gate at the bottom of the stairs?
Yes, you need a stair gate at the bottom of stairs to stop your baby or toddler from climbing up by themselves (and potentially falling down them).
Make sure any stairgates positioned at the top of the stairs are not extendable ones and are very well fitted. If they're not, there is a risk that they could slip and fall down the stairs when baby pushes their weight up against them.
Look out for stairgates that don't have a fixed bar along the floor.
This can sometimes be a trip hazard for you. We're often going up and down stairs carrying baby or laundry baskets or a bunch of toys. So we don't always see the bar along the floor.
12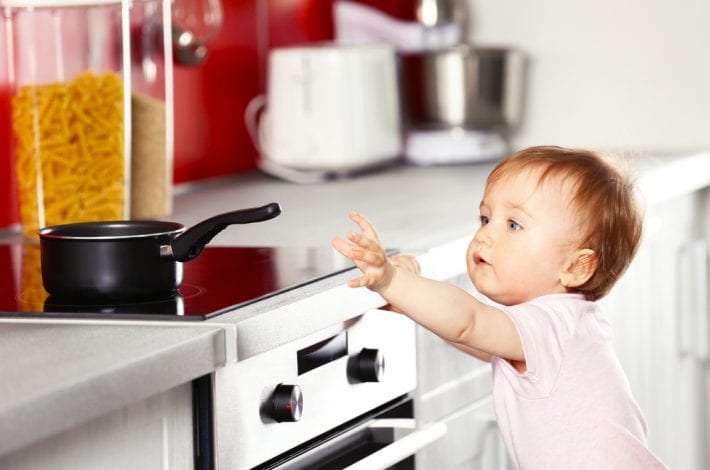 12
Safety in the kitchen
Guard fires, and ovens
Use fireguards to deter little ones from crawling up to or going too near an open or gas fire.
A fireguard will add an extra measure of caution and a physical barrier that they cannot cross.
For your oven you can add covers for the oven dials so that toddlers don't turn them on by themselves.
Always cook on the back burners of your hob
Toddlers love to grab and explore. The risk of this around a hob is that they can pull hot saucepans of boiling water down onto themselves.
You may want to also add a guard around your hob as an added security measure.
Keep knives away from surface edges
Keep sharp knives and other items away from the edge of any work surface or kitchen island.
It's an easy item to forget there, so get yourself into a new habit of leaving them well away from the edge.
Keep washing machines and dryers shut
Babies can climb inside washing machines and dryers. Sometimes siblings even put each other inside to play. Always make sure these machines are closed and latched shut.
13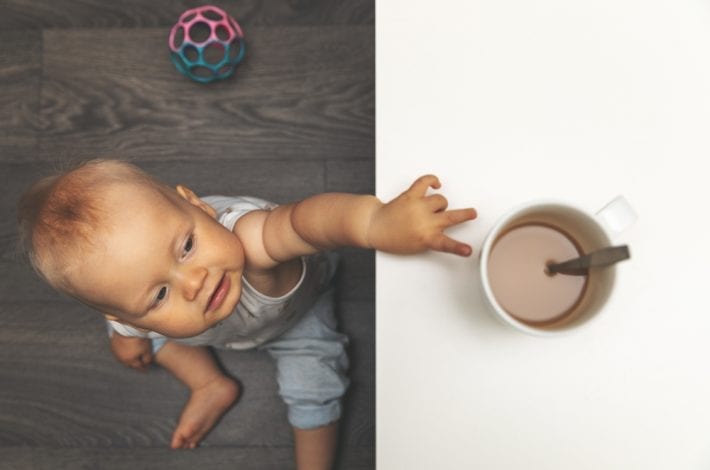 13
Keep hot drinks out of reach
Did you know hot drinks are the number one cause of scalds among under fives?
Every day in the UK, 45 children are taken to A&E departments with scalds from hot drinks – that's around 16,500 a year.
Keep hot drinks well out of reach of children, always.
14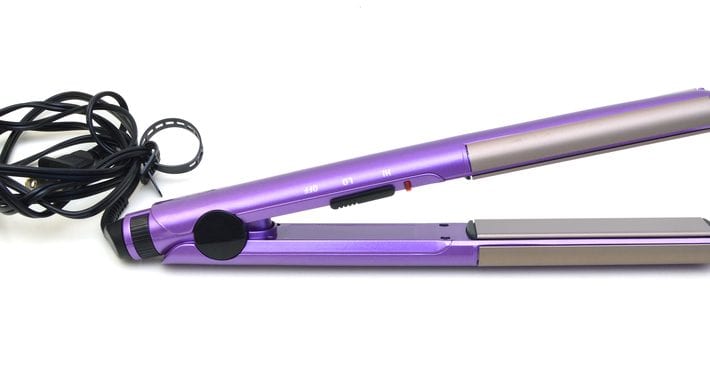 14
Unplug appliances and keep them out of reach
Whenever you use an electrical appliance like an iron or hair straightener, make sure you always unplug them immediately after use.
Wrap up the cord and put them away. Place them high up and out of reach of your baby while they are still hot.
Appliances that are left plugged in could be an invitation to play and explore for your toddler.
15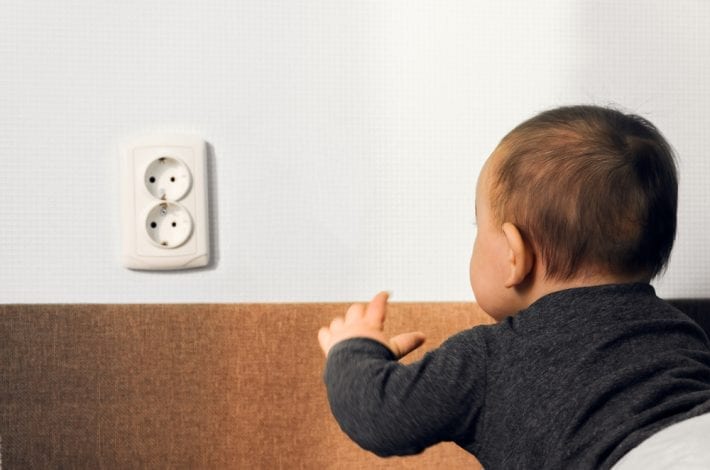 15
How do you child proof an electrical socket?
There are a number of ways you can cover electrical outlets:
Electrical outlet cap
In the past one of the first things parents would do to babyproof their home was to buy plug socket inserts. These are plastic caps with prongs that fit into the electricity sockets.
These prevented toddlers from poking little fingers in the plug holes, risking electrocution.
However in June 2016 the Department of Health advised against this practice by issuing the following warning:
13A electrical socket inserts should not be used in health or social care premises, nor supplied for use in a home or residence…

Although it is not illegal to use electrical safety socket covers, the Department for Education recommends that providers should take into account the advice included in this alert when carrying out their own risk assessment.
Their argument was that the socket covers being sold are unregulated. As they come in different sizes they rarely fit the sockets correctly.
Most modern plug sockets have protective shutters as a built-in safety measure. However when you put inserts into the plug these shutters do not work.
If the covers then come loose or if a child manages to pull them half out of the socket, the shutters are held open and there is a risk of electrocution.
Official advice is therefore that electrical socket covers should not be used.
Electrical outlet cover box
Amazon link: https://amzn.to/2NiTWSX
There are covers that do not have inserts which go into the electricity socket. These are boxes that simply fit over the socket backplate. They have a flap that closes so that children cannot reach the socket at all.
These are best for appliances that you don't plug and unplug frequently. They can work well and are easy to install.
You can use them to cover power strips or multiplug adaptors too.
Self-closing outlets covers
Amazon link: https://amzn.to/39KGvEJ
These are an entirely new electricity plate that you replace your current one with.
When the appliance is not in the plug socket, a cover will automatically slide over to cover the plug holes. That way little fingers can't go in.
16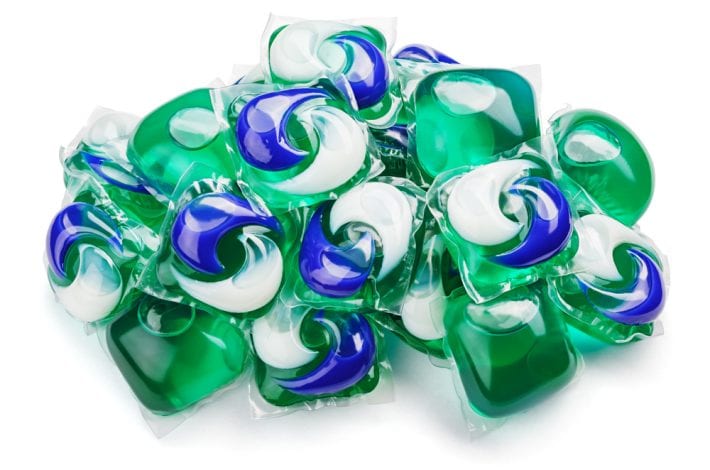 16
Keep liquitabs out of reach
These are so easy and convenient to use but they should always be locked up and kept out of reach of small children.
The brightly coloured liquitabs, used in washing machines and dishwashers, are attractive to children who may want to hold and squeeze them. But they can cause chemical burns if they are ingested or squirted in the eyes.
In 2017 US research found eye injuries in young children had gone up 30-fold in the past few years caused by such tablets.
The advice is to always keep liquitabs out of reach of children. Store them in a secure container and place them in high cupboards.
Act quickly if accidents happen
You can do your utmost to baby proof your home but sometimes accidents can happen. Always seek urgent medical attention if they do by taking your baby to A&E.
It's helpful to print out a card with your Emergency Contact Numbers and Addresses and keep it on the wall, just in case. these can include:
your mobile number
your partner's mobile number
your family doctor's emergency number
your local A&E telephone and address
In an emergency, dial 999. For less urgent advice you can phone NHS 24 by dialling 111.
In England call 111, for NHS 24, the non-emergency number.
In Scotland call NHS 24 on 111.
In Wales call NHS Direct on 0845 46 47 or 111 if available in your area.