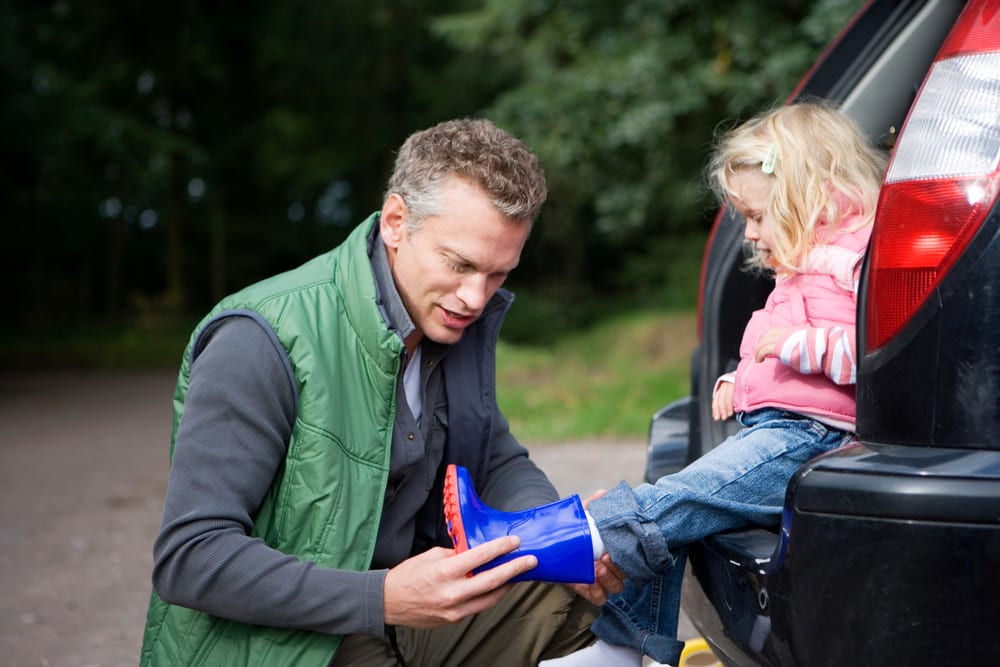 Our Family Wizard Review: Can This Co-Parenting App Really Help?
Co-parenting after separation or divorce can be tricky to navigate logistically.
A lot can get lost in communication when you're solely relying on emails and messages to keep track of school pick-ups, doctor's appointments, finances, and much more.
Also, each mix-up that happens could potentially turn into another argument you don't need.
Fortunately, co-parenting apps can help to reduce the stress surrounding the situation by providing a centralized place for all scheduling and communication with your child's other parent.
One of the most well-known parenting apps in the market is Our Family Wizard, and it will be the focus of this review.
This article will give you an in-depth look at all its features and a summary of the opinions about it out there. With this information, you'll be able to see if Our Family Wizard is the best co-parenting app for your needs.
In this guide, I will talk about:
What Are Co-Parenting Apps?

Why Use a Co-Parenting App At All?

Our Family Wizard Co-Parenting App Full Review

Main Features of Our Family Wizard

Our Family Wizard Pricing

How Did I Find Using Our Family Wizard?

What Did Other Parents Have to Say About Our Family Wizard

Pros and Cons of My Family Wizard, Summarized

What Other Options Are There for Managing Schedules as Co-Parents?

Would I Recommend Our Family Wizard?

Summary of Our Family Wizard Features and FAQs.
What Are Co-Parenting Apps?
Co-parenting apps aim to make managing family logistics easier for separated couples or families separated by distance.
They usually have features like calendar-sharing (for organizing regular custody schedules or one-off appointments), expense tracking, and secure messaging.
This gives co-parents a one-app solution to many of their communication and scheduling issues.
However, not all apps are the same and some are more helpful than others.
Our Family Wizard is a co-parenting app with one of the most comprehensive features on the market, and that's why I've chosen to review it in this article. Keep reading to find out more about what it has to offer.
Why Use a Co-Parenting App At All?
As a co-parent, you're probably familiar with the stress related to managing the schedules of everyone in your family.
There's yourself, your co-parent, your children, and not to mention the other caregivers (your respective partners, grandparents, babysitters, etc.).
You may also have the added difficulty of not being on good terms with your co-parent, which can make arranging family logistics even harder.
Co-parenting apps are specifically designed to relieve some of this stress by making scheduling and communication easier. As a result, you'll see benefits like:
Schedule organisation: easier management of custody hours, and setting one-off appointments.
Expense management: both tracking and payments.
Accountability of co-parents: all parties are kept accountable through an app where messages cannot be deleted or manipulated (this is particularly useful in high-conflict cases where messages need to be used in court).
More focus on the children: more focus is placed on the kids through the app. Also more time for you to spend with your children instead of figuring out family logistics.
Fewer disagreements: reduced conflict and stress between parents, which could mean more positive emotional outcomes for your children as they'll be able to see both parents cooperating with one another.
Our Family Wizard Co-Parenting App Review
Our Family Wizard is based in Minneapolis, MN, and was started in 2001.
Its founders Paul and Dara Volker understand the difficulties surrounding shared parenting as they themselves are co-parents.
Their personal experience was what prompted them to create Our Family Wizard as they wanted a better way to manage their family logistics.
Ever since it was started, over 1 million parents have used their service and it's also recommended by many attorneys, family therapists, and courts around the world (the US, Canada, UK, Australia, and New Zealand).
Main Features of Our Family Wizard
Our Family Wizard has various options for parents to conveniently access their account through the website, iOS, or Android apps.
In this review, I will mainly be focusing on the app capabilities as that's probably how most parents would want to access it on a day-to-day basis.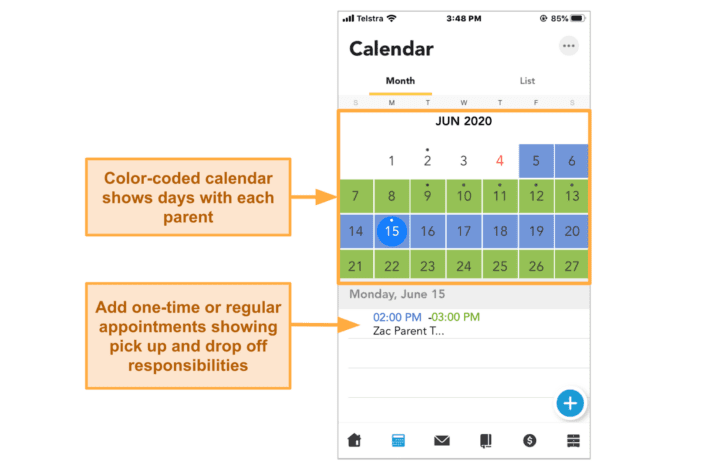 Shared Calendar
This is one of the most essential features of Our Family Wizard as it allows you to input all your scheduling information.
You can keep track of appointments, custody days, and allocate tasks from here.
One convenient feature is that you can set up a color-coded schedule of your custody days so you'll have a good visual overview of your co-parenting schedule.
Adding one-off appointments was also easy and customizable.
I could also allocate myself the task of dropping my son off and I indicated that his father would pick him up (this was also color-coded if you look at the timings in the image above).
If you wanted to make it a regular appointment, you can also set it up as a recurring event.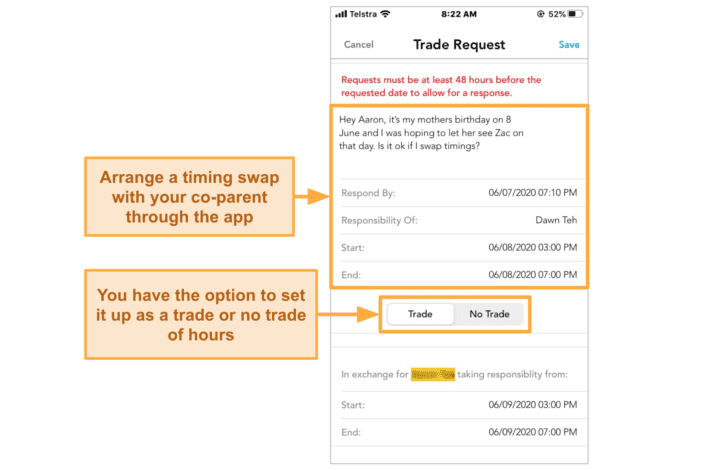 Swap Tool for Trading Hours
If you ever need to swap duties, you can send a request through the app as well.
The other person will be notified on their phone and can then decide whether to accept or reject the request.
It's possible to set it up as a trade, or if you just need your co-parent to take on extra time without trading hours.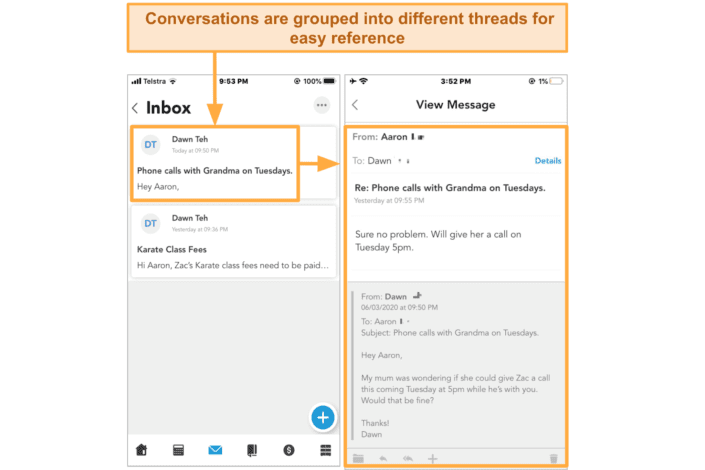 Messaging
The messaging tool on this app functions like an email service.
So when you start a message, all subsequent messages will be kept in the same thread.
This makes things a lot more organized compared to texting on the phone where you can't separate conversations into different topics.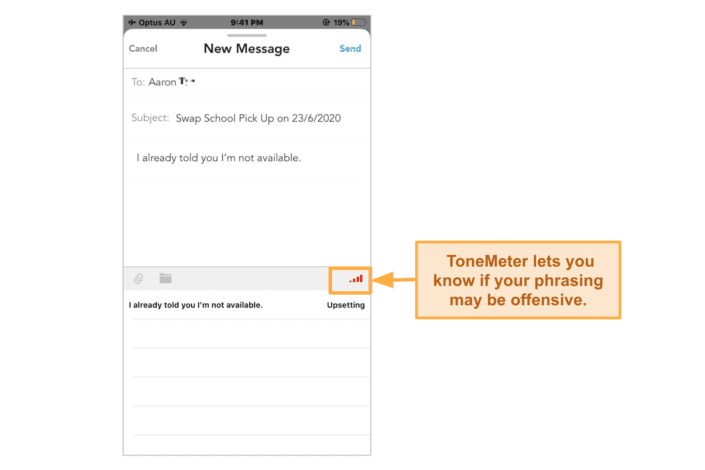 ToneMeter
All messages also cannot be deleted on the app, so it will keep both parties in-check about choosing words carefully.
There is a ToneMeter feature that is included with the bundle packages (or you can add onto your own package for an extra $10).
It appears as a little icon near your keyboard that will turn red to if your tone is potentially offensive to the other party.
I found it helpful in situations where I wasn't even aware my choice of words were hurtful.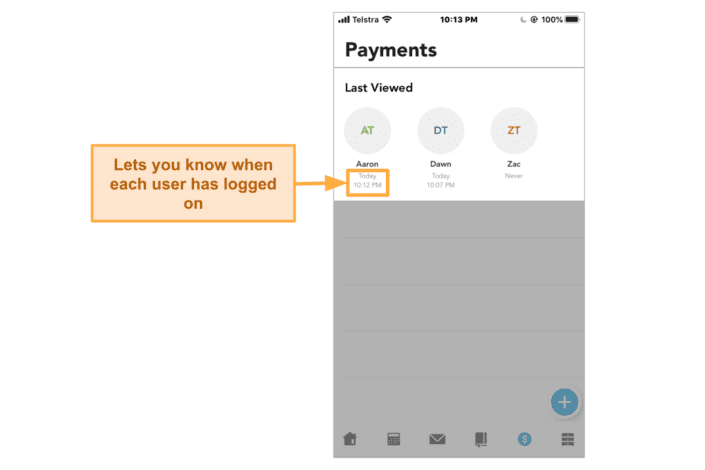 Log-in and First-Viewed Timestamps
The app also records when each person has logged on, which removes any doubt about whether your messages or updates were seen by the other person.
The first time a message has been viewed it is time-stamped. Again this removes any ambiguity about whether or not a message has been read by your co-parent.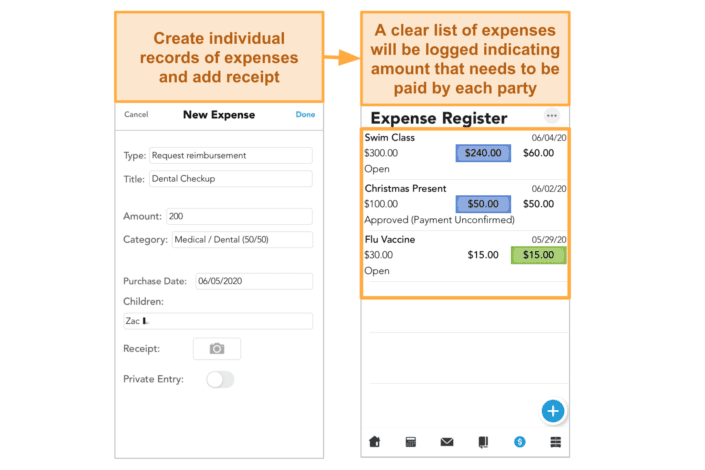 Expense and Payment Logs
Finances are one of the hardest aspects to organize between co-parents, and can often be a point of friction.
Keeping track of receipts and what portion of the payment is required from you can be difficult when you're just taking photos and messaging it to one another.
I found that Our Family Wizard's expense log was one of the areas where it really excelled.
First off, it lets you easily log your expenses in the app and attach photos of your receipt.
All expenses are then collated in list form under "Expense Register" so you can clearly see all spending and the amount required to be paid from each party.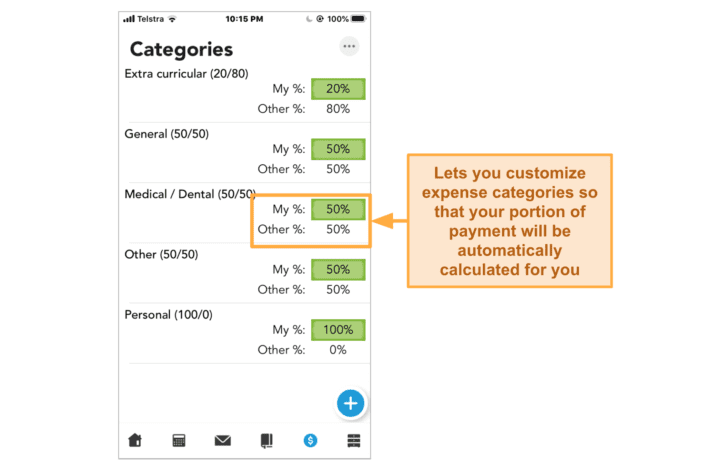 Create Expense Categories with Different Portion Splitting
You can also set up different categories to indicate what portion of the payment is required from you (e.g medical expenses: 50/50).
So as you log your expense, you can select the category it falls under and each person's portion is automatically calculated.
Once you've logged an expense, the other party will be automatically notified of the payment required and can either accept or reject it.
If the expense is agreed to, your co-parent can make payment for single or multiple expenses at one go.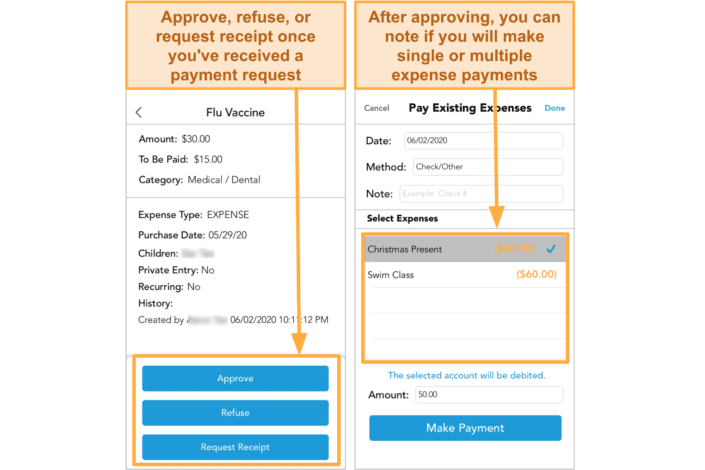 In-App Expense Payment System
You also have the option to link your bank account (called OFWpay) to the app.
So when you click "Make Payment", it automatically deducts the amount from your bank account.
If you do not want to sign up for OFW pay, that's also fine.
You can manually make payments through your own online banking app.
Once it's completed, you can come back to Our Family Wizard, select "Check/Other" under "Method" and tap "Make Payment".
Don't forget to add a transaction reference in the "Note" field.
This way, your co-parent will know you've made payment outside of the app and know which reference code to look out for.
Note that OFWpay is only available to those who:
Have an Our Family Wizard subscription
Have a US checking account
Have both parents signed up for OFWpay
OWFpay transactions are processed by ReliaFund (a partner of Our Family Wizard). As a result, there are separate fees associated with using OFWpay which can be found in this table:
OWFpay transaction fees
Transaction Amounts & Fees:
Transactions between 0 – $100: $2.50 Fee
Transactions between $101.00 – $999: $5.00 Fee
Transactions greater than $1000: $7.50 Fee
One-time OFWpay enrollment: $5.00 Fee 
Fees for failed transactions:
Returns/NOC: $25.00 minimum fee
Reversals: $25.00 minimum fee
NSF Own Account: $25.00 minimum fee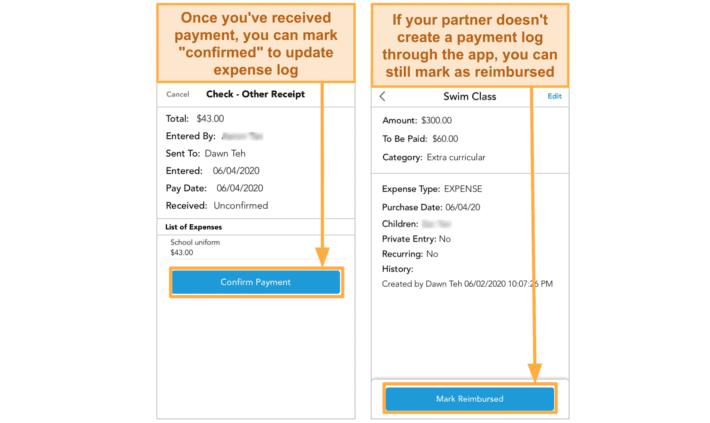 Log of Reimbursed Expenses
You will then be notified of the payment and can confirm the payment through the app for the expense status to be updated as "confirmed".
If your co-parent chooses not to go through the app for noting payments at all, you will still be able to mark the payment as reimbursed.
All payment confirmations will need to be carefully checked as any actions made on the app are irreversible.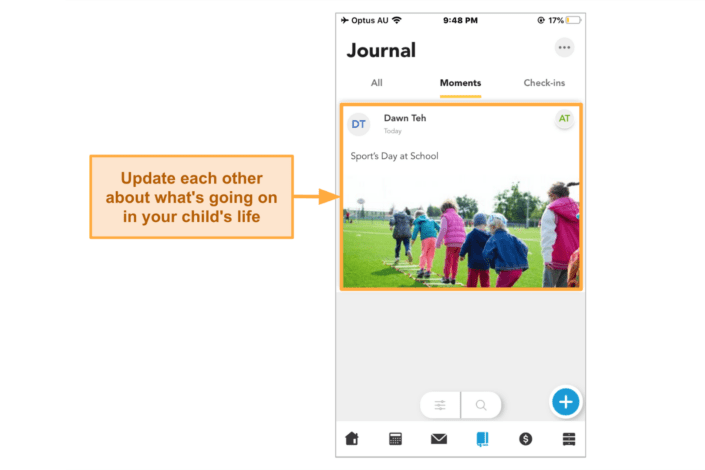 Family Journal
This is one of  Our Family Wizard's features that adds a more fun aspect to the app. And it brings the focus back onto the children.
You can update each other about what's going on in your child's life when you're not there.
It lets you add photos and descriptions of the activities you're doing together.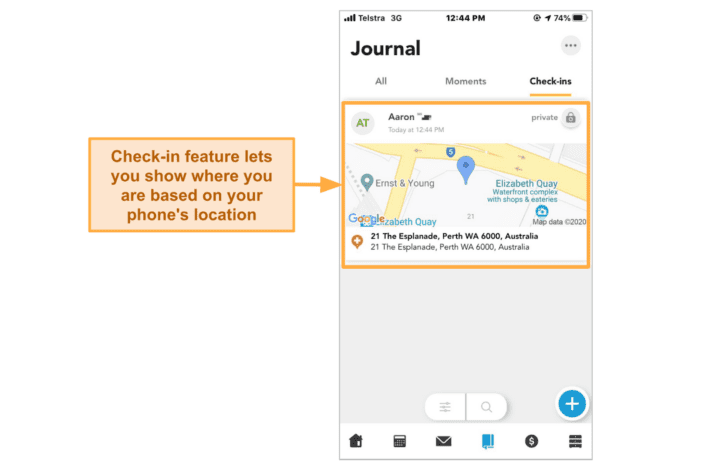 Check-in Location Tracker
The check-in feature is also handy if you want to (or are required to) inform the other parent about your whereabouts.
By using the location services on your smartphone, the app detects where you are and uploads the Google Maps image.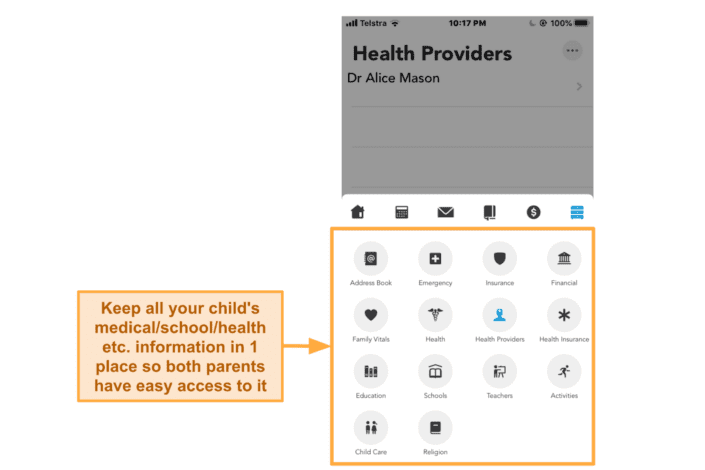 Information Bank
The information bank is a very important tool to organize all of your child's important information.
Whether it's school details, insurance information, or health contacts, you can add it all here.
That way both parents will have quick access to this vital data.
Secure Data Storage
A significant advantage that Our Family Wizard has over other free alternatives, is the security of your data.
Many free apps don't provide any security for your information which can leave it vulnerable to data theft.
As well as using standard SSL encryption to protect data while it's being transmitted, Our Family Wizard also uses Transparent Data Encryption and Redaction to protect data while it's being stored.
This means all information that is transmitted or stored through the app is unreadable to unauthorized third parties.
Security is very important to me — especially with the sensitive information (like medical information or social security numbers) that's stored on this app about my child.
That's why I was reassured to see that Our Family Wizard uses the proper technology to safeguard my data.
Data Storage Options
Our Family Wizard gives you many options to choose the amount of storage you need when you sign up.
It starts from 1GB and goes up to 10GB.
All this space takes into account all the messages, files and images (e.g. receipts) uploaded on the service.
You can always start with the lowest amount of storage first and then add on more GBs when the need arises down the road.
Free Third-Party Access
Our Family Wizard allows you to add on extra users for free. This includes people like your own children, attorney, therapist, grandparents, or step-parents.
The level of access will also be specifically catered to each user. For example, a child account will only have access to the family calendar, message board (but will not be able to see message exchanges between parents), and journal entries.
This access may also be useful for practitioners like your family therapist or attorney, so that they can be informed about all exchanges between parties in 1 organized platform.
Other Features of Our Family Wizard
Works on web browser, iOS, and Android
Touch ID sign-in and quick PIN sign-in available
Notifications are sent when users send messages, submit payments, etc.
Customer support available
Features That Are Only Available Through Web Browser (Not App)
There are 4 features that are only available when you log into your account through a web browser (not the app):
1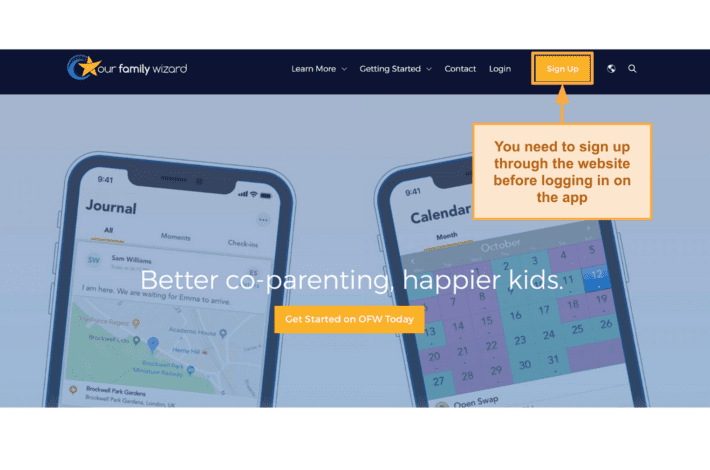 1
Account Sign Up
To set up your account, you need to do it through the Our Family Wizard website on a web browser and make payment.
You will be given a username and password, and then you can use that to log in on the app once you've downloaded it. In-app initial sign-up is unavailable.
2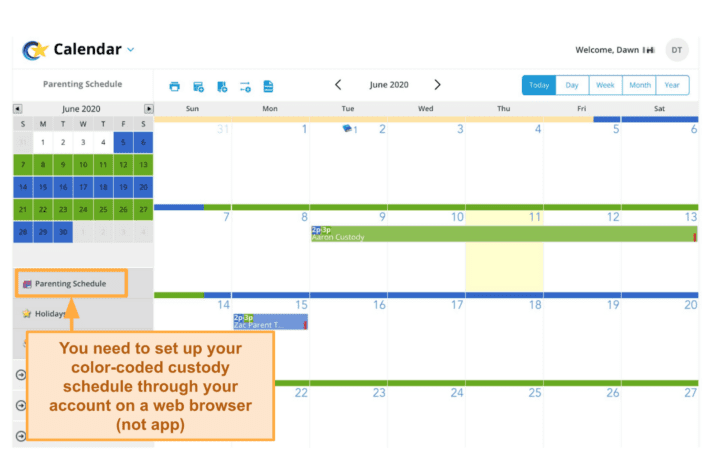 2
Setting Calendar Color Coding
You will need to set up the regular color-coded custody calendar through your account on a web browser.
Only then will you be able to see it on the app. Any changes need to be done through a web browser as well.
3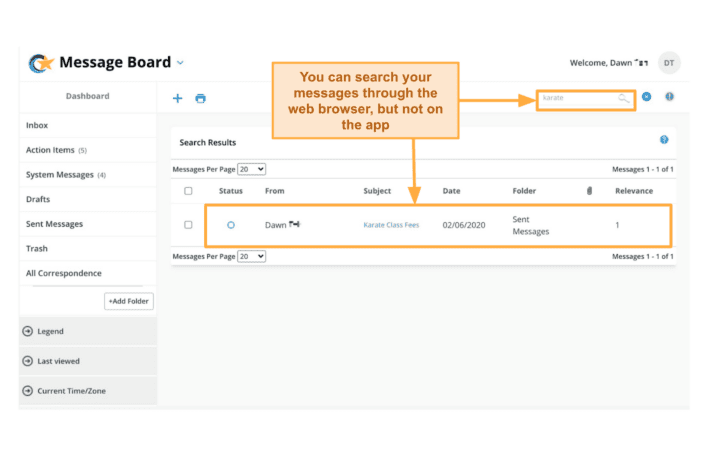 3
Message Search
You will only be able to search your messages through your account on a web browser by using the search field at the top-right corner of "Message Board". This search function is not available on the app.
4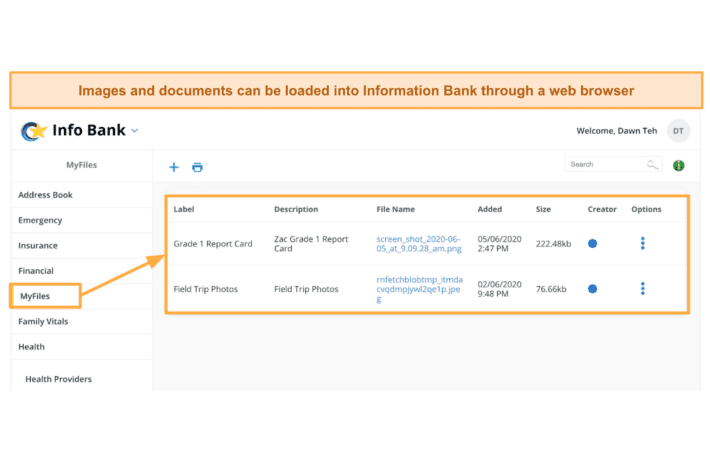 4
Uploading Images or Files to the Information Bank
The app doesn't let you upload any images or files through the information bank section on the app.
The Information Bank's purpose is mostly for entering in contact details, your social security numbers, insurance details, or your health details (like blood type, shirt size).
If you want to upload images of your child's report cards, medical statements, or certificates, you'll need to do it through the website on a web browser.
You can look under "MyFiles" in the information bank section and click the plus sign to upload these images there.
Our Family Wizard Pricing
*Prices below are per parent
Bundled Package A
$119.97

1-year subscription
5 GB of secure storage space
ToneMeter

Bundled Package B
$209.97

2-year subscription
10 GB of secure storage space
ToneMeter

Customize your own plan
Starts from $99.00

Choose 1 or 2-year subscriptions
Select how much storage space you'd like (up to 10GB)
Add on ToneMeter for $10/year

Additional pricing information

Discounts available for military families
Fee waiver for families in need
Give access to third-parties (with different levels of access) for free

Includes people like child, attorney, mediator, step-parents, or grandparents

30-day money-back guarantee available

There is also the option for one parent to pay the fees for the other parent.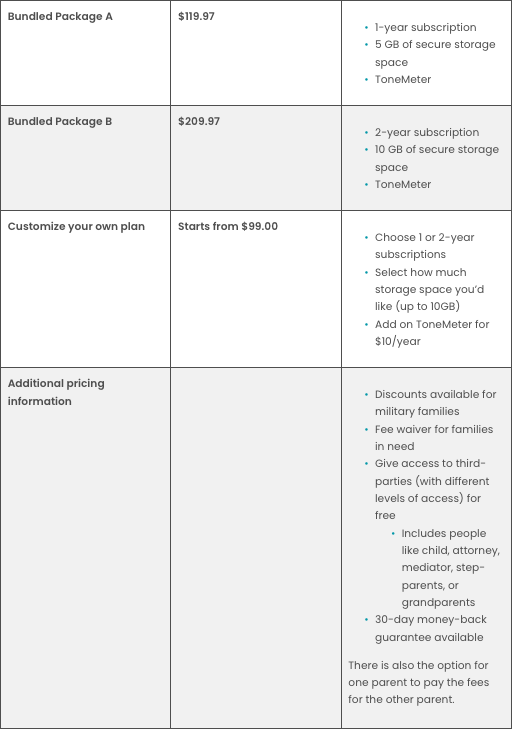 Our Family Wizard has different pricing tiers to cater to families with different needs.
The main differences are between the subscription length and the amount of data storage provided.
With the bundled packages, you definitely get more value for money as you'll get a longer-term subscription with more data storage. However, the upfront cost is a lot higher.
If you are unsure about a longer-term subscription, the customized plan lets you select the most basic options (e.g. shortest-term subscription and least data storage).
This makes it the cheapest in terms of initial cost, but you may not get the most value out of it.
30-day money-back guarantee
Whichever option you choose, Our Family Wizard offers a 30-day money-back guarantee.
You can ask for a refund for whatever reason within that time frame — no questions asked.
To test this claim, I personally requested a refund from their customer service and had no issues getting my money back.
I would definitely recommend you make use of this offer if you want a risk-free way to try this app.
How Did I Find Using Our Family Wizard?
Features
I found the features on Our Family Wizard to be very comprehensive and I didn't feel it was lacking in any significant way.
However, there were also 2 small drawbacks that I experienced with the app. Here are some of my thoughts about its individual features:
Pros
Color-coded scheduling made it easy to have a quick overview of custody days.
Entering individual one-off or regular appointments was also very simple. It was similar to most calendar features you have on smartphones, except this one has child-related fields like "pick-up" or "drop-off" options.
The hours trading feature was also very useful because I could see my co-parent's schedule and enter the exact time I wanted to swap.
Messaging was a lot more streamlined with conversations grouped as threads. This was similar to email rather than messaging services. But the added benefit is that any family-related conversations were all in this one app. They didn't get mixed up with other work or personal emails.
The fact that messages were also time-stamped as read and cannot be deleted adds more accountability to both parties.
I found the ToneMeter got me to think about my choice of words more carefully. There were times when I felt that it was slightly "sensitive". But I think if you use it more as a guide rather than sticking to it strictly, you'll be on track to communicating more effectively.
Although the expense logging can be tedious in any form, on this app was very useful for keeping finances organized. In fact, if you're usually sharing receipts through messages and manually calculating how to split the cost, you'll find the expense tracking feature a big time saver. I especially liked that it automatically calculated my portion of the expense, which reduced the mental effort on my part.
I found that the journal feature was great at encouraging a sense of connectedness even when your child may not be with you. It also added a more fun and interesting aspect to the app, and it helped us focus on positive moments with the children.
It encrypts all the information that is transmitted or stored on the app which gave me peace of mind that my data is secure.
Cons
I was a little disappointed that I couldn't set up the color-coded custody schedule through the app. But it also wasn't a big deal because I only had to set it up once and never had to revisit again.
Another slight inconvenience was the fact that the message search function was only available when you log on through a web browser. However, it only took me a few extra seconds to log on through my smartphone web browser and I could access this function whenever I needed to (which wasn't often).
While you can add photos in the journal and receipts directly to the expense log, there is no other place for miscellaneous images to be uploaded on the app. All extra images (e.g. images of vaccination records, certificates, report cards) have to be uploaded to the information bank through a web browser.
User Friendliness
I found the app to be very intuitive and user-friendly. After downloading the app, I played around with the buttons and managed to figure out most functions on my own.
The only area where I needed more help with was the finer details of the payment tracking process.
That's where the Our Family Wizard website was very useful, and I managed to find answers to my questions there.
It also has many articles that walk you through the whole app step-by-step if you need more guidance.
Signing in was easy as I could set up the Touch ID login and quick PIN, so I didn't have to keep re-entering my full details.
As with anything new, it did take some time to get used to navigating the app. But with a bit of practice, I found that I was very familiar with it within 1-2 days.
Getting into the habit of using it regularly was also another thing I had to consciously work on.
However, if you think about how many misunderstandings you'll be avoiding by using this app, you'll soon realize it's worth the effort.
One drawback I found was that there isn't any in-app signup. So you will have to purchase your subscription through the main website through a browser before you login on the app.
It wasn't a big deal to me, but I thought it would have been more convenient if they allowed sign-ups through the app.
Pricing
While using messaging, emails, and calendar-sharing to organize co-parenting responsibilities is free, I found the Our Family Wizard's per month fee (between $8.25-$9.90) to be worth it.
I feel that what you're paying for isn't only the scheduling and logistical features.
By using this app, you're preventing the stress and emotional turmoil that comes from disagreements about appointment details or mix-ups.
You could also be potentially saving yourself from spending on much more expensive counselling or legal fees to iron out these issues that could be solved by the app.
What Did Other Parents Have to Say About Our Family Wizard
I found quite mixed reviews online about Our Family Wizard — it worked very well for some, but not others.
To understand the diversity of views, I looked through a large number of reviews and found the following patterns emerging:
Some of these reviewers may be mandated by the court to use the app, which means the situation surrounding why they are using this app in the first place may be quite tense. That also means they may not be as motivated to get a good understanding of the functionality of the app — which results in frustration and them giving it a low rating.
Several reviewers mentioned that certain co-partners may not like how the app keeps them accountable of their actions which is a possible reason for some low ratings.
The service has been around for a long time and has gone through many updates. The company has also recently undergone a leadership change, and I felt that the latest update was a huge improvement.
I have had no issues with the app or the updated version and it is easy to use and hassle free. I have an abusive ex and this way things are recorded and knowing they have read the messages making them accountable if they chose to ignore. I agree with a previous post that all the negative reviews are from disgruntled ex's that don't like the idea of this system being so imperative that they can't lie or say they never got the message .
When I 1st started using myfamilywizard I thought it was going to be a joke. Another thing the court asked me to do and pay for. But I've been using it for years with my Ex, and it's been well worth it. Our kids are always the focus on the app. We don't get into the weeds everytime we change the schedule or deal with money. I get what people are saying who give it negative reviews because they don't like having to do it, but speaking from experience, USE IT! It will save you and your kids (and maybe your ex) a lot of headaches. I think the iPhone app is simple and works well for me. I've called help line a couple times over the years and a real person answered and helped me out. I'd say it gets a bad wrap because people aren't happy about having to use it, but it's really invaluable. I just don't worry about the game playing anymore like I did years ago. I think familywizard is a big part of that .
Features
Many reviewers who gave positive feedback also mentioned most of the benefits I've listed in the above section (such helping co-parents manage the logistics of custody schedules and activities, organisation and message tracking).
I also wanted to highlight some of the additional points made by some:
Pros
Better Communication. Several reported that the app helped them communicate more effectively with their co-parent. They found that the ToneMeter and the fact that their attorney or therapists had access to the app made both parties more conscious of the words they chose.
Recognised and Used by Courts. One big benefit for some users was that Our Family Wizard is a familiar app in the court system, which made it easier when presenting evidence. The inability to delete messages also made it easier for lawyers to go through the communications between co-parents, saving time and therefore money.
Fewer Arguments. Some reviewers who were in high-conflict relationships with their co-parent said that this app helped to significantly reduce disagreements. This is because most important things like messages and payments cannot be changed or deleted, which means there's less uncertainty of what was or wasn't communicated.
This app has been amazing for my situation. My co-parent has been aggressive and manipulative through text and over the phone, but this holds him accountable. I love the check-in feature and calendar. Still exploring, but so far it's been wonderful.
OFW has been a godsend for me and having to deal with my high conflict ex. I love the fact that all communications now go through OFW. I was at a point that I hated to use my phone because the ex would spam text me and text me about nothing and send multiple e-mails about 1 topic. He even went so far as to create fake texts and fake screenshots that he tried to use in court. Well, with OFW, there is no more of that or any authentication issues.

Also, there is no more disjointed communications between texts and e-mail that becomes cumbersome and impossible for legal professionals to put together (not to mention expensive to read through). All communications are in one place. I also like the time-stamp feature of when messages were sent and when they were read. I was accused of not communicating.

Well, that argument is over. I, along with the parenting coordinator can see each and every message, when expenses were communicated and when activities were scheduled. I think that when OFW is used with a parenting coordinator, abusive patterns can be more easily established, proven, and dealt with in quick manner. It's all in writing. Best $119 I spend each year.
Cons
Several mentioned that they wished it allowed syncing with their smartphone's calendar. If you generally enter your personal scheduling into your phone's calendar, I can see why this would be an issue. However, if you're like me and mainly use your phone calendar for work appointments this may not be a big problem. I actually appreciated how the app kept my family schedule separate from my work schedule.
Some users complained the message search function was not available on the app. This is a slight inconvenience, and it would have been good if it had this in the next update. But I found that it was easily accessible through my account on a web browser and had no problems searching my messages there.
User Friendliness
I found that some of the negative reviews for Our Family Wizard were mainly about technical issues rather than the actual features of the app. There were several reports about the app suddenly crashing, taking too long to load, or sign-in problems.
When I used the app, I never encountered any of these issues. I was able to login with my Touch ID or PIN every single time, and never experienced the app closing unexpectedly.
My guess is that some of these users may be using the older versions, because the latest update of the app worked fine for me.
This reviewer initially had some technical issues with the app, but said the most recent update resolved these problems.
Loading… Loading…. Loading….. Loading….. Always loading. Very slow and buggy. I guess we're paying for record storage rather than a functional app. Gets the job done, but very frustrating to use the majority of the time. Update May 2020: App seems to be working better at this point.
Pros and Cons of Our Family Wizard, Summarized
Pros
Cons
Reduces conflict between co-parents by providing a one-app solution to family logistics.
No in-app first signup. (Needs to be done through the website on a web browser.)
Color-coded calendar gives you a clear overview of your custody schedule.
Can't set up the color-coded custody schedule through the app. (Needs to be done through the website on a web browser.)
Submitting requests to trade hours is simple and straightforward as you can see you and your co-parent's schedules.
Uploading certain images or files has to be done on the web browser.
Quickly log expenses on the go and attach photos of receipts. The app automatically compiles it for you in a list.
Several reviewers reported technical glitches with the app (e.g. suddenly crashing or taking too long to load). However, I never experienced any of those issues with the latest update of the app.
Easily create expense categories so that the app automatically calculated the portion of payment required from you.
Can cost more than using basic apps like email or messaging services to manage family logistics.
Once the expense is logged, the other party is automatically notified of the payment required from them.
Organized messaging that groups conversations in separate threads. Messages also cannot be deleted, which eliminates doubt about what was sent.
Information bank to store all important contact or personal details in 1 place (e.g teacher or doctor details)
Journal feature lets you update each other and keep a log of your child's activities — add photos and captions.
Time-stamped logins and first-views of messages which can be seen by both parties.
Add third-party users for free (e.g. therapist or attorney).
www.ourfamilywizard.com
What Other Options Are There for Managing Schedules as Co-Parents?
When starting out as co-parents, most people would use whatever resources they already have on hand to sort out their schedules.
This could involve your usual email service, messaging apps, and smartphone's in-built calendar. Some may even use pen and paper materials like calendars and diaries to keep track of everything.
These resources will definitely be useful at the start of your co-parenting journey.
However, many do find these methods limited in the long run because they're not designed for managing family logistics.
For example, when you have to start compiling every single receipt for reimbursements, searching for all of them in your phone's photo album can be time-consuming. Or when your child has 15 school events that you have to split between you and organise pick-ups and collections, it can help to have an organised shared calendar.
Co-parenting apps are specifically designed to help you navigate shared parenting from one central location.
Would I Recommend Our Family Wizard?
To me, Our Family Wizard is a user-friendly app with comprehensive features for co-parents. I would recommend it to anyone who needs a one-app solution for managing busy family logistics.
The developers did a good job of thinking about the main needs of co-parents and provided helpful solutions.
This includes having a simple way to track custody scheduling, expense portioning, and keeping both parties accountable with undeletable messages.
All these work together to help reduce stress and arguments related to family logistics. And ultimately, the best outcome is the positive emotional environment you create for your children when they see their parents working well together.
The mobile app itself may have some small drawbacks like the lack of initial sign up and color-coding of the calendar (you need to go through the website on a web browser for these features).
However, I found that I didn't need to repeatedly use these functions. Once it was set up at the start on the website, that was it. So it wasn't that big a deal to me.
All the features that I needed to use on a regular basis were all available on the app.
In terms of price, it is more expensive than using general tools like messages, emails, and calendar-sharing. However, if you look at the most basic plan of $99.00 per year, it actually works out to be $8.25 a month.
We wouldn't think twice about paying this money for a couple of coffees or a meal. So why not channel that money to an app that could significantly reduce the stress that comes with managing co-parenting discussions and schedules.
Also, because it helps to reduce conflict with your co-parent, it might actually save you from spending on much pricier expenses like lawyer or therapist fees.
And at the end of the day, there's also no harm trying it for 30 days by taking advantage of its money-back guarantee.
I hope this review has given you some insight into Our Family Wizard and that it will help to make your co-parenting journey a little smoother.
Summary of Our Family Wizard Features
Here is a rundown of the main features that Our Family Wizard Offers:
Our Family Wizard – App Features

Features 

Shared Calendar: Displays color-coded calendar for your custody schedule and individual appointments.
Swap Tool for Trading Hours: Send, accept, or reject requests to trade hours with your co-parent.
Expense and Payment Logs: Compile all expenses in one place, calculate payment portions, and track payments.
Secure Messaging and ToneMeter: Send messages that cannot be erased. ToneMeter lets you know if your phrasing is offensive.
Information Bank: Store vital information like caregiver, teacher, and doctor contact details.
Journal: Share moments (images and captions) with your co-parent to keep each other up to date about what's going on with your child.
Check-In Feature: Share your location with your co-parent using your phone's location services.

Pricing Tiers
(prices are per parent)

Bundled Package A: $119.97

1-year subscription
5GB of secure storage space
Includes ToneMeter

Bundled Package B: $209.97

2-year subscription
10 GB of secure storage space
Includes ToneMeter

Customize your own plan: Starts from $99.00

Choose 1 or 2-year subscriptions
Select how much storage space you'd like (up to 10GB)
Add on ToneMeter for $10

Additional pricing information:

Discount available for military families
Fee waiver for families in need
Give access to third-parties (with different levels of access) for free

Includes people like child, attorney, mediator, step-parents, or grandparents

30-day money-back guarantee available

Works on