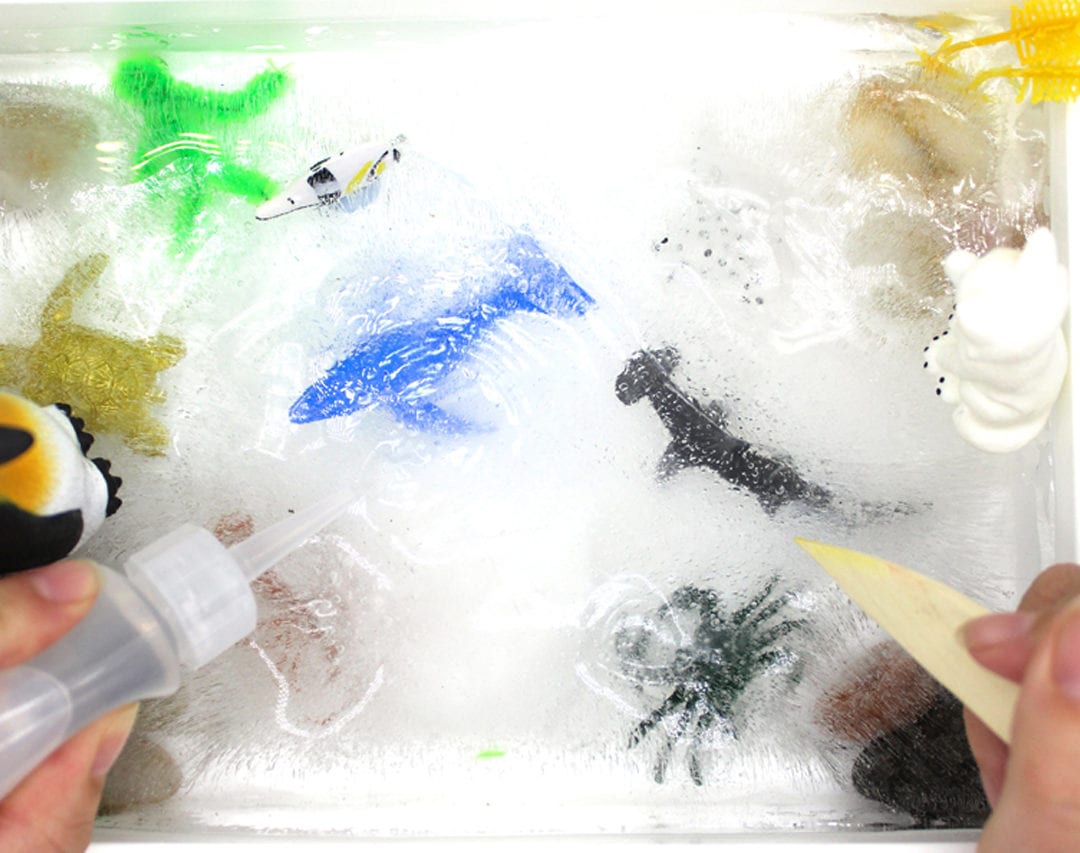 Fun Kids Activities
Ocean Animal Rescue Ice Excavation Activity
Ice excavation animal rescue is one of the most fun activities. And it takes just 30 seconds to set up!
Pop some toys in a plastic container. Cover with water and put in the freezer to freeze. When you take it out the kids can bang, chip, dig or pour warm water over their frozen toys to rescue them from the ice.
If the surface of your frozen block is smooth ice then you can also add toys on top of the block. They can slide across it or Elsa dolls can even ice skate on it. Great for sensory play for toddlers and exploring and excavating for older kids.
Post may contain affiliate links
Summary
Time to Prepare: 2 minutes
Freezing Time: 2 hours or overnight
Ages: Toddlers to Big Kids
Difficulty: Easy peasy
1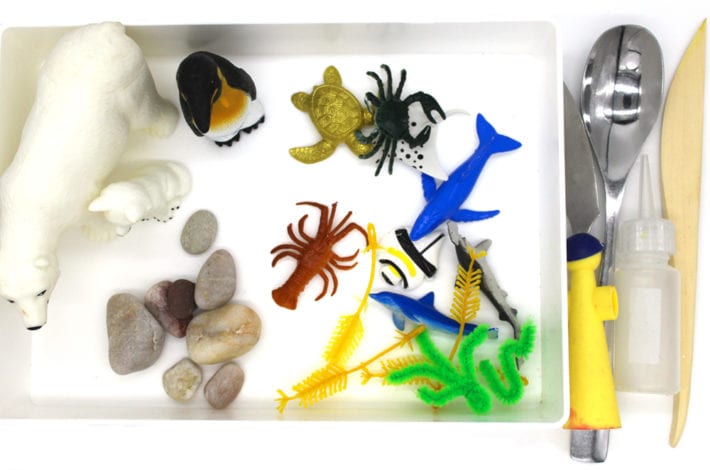 1
You will need:
Waterproof tray or tupperware
Plastic animal toys (here we've used ocean animals. Some we recommend from Amazon can be found here: https://amzn.to/2XqsrL5)
Water
Spoons, plastic knives or plastic tools
Optional extras:
Pebbles and shells
Syringe or spray bottle
2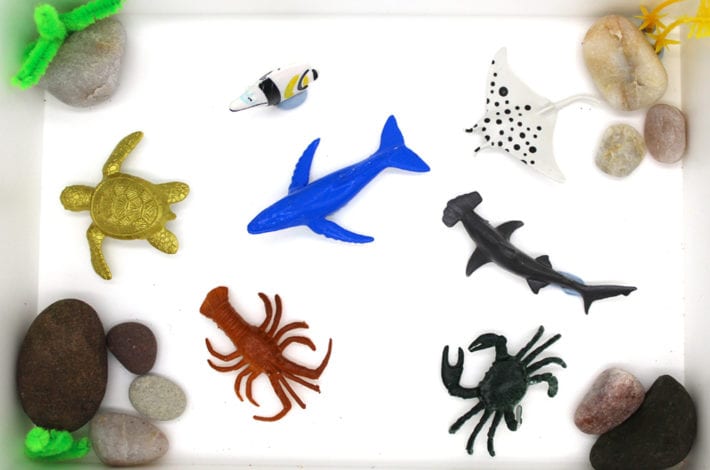 2
Place the sea creatures in your tray or tupperware
Place the plastic underwater animals in your tray or tupperware.
When you add water they can float to the surface which is fine. However if you want them to stick to the bottom of the tray, add a small blob of blue tac under each toy.
Add some pebbles or shells too if you like.
3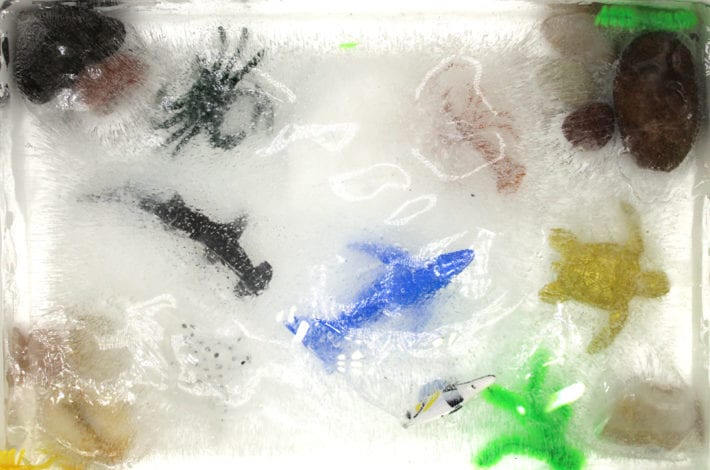 3
Cover with water and freeze
Pour water into your tray or tupperware and place in the freezer.
It takes roughly 2 hours for it to freeze solid or you can leave it overnight.
4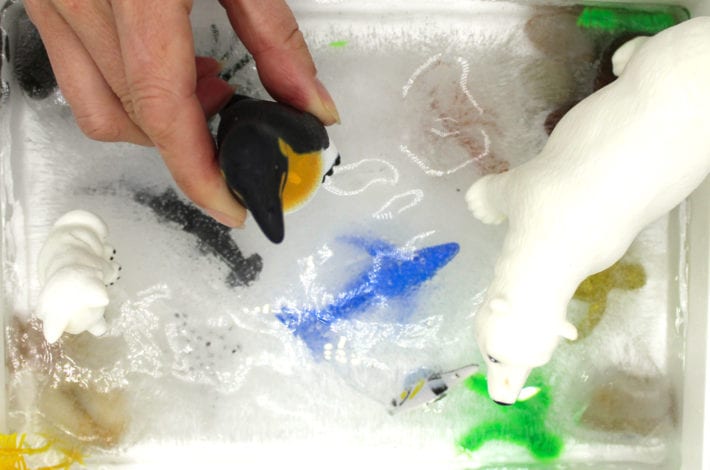 4
Add some animals to skate along the ice
Remove the tray or tupperware from the freezer.
If you're using tupperware, wriggle the block of ice out and place it on a waterproof tray.
Set the tray down somewhere that the kids can start exploring and excavating.
Can you spy the ocean animals frozen beneath the surface? 
You might have a smooth surface of ice along the top. If so add some crayons or toy animals or figures onto it. They can skate along the frozen surface.
5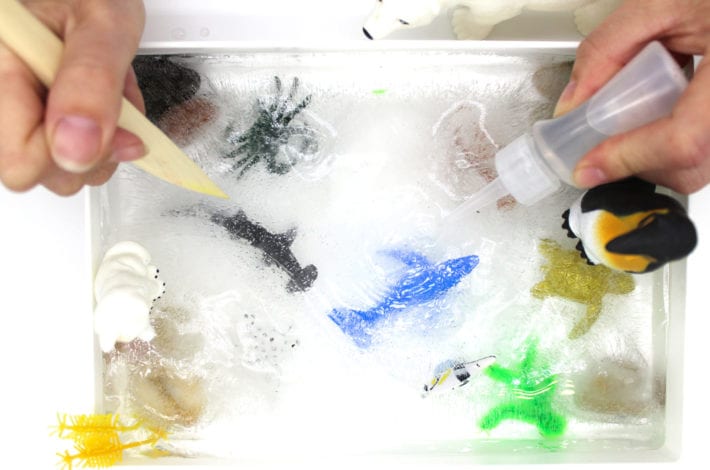 5
Start the Ice Excavations
Children can use a lot of different ice excavation 'tools' to rescue their animals:
spoons
plastic knives or tools
toy hammers
toy screwdrivers
If you want to speed up the melting process you can pour warm water over the ice block.
Kids can also spray the ice with a spray bottle, or drip water with a syringe or pipette.
The ice takes a while to melt so they'll stay entertained for a good half hour at least.
Science of Melting Ice
For older children, you might want to explore what makes ice melt faster. If so, offer your child bowls of different things to use.
These could be cold water, warm water, sugar and salt.
Which melts the ice the fastest?
Ice excavation activities are easy fun and can be adapted in so many ways.
Your child could pick petals and cover them with water. They look stunning once they are frozen.
You could place plastic magnetic letters in the tray and freeze. Your child has to excavate the ice to reveal the letters.
You could even place a toy animal into a balloon, fill it with water and freeze. You'll have a frozen animal egg that you can chip away at.
Adapt it to whatever your child enjoys most.