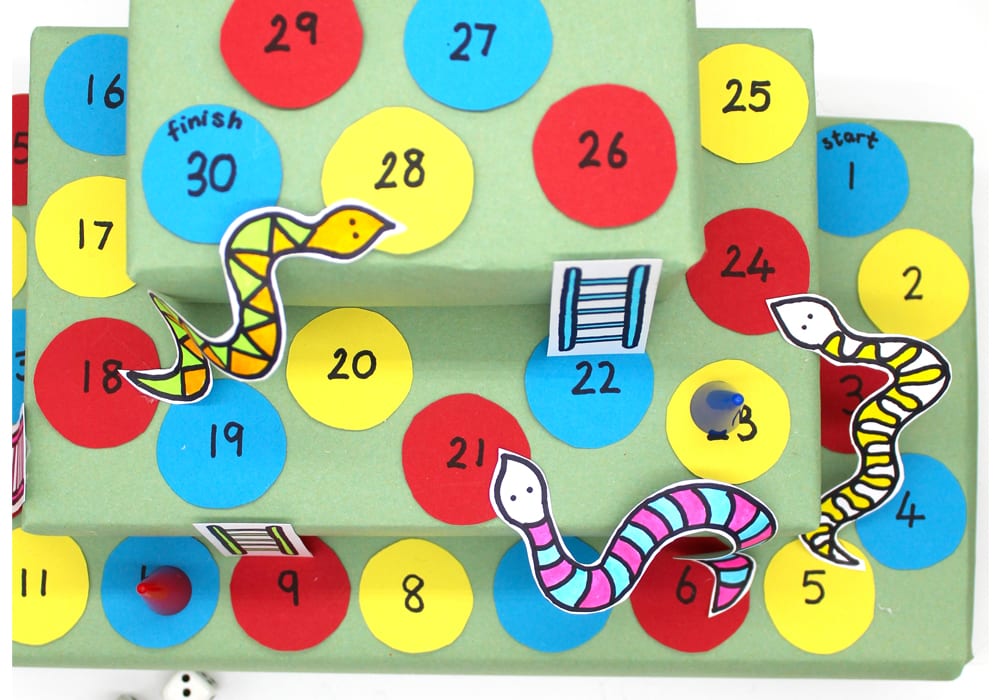 DIY Board Games
Multi Level Snakes and Ladders
Who said board games have to be 2-dimensional? Make this multi level Snakes and Ladders to add more fun to this classic board game. It also helps children to understand more visually the process of going up the ladders or down the snakes, as they will literally be moving up or down the boxes!
As with all board games your child also learns to count out the number of places they move along depending on what number the dice shows. This can help with counting, and they will count ahead to see what numbers they need to land on a ladder (and which ones they want to avoid to side step the snakes!). A great DIY board game for family fun.
Summary
Time: 15 minutes
Ages: Little kids to Big kids
Difficulty: Medium
1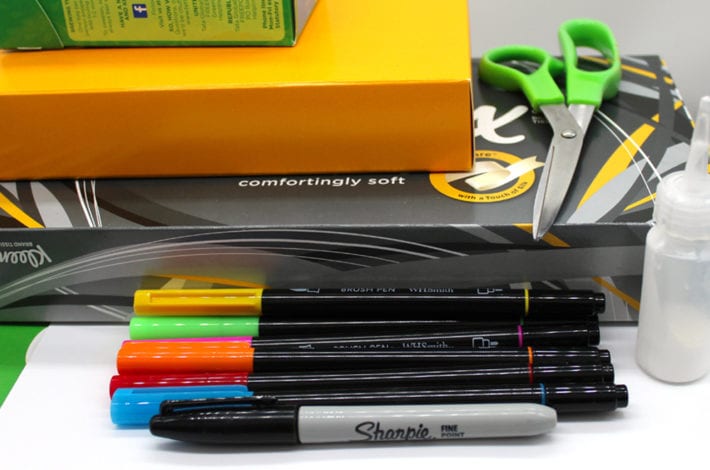 1
You will need:
Selection of empty boxes – different sizes
Paper
Coloured card (or paints)
White card or paper
Felt pens
Scissors
Sellotape
Glue
Round stickers (optional)
Dice
Counters
2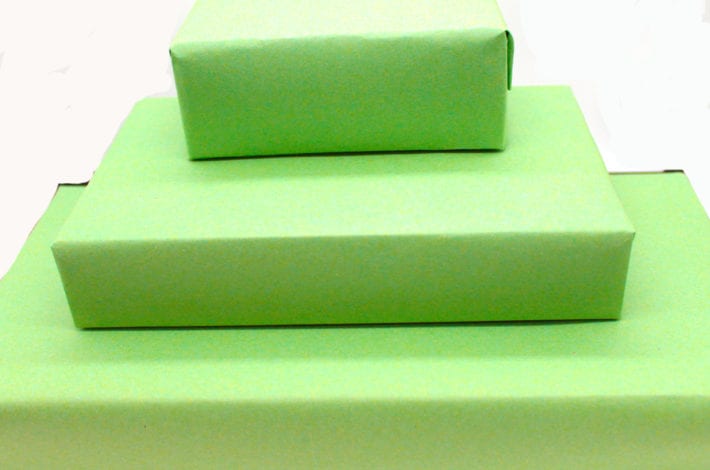 2
Step 1: Wrap and stack your boxes
Find three or four empty boxes, of different sizes. Wrap each box in paper and stack them, with the largest box at the bottom and the smallest at the top.
If you prefer you can also paint them. We recommend acrylic paints to get a thick layer of colour over the boxes.
3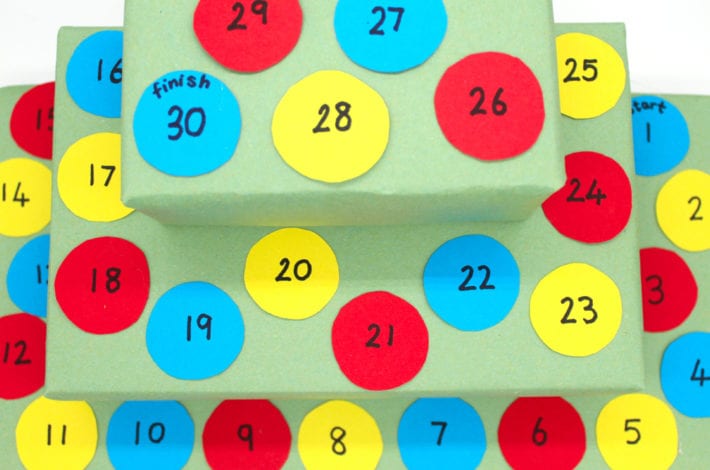 3
Step 2: Make the number path
You need to draw out a path of numbers around each tier of boxes for your game players to follow. There are a few ways you can do this:
You can simply draw squares or circles onto the boxes with a felt pen and write numbers inside each one.
You can get large round stickers, write numbers on each one and lay them out in a path going around the edge of each box.
You could cut circles or squares of card, write numbers on each one and then stick them down on the boxes in numerical order.
In this photo we've made a mini game with numbers from 1-30. You could use a larger cardboard box as your base so that you can add another tier. That way your game could have numbers going all the way up to 50 or even 100.
4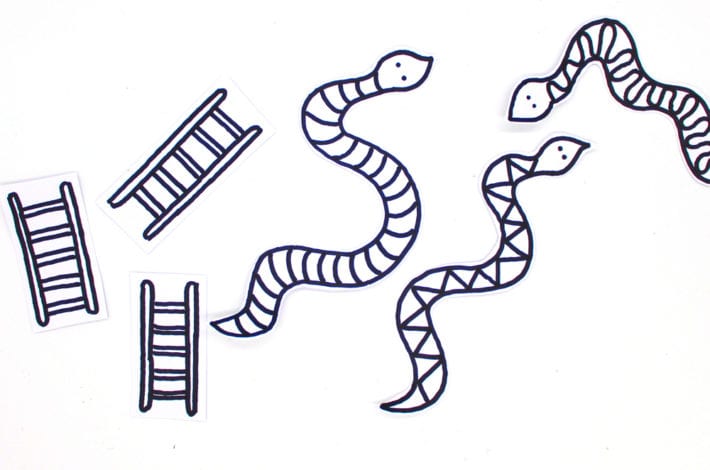 4
Step 3: Draw and cut out snakes and ladders
On your white card or paper, draw some snakes and ladders. Make them long enough so that they can reach between your tiers of boxes. If you like you can make some extra long so that they can span two tiers!
Colour them in and cut them out, ready to stick onto your 3D game board.
5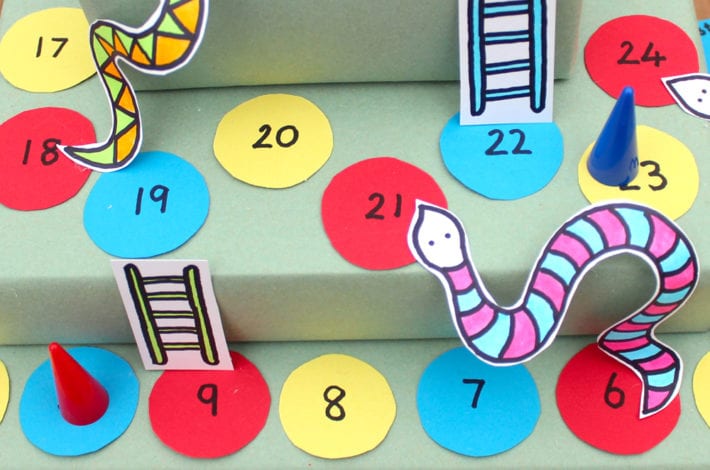 5
Step 4: Stick on the snakes and ladders
Glue down the snakes and ladders to join a number on one tier to a number on the tier below it.
You can make each one different. Some could be longer, others shorter. Some snakes could go along the boxes as well as down. Others can span two tiers of boxes.
6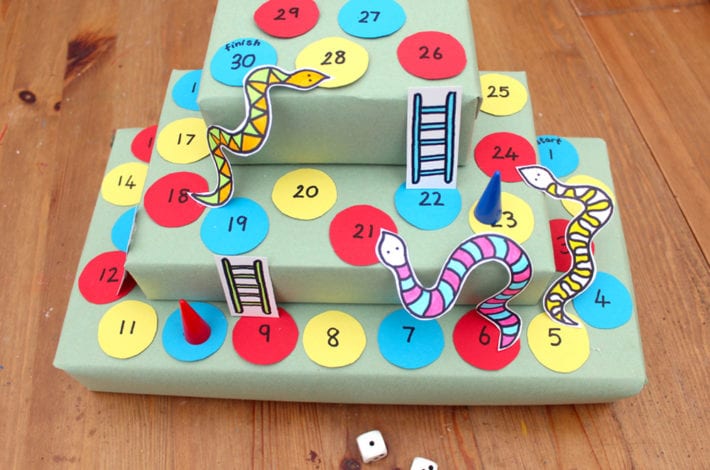 6
Play Multi Level Snakes and Ladders
Find two counters. You can use some from a board game in your cupboard or use two small toys. Place your counters on the starting square (number 1).
Take it in turns to roll your dice and move your counter the correct number of places along the number path.
If you land on a ladder you can climb up it to reach a higher number. If you land on a snake – bad luck- you have to move back down to the number on the snake's tail.
Who can make it past the snakes and to the Finish Line first?
Children will enjoy helping you make this fun 3D Snakes and Ladders game.
When they're playing it will be so different for them to see their counters actually moving up or down the boxes when they land on ladders or snakes.
Enjoy some fiendish family games!