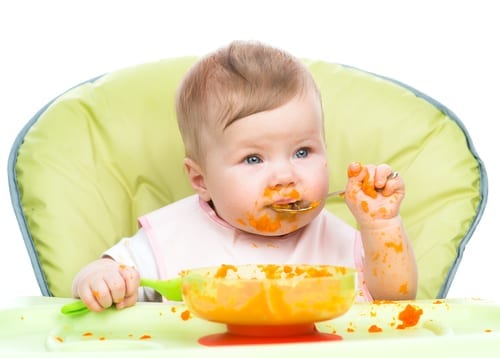 Weaning can be a messy business. More of the food seems to end up all over your baby's hands and face than in their mouths.
At the beginning you might despair at the almighty mess and wonder if your baby will ever be able to eat at a restaurant with any modicum of table manners.
But don't stress! Because it turns out that playing with food is actually good for your baby.
If you stress about the mess, you're not alone
In a survey by Waterwipes they found that many as 40% of parents never have engaged their baby in food play in the home. They felt better if baby played with their food with someone else, with a childminder or at nursery or playgroup.
But it turns out we shouldn't stress about mealtime mess. It's one of the best things your child can do to learn about food and to develop good eating habits.
Arm yourself with some wet wipes and enjoy watching your child explore the world of foods.
1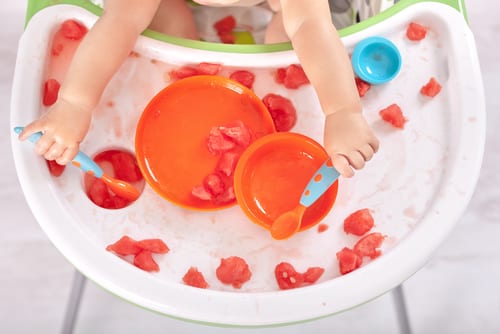 1
It's good for their brain development
If you have a baby or toddler you'll know how much they love messy play.
Whenever they get half a chance they'll enjoy squishing and squashing all things messy. They'll get their hands dirty and feel the textures.
They'll smear paint and mud all over themselves. They'll feel and smell new things. And it's the same with food.
Babies don't learn in the same way as adults. They can't listen to a podcast or read a book.
They learn by doing and by discovering things through touch, sight, smells, sounds and taste.
Babies who play with their food are also learning while they play. A study published in Developmental Science found that children who play with their food are quicker to learn new words associated with food textures than those who didn't play.
2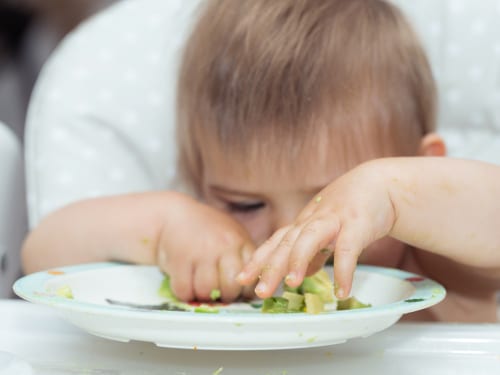 2
It can make them less fussy eaters
A recent study revealed that kids who play with their food are more likely to try new things and to eat a varied diet.
Children who feel comfortable getting messy at mealtimes are less likely to develop neophobia – the fear of trying new foods.
If parents are relaxed about their babies or toddlers playing with food then children will become more relaxed about mealtimes and trying new foods too.
By getting hands-on and playing with food your child is more likely to taste it too and less likely to be scared of putting new foods into their mouths.
Prodding, squishing and exploring foods in an unpressurised way means that your child is more likely to feel comfortable tasting new textures and flavours and food combinations.
3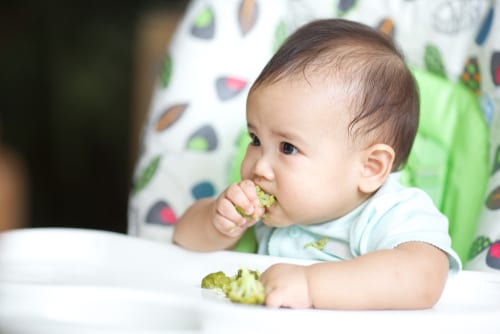 3
It gives your child more control, which can lead to better eating
Mealtimes can all too easily become a battlefield. You want your child to eat a variety of food and when they refuse to even taste them, it's easy to become stressed and anxious.
Your child can learn that it's a powerful thing to exercise control over their food. For little children there are not very many chances to get control and when they find them they can be very alluring.
If a parent gets stressed and begs a child to eat their broccoli then it can become a battle of wills and one which you are very likely to lose.
If you give your child control by allowing them to play with their food from a young age, and pick up and taste it, then they are more likely to try new foods with no pressure.
4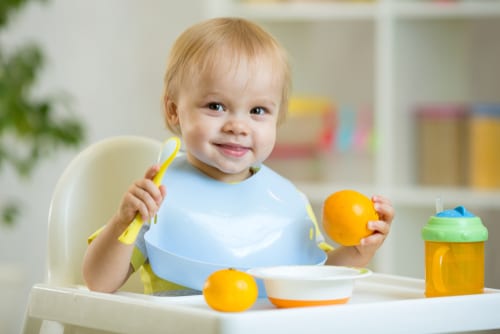 4
They will learn how to self-feed
All that prodding, squishing and smearing food will eventually lead to your baby discovering that they can pick it up and eat it.
Given freedom to explore the food that is given to them, can help them learn to self-feed.
Eventually the penny will drop and your child will work out that they can pick up food and feed themselves.
Doing so can give them a huge boost in terms of self-achievement and they will soon be yumming up and trying all sorts of foods.
5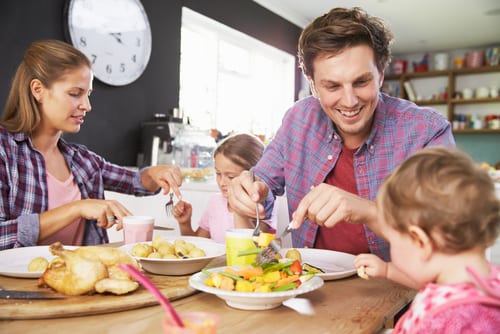 5
It frees you up to eat your dinner
Giving your child the freedom to pick up and explore their own food means you can be less hands-on and actually have the chance to eat your own meal.
Eating together means that your child will notice all the good eating habits that you model. So sitting down to eat as a family has a whole heap of benefits and it's always great to start it early on.