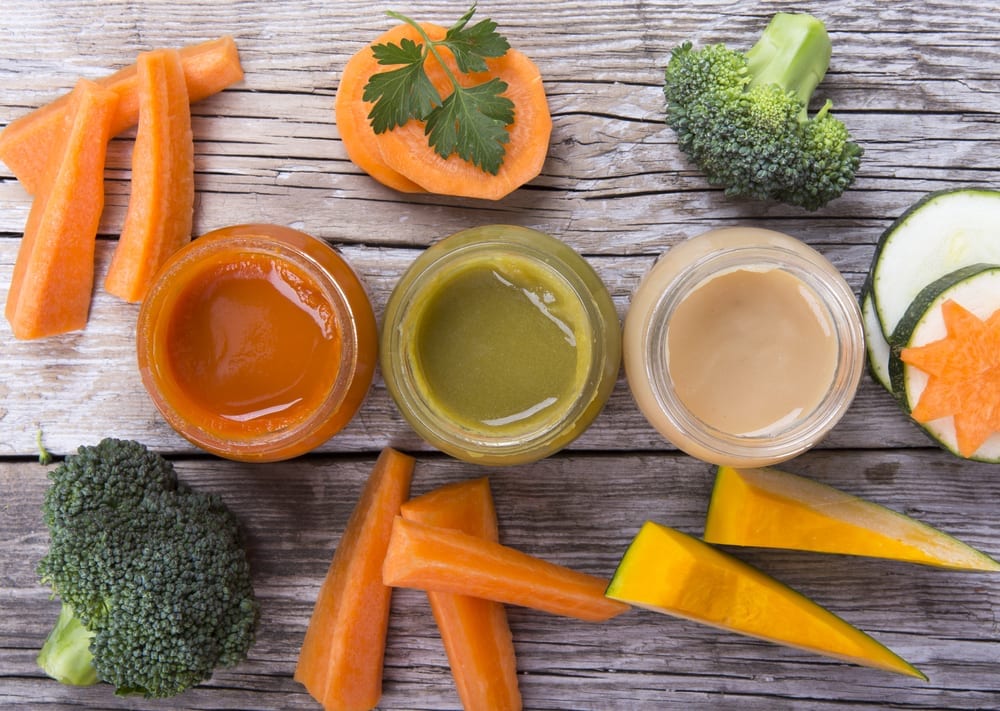 Is your baby ready to start solids but you're unsure which foods to give them as their first foods?
We've put together a top 10 of the best first foods to try. All can either be pureed if you choose to start with spoon feeding or cut up and given as finger foods, if you decide to do baby led weaning.
All 10 are easy to digest and so perfect for tiny tummies getting used to solid food. Giving your baby these 10 foods over their first few weeks of weaning will introduce them to a nice variety of different tastes and textures.
Many can also later be combined with meat, fish and pasta when your baby is ready to move on to try some new and exciting foods later on.
1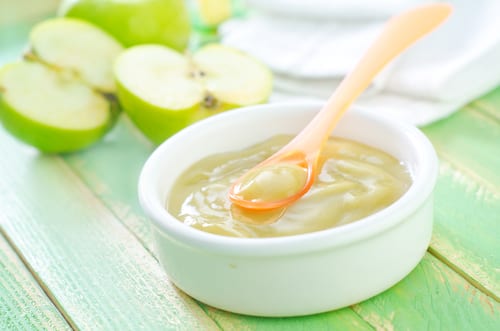 1
Apple
Most babies will love the natural sweet taste of apples. They are packed full of fibre and so are great for helping develop their digestive systems.
They are also rich in vitamin C, so great for boosting your baby's immunity. If you're baby has tried dairy, you can also add pureed apple to fromage frais or yoghurt after 6 months to sweeten the flavour.
2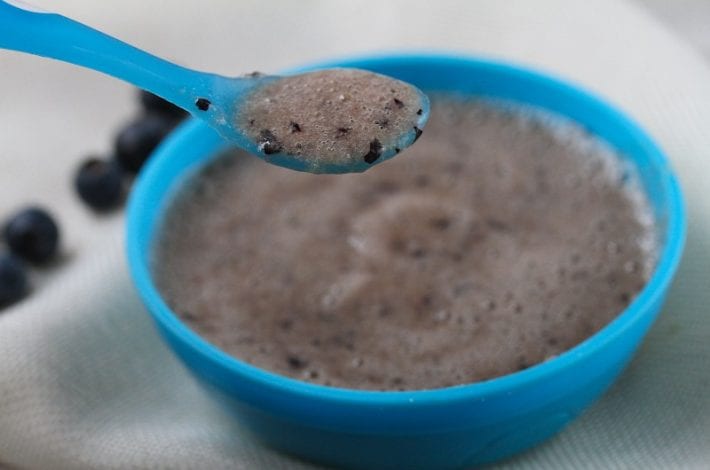 2
Pear
Pears are high in fibre, potassium and vitamin C.
They are very gentle on the tummy and are naturally sweet so many babies will love the taste. Pears are a great food to offer your baby to alleviate constipation.
When pears are very ripe and soft they don't need to be cooked. You can just mash them down into a puree with some water.
You could also try our delicious No-cook puree with pear, blueberries and banana.
3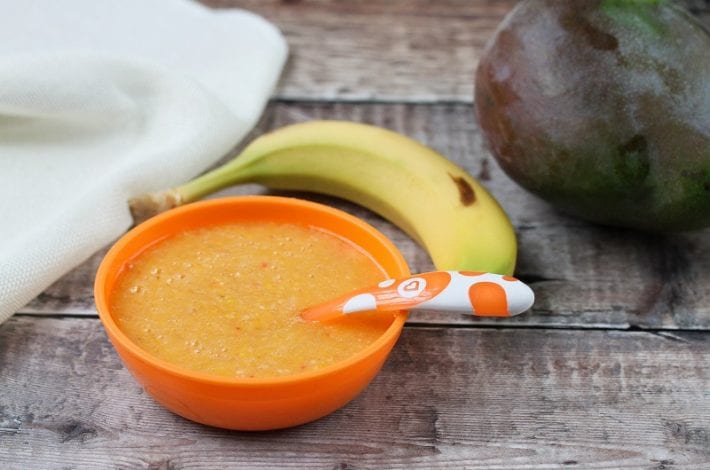 3
Mango
Yummy and packed with goodness, mangoes are a sure fire winner when it comes to weaning. They are good for digestion and to ease constipation.
They're packed full of vitamin A, B and C, iron, potassium and protein. They're also rich in vitamin B6, which helps your baby's brain development.
Ripe mangoes are perfect to make a no-cook puree. Find a fab mango weaning recipe here.
4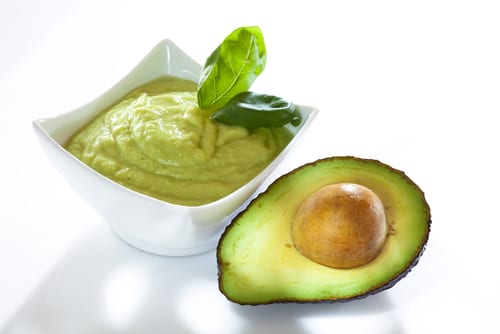 4
Avocado
Avocados are bursting with nutrients, making them a perfect first food for your baby. They are packed full of 'healthy fats' and vitamin E, which boosts your baby's immune system.
They also don't require any cooking so you can mash one up and have a meal for your baby ready in minutes. You can mix ripe mashed avocado with water, breastmilk or formula milk for a perfect first meal.
Check out our yummy pear, avocado and chicken puree recipe when you start introducing some lean meats to baby for more variety.
5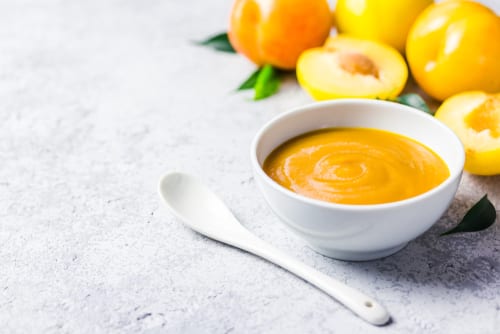 5
Peach
With its mild sweet flavour, peach is an excellent first fruit for babies.
Peaches are high in vitamin C, A and are a good source of fibre. Again, this makes them an good fruit to give to ease any constipation.
They are easy to digest, juicy, sweet and yummy. Steaming or baking peaches means that they won't lost too many nutrients when cooking. Peel the skin off before giving them to your baby.
Vegetables
1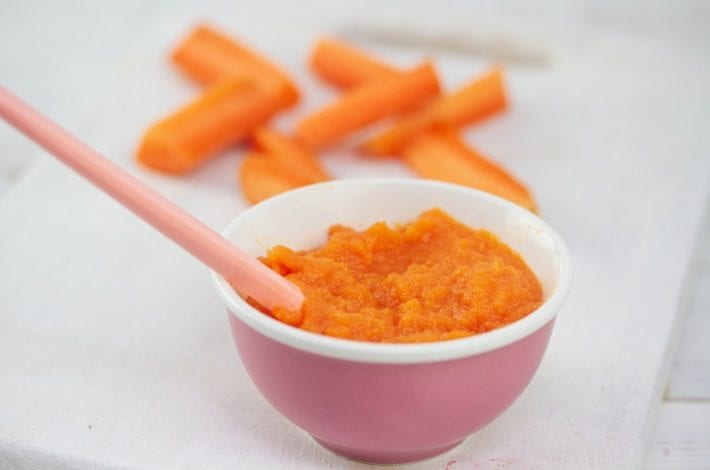 1
Carrots
Babies have a naturally sweet tooth and as carrots are sweet they make  perfect first vegetable to try. They are packed with goodness, such as beta-carotene (the plant version of vitamin A).
They also contain vitamin C, iron, potassium and calcium. So they are full of natural goodness.
One thing to be aware of is that carrot can easily stain clothing. Your baby might yum them up – messily – but then their clothes are covered with bright orange stains. Use plastic bibs and if their clothes get messy then soak them right away or dab them with washing up liquid to lift out the stains.
Find out how to make pureed carrots here.  
2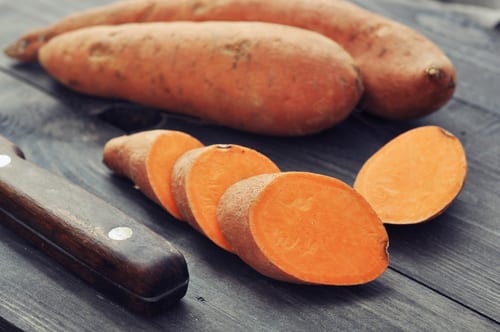 2
Sweet potato
Sweet potatoes are a great first food choice. As a vegetable they are naturally sweet and so appeal to your baby's natural sweet tooth.
They're packed full of nutrients and aid your baby's digestion.
Baking them brings out their natural sweetness, otherwise boiling or steaming them works too.
3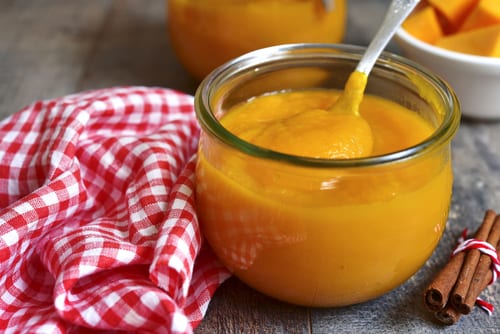 3
Butternut squash
Another yummy and naturally sweet root vegetable that babies will love.
They are packed full of goodness (Vitamins C, A, potassium and magnesium). They're easily digested and perfect for tiny tummies.
4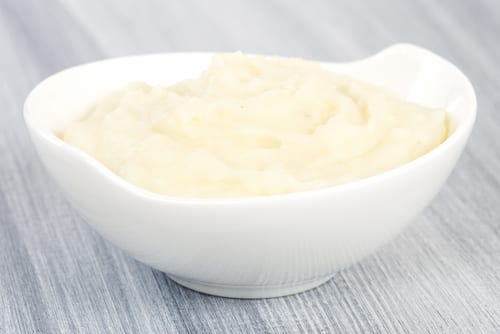 4
Parsnip
Another naturally sweet root vegetable that is great as a weaning food for your little one. The flavour of parsnip will often appeal to tiny taste buds.
Make sure you remove the hard core before cooking.
Soft steamed (and cooled) parsnips make a perfect first finger food.
5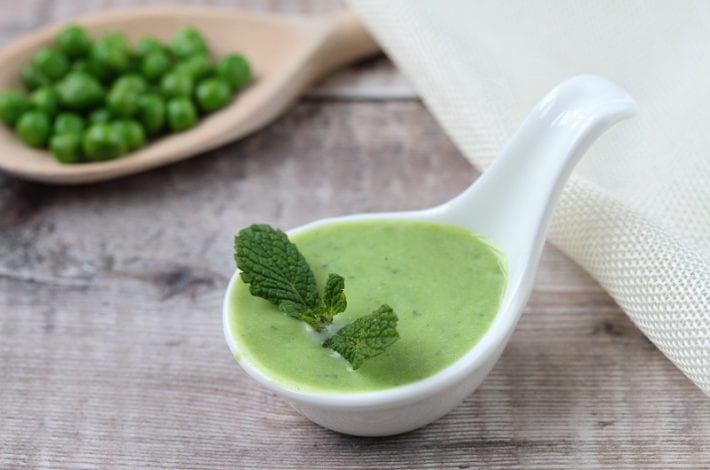 5
Peas
Did you know that one cup of peas contains more protein than a tablespoon of peanut butter?
These little green orbs are packed with vitamin C, A, calcium and iron. If you puree peas you might find that it's hard to break down their shells to get a super smooth consistency. In this case you can run them through a sieve to leave out the skins.
Check out our yummy pea and mint soup recipe here.