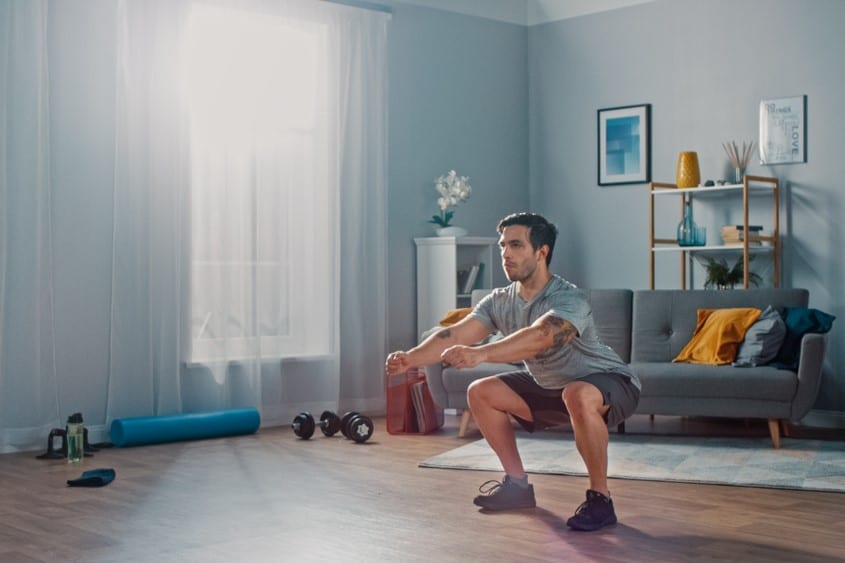 Having a home gym is a convenient and cost-effective way to stay fit, but there are several drawbacks to it as well. Some find that they run out of motivation after a while without a personal trainer to encourage them. 
And if you don't have proper training, you might be using the incorrect techniques that make your workouts ineffective. Or worse, cause injury in the long run. [1]
Fortunately, the rise of smart home gyms is solving these problems by using a combination of features like AI-powered personal trainers, regularly updated classes, and fitness tracking. 
In this review, we'll be focusing on a popular and comprehensive smart home gym brand — Tempo Studio. It's one of the most high-tech home gyms in the market, with sensors and AI technology to provide you with personalized coaching on an LCD screen.
Plus, with its premium weights and a sleek design, it's bringing home weight training and fitness to the next level.  
We'll be covering everything you need to know about Tempo, including its features, what others are saying about it, cost, and more. 
And by the end of it, you'll be able to make the most informed decision about whether it's the right home gym set up for you and really worth the price tag!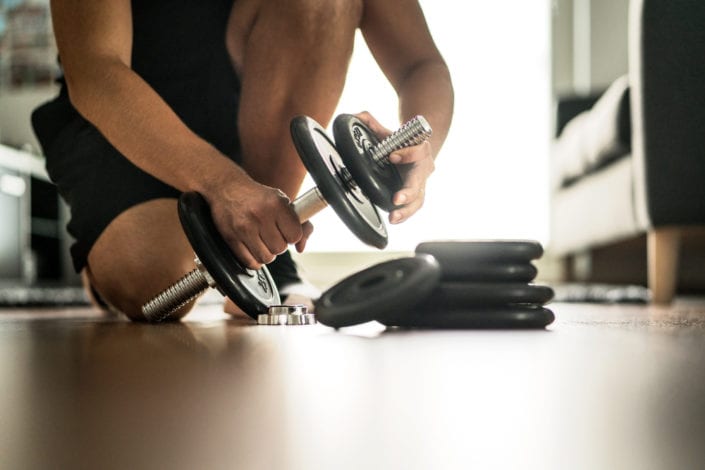 Things to Consider When Getting a Smart Home Gym
Determining whether a smart home gym is for you comes down to your personal preferences. And to guide you through your decision-making process, here are some factors for you to consider: 
Do the features fit your goals:

 Some smart home gyms are really basic with simple workout tracking, and this might be enough for seasoned gym enthusiasts. Others like Tempo provide personalized coaching through the use of sensors and AI technology to monitor your form and provide feedback. This might be suited for those who want professional guidance to get the most out of their workouts.  

Main type of exercise:

 Tempo is mainly focused on resistance training through the use of weights. Other types of smart home gym options include stationary bikes, treadmills, and rowing machines. 

Space:

 Many smart home gyms like Tempo Studio are compact when you compare them to a traditional setup. But don't forget to measure your space to see if it'll fit. 

Cost:

The cost of smart home gyms may be pricier than a traditional setup. But the added value you get from extra features is worth it for many.
Special Offers: Tempo Fit
What is Tempo Studio? 
Tempo Studio is a smart home workout machine that provides you with all the standard gym weights equipment (dumbbells, weights, and more) along with AI-based customized training.   
Through the use of 3D sensors, Tempo scans you as you do your workout. It detects if you're not doing an exercise properly and tells you what you need to correct.
If it sees you leaning your back while lifting weights, it will tell you so you can correct your form. It will even track how many reps you have done and design personal workout programs based on your needs.  
Quick Overview of Tempo Studio
Equipment list

High-tech weight training screen
Complete set of weights

Higher tier options:

Barbell
Heart rate monitor
Recovery roller
Folding bench
Kettlebell system and more!

Best Features

Home gym with interactive coaching
Rep counting
Sensors to detect your form
Immediate correction feedback
Personalized program
Hundreds of live or on-demand classes
Premium weights equipment
Compact design

Dimensions
Main unit: 6′ tall, 2' 2" wide, and 1' 4" deep

Workout space: About 8' of clear space in front of it

Price
Equipment: from $2,495

Membership: $39/month

Financing
From $69/month
Reviews
4.9/5 stars (173 reviews)
Money-back guarantee
30 days
Warranty
12 months to 3 years
Special Offers
Tempo Fit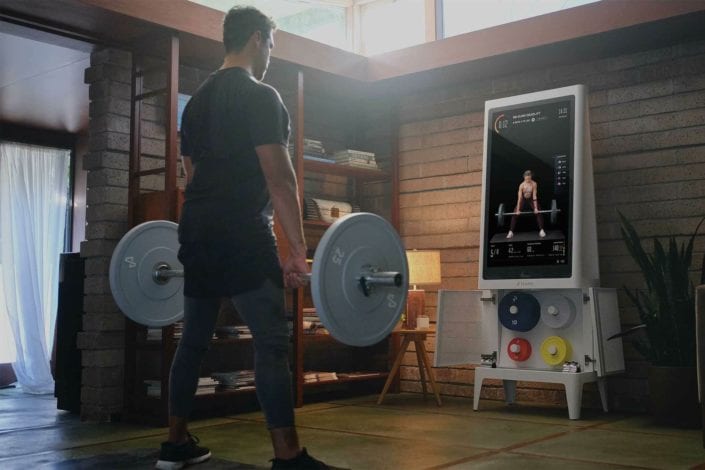 Special Offers: Tempo Fit
Tempo Studio Review
Tempo Studio was started in 2015 by Moawia Eldeeb and Joshua Augustin with the mission to enhance people's lives through fitness and personal training. 
In the beginning, their core service was to provide gym trainers with a device that could help track and plot their user's weightlifting technique in 3D. 
But all the data still needed a trainer to interpret it and determine if the user had the optimal form. 
Since then, they've upgraded the technology and added AI advancements to make Tempo Studio smart enough to make these judgments on its own.
This latest iteration of Tempo Studio allows you to have the benefits of a personal trainer in the comfort of your home anytime that you want to work out.    
How Does Tempo Studio Work?
Working out using Tempo Studio is easy! Here's a quick walkthrough of how it works: 
Create your account:

 Input information about your gender, age, weight, height, and fitness level.

Set fitness goals:

 Select up to 2 fitness goals at a time. You can tell Tempo that you want to gain strength, get lean, or improve your performance. Tempo will devise a fitness plan based on your needs and physical capabilities.

Start taking classes:

 Access hundreds of exercise classes that include strength, yoga, HIIT, boxing, cardio, and mobility. You even have a choice between live classes and on-demand classes.

3D sensors observe your technique and progress:

 Tempo Gym keeps track of the reps that you have completed, so you know when you've done enough of a particular exercise. It can even track if your posture is correct.

Get feedback from your AI-trainer:

 It will use the data collected from the sensors to alert you on workout techniques — like straightening your back or if your stance is incorrect.

See a 3D image representation of yourself:

 An excellent way for you to see your own form and correct any mistakes. 
What Is Included with the Tempo Studio?
1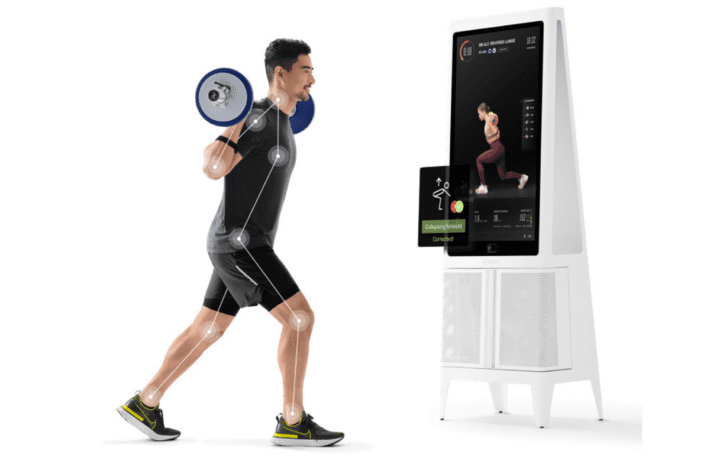 1
Special Offers: Tempo Fit
Tempo's AI Personal Coaching Engine
The centerpiece feature of Tempo Studio is its powerful AI technology. Tempo combines AI technology with 3D motion capture sensors to accurately calculate and map out your form while lifting. This really takes the guesswork out of understanding whether you're actually using the right technique. It'll even help you count reps so you can just focus on perfecting your moves.
The AI then analyzes these different bits of information to present you with recommendations on enhancing your form. And it also uses this data to design a personalized workout plan that's specifically made for you.
It only records your movements and renders an approximate 3D representation of your body, so there is no need to worry about the system keeping a record of what you or your house looks like.  
2
2
Physical Equipment
Tempo Studio has 3 pricing tiers with varying equipment included. They all come with the main touchscreen display, which measures 6′ tall, 2′ 2″ wide, and 1′ 4″ deep (100 pounds). 
It's also not wall-mounted, so no drilling is required, and you can easily move the unit around if you want to relocate it to another part of your home. 
All tiers also come with basic weights equipment, access to all classes, and the AI Personal Coaching Engine. 
The main difference for the upper tiers is that they come with extra physical equipment like barbells, heart rate monitor, workout bench, and more.  
3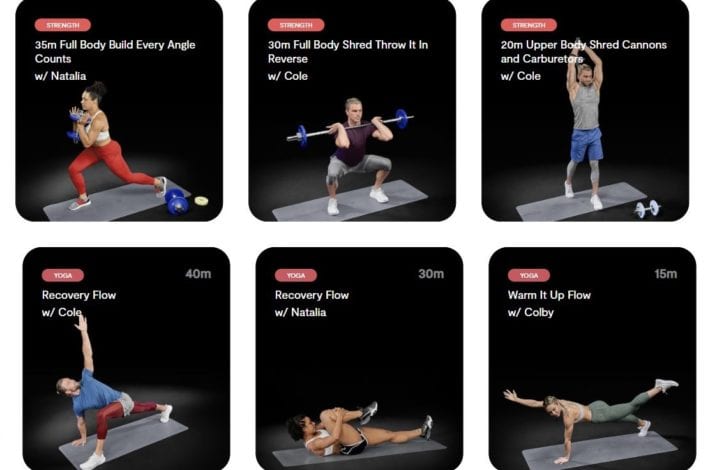 3
Special Offers: Tempo Fit
On-Demand or Live Classes
Tempo comes with a vast library of classes, including strength, yoga, HIIT, boxing, cardio, recovery, and mobility. And they're always adding more each day, so you'll never run out of ideas. They're also conducted by real professional fitness instructors, which makes it feel more personal.
If you're unsure which class to choose, Tempo can also categorize the classes according to your fitness level or which part of your body you want to concentrate on. 
The scheduled live classes are great when you want to have the group feel with your live trainer giving you some extra shout-outs and motivation. You'll also be able to have some friendly competition with your other classmates and score points to climb the leaderboard. 
The AI software also works when you're taking these classes. It can detect when you make a mistake or if you are in poor form while exercising. The AI then notifies your coach, so you receive instructions and make the necessary corrections immediately.
4
4
Storage
Tempo Studio's main touchscreen display doubles up as a storage unit under the screen, so all your weights can be kept out of sight neatly when not in use. The higher tier options also come with additional storage for the extra equipment.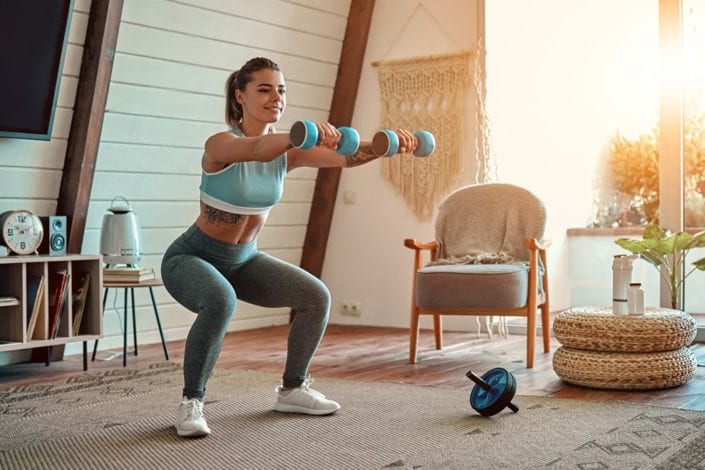 Special Offers: Tempo Fit
What Are the Benefits of Tempo Studio?
Here's a quick summary of the benefits of Tempo Studio's comprehensive smart home gym features:
It helps to ensure you have the right lifting technique

 to optimize workouts and prevent injury.

You get your own personal trainer at home 

whenever you want to work out — no more appointments needed. 

It can be a cost-effective option:

According to an article in CNBC, a gym membership can cost up to $800 per year on average.

[2]

 And this is before adding in transportation costs and time spent traveling. Tempo works out to be more cost-effective in the long run.

Tempo is suitable for all levels of fitness

 and experience — from beginners to experts.

You can conveniently workout from home

 whenever it suits you — no more heading to the gym.

Get inspiration for workouts. 

Never run out of workout ideas with hundreds of classes to choose from.

You can stay motivated

 by connecting with others in the fitness community through the live class leaderboards.

It allows you to save time

 traveling to the gym.  

The compact, sleek design

 that's good for homes with limited space.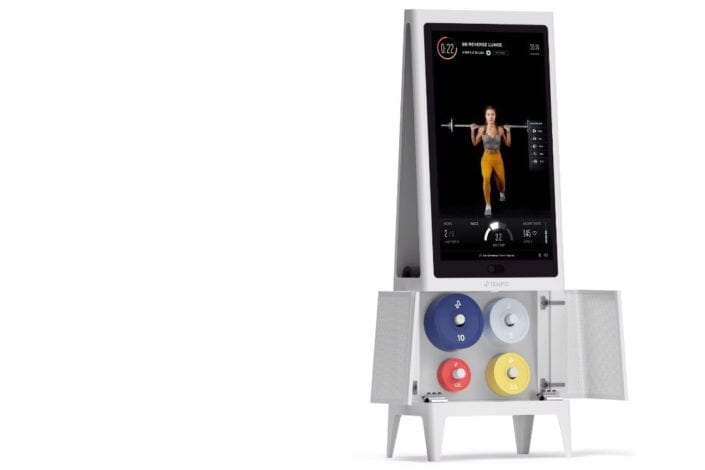 Special Offers: Tempo Fit
How Much Does the Tempo Cost?
There are 3 pricing tiers for the Tempo starting from $2,495 (excluding taxes, delivery, and membership), with financing plans available. Each tier comes with different equipment to suit the needs of different users. 
You'll also need to purchase an additional monthly membership ($39/month) with a minimum of a 12-month commitment to be able to access all of Tempo's features like form feedback, performance tracking, coach guidance, and hundreds of classes.
Tempo Studio also offers a 12-month-3-year warranty depending on the equipment (e.g. screen display is 12 months, while it's 3 years for the weights). 
If you're still unsure about Tempo Studio, you can always give it a try with its 30-day hassle-free trial. If you are not completely satisfied with the product, you can return it within 30 days, and you can request a full refund — so it's totally risk-free!
Tempo Fit Bundles

Tempo Starter
Tempo Plus
Tempo Pro






$2,495
$3,245
$3,995
Financing: From $69/month
Financing: From $90/month
Financing: From $111/month
Best for: Anyone new to strength training
Best for: Those already familiar with strength training
Best for: Those that want a complete home gym
Lift up to 90lbs

Weight plates

Workout mat

Dumbbells

Lift up to 150 lbs

Everything from Starter

+ weight plates

+ barbell

+ heart rate monitor

+ recovery roller

+ folding bench

Lift up to 150 lbs

Everything from Plus

+ weight plates

+ kettlebell system

+ folding squat rack

+ weight plate storage

Membership (Class + feedback): $39/month for all tiers (12-month contract)
White Glove Delivery (unboxing & setup): $250
Warranty: 12 months to 3 years (depending on which part of the equipment)
Hassle-free money-back guarantee: 30 days

Tempo Starter

Tempo Plus

Tempo Pro
Tempo Studio Reviews: What Are Others Saying?
Tempo Studio received an average of 4.9/5 stars based on 173 reviews from 2 websites (Best Buy and Tempo's own website).
Overall, customers seem to be satisfied with Tempo and how it worked as a home gym. Customers liked the wide range of exercises that Tempo provides. 
They also commented on how the exercises suited their fitness levels. And they liked how knowledgeable the instructors are.
Here's a closer look at what others had to say:
Pros:
Great for technique correction. 

Some mentioned that it helped them overcome chronic form issues that were causing them injury. 

Following a program makes people

 accountable 

for their fitness goals.

People got 

interested

 in fitness again with the fun and motivating exercises.

Simple to use and set up.
Excellent quality equipment.

Fun for the whole family. Some even did classes together with their teenagers. 

Conveniently start your workout whenever you like at home. No more waiting for scheduled classes.

Knowledgeable and enthusiastic coaches that bring a lot of energy and motivation to classes.

Even trained professionals found the form feedback useful

as Tempo gives an external-party view of your technique.

Many loved the sleek, compact design and how it fits in nicely with their home.

People managed to continue working out at home when gyms were closed during the pandemic lockdown. 
 Cons
Some mentioned it was costly but worth the investment considering the amount of value you get from the personal training. 

Some wished there was a calendar of when live classes would be held to include them in their daily schedule.

Occasional connectivity issues — but this could be due to individual internet providers.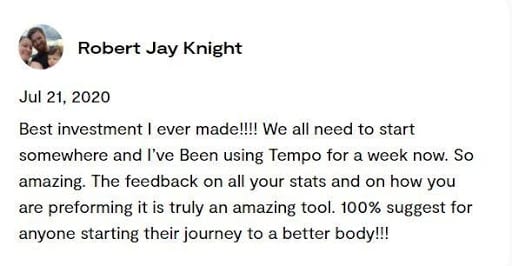 Tempo Fit Reviewer Pros and Cons Summary
| | |
| --- | --- |
| Pros | Cons |
| Uses AI technology to provide you with a personalized fitness regimen. | Requires a monthly subscription. |
| Work out from the comfort of your home. | Might be expensive for some. |
| AI-powered technique analysis and correction. | |
| Wide variety of classes. | |
| Allows you to exercise under the supervision of professional instructors. | |
| Minimalist design. | |
| Comes with a 3-year limited warranty. | |
| White-glove delivery and installation. | |
Is Tempo Studio Worth It?
Tempo Studio is definitely worth it if you want a complete home workout machine with a focus on strength training and an on-demand personal trainer to correct your form. 
Its stand-out feature is the 3D motion capture and AI technology to help to optimize your form and prevent injury while you exercise. Other smart home gyms don't have the same advanced technology to pinpoint technique problems as accurately. 
It's also a comprehensive gym set, with all the essential weights equipment and hundreds of classes to keep your workouts fresh and engaging. I really like that Tempo gives you the option to access live professional fitness instructors during live classes, or choose recorded classes that you can follow at your preferred time.
Its compact and minimalist design is another bonus as it means it'll suit most modern interior designs without taking up too much space.
The only situation where Tempo Studio may not be suited for you is if there's not enough space in your home or if you're looking for a machine that offers solely cardio workouts (like a treadmill or cross-trainer). 
Otherwise it can help you achieve a variety of fitness goals through the live and on-demand classes that it offers. So here's to a fitter you! 
Tempo Studio
FAQs
Does Tempo have a monthly fee?
Yes, their monthly fee to get unlimited access to all their classes and AI personal coaching costs $39 per month.
Can you use Tempo without a subscription?
No, to use Tempo, you need to have at least 12 months of Tempo membership that costs $39 per month.
Does Tempo offer financing options? 
Yes! Tempo offers financing from as low as $69/month.
What is Tempo Studio's delivery time?
Tempo did not specify a delivery time on their website. But they did mention that deliveries are taking longer than usual because of high demand and the mandatory safety precautions to ensure their employee and customer safety.  
Does Tempo have a warranty?
Yes, Tempo provides between 12 months to 3 years warranty for different parts of its units.
Are home multi-gyms worth it?
Yes, home multi-gyms are worth it because of the benefits they bring of enabling exercise at home. With the help of a home multi-gym, you can continue exercising daily even if mobility restrictions or lockdowns are being implemented where you live.
Which is better, Mirror or Tempo? 
Tempo is better if you want more focus on strength-training, while Mirror is good for those who want more general workouts.