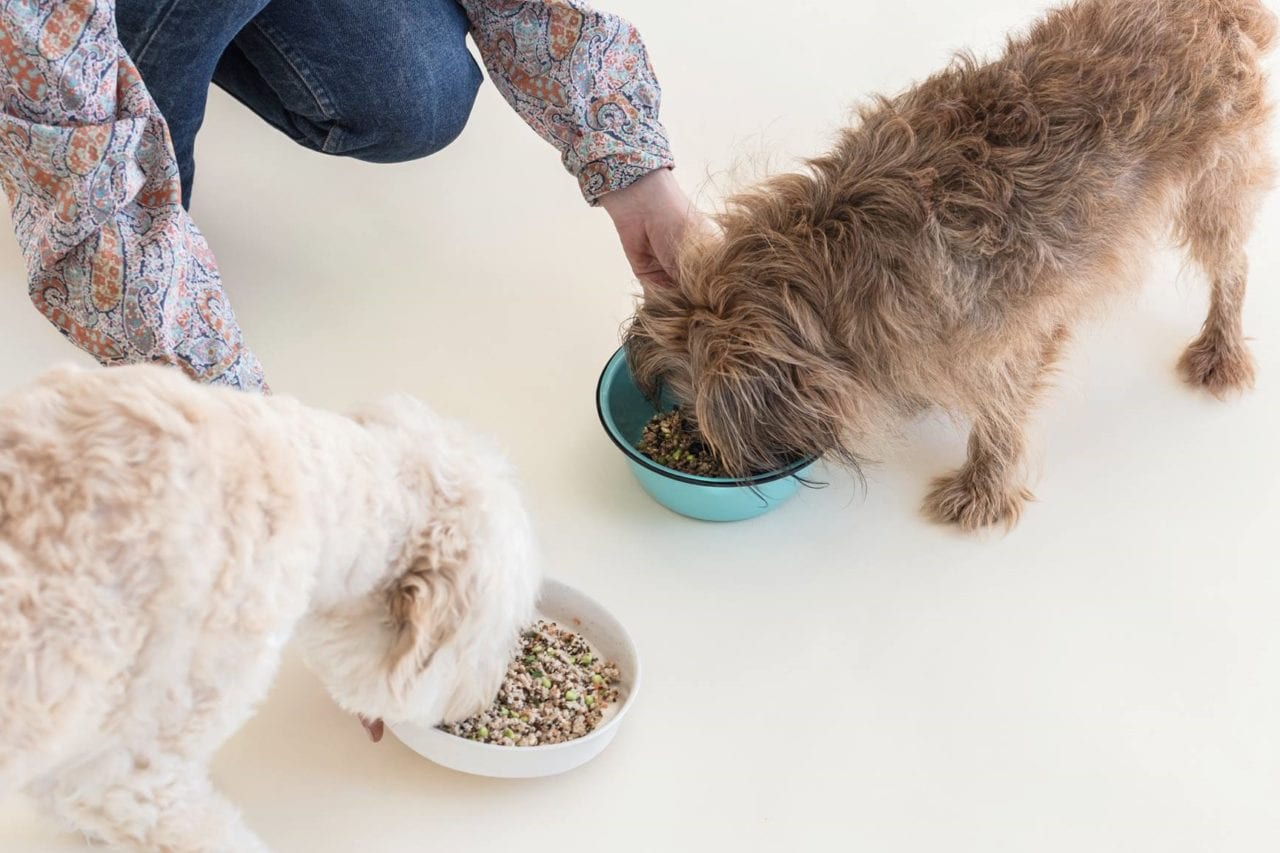 Buying dry or canned dog food from the pet store is usually the first option for pet parents.
Many of us weren't even aware that there were other options out there until recently.
However, with the rise of health problems in our fur kids (like obesity and cancer), experts wonder if diet is to blame.
Is Dry Dog Food Good for Dogs?
Most dry dog foods are very convenient in terms of having a long shelf life and easy storage options, but rarely offer dogs much nutrition from the ingredients within them.
There are 3 main issues with traditional kibble:
Low quality protein sources
The first issue is that the base ingredients can come from poor quality meats (sometimes from diseased animals) and low-nutrition grain fillers. These help to fill your dog up fast but aren't great for their health.
Highly processed foods
Secondly, the way the ingredients are processed reduces the nutritional value even further. To increase the food's shelf-life, it's heated to high temperatures with 90% of moisture removed. Unfortunately, a lot of nutrients cannot survive the high heat and get killed off in the process.
Large number of additives included
Thirdly kibble often then loaded with preservatives (some of which have been known to cause cancer) to increase its shelf life.
Is Fresh Dog Food Better Than Dry?
Fresh dog food is a much healthier option for your pet because it's made from real, human-grade ingredients without added preservatives and artificial chemicals.
The health benefits for your dog could include :
Improved digestion
Building immunity
Relieving allergies
Boosting energy
Supporting a healthy coat
Alleviating arthritis
Reducing dander
Maintaining a healthy weight
A recent study even found that eating fresh dog food compared to dry food can increase a dog's life expectancy by up to 3 years.
In this review, I will focus on a popular fresh dog food delivery service — Spot & Tango.
It's known for providing dog meals made from human-grade, fresh ingredients. The meals taste great and are also good for your dog's health.
In addition to their fresh meal options they also offer unique dry dog food. They say it's so unlike kibble that they've named it Unkibble.
Find out about their fresh and dry meal options so that you can decide which is the right dog food for you and your fur kid.
In this review I'll go through what they have to offer including:
Why Spot and Tango? 

Fresh and Dry Meal Options

How Much Does Spot and Tango Cost?

Fresh Dog Food Customer Reviews

Unkibble Customer Reviews

Our Rating for Spot and Tango

Would I Recommend Spot & Tango?
Spot and Tango Review 
Spot & Tango is a popular meal subscription service that delivers fresh or dry dog meals made from quality, human-grade ingredients.
The company was launched in 2014 after its founder, Russell Breuer, was disappointed with the poor-quality kibble he was feeding his dog.
He started cooking his own meals for his Goldendoodle and decided to make the same healthy meals accessible to other dogs through Spot & Tango.
They offer 3 fresh meal options including: Turkey and Red Quinoa, Beef and Millet, Lamb and Brown Rice.
They also offer a dried dog food product called Unkibble. This is a more economical option than the fresh dog food, but is also prepared according to the same principals of maximising nutrition content in meals.
What's Great About Spot and Tango's Fresh Dog Food?
Spot & Tango aim to create fresh, wholesome meals for your pup that go against traditional dog foods:
1
1
Human-Grade Ingredients
Its ingredients are real, human-grade, whole-foods sourced from USDA-approved local farms. Meals are GMO and hormone free.
2
2
Higher Protein Content than Other Fresh Dog Meal Services
Top names in the dog food delivery service have a good level of protein in their meals at 9-11%.
But Spot and Tango's fresh dog meals go over and above with 12-14% minimum protein content (depending on the meal) which is more than many providers offer.
3
3
All Meals are Gently Cooked
All meals are gently cooked in small batches to maximize the nutritional value of the ingredients and are AAFCO-approved.
The dried meals are gently pasteurized at low temperatures to maintain the nutritional value using their own Fresh Dry process.
4
4
USDA-Approved Facilities
Meals are prepared in USDA-approved kitchens in New York to ensure the safety of its meals.
5
5
No Nasties Added
No preservatives, additives, protein "meal", hormones, or grain fillers are added to the fresh meals or dry food recipes.
This means that as much nutrition as possible comes from the real ingredients within it. And there are no nasty artificial chemicals that could cause health problems like cancer or hormone disruption.
Spot & Tango Subscription Process
Signing up for a Spot & Tango subscription is simple as it's all done online.
You'll be asked a series of questions about your dog so that its special algorithm can determine the optimal meal size for your dog.
This includes questions about your dog's sex, spayed/neutered, breed, age, body type, weight, activity level, and health conditions.
It will then present you with the full fresh food and Unkibble options. Both options have 3 flavors each. Here's a quick look at the meal options:
Spot and Tango Meal Options
Here's a summary of the meal options that Spot and Tango have on offer and how they are prepared.
Fresh Dog Food Recipes
Their fresh dog meals are based around 3 quality protein bases. They are freshly prepared and delivered to your door in a refrigerated box.
Turkey and Red Quinoa with apple, egg, spinach, carrots, peas and parsley. Crude protein 13.69% (min)
Beef and Millet with cranberries, egg, spinach, carrots, peas and parsley. Crude protein 11.85% (min)
Lamb and Brown Rice with blueberries, egg, spinach, carrots, peas and parsley. Crude protein 11.80% (min)
Unkibble Recipes:
Unkibble is a dried dog food unlike traditional 'kibble' – hence the name.
The quality of ingredients in their Unkibble is the same as in the fresh food options. Human-grade ingredients are used.
They're then dried out at low temperatures to lock in as many nutrients as possible.
It's a great option for pet parents who aren't ready to make the full transition to fresh food but would like more nutritious dry food for their dogs.
Duck and Salmon with tapioca, flax, sweet potatoes, carrots, spinach, apples, chia seeds, parsley and kelp. Crude protein 29.68% (min)
Beef and Barley with flax, carrots, green beans, beets, cranberries, rosemary and kelp. Crude protein 26.58% (min)
Chicken and Brown Rice with flax, carrots, green beans, beets, cranberries, rosemary and kelp. Crude protein 26.58% (min)
How Much Does Spot and Tango Cost?
Plans start from $15 per week for fresh dog food plans, and $7 per week for Unkibble plans.

Dog Size 
Fresh Dog Food 
Unkibble Meals
Small dog (e.g. 15lb Cavalier King Charles Spaniel)
$2.20-$7/day
$1-$2.90/day
Medium dog (e.g. 35lb Standard Schnauzer)
$8.10-$12/day
$4.58-$5.14/day
Large dog (e.g. 60lb Boxer)
$12.50-$17.40/day
$6.66-$7.61/day
Shipping
Free (within 48 contiguous US states)
Free (within 48 contiguous US states)
Crude Protein Levels (min)
12-14%
27-30%
Storage
6 months in the freezer
4 days in the fridge once opened
Store in a dry, cool cupboard.
Extra items
Clip for securing open food packets
Custom scooper for portioning out the food
Special deals
20% off your first order
20% off your first order
Money-back guarantee
Yes on first box within 30 days.
Yes on first box within 30 days.
Where to buy 
Spot & Tango
Spot & Tango
If you choose fresh food, there is also a topper plan where 30% of your dog's meals will be fresh food (and you top up the remaining 70% with its regular kibble).
When you've selected your meals simply make payment and wait for your first 2-week trial delivery. Shipping is free, so you're only paying for the food.
Following the trial, your dog's food will be shipped every 4 weeks.
After the subscription has started Spot & Tango allows flexibility of deliveries from your online account. This includes changing:
delivery frequency
food portions
recipes
cancelling your subscription.
What Do I Get With Spot and Tango's Fresh Dog Food Subscription?
You will receive the food in a cardboard box with dry ice and thick insulation to ensure it remains frozen. You will be provided with instructions on how to store, feed, and transition your dog to fresh food.
You need to transfer the meals to the freezer immediately once you've received them to maintain freshness.
The individual meals come packaged in a thin, sealed plastic bag that is designed to be flat and take up minimal space in the freezer or fridge.
To serve it, simply cut off the top and squeeze out the required amount into your dog's bowl. You also get a little clip to close half-open packets if you need to save some of the food for later.
For fresh meals, you can serve them straight from the fridge or heat them lightly.
Frozen meals can last for 6 months in the freezer, and defrosted food should be stored in the fridge and consumed within 4 days.
What Do I Get With Spot and Tango's Unkibble Subscription?
The delivery for Unkibble meals is more straightforward as they don't need to be kept chilled.
You feed your dog exactly like how you would with regular kibble. And it comes with a customized scooper, so you'll know exactly how much food your dog should eat.
Spot and Tango Fresh Dog Food Reviews
What do dogs and their parents have to say about the fresh meals?
Spot & Tango Fresh Food Customers Liked That:
Many dogs loved the food: Several paw parents reported that their dogs were wagging their tails while the packets were being opened.
Picky eaters loved the food: Dogs that usually never finished their food ate every bit of their Spot & Tango meal!
High-quality human-grade ingredients: Reviewers felt more at ease knowing they're giving their dogs proper food that's not made from low-quality protein and grains.
Promotes health: Many reported that it helped with stabilizing their dog's weight, made their coats shinier, reduced bad breath, and more.
Great for dogs with health issues: Paw parents are able to customize the meals to suit their dogs' specific medical needs.
High-quality packaging: Kept all the food cold during transportation.
Environmentally packaging: Recyclable cardboard boxing and biodegradable insulation.
Partial meal plan was great for those wanting to keep the cost down.
Convenient delivery right to your door: Many were happy that they didn't have to head to the store to buy food anymore.
Easily customize your account: Pause, change your delivery options, modify portions easily through the online account.
Some comments include:
Too costly for some: But many felt that the health benefits outweigh the cost.
Mixed reviews about customer service: I found several reviews saying their after-sales support was fantastic, but others saying they only got automated emails instead of personalized care.
No chicken recipe for fresh meals: This may be an issue for dogs who prefer this protein.
Spot and Tango Unkibble Reviews
Unkibble is a Fresh Dry dog food that claims to be unlike ordinary kibble. Do dogs notice the difference?
Spot & Tango Unkibble Customers Liked That:
Dogs loved the recipes: Many gobbled up the food with no hesitation!
Fresh ingredients used: Pet parents didn't have to worry that their dogs were eating artificial flavors or preservatives that could be harmful for health.
Good variety of recipes available for pet parents to choose from.
Healthier than normal kibble: Several reported that their dogs benefitted from the better ingredient quality — shinier coats and more energy.
As convenient as normal kibble: Because no freezing required and they could serve the food straight from the bag.
More affordable than 100% fresh food.
Pet parents liked that the could see dried bits of real food (like peas)
Convenient customized scoop ensured pet parents were giving the right amount of food
Shipped right to their doorstep so there's no need to go out any buy food
Some commented that:
More expensive than regular kibble: but at the same time they said it was worth the price as it's healthier.
Here are some reviews from customers:
My French Bulldog stopped eating his regular food and even though he is my baby I don't care to cook. He loves this food! I love the fact that it's packed in dry ice. Chari from groupon.com
I have tried three other dog food delivery services. Spot and Tango is Millie's favorite! She is so excited for her meals (and wasn't with the others). Her coat looks amazing and she has no stinky breath! Two thumbs up to Spot and Tango! Mary from Spot and Tango
Is Spot and Tango Worth The Price?
There's no denying that the upfront cost of fresh dog food is more than kibble.
However, if you think about the health benefits it can bring to your dog, it may work out to be cheaper.
When your dog eats healthier, it's at reduced risk of developing health problems.
This means less cost for you in terms of trips to the vet and medication (which can be extremely costly).
Also, the real value that fresh food gives is that it means more time with your best friend, and that's priceless!
If the cost of fresh dog food is too much then you can also look at either making a partial meal order. This means that only portion of their meals are fresh food, and the rest is their usual kibble.
Alternatively you could opt for their Unkibble meals which still have quality ingredients but are at a lower price.
Our Rating For Spot & Tango
Ingredient quality
⭐⭐⭐⭐⭐
5 out of 5
Human-grade ingredients, GMO and hormone free meats that are beneficial for your dog's health. Meals also don't contain harmful preservatives or additives.
Recipe variety
⭐⭐⭐⭐
4 out of 5
Good variety with 3 recipes available (but no chicken for fresh meals). Most were happy with the options.
Flavor
⭐⭐⭐⭐⭐
5 out of 5
Dogs loved the food! Even the picky eaters were cleaning out their bowls.
Price
⭐⭐⭐⭐
4 out of 5
More expensive than regular kibble, but the health benefits of fresh food are worth the expense.
Meal customization
⭐⭐⭐⭐⭐
5 out of 5
Mix and match your recipes, change delivery frequency, meal portions, and more!
Is Spot & Tango Good for Dogs?
Spot & Tango is great for dogs as it uses fresh, wholesome ingredients that are good enough for humans to eat as well. It prepares these into meals that are especially designed for your dog.
It provides dogs with proper nutrition from human-grade ingredients without nasty preservatives or additives.
All meals are nutritionally balanced by a veterinary nutritionist and customized to your dog's needs. So you can be sure your dog is getting the right nutrition to stay healthy in the long term.
The whole ordering process is also simple and convenient with the meals being shipped to your doorstep.
What really stood out for me about Spot & Tango is its unique Unkibble option — a dry dog food range made from whole, human-grade ingredients. It's gently dried using their own Fresh Dry technique to preserve nutrients in the meals.
It's a cost-effective option for pet parents who want the convenience of dried food, but with the nutritional benefits of whole-food ingredients. It's not commonly offered by other fresh dog food services and is a great in-between choice for pet parents who aren't ready to do 100% fresh dog food.
Just like humans, diet also has a big impact on the overall well-being of our pets too. Whichever Spot & Tango meal plan you choose, you can have the peace of mind knowing you're feeding your pup meals that are nutritious and balanced for its health needs.
Get 20% Off Your First Box: