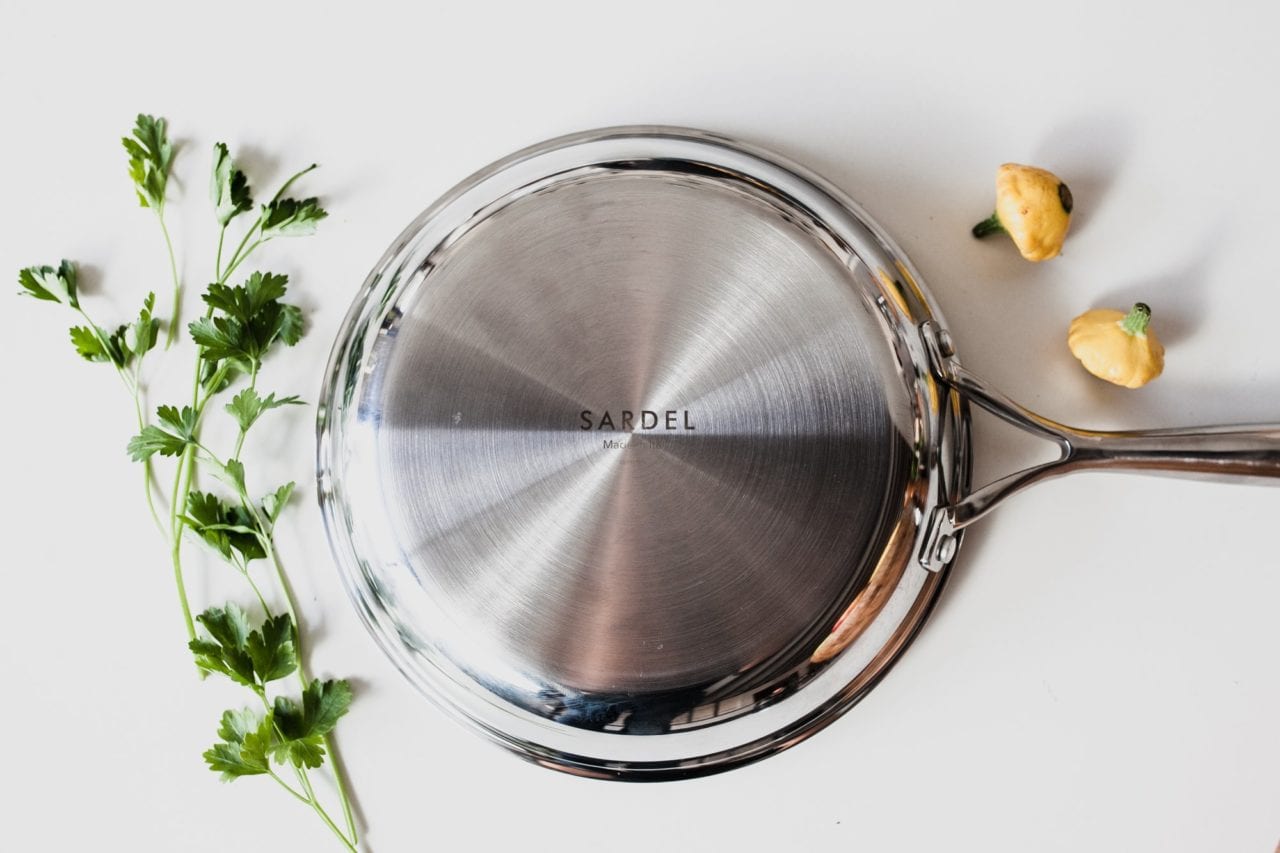 If you're looking to update your cookware, you'll know that it's not as simple as picking the first pot you find online. There are a number of elements that need consideration, such as the materials used and the quality of the design.
You prepare meals each day – sometimes several times a day – in the pots and pans that you own. So the cookware you choose has an effect on the food that you eat.
For example you want to be sure that it's made from quality materials that won't be leaching any unwanted chemicals into the food.
Also when you're investing a certain amount of money in a new cookware set, you want to know that the pans themselves will be durable. They shouldn't need replacing in a few years' time because the surfaces are peeling off.
Top stainless steel cookware brand Sardel promises to deliver on both quality and durability. They offer a collection of stainless steel skillets, pans and pots made in Italy and brought to the US.
Here we take a closer look at what they have to offer, so that you can see if it's the right cookware for you:
Is Stainless Steel Cookware Non Toxic?

What is the Best Non Stick Pan Without Teflon?

Why Sardel? What's Great About Their Stainless Steel Cookware?

Sardel Reviews from Customers

Would I Recommend Sardel?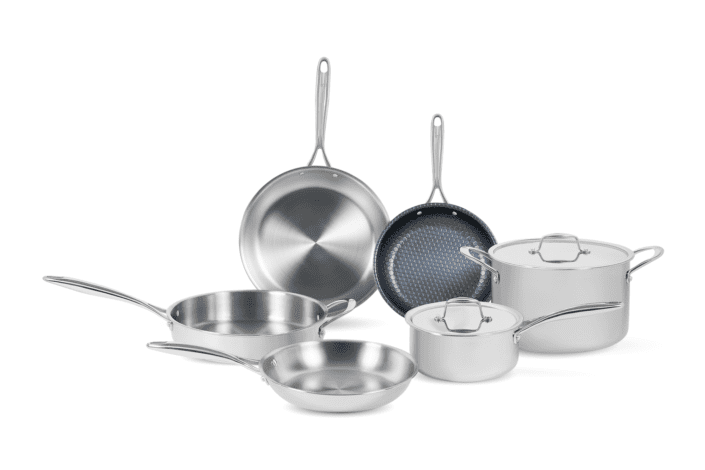 Is Stainless Steel Cookware Non-Toxic?
Stainless steel is considered one of the safest and least toxic materials for cookware. With increasing concerns over the use of Teflon, stainless steel cookware has been growing in popularity over recent years.
Some of the advantages of this material include:
Stainless steel cookware can last a lifetime. Stainless steel is very durable and long-lasting. So the pans won't need replacing in a few years' time.
Teflon free. Cooking surfaces are PFOA-free making them safer and non-toxic.
Not reactive. Stainless steel will not react with food when heated. This means that the surface will not flake, leaching harmful chemicals into the food.
Even cooking. Quality stainless steel cookware is designed to cook the food evenly and prevent hotspots.
There are concerns about aluminum and nickel leaching from stainless steel pans however these worries are more relevant to cheaper brands, as they use lower quality materials.
High quality stainless steel pots and pans have an aluminum core covered by stainless steel layers above and below it. This means it cannot leach into the food unless the stainless steel layer is damaged.
That said there is no perfect material for cookware and if you search enough you can find concerns about each one. Stainless steel remains one of the most well-regarded materials for non-toxic cookware.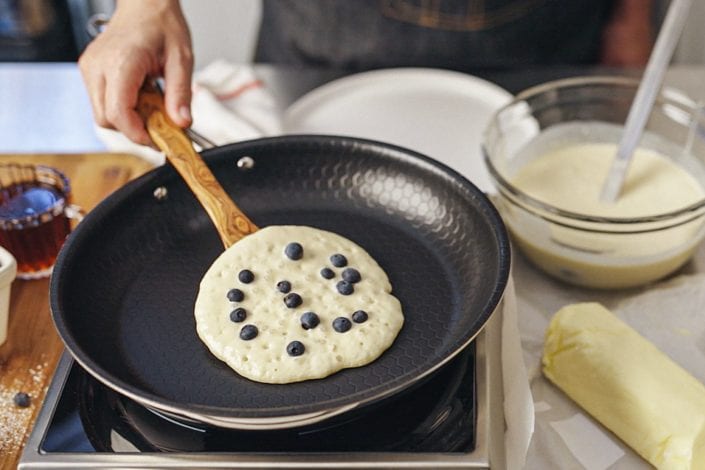 What is the Best Non Stick Pan Without Teflon?
The Sardel non-stick skillet is one of the best Teflon-free pans on the market. It offers a unique design to make it non-stick, while staying PFOA-free.
Non-stick design. The surface of the pan is in a honeycomb pattern which makes it more effective as a non-stick surface.
Teflon free coating. The pan itself is made with a stainless steel infused coating which is both tough but also designed for better searing.
PFOA-free. Free from toxic chemicals making it one of the few healthy non-stick pans on the market.
What's Wrong with Traditional Non-Stick Pans?
Teflon pans have a non-stick surface which is convenient, but this has been made from potentially toxic chemicals in the past.
With excessive use, these surfaces peel off, exposing the food to small amounts of toxins present in the coating.
Teflon itself is made of perfluorinated chemicals (PFAS) and the worry is that these chemicals are going into your food and into your system.
This is why more consumers are returning to traditional materials, for a safer, healthier cookware option which is also longer lasting and more reliable.
Are Stainless Steel Pans Non-Stick?
One drawback of traditional materials is that some dishes like omelettes or fry-ups, can leave food stuck to the base of the pan. This is because there are no chemical coatings on the surface of the pan to make the food slide off.
Sardel is one of the few brands to offer a skillet which is both non-stick and PFOA-free with a stainless steel-infused surface. As it's the best of both worlds, it has quickly become one of their most popular cookware pieces:
Why Sardel? What's Great About Their Stainless Steel Cookware?
Sardel is a family run business started by three brothers who wanted to make cooking simple and rewarding.
They aimed to make high quality cookware more easily accessible to everyone and not limited to just the most expensive brands.
Their cookware is manufactured in Italy by a third generation family-run company who have been making stainless steel products since the early 1900s.
Sardel then sell direct to consumers in the US through their website, rather than selling through third party retailers. This helps them to keep their costs down and it means that they get to have a direct relationship with their customers.
The combination of Italian craftsmanship with modern design at an affordable price, has been a winning recipe for both professional and home cooks.
Are Sardel's Pans Well Designed?
Sardel's stainless steel pans have a 5 ply construction. A ply is a layer so this means that their pans are made up of 5 layers.
The middle 3 layers are made from aluminum. Aluminum is an excellent heat conductor so it helps the pan to cook the food evenly.
To put it in context, many brands have just 1 layer of aluminum in the core of their pans. By having 3 layers, Sardel's pans can give a better cooking performance without hotspots.
There are then 2 stainless steel layers, one above and one below the aluminum layers.
Stainless steel is not as good at conducting heat as aluminum but it is very durable and hard-wearing. It also keeps the aluminum from having direct contact with the food.
The handles are ergonomically designed and hollow with a gap at the base, which prevents them from getting hot.
To summarise these are the features that I feel set Sardel apart from other stainless steel cookware brands:
1
1
Quality Materials
Sardel pans are made of high quality stainless steel.
As discussed above they have a 3 ply aluminum core. Aluminum is a great conductor of heat and many brands have just 1 layer in the middle.
By offering 3 layers the pan has an added thickness and is better at holding onto and distributing the heat.
2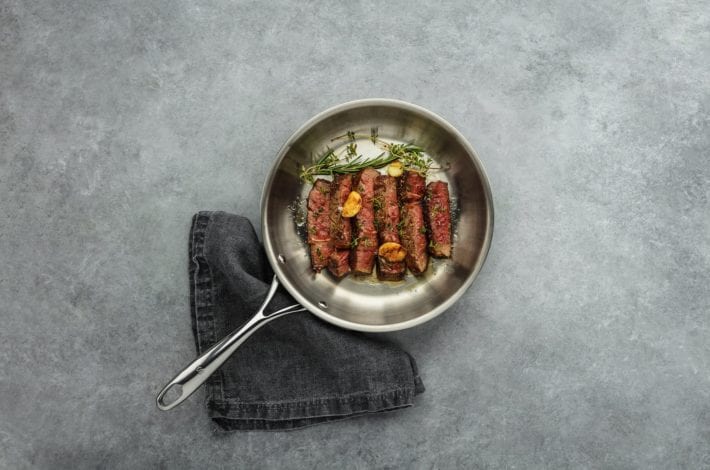 2
Stainless Steel Handles Stay Cool
They have designed a gap at the base of the handle between it and the pan. This gap prevents the handle from getting too hot when cooking (which is a common problem with stainless steel cookware).
Without it, you would need to cover the handle before lifting the pan off the stove. Instead the handle stays a comfortable temperature throughout cooking so that you can hold it without gloves or coverings.
Their handles are also hollow and ergonomic, making it easier to lift the pan comfortably.
3
3
Non-Stick Stainless Steel Skillet
Their non stick skillet is one of their most popular cookware pieces.
It has a unique honeycomb design that makes it effective as a non stick pan while also staying PFOA free. Instead they use a stainless steel coating.
4
4
Good Value
There are cheaper brands of stainless steel cookware but you would have to thoroughly check the quality of the materials for toxins, and the design for flaws such as the handles overheating.
Higher quality stainless steel cookware does exist but it tends to be more expensive and from the luxury brands.
Sardel fills in the middle ground between these two, by providing an equivalently high quality product and design, at a lower price than the high end brands.
They also do not sell via other retailers, only through their website (Sardel). This means that they can keep their costs down by cutting out the middle man and selling directly to their customers.
Do Handles Get Hot on Stainless Steel Cookware?
Normally the handles on stainless steel pots and pans do get so hot that you can't hold them without a cover. This is a concern for a lot of people thinking of buying a full set of stainless steel cookware.
Sardel is one of the few brands that has designed their handles so that they don't get too hot.
This is done by having a gap at the base of the handle, where it meets the pan. This hole allows the heat to escape.
The result is that you can cook at high temperatures and the handles will only get warm, not hot. They can still be easily handled without gloves or covers required.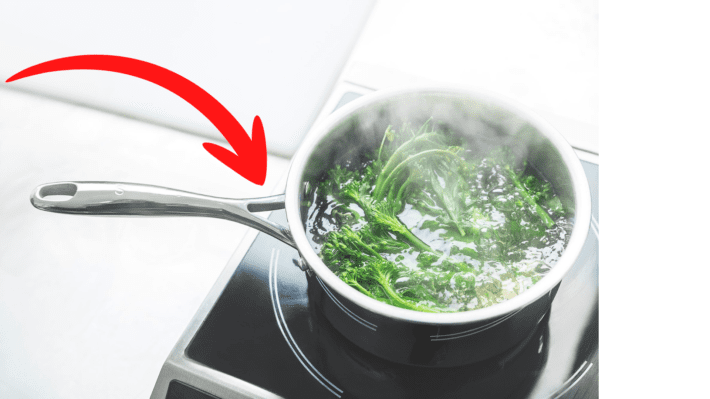 Sardel's Stainless Steel Range
Sardel pride themselves on offering compact cookware sets with only the pots and pans that you need to cook with, rather than having a sprawling range of options.
You can choose to purchase individual pots or pans, or one of their sets: a small set for beginners or full set for daily cooks.
Below are the details of their range.
Materials
Quality stainless steel and an aluminum core.
Made In 
Made in Italy with a third generation family business who have been making steel products since the early 1900s.
Design
Elegant stainless steel design with a 5-ply construction: 3 layers of aluminum inside (the core) and 2 layers of stainless steel above and beneath it.
Ease of Use
Great reviews for their ergonomic handles that don't over heat. Many users praised the heat distribution inside the pan.
Non stick pans
10 inch and 12 inch non-stick skillet.
Their non-stick pans have a honeycomb surface and stainless-steel infused coating.
PFOA-Free?
Yes all items are free from PFOA.
Small Set
$276 (reduced from $325) for 3 key pieces:

12 inch skillet
2 QT sauce pan
8 QT stock pot

Full Set 
$476 (reduced from $635) for 6 key pieces:

10 inch skillet
10 inch non-stick skillet
12 inch skillet
2 QT Sauce pan with lid
4 QT Saute pan with lid
8 QT Stock pot with lid

Shipping
Free shipping and returns to the contiguous US.
Special Offers
25% off any pre-orders (ending soon).
Other Items
Extra virgin olive oil
Balsamic vinegar
Olive wood utensil set
Value for money
Customers commented that these pans are great value for money compared to other luxury stainless steel brands.
Overall Rating
5 stars from 149 reviews.
Sardel cookware gets phenomenal reviews for their design and durability. Their users also rave about how evenly these pans cook food and how versatile they are in the kitchen.
30 Day Trial
You can purchase and try out their cookware for 30 days. If you don't like it you can send it back. They even pay for the return shipping.
Warranty
Lifetime limited warranty on all their products. That's how confident they are about the durability of their range.
Website
 Sardel Italian Made Cookware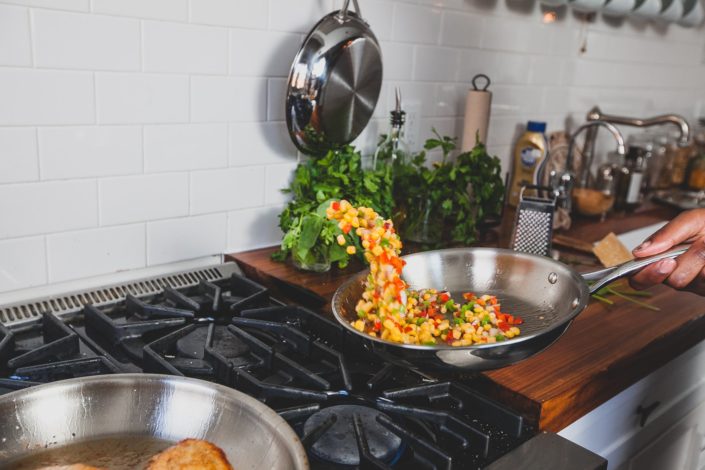 Sardel Reviews from Customers
With their range of quality stainless steel cookware and even a stainless steel non-stick pan that's PFOA-free, they have a growing fan-base raving about their products.
As they are a direct to consumer brand, they only sell through their own website. Therefore customer reviews are only available on their own site.
Out of these they scored 5 stars from 149 reviews. 
Reviewers commented that:
Pans cook evenly. All reviews are focused on how evenly their Sardel cookware cooks food without hotspots. Many had tried other pans that didn't evenly distribute the heat and created hotspots.
Handles do not heat up. Sardel's handle design means that they don't get too hot. Other pans have handles that overheat, meaning you to have to use a towel or oven glove to pick them up.
They look great! Customers rave about how these pans look. They're good enough to display decoratively and hand down to future generations.
Bobby Flay stamp of approval. Many Sardel fans bought the pans after seeing an unsponsored post from celebrity chef Bobby Flay who loved them.
There were no negative comments in the reviews, but some users noted that:
A few customers had to wait a few weeks for the pans. Others had them arrive within a few days.
One or two wished there were more product sizes available. But Sardel cookware is designed to be a compact range of just the items you need.
Here are a few sample reviews from their website:
Beyond Expectations!! I was so impressed! This was my first time ordering and I was a little nervous buying without any knowledge of this company. Once I opened the box and took the first skillet out of the box, all my nerves went away. I knew from the weight of the large skillet that it would be a cooks dream!! If you are on the fence about this product , just go ahead and jump on the band wagon!! Phernice M. – Full Set
Christmas Gift for my Husband. My husband loves the 10 inch omelette pan! It distributes heat evenly and food doesn't stick. Clean up is a breeze. The pan is good looking, too! Elizabeth – 10
Is Sardel the Best Stainless Steel Cookware Brand?
I would recommend Sardel to anyone looking for quality stainless steel cookware. Their pans are made with solid, non-toxic materials and have a well-thought-out design. They are also made in Italy by a third generation, family-run manufacturer of steel products.
As well as offering their pans for purchase individually, they also have compact collections – the small set and the full set. These aim to provide you with only the pieces you need for daily cooking. So that you don't end up with drawers overflowing with unnecessary pots and pans.
Pricewise the collection fills that middle ground between the cheaper sets – which would probably have an inferior design and quality of materials – and the high end stainless steel brands which tend to be a lot more expensive.
Out of Sardel's cookware range, my favorite item would have to be the non-stick skillet which for me is a game-changer. Few brands can offer an effective non-stick solution without the use of chemical coatings.
In summary I would definitely recommend this stainless steel range. Sardel are so sure you'll like the cookware that they offer both a 30 day trial, with a guaranteed refund (including shipping) and a lifetime limited warranty. So it's an almost risk free way of trying out their cookware.
25% Off any Pre-orders (ending soon):
Full set (6 pieces including non-stick skillet)
Small set (3 pieces)