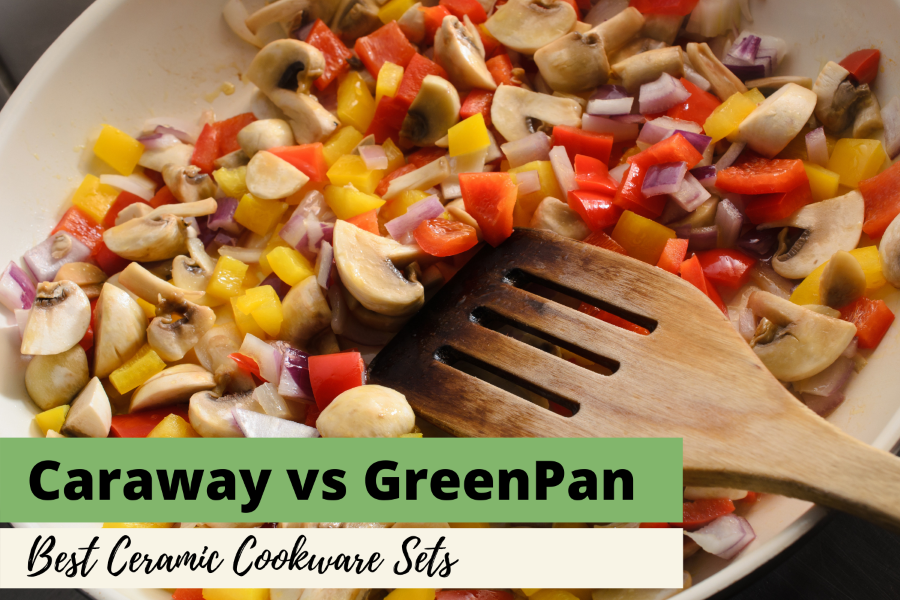 Perhaps you've started eating organic and pesticide-free foods for health reasons. But have you thought about the cookware sets that you use to cook them in?
When heated and scratched, some pots and pans can leave traces of toxic metals and chemicals in your otherwise healthy food. Take Teflon non-stick pans for example.
These pans used to be coated with perfluorooctanoic acid (PFOA), which is a chemical linked to several diseases. We're talking about cancers, cardiovascular diseases, and even pregnancy-induced hypertension. (1)
Today they use PTFE for Teflon coatings, another man-made chemical. Although it's officially considered to be safe, it too is being researched for links to the same diseases as PFOA.
At very high temperatures PTFE can also release fumes and toxic chemicals into the air. When this happens they can cause an illness known as 'polymer fever'.
Detoxing your life of harmful chemicals starts with having a healthy cookware set. But with so many options at your disposal, finding the right cookware brand is not always that simple.
We reviewed two popular non-toxic cookware brands to help you decide which could be best for you. Caraway and GreenPan are two names you can often find in healthy cookware set reviews.
Both brands are well-known for their claims of keeping neurotoxins and carcinogenic chemicals out of your meals.
But if you're choosing just one cookware set for your kitchen, which one is the best non-toxic ceramic cookware brand? Read on to find out.
What Are Non-Toxic Ceramic Cookware Sets?
Non-toxic ceramic cookware sets don't contain the chemicals found in Teflon, including PFOA.
Ceramic cookware was traditionally made from clay, baked in a kiln, and glazed.
Today ceramic cookware is metal cookware which has been given a ceramic coating. This ceramic finish is naturally slick, so the food won't stick when cooking.
The metallic core also helps to consistently distribute the heat so that your food can be cooked evenly, whether it's in the center of the pan or not.
Caraway vs GreenPan: Comparison Table
Materials

Aluminum
Ceramic coating 

Aluminum
Ceramic coating 

Free From

PFAs, PFOA and PTFE (Teflon)
Lead
Cadmium
Other toxic chemicals

PFAs, PFOA and PTFE (Teflon)
Lead
Cadmium
Other toxic chemicals and fumes

Price per Set

$395 (reduced from $495)
7 pieces – 4 pans and 3 lids

$295
8 pieces – 4 pans, 3 lids and 1 steam insert

Designed In

New York

Belgium

Made in

China and India

China

Adhere to

Fair Trade, SMETA, and BSCI

International Organization for Standardization (ISO)

Design

Steel base and ceramic coating

Sleek stainless handles

Steel lids


Anodized bodies and ceramic coating

Sleek stainless and/or rubberized handles

Glass lids

Non-stick pans?

Yes

Yes

Shipping areas/countries

US and US Territories, Canada, France, Germany, Italy, and the United Kingdom.

US addresses (all 50 states) from their website. International delivery available.


Extra items

Magnetic Pan Rack
Canvas Lid Holder

Pan protectors for stacking

Review Summary

4.8 stars from 8,328 reviews

4.6 stars from 708 reviews

Refund Policy

30-day return and refund policy.

14-day return policy. 

Warranty

1 year limited warranty in the US for defects in construction, workmanship, and/or material.

2 years limited warranty on manufacturing defects of the Thermolon non-stick coating.

Where to Buy 

Best prices on: Caraway Cookware

Best prices on:  GreenPan Sets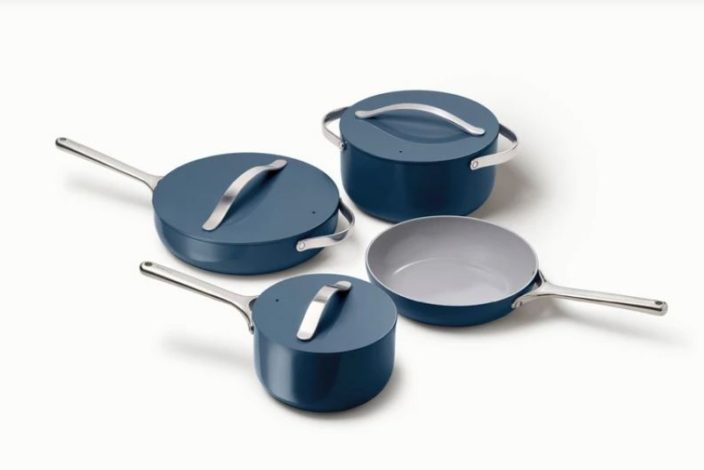 Caraway Cookware Set Review
What is Caraway Cookware?
Caraway Cookware has been around since 2018. Since its launch, the company has gained recognition from trusted publications including CNET and Good Housekeeping.
The company is known for its tagline "Cookware Without the Chemicals." The brand lives up to this core message by using environment-friendly ceramic coating in their sets.
The whole Caraway range came to life when founder and CEO Jordan Nathan personally experienced Teflon flu/toxicity or polymer fume fever. (2)
Jordan accidentally left his Teflon pan on a burner for more than 40 minutes—filling his apartment with fumes that made him feel dizzy. The illness he suffered prompted him to create healthier pans that were not only toxin free but also looked stunning for modern users.
Based in New York, Caraway Cookware is a direct-to-consumer cookware brand.
Since the company sells directly on their website and cuts out the middlemen, you won't have to deal with hidden fees or unregulated sellers.
What Are Caraway Pans Made Of?
Caraway Cookware is made with heavy-gauge aluminum. Aluminum is an excellent heat conductor, which makes it an ideal material for manufacturing cookware.
The aluminum is covered with a ceramic coating which is mineral-based and is lead, cadmium and PTFE (Teflon) free so that it doesn't leach toxic chemicals into your food.
The pots and pans have a stainless-steel base and stainless-steel handles which make them more durable and easier to handle.
Benefits of Caraway Cookware
1
1
Disperses Heat Quickly and Evenly
Ceramic cookware with an aluminum core can hold and retain heat quite well. This is the case with Caraway pots and pans.
You can cook on a low to medium heat and the pots and pans can still get extremely hot.
All Caraway pieces are oven-safe up to 550 degrees Fahrenheit. Their cookware is also compatible with a broad range of stovetop-types.
2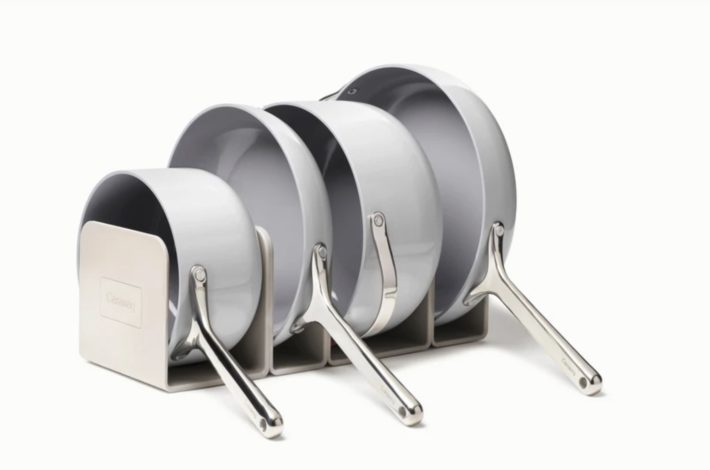 2
Innovative Design
Caraway Cookware teamed up with Box Clever to create the brand's flagship cookware design.
Box Clever is known for its beautiful creations—from cookware to furniture. The creative agency made it a point to design Caraway cookware pieces that were not only beautiful, but also innovative.
The lids are quite solid (not to mention weighty). They have an interlocking design that allows them to sit securely on the pots and pans.
While the lids are not transparent, you can still get a feel for how far along you are with your cooking. Box Clever put a discrete vent on the lids to allow steam to escape from the pans as the food cooks.
The lids have flat, ergonomic handles with finger rests for easy handling, too.
3
3
A Complete Set
The Caraway Cookware set includes four key pots and pans, all in their signature style. These are:
Frying Pan (10.5-inch)
Dutch Oven (6.5-quart)
Saucepan (3-quart)
Sauté Pan (4.5-quart)
The set also comes with three lids for the Dutch oven, saucepan, and sauté pan for simmering and slow-cooking dishes.
The aluminum cookware sets come in dusty, pastel colors like gray, cream, perracotta, sage, and navy.
The cooking surface is a smooth, multi-layer, and mineral-based ceramic coat. Meanwhile, the exterior has a steel base and the same mineral-based ceramic coat.
The mirrored stainless handles give a nice accent to the color of the pots and pans.
4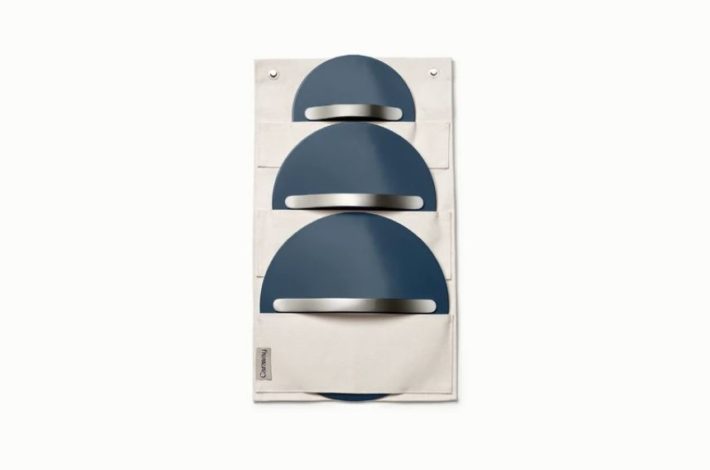 4
Useful Accessories
To keep your kitchen neat and tidy, Caraway provides free storage items when you buy the set. You can have a compact kitchen using a magnetic pan rack and a canvas lid storage sleeve.
The magnetic pan rack firmly holds your cookware in an upright, slanted position. Meanwhile, the canvas lid storage provides an easy access to the lids as it comes with hooks to hang up on your cabinet or wall.
Caraway Reviews
Since Caraway is sold almost exclusively on their online shop, the reviews from customers are limited to what you can find from their website. However to their credit they do feature the negative reviews as well as positive ones.
Overall Caraway Cookware got an average of 4.8 stars out of 5 from 8,328 reviews.
Most of the comments focused on how customers got the peace of mind they needed, knowing that Caraway was free from toxic chemicals and metals.
There are also mentions of how well the ceramic cookware distributed the heat and cooked food evenly. Some customers commended how easy the products were to store and clean as well.
A few reviewers found that their cookware scratched after a few months' use. There were also some mentions of Caraway lids getting extremely hot and touching the handles can be difficult. One customer suggested that Caraway should make the handle of the lid a bit deeper so it wouldn't be an issue.
The vast majority of reviewers loved their cookware's design and functionality:
Piper W. says:

Courtney W. says: 

How Do I Clean My Caraway Cookware Set?
You can handwash your pots and pans with soapy water and a soft sponge to remove dirt or left over food. The non-stick finish of the cookware makes handwashing the pans easy to do.
Dry the cookware set with a soft non-abrasive dish towel. You can also set the pieces on the pan rack provided for them to completely air dry.
Using a dishwasher is not recommended because it can negatively affect the durability of the non-stick coating on the pots and pans.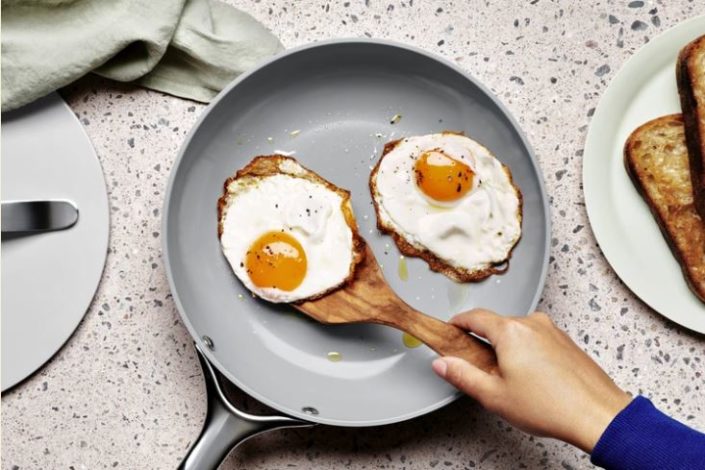 Is Caraway a Good Brand?
Caraway lives up to its promise of providing toxin-free and stunningly designed cookware pieces. This brand may be ideal for anyone looking for:
Modern and sophisticated design
PTFE-free cookware
Non-stick cooking surfaces
Even heating and cooktop/oven versatile cookware
Eco-friendly pots and pans
While Caraway is a relatively young brand, it has grown in popularity and gained positive reviews both from their customers and from big publications.
Its customer service has been reported to be responsive and to have taken care of any customer concerns.
They offer only one collection of key cookware pieces which is available in different colors. So if you want a wide range of ceramic cookware pieces Caraway may not be ideal for you.
Are Caraway Pans Worth It?
Caraway pans are worth it if you prioritize quality design, non-stick and healthy cookware sets that live up to their promise.
Their cookware is on the pricier side as a result of having a sleek design and mineral-based ceramic coating.
However, many people find Caraway sets to be worth it because of the many benefits it offers. They look high-end, and the cooking feels high-end as well.
Best Price on Caraway Cookware Sets
7-Piece Caraway Cookware Set
Save $100 plus free cookware storage accessories:
Caraway Cookware Set: 7 pieces
Caraway Gift Set
Up to 20% Off Caraway Gift Sets: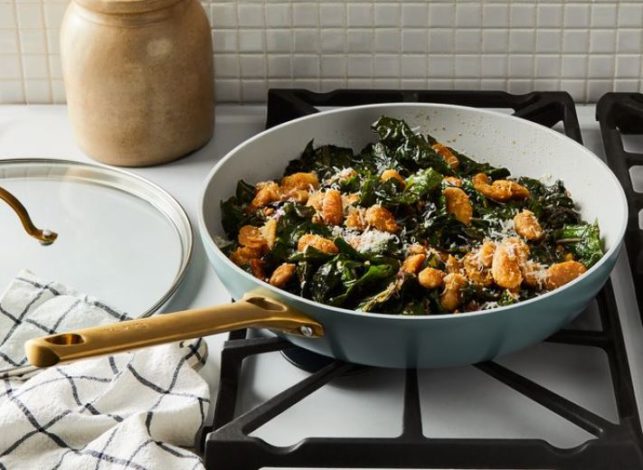 Greenpan Cookware Set Review
What is GreenPan Cookware?
GreenPan is an internationally known Belgian cookware brand that has been in business since 2007. The cookware giant is the brainchild of Wim De Veirman and Jan Helskens.
After they discovered the negative health effects of PFOA, they set out to find new alternatives to Teflon for pots and pans.
GreenPan cookware has many different collections to choose from – each with different cookware pieces – whereas Caraway is focussed on their one signature set.
What are GreenPan Pans Made Of?
GreenPan cookware is made of aluminum covered with a ceramic non-stick coating called Thermolon.
Thermolon is made from a sand derivative and was developed around 10 years ago. It is used on the surface of the pans to make a non-stick coating that is PFAS and chemical-free.
The coating is also more environmentally friendly to create than traditional non-stick pans, using less CO2.
It also stays heat resistant, even at very high temperatures. So the pans won't release toxic fumes if they're accidentally overheated.
GreenPan's cookware sets come in neutral and pastel colors, including gray, black, turquoise, and light blue. You can also opt to buy their colorless ceramic set.
The pots and pans have durable anodized bodies. Some sets have oven-safe stainless-steel handles, while others have rubberized handles. The sets come with look-glass lids.
Benefits of GreenPan Cookware
1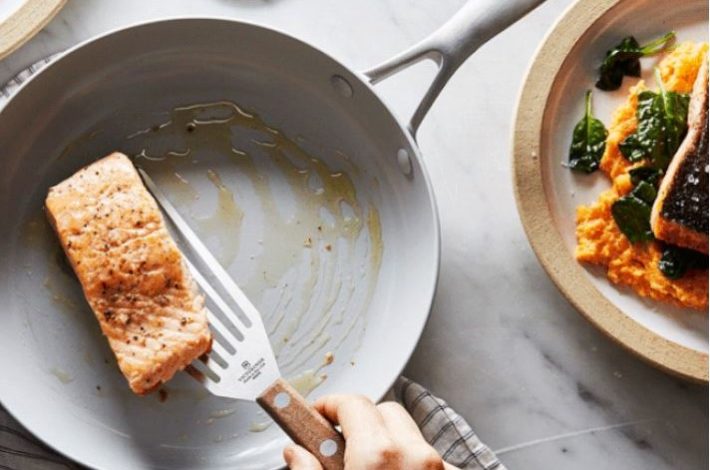 1
Hard-Anodized Aluminum Heat Plate
Since its base and body are made of aluminum, GreenPan cookware pieces are excellent conductors of heat, just like Caraway's.
What's different, however, is that GreenPan uses hard-anodized aluminum.
Hard-anodization is when the aluminum is treated to make it stronger.
It is placed in an acid bath and electrical charges are used to turn the surface into 'aluminium oxide'. This process would happen naturally over time, but the hard-anodization process speeds it up.
The result is a surface that is stronger, harder and smoother. Hard-anodized aluminum is more chemically stable and less porous which also means it does not react with foods when heated.
2
2
Magneto Induction Technology
GreenPan Cookware boasts of an energy-efficient induction base which works on all stovetops.
It has Magneto induction technology that allows pots and pans to heat quickly and evenly.
Like Caraway, each GreenPan piece helps you to save energy as you don't need high amount of heat when cooking.
3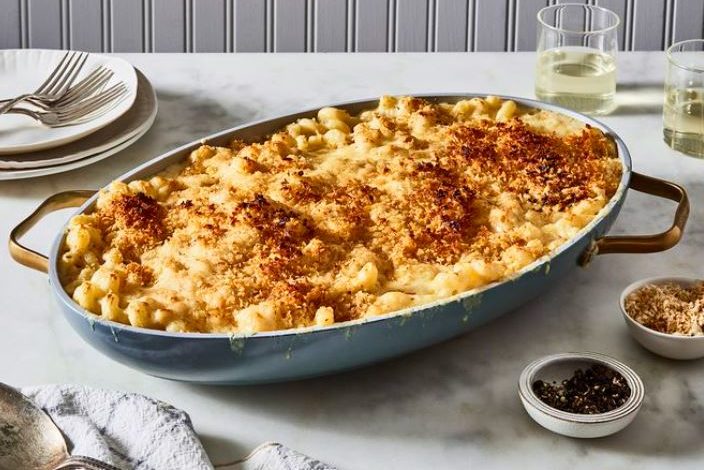 3
Oven-Safe Handles
You can use GreenPan Cookware pots and pans in your oven.
The cookware's oven-safe handles are rated for up to 400 degrees Fahrenheit (or 200 degrees Celsius).
GreenPan Pros and Cons
In summary these are the pros and cons of the GreenPan cookware collection:
Pros
Hard-anodized aluminum: for stronger cookware that's less reactive to food.
Used on any stovetop: cookware is suitable for all stovetops including induction hobs.
Free from: cadmium, lead, PFAs, PFOA and PTFE
Dishwasher-safe: some models can be put in the dishwasher.
Oven-safe: handles safe to 400 degrees Fahrenheit.
Cons
Stains: stains can develop from specific foods.
Which GreenPan Set is the Best?
All GreenPan sets offer non-stick surfaces which are PFOA and PTFE (Teflon) free.
Which set you go for depends on the cookware pieces that you want and the design that you prefer. These are a few of their most popular collections:
GreenPan Venice Pro Non-Stick Cookware Set – This comes in a 10-piece and 7-piece option. The full collection has a casserole (5-quart), a 3-quart sauté pan, 2 sauce pans (3-quart & 1.5-quart) – all with glass lids – plus 2 fry pans (8-inch & 10-inch). The Venice collection is a Thermolon ceramic cookware collection suitable for all stovetops, including induction.
See latest offers: GreenPan Venice Pro 10-Piece Nonstick Cookware Set
GreenPan Valencia Healthy Ceramic Non-stick Cookware Set – This set includes a Dutch oven (5-quart), covered skillet (3-quart), three fry pans of different sizes (8″, 9.5″ and 11″), and two saucepans (2-quart and 3-quart). The Valencia collection is a Thermolon ceramic cookware collection suitable for all stovetops, including induction.
See latest offers: GreenPan Valencia Nonstick 11-Piece Cookware Set
GreenPan Full Nonstick Cookware Collection – Here you can create your own collection. You can choose between 8, 10, 11 & 12″ skillets, saucepans, sauté pans, oval roasting pans, covered grills and stock pots with a steamer insert. They also offer an pre-selected 8-Piece Cookware set with a selection of these items, which are all non-stick:
See latest offers: GreenPan 8-Piece Non-Stick Collection
If you're looking for something else, you can check all of GreenPan's sets here: GreenPan cookware collections.
How do I clean my GreenPan Cookware Set?
Some models are dishwasher safe. However, GreenPan doesn't recommend dishwashing the pieces because it may wear out the cookware surfaces over the years.
The non-stick properties of ceramic coatings gradually fade with repeated dishwashing due to the harsh dishwasher detergents that are used.
Like Caraway, you can wash the pan with soapy water using a soft sponge or cloth. Don't use steel wool or scratchy pads.
Once you're done cleaning, dry the pans with a soft towel.
GreenPan Reviews from Customers
GreenPan Cookware has several collections online, all of which had high ratings of over 4 stars out of 5.
Their Valencia collection for example, received 4.6 out of 5 stars from 745 global reviews.
Most customers found GreenPan to be one of the best non-toxic cookware brands and purchased it after doing extensive research online. They liked it because it offered both convenience of use – being light, easy to use and non-stick – and health as it was free from chemical coatings.
There were a few complaints about the pans losing their non-stick ability after a few months or developing stains, so it's important to follow the cleaning guidelines for each set.
However most customers who reviewed GreenPan were happy with their pans and how they were performing.
Here's what a few customers had to say:


Is GreenPan worth the money?
Overall, we think GreenPan Cookware is worth the money if you want the convenience of non-stick cookware, but the assurance that there are no toxic chemicals on the cookware surface either.
GreenPan offer a variety of cookware sets at different prices ranging from $149.99 to $649.99. This wide selection allows you to choose the cookware set that best suits your budget.
GreenPan Offers
For US orders:
Venice Pro 10-Piece Set
Valencia 11-Piece Set
Non-Stick 8-Piece Collection
For UK/EU orders:
GreenPan Mayflower Collection
GreenPan Cambridge Collection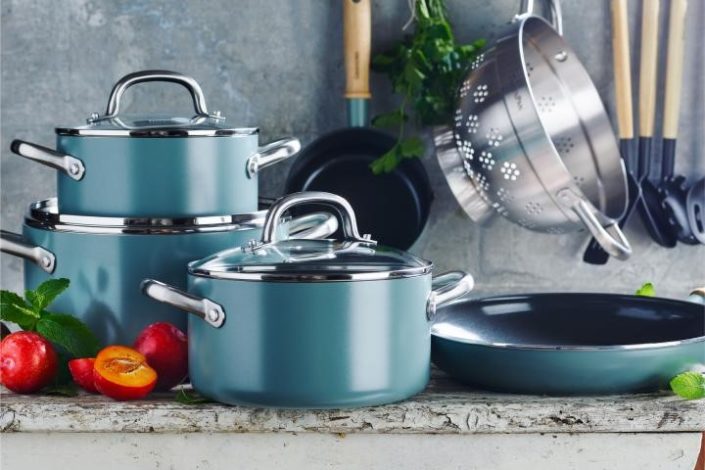 Which is Better, Caraway or GreenPan?
It's difficult to choose the better brand because both companies offer the convenience of non-stick cookware without the chemical-coatings, and each has their own core strengths.
GreenPan offers a greater variety of options as it has a large number cookware sets to choose from. So if you're very particular about the cookware pieces that you want, or you like to have variety, GreenPan could be the better option for you.
They also use hard-anodized aluminum to make their cookware tougher and less reactive to the food. This means that their pots and pans could have a longer lifespan than other cookware brands.
However some GreenPan customers found that the non-stick coating wore off sooner than they would have hoped. How long the coating lasts also depends on how well you can maintain the set.
On the other hand, Caraway Cookware has just the one signature cookware set, which they are famous for because of its innovative design.
It feels like designer cookware, but the design features also have a purpose. The rolled pan pouring edges, ergonomic handles, and interlocking and vented lids can all help cooking to be easier and enjoyable.
Caraway offer helpful accessories that come free with their cookware sets, like the fabric lid holders and the magnetic pan racks.
Despite the differences between them, both brands offer pans that are free from toxins and chemicals like PFOA, PTFE, lead, and cadmium.
In doing so they have become two of the best options for non-toxic pots and pans that are also non-stick, so either one would be a good option to try.
After all, living healthy starts with cooking in a healthy pan.
Best Price on Caraway Cookware Sets
7-Piece Caraway Cookware Set
Save $100 plus free cookware storage accessories:
Caraway Gift Set
Up to 20% Off Caraway Gift Sets:
GreenPan Offers and Best Prices
For US orders:
Venice Pro 10-Piece Set
Valencia 11-Piece Set
Non-Stick 8-Piece Collection
For UK/EU orders:
GreenPan Mayflower Collection
GreenPan Cambridge Collection
Caraway Cookware FAQs
How long does Caraway cookware last?
The lifespan of your Caraway cookware set depends on how well you take care of it. It can last about five years or more.
When should you replace your cookware?
One rule of thumb is to replace your cookware set once the pieces started looking warped, scratched, or discolored.
Is Caraway Cookware induction compatible?
Yes Caraway cookware can be used on induction hobs as well as other kinds of cooktops.
Can I buy an individual Caraway pan?
Yes, you can buy individual pans. However, you can save 14% by buying the entire Caraway Cookware set.
Will Caraway Cookware warp?
It's unlikely for Caraway Cookware to warp, but it's still possible if you expose it to sudden changes in temperature. Placing an extremely hot pan in a sink with very cold water can cause warping.
What types of utensils can I use with Caraway Cookware?
Using silicone, nylon, plastic, wooden and non-abrasive utensils is recommended to keep the integrity of the non-stick ceramic surface.
Best Price on Caraway Cookware Sets
7-Piece Caraway Cookware Set
Save $100 plus free cookware storage accessories:
Caraway Cookware Set: 7 pieces
Caraway Gift Set
Up to 20% Off Caraway Gift Sets:
GreenPan Cookware FAQs
Can you use olive oil on GreenPan?
It's advised to avoid using virgin olive oil as it can't withstand high heat. Note that olive oil can leave a thin carbonized layer on your non-stick pans. This residue build-up or layer can be difficult to scrub off, which can damage the pan. Instead of olive oil, you can use peanut, sunflower, or coconut oils. You can also use butter if you want to.
Can you boil water in GreenPan cookware?
Yes, you can boil water in GreenPan cookware. Many customers boil water to make pasta in the pots and pans.
Why do GreenPan pans need less heat than other non-stick frypans?
Thermolon is a better heat conductor than most traditional non-stick coatings in frypans. Traditional non-stick coatings block heat, that's why they cook unevenly.
How long does GreenPan last?
GreenPan should last for a number of years if cared for correctly. However some customers found that their pans lost their non-stick qualities after just 4 months. This could be a case of the pans being washed too abrasively, so we would always recommend to follow the cleaning guidelines.
Is GreenPan safe to cook food for pets?
Yes, GreenPan cookware pieces are completely safe to use to cook food for your pets, including food for birds. They don't release toxic fumes at all, so cooking for literally anyone or anything should be harmless.
GreenPan Offers
For US orders:
Venice Pro 10-Piece Set
Valencia 11-Piece Set
Non-Stick 8-Piece Collection
For UK/EU orders:
GreenPan Mayflower Collection
GreenPan Cambridge Collection