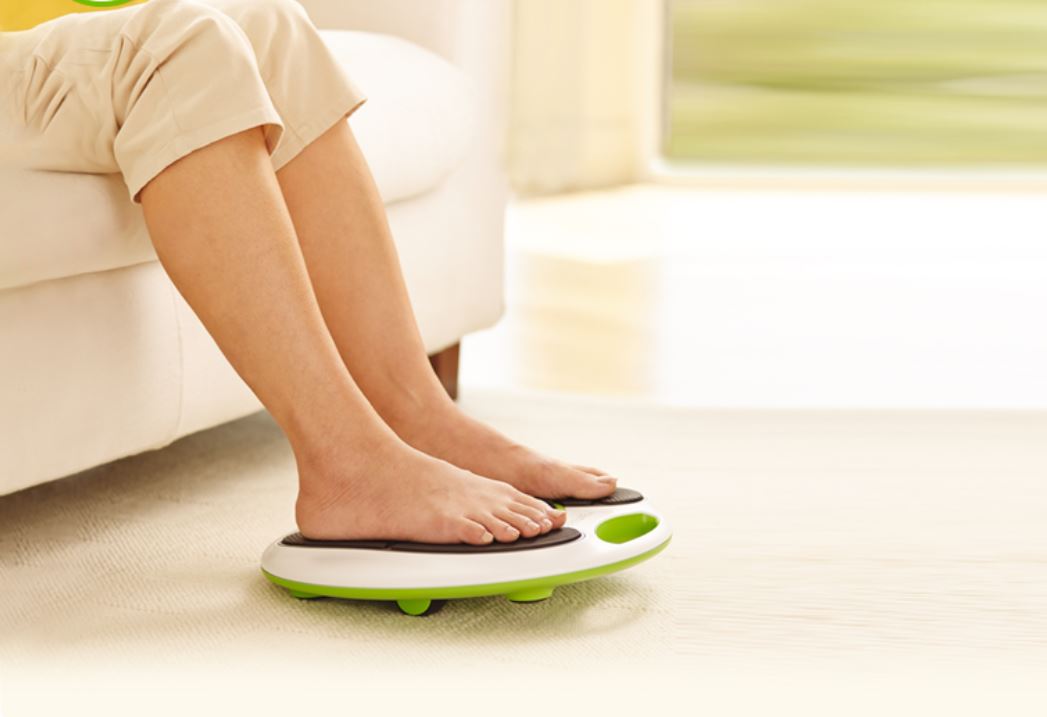 When you have arthritis or circulation problems, the constant pain and swelling in your feet and legs is often hard to manage. 
It can end up significantly affecting your lifestyle. Preventing you from doing the things you love, whether it's walking, going out in nature, or even seeing friends. 
A circulation booster like Revitive aims to help with this pain and to reduce the discomfort in the legs and feet. It does this by increasing blood circulation in your legs.
This enhanced circulation can reduce swelling as well as soothe leg aches and cramps. 
But how effective is Revitive? Here we review this popular circulation-boosting device to help you assess whether it really works. 
First, a little more about what it does and how it does it.
What is a Circulation Booster?
A circulation booster is a medical device that can help increase the circulation of a user's feet and legs. It uses Electrical Muscle Stimulation (EMS), which means the device is also drug-free. [1]
EMS helps contract and relax the user's muscles. The contractions help pump blood into the legs and feet—imitating the way the circulatory system works. This can increase the blood flow in the user's legs and feet.
Users of circulation boosters found that by increasing blood circulation, they experienced relief from muscle ache and reduced swelling in the legs and feet.
How Does the Revitive Circulation Booster Achieve Its Results?
Revitive works similarly by delivering Electrical Muscle Stimulation to your feet and legs.
The EMS comes from a pair of cushioned footpads that you place your feet on. 
The EMS causes contractions in the muscles of the calf and foot. These contractions help improve the circulation in the lower legs.
Revitive is also capable of delivering EMS to other parts of the body using body pads, which come included with the device.
These pads can be stuck onto affected areas and can stimulate the knees, back, arms, and shoulders.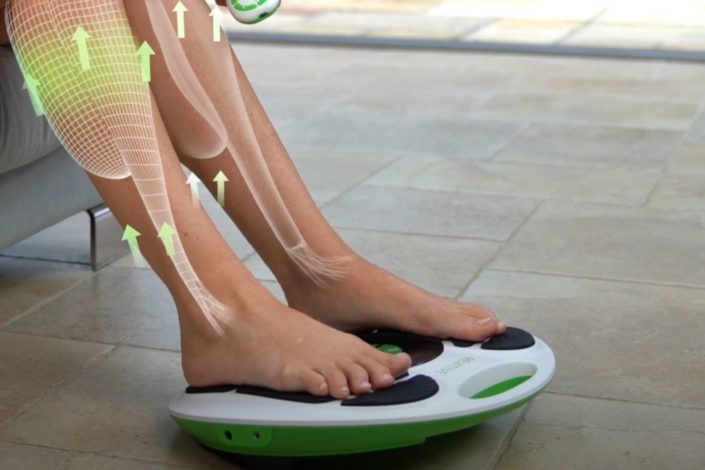 Special offer: Revitive
What Conditions Can Revitive Help With?
Revitive helps to strengthen muscles and to improve blood circulation. So any symptoms related with illness that cause or lead to poor circulation could potentially be helped by using Revitive.
These include high blood pressure and diabetes, which are not normally associated with circulation-boosting devices.
Revitive can also help with general pain and swelling in the lower legs, which could be from a number of causes:
Lower leg pain and cramps

Swollen legs and feet

Osteoarthritis

Diabetes

High blood pressure

High cholesterol

Peripheral Arterial Disease (PAD)

Varicose Veins 

Chronic Venous Insufficiency (CVI)
It's also a great solution for those who don't have a medical condition but who have a general feeling of tiredness in their legs and feet.
What Are the Benefits of Revitive?
Some of the benefits you could experience when using Revitive include:
Reduced leg pain and cramps:

 which prevent you from doing daily activities like walking. 

Reduced swelling:

 in particular in the feet and ankles.

Increased circulation:

regular use of the device can increase circulation in the treated areas.

Improved muscle strength:

 by exercising the muscles, Revitive can improve muscle strength. Our muscle mass starts to decline after the age of 30, and this can lead to muscle weakness over time. Revitive can help slow down that process by providing daily stimulation. 

Increased flexibility:

 Revitive can help improve your range of motion even if you don't perform strenuous exercises.
Which Revitive is Best?
Revitive has several models available in the US, but the Revitive Medic is their best known and most popular. It can offer relief for lower leg pain, increased circulation, and reduced swelling.
They also have their Revitive Medic Knee, which specifically targets knee arthritis or osteoarthritis.
Revitive Advanced is a simpler version of the Revitive Medic and is better for those who have milder symptoms of tired feet with some swelling.
Here we look at the Revitive's US models, but if you're interested in the Revitive UK range you can found out more about these devices in our article: Revitive UK Medic Review.
Below is a summary table of how the three main Revitive US models compare.
Revitive US: Advanced vs Medic vs Medic Knee
Model
ADVANCED
MEDIC
MEDIC KNEE
Technology Used
Electric Muscle Stimulation
Electric Muscle Stimulation
Electric Muscle Stimulation
Helps with
Tired feet
Some swelling
Leg pain and cramping
Swollen feet
Stiff or weak muscles
Conditions related to poor circulation
Osteoarthritis
Knee pain
Thigh and lower leg pain
Joint stiffness
Muscle strength
Conditions related to poor circulation
Areas it treats
Feet and ankles
Lower leg
Feet and ankles
Lower leg
Thigh muscles (using body pads)
Feet and ankles
Lower leg
Thigh muscles (using body pads)
Knee joints
Price
$249.00
$329.00
$349.00
Monthly Payments
Yes.
4 x $62.25
Yes.
4 x $82.25
Yes.
4 x $87.25
Cordless operation
No it is a corded device.
Yes up to 7 days between charges.
Yes up to 7 days between charges.
Drug free
Yes
Yes
Yes
Pads included
Body pads
Body pads
Body pads
Thigh pads
Free Trial
60-day home trial
60-day home trial
60-day home trial
Review Summary
4.3 out of 5 stars from 2,053 reviews across 3 websites
4.1 out of 5 stars from 3,065 reviews across 3 websites
4.6 out of 5 from 382 global ratings
Special Offers

Revitive Advanced

Revitive Medic
Revitive Medic Knee
All three devices come with the following included in the package:
Revitive device

User Manual

Power Adaptor

Remote Control

Body pads and cord
Additional Guarantees
Two Year Warranty
Revitive offer a two year warranty on their devices. Terms and conditions are provided with the device. This gives you added peace of mind that a replacement could be provided if the device breaks down.
Revitive Offer a 60-day Trial
Revitive also offer a 60-day trial of their device, within which time it can be returned. That way, you can be sure that you are happy with the device over a longer period of time.
$25 Bonus
You can claim a free set of body pads, worth $25 with every device.
You can find their latest offers here: 
Special Offer on Revitive:
They also offer a free 60-day trial on all devices.
Revitive Circulation Booster Claims and Features
We've taken a closer look at some of the claims and features of the Revitive Circulation Booster Device, so you can get a better idea of how it can benefit you. 
1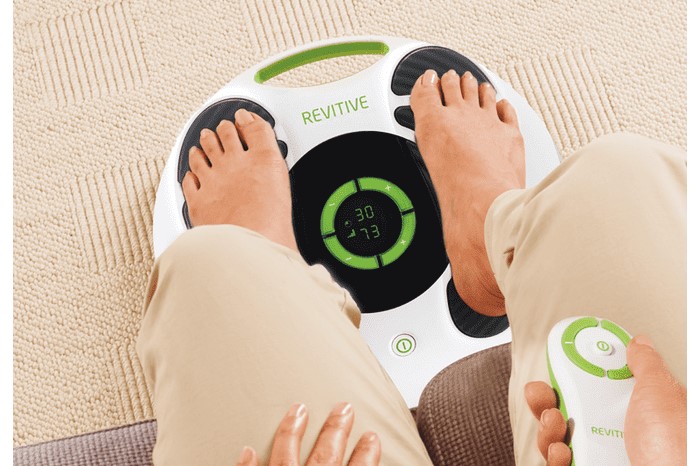 1
Device is Compact and Portable
With a 14-inch diameter and weighing around 3 pounds, the device is easy to carry.
You can even take your Revitive with you when you travel. 
Other circulation boosters in the market have bulky and space-consuming designs. In comparison, the Revitive can be moved around and stored away easily. For example in a small closet or under the bed. 
2
2
Wide Range of Intensity Levels Offered
When you look at other circulation-boosting devices, you'll notice that most of them have intensity settings.
These settings will allow you to adjust the device's intensity to suit your comfort level and needs. Most of the time, you'll have the choice between 1-5 different setting levels. 
Revitive allows you to choose intensity levels between 1 and 99. So you get a significantly wider range of strength options. 
Why is this good for you?
It means that you can choose the intensity level that best suits your body and which gives you the best results.
Revitive advise that you should always start at the highest setting that you can tolerate comfortably.
You can then gradually build up the intensity as your body and muscles become accustomed to the device.
The wide range of intensity levels also means that Revitive can be useful for other family members who use the device. It allows them to choose the intensity level that suits them. 
3
3
FDA-Cleared Medical Device
Revitive is an FDA-approved Class IIA medical device.
Being FDA-cleared is a guarantee that Revitive has passed testing and is approved for use to help with the conditions associated with poor circulation.
Although other products in the market claim to help improve circulation, many of them don't have FDA clearance. 
If you plan on buying a product that can affect your health, buying one that's tested by the proper authorities is always the smart thing to do.
4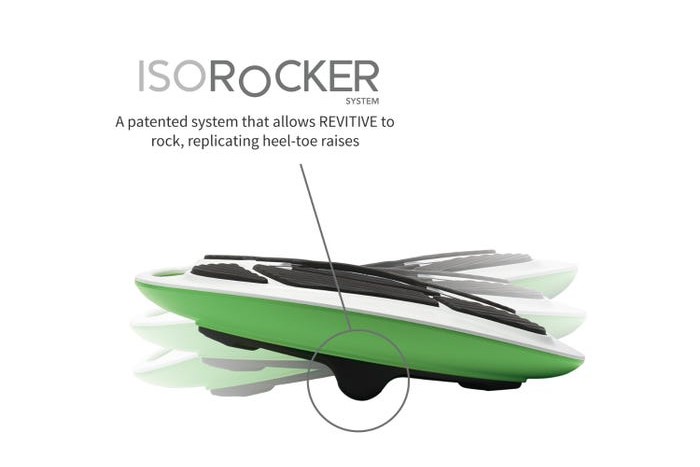 4
Patented Technology
Revitive uses patented technology to help you deal with circulation and joint problems.
Their patented isoRocker is what makes your feet rock forwards and backwards on the device.
It helps to keep the joints moving in a similar way to how they move when walking. But in a much gentler motion. 
Patented technology is something that a company develops independently. It shows that Revitive has invested in its product and in the research behind it.
5
5
15 Stimulation Patterns
Revitive uses a variety of EMS patterns to keep your muscles stimulated over time.
This is so that your muscles are less likely to build up a tolerance to a particular frequency.
Instead, there are 15 stimulation patterns to choose from. These are called 'Widepulse Waveforms'.
They keep your muscles challenged even with regular use of the device. 
6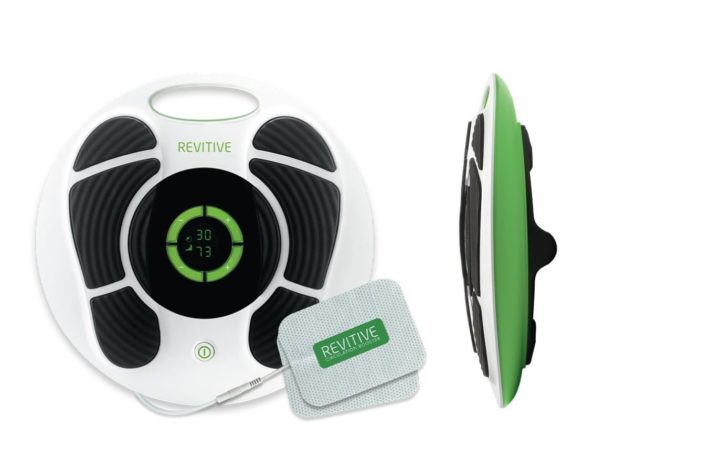 6
3 Models Available for Different Health Concerns
Unlike other circulation devices in the market, Revitive offers different models. This allows you to select the model that will suit your needs and preferences best.
You can choose a simple device that's great for daily use against leg fatigue and occasional swelling – Revitive Advanced.
Or you can buy one that can help relieve continued swelling on your feet and more constant pain in the legs – Revitive Medic.
The company also offers a model that can help specifically with OsteoArthritis of the knee and stimulation of the thigh muscles – Revitive Arthritis-Knee.
Revitive Pros and Cons
Just like any other medical device, Revitive has its advantages and disadvantages. Here's a quick look at the pros and cons of using Revitive:
Pros

Cons

Revitive is easy to use
It might be expensive for some. They do offer a 4-installment payment plan.
Chemical and medicine-free
It is not a permanent cure for circulatory problems.
Revitive can help relieve pain
It may not be sufficient for all users.
Revitive can help relieve swollen feet
Revitive is safe for daily use
Portable device
Special Offer on Revitive US Models:
They also offer a free 60-day trial on all devices.
Special offer: Revitive US
Revitive Medic Reviews
The Revitive Medic scored an average of 4.1 out of 5 stars from a total of 3,065 reviews across three websites.
The majority of reviewers found that the device helped relieve the pain and swelling in their legs.
They loved how this allowed them to get out more and do the things they wanted to. Others used the device to prepare for a special event that they wanted to feel their best for.
A few users also reported that the device helped them to get better sleep as they had less pain.
In terms of improvements, there was one reviewer who found the power cord to be too short. However, the Revitive Medic is now cordless and can go up to 7 days between charges.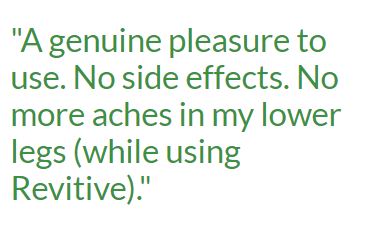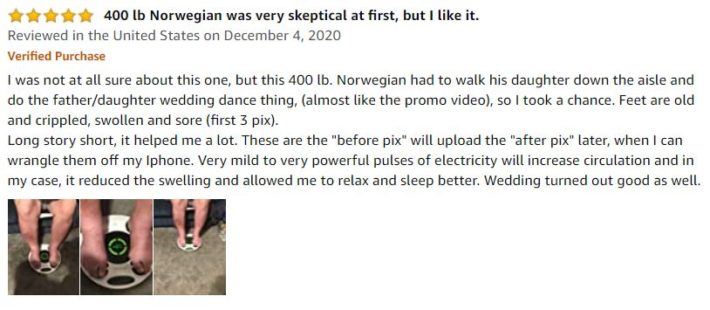 Special Offer on Revitive US Models:
Free 60-day trial on all devices.
Free set of body pads worth $25 and free delivery.
Does Revitive Work?
Revitive does work as shown through the results of the clinical studies performed on Revitive, together with the thousands of positive customer reviews. It has the ability to reduce pain, discomfort, and swelling in the legs and other areas.
Many customers found that the circulation booster helped them to sleep better without waking up to painful muscle cramps. Some reviews pointed out how the device helped them walk with less pain than they would normally experience.
Studies have also shown a significant improvement in the blood circulation of the feet and legs when using the device. 
Revitive is one of the few circulation boosters which are FDA-approved and which use their own patented technology.
The company offers two years standard warranty with each device. They also offer a 60-day risk-free home trial. This means that if you used the device for 60 days and didn't like it, you could return it.
All in all, if you are suffering from pain and swelling in your legs, then the Revitive Medic may be worth trying. It's an affordable device that can have a big effect on a user's pain and comfort levels. 
Special Offer on Revitive US Models:
They also offer a free 60-day trial on all devices.
Offer on Revitive UK Models:
To read more about Revitive UK's Medic range, see our article focussed on the UK models here: Revitive UK Medic Review.
Revitive Circulation Booster FAQs
Is Revitive good for arthritis?
Revitive can be effective against arthritis. However, if you are looking for a product that specifically targets arthritis, you might want to try Revitive's Arthritis Knee. It has pads that you can place on the affected areas. It can help directly stimulate the thighs and areas around the knee where stiffness and swelling occurs. 
How often should you use Revitive?
You should use Revitive at least once a day. Each session with the Revitive should be between 20 to 30 minutes long. 
Can I use Revitive with high blood pressure?
If you have an existing medical condition, including high blood pressure, consult your doctor before using Revitive. 
Is Revitive circulation booster any good?
Yes, Revitive Circulation Booster is a great product. With regular use, it can help improve your blood circulation in the affected areas. It can also help relieve swelling and alleviate pain. 
Who should not use Revitive?
You shouldn't use the circulation booster device if you are:
Pregnant

Have an electronic implant like a pacemaker or an AICD

Are currently being treated for existing deep vein thrombosis
Can you overuse Revitive?
The recommendation is to use Revitive up to twice a day daily. If you plan on using Revitive more than twice each day, consult your doctor before doing so.
Does Revitive help with leg cramps?
Yes, Revitive can help you if you're suffering from leg cramps and can reduce leg pain. 
Who founded Revitive?
Revitive's mother company is Actegy Health, which was founded by Josh Penny and Roseanna Penny. Actegy Health is a family-owned company, started in 2003. 
The company's primary mission is to design, develop, and market medical devices that can positively impact consumers. Actegy Health aims to provide drug-free health solutions to the market.
Revitive launched its first Circulation Booster in 2005 in the United Kingdom. 
Special Offer on Revitive US Models:
They also offer a free 60-day trial on all devices.
Offer on Revitive UK Models:
To read more about Revitive UK's Medic range, see our article focussed on the UK models here: Revitive UK Medic Review.