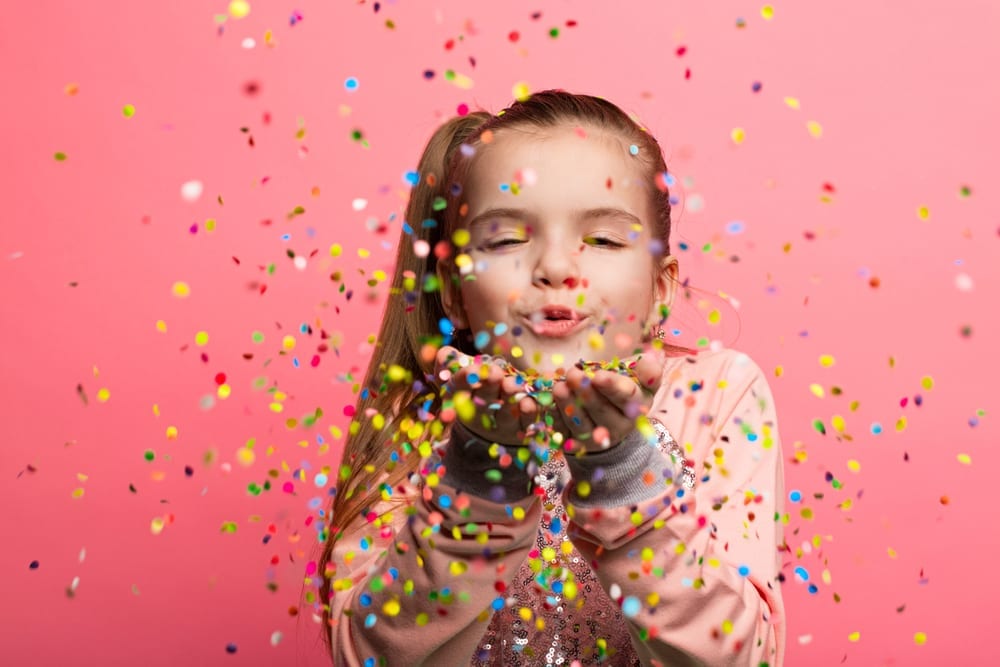 We all want our little birthday girl or boy to have an amazing birthday party.
And number one on our list, when we're planning it all, is to keep all the party guests entertained. 
Luckily there are now loads of fabulous kids party packages available. From animal petting parties to pop parties, we've wrapped up 20 of the best kids party entertainment ideas around.
1
1
Animal zoo parties
There are lots of kids party animal zoo packages where animals can be brought to your party venue for the kids to learn about and hold. 
Your party guests can stroke rabbits, hold a hen, meet a lizard and even be brave enough to let a tarantula sit on the palm of their hand. 
2
2
The glam squad
Beauty salons and freelance beauty services can offer kids pamper parties. They will come to a venue of your choice and do some glam make-overs on your party guests – doing nails, hair and make-up. 
A great choice for older kids, tweens and teens! 
3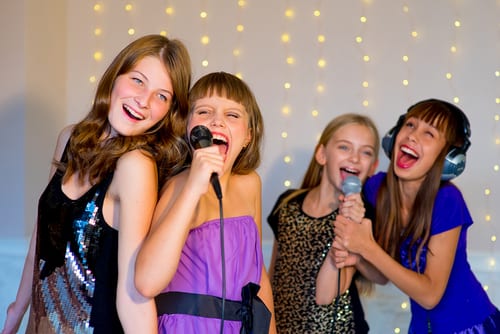 3
Karaoke parties
If your child is a bit of a pop prince or princess they may love a singing party. 
Karaoke bars often hold daytime kids parties, where you can book a booth and let the kids sing to their heart's content, with lots of snacks and drinks to hand. 
Or you can book recording sessions, where all your guests will practice singing a pop song and then get it recorded to take home.
4
4
Dramarama
Lots of local drama classes also run drama parties. 
Kids get to play lots of games, listen to stories and then have fun acting them out! 
They can even play out silly scenes and join in fun group dances.
5
5
Swimming parties
Most swimming pools offer party packages, where you can book exclusive use of the pool. 
They might also set up inflatables for your guests. They will most likely require a responsible adult or two to get into the pool to supervise younger guests. But a pool party can be a great hit and loads of fun for kids!
6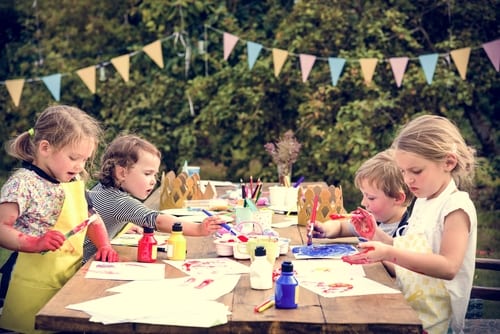 6
Arty parties
There are a huge range of arty party options available. 
You can book pottery painting parties, jewellery making parties, decorating parties – where they can paint and decorate items such as their own treasure chest – and even decoupage parties, where the kids get to decorate a paper mache animal with pretty papers.
Some art party companies even bring huge rolls of painting paper that they tape down onto the floor or garden paving stones, so that younger kids can go wild on and try different painting techniques and drawings on.
Great fun for little artists!
7
7
DIY party entertainment with group party games
Sometimes retro parties with good old fashioned party games, jelly and ice-cream are the best. 
They can also save you a ton of money that you would otherwise spend on hiring entertainment. 
The downside? You have to provide all the entertainment yourself.
But – we've made it easy for you by putting together 15 fun and fab party games to keep all your party guests entertained!
8
8
Soft play parties
Almost all soft play centres offer party packages, where all your guests can play to their heart's content and then be treated to a party tea in a V.I.P area. 
Great for younger kids who just want to bounce around and play with each other. And they're so tired they're almost guaranteed to pass right out to sleep that evening!
9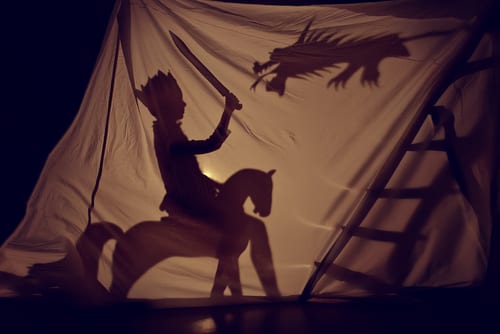 9
Puppet shows
Kids love a great puppet show. 
You can book entertainers who will set up and deliver a fun puppet show to keep your party guests giggling and shouting out in excitement as they watch the story unfold.
10
10
Bouncy castles
Giving your party guests a place to burn off excited energy is always a good thing! 
You can hire bouncy castles that will be set up at your venue for your little guests to bounce around on and have some free play fun together.
11
11
Mad scientist
For something a bit different, wow your party guests by booking a mad scientist. 
There are now more and more mad scientist entertainers who can come to your venue of choice to show the kids some cool science experiments.
They will end the day amazed!
12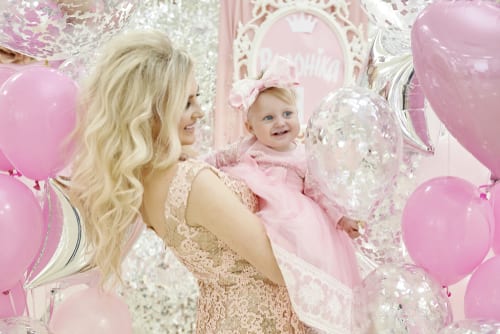 12
Princess and superhero parties
Imagine if  Elsa from Frozen, Spiderman or even Peppa Pig made an appearance at your child's party? 
You can make that dream a reality by booking their favourite character to turn up at the venue of your choice. 
They often lead songs and games to entertain the guests too.
13
13
Pizza party
Little chefs can have loads of fun by making their own pizza dough and adding the toppings of their choice before cooking them in a pizza oven. 
Pizza parties are offered by many big pizza restaurant chains and are great fun for little foodies.
14
14
Bath bomb parties with a fizz
Stores like Lush offer bath bomb and soap making parties, where party guests can create and take home their own pamper products.
15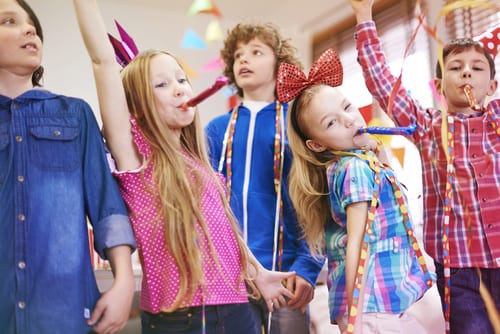 15
Dance parties
Older children might be less interested in kids entertainers and want a more grown-up party. 
This is where kids party DJs can be a godsend. They will get all the guests up on the dancefloor and make sure everyone boogies the evening away. 
Some dance party packages even offer little dance move activities to keep everyone jumping away.
16
16
Slime making fun
The slime craze is not slowing down and now you can book slime making parties for kids. 
They can all get stuck in and make and play with some magical slime. Oozy, groovy fun.
17
17
Magicians 
A sure-fire way to keep party guests entertained is to book a magician. Look for a local one with the best reviews, who has a whole host of tricks and jokes to amuse little party guests.
18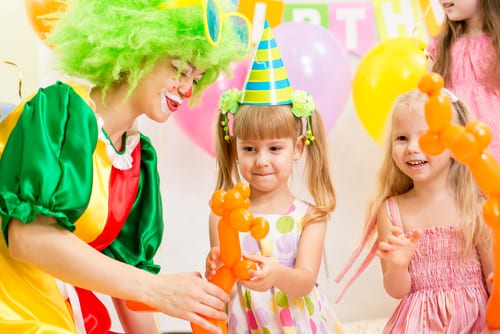 18
Balloon modellers
An added entertainment idea for a party is to hire a balloon modeller. They can twist and turn balloons into animals, swords and crowns to thrill the pickiest of party guests.
19
19
Face painting and glitter tattoos
A face painter is always a hit at a party. Little guests will be thrilled to get their faces painted with butterflies, spiderman masks, flowers and animals. 
Many also provide glitter tattoos which are fun as they're so quick to do. Kids don't have to wait so long in line to get theirs done, and there's usually a huge selection of designs for their temporary tattoo so that they can wear it with pride!
20
20
Storytellers
A good storyteller will have all your party guests in the palm of their hands as they amaze and enthrall them with a well-spun yarn. 
Many bring along puppets, props and music to engage little people further into the story.
There are so many great ideas for kids party entertainment out there. 
We advise booking early as they are often popular and can be booked up in advance. 
Once you've booked you can relax, knowing all your party guests will be entertained and all you have to do is provide a party tea and a birthday cake. Easy peasy. Enjoy.