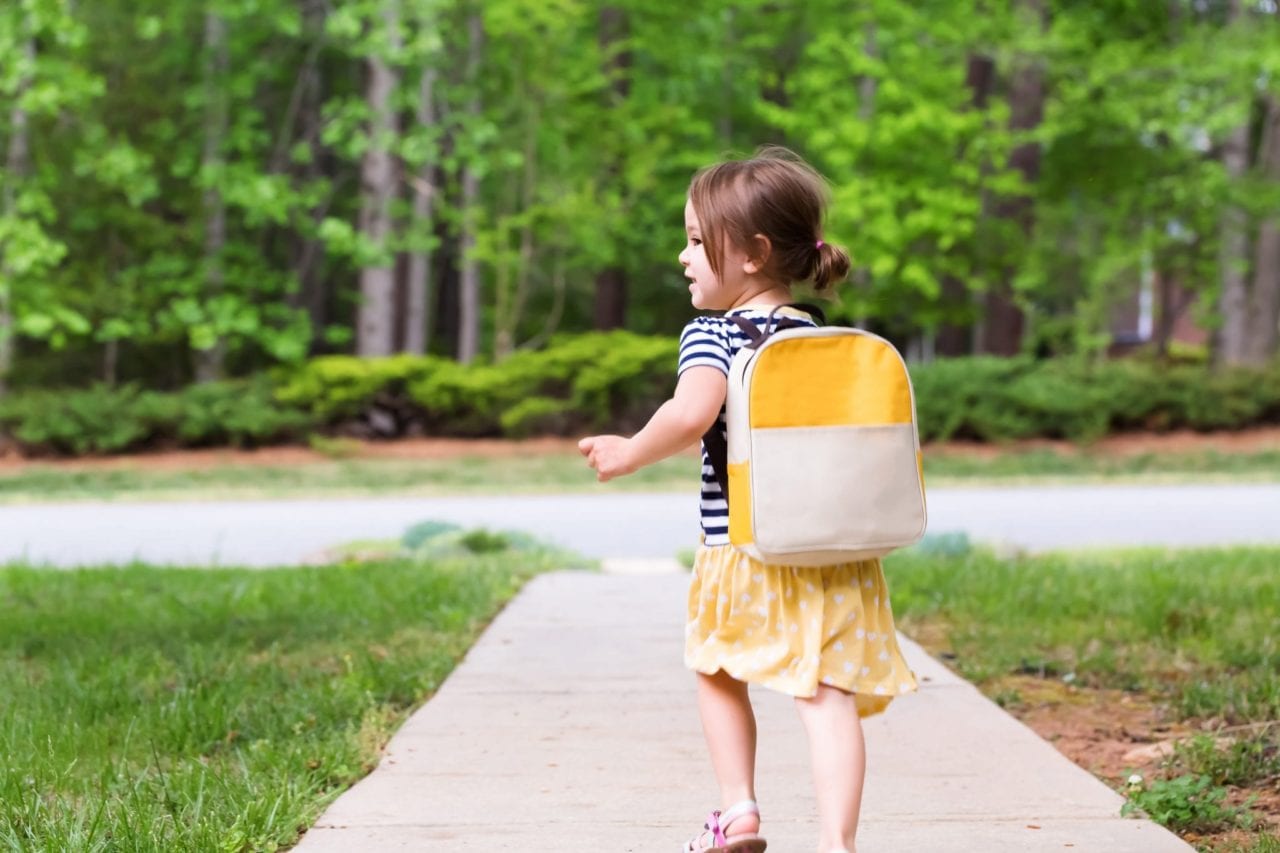 Starting nursery school is a new and exciting time in your child's life but it's also the end of an era and a time of huge change for you both.
Until this moment you have probably spent almost every waking moment (and a fair share of night time moments too) by your child's side.
The thought of waving them off into a room of (as yet) virtual strangers is bound to make you both feel more than a little bit wobbly.
Before the first day of nursery so many worries can whir through your mind:
What if he sobs uncontrollably when you leave?
What if his keyworker forgets to give him his blanket at naptime?
What if he doesn't play with the other children and just cries until you come to pick him up?
And then at 3am you are awoken with a different fear altogether:
What if he doesn't bat an eyelid when you leave him?
What if he loves his keyworker more than you?
What if her prefers being at nursery than being with you?
Starting nursery stirs up a whirlwind of emotions and so we've put together 16 top tactics for starting nursery school, to help make the transition easier.
Before the first day
1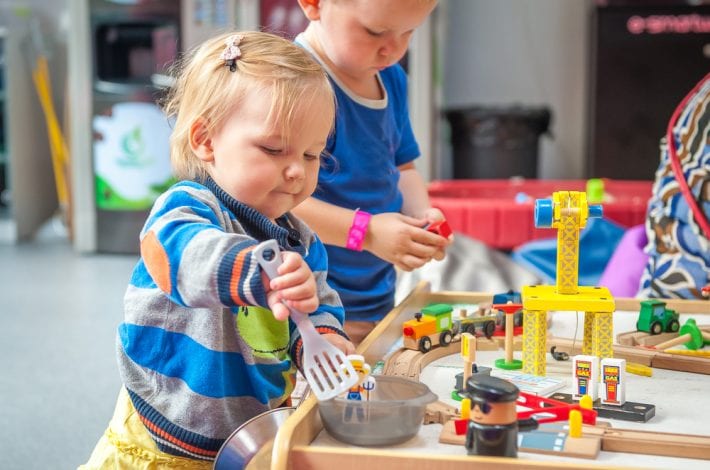 1
Make a list and tour the nursery schools in your area
If you are choosing from a list of potential nurseries then do some initial groundwork by going along to their tours or open days, and asking plenty of questions.
Try to find the right fit for your child's character and also for you. Look and see how happy the children already at the nursery look, how happy and involved the carers are, how easy the commute will be.
Don't be shy to ask as many questions as you can think of so that you can get a clearer picture of how things work there.
2
2
Get to know the nursery staff
Once you've chosen your nursery, your fist visit is your chance to meet the nursery staff who will be looking after your child. Make the most of it and ask any questions you have.
Tell them everything and anything about your child. Tell them about your child's sleeping and eating habits, about their favourite songs that help them fall asleep, their favourite toys. The more they know the more they can meet their needs.
Also ask about their settling in procedures. Like the first day – what you should do upon arrival and how long you should stay. If your child cries or is very upset when you first leave him, what do they suggest you can do?
They might be open to your phoning in shortly after leaving your child at the nursery school for the first time, to check they have settled in OK. Or they might have other procedures in place to help reassure you.
3
3
Share photos and books about the nursery school with your child
Before the big first day show your child photos of the nursery from their brochure or from the nursery website.
They might be able to see photos of the nursery teachers who will be looking after them and learn their names.
They may also see photographs of children playing in the nursery and see the activities and toys that they will look forward to having fun with.
It all helps your child feel more familiar with the nursery school before they start.
4
4
Go along to the introduction day at the nursery school
Most nurseries offer an introduction day where the children come in and meet the teachers and their other classmates.
Others offer settling in sessions. The first session will be one where you can stay too and then there will be another where you will be asked to leave your child for a short time. These can help both you and your child get used to the surroundings, the staff and the general feel of the place.
If your nursery doesn't offer this, then try to arrange a few short visits before your child starts. These sessions are a great chance for you both to become a bit more familiar with the nursery school.
By watching your child play happily with other children, and watching the staff interacting positively with the children, you can become more relaxed about the environment and any worries you had.
5
5
Arrange playdates with children from their class before the first day
Sometimes it's possible to ask for a list of the parents and children who will be in your toddler's class. Or you might know another child who goes there already.
Either way you could arrange a play date or meet up beforehand.
If you can arrange to meet up with at least one other child before school starts, then your toddler will probably feel happier when he walks into nursery on his first day and sees a familiar face in the busy room.
6
6
Take them along to toddler groups
If you haven't done so already take your child to baby and toddler groups to get him used to playing with other children.
It also helps for them to become familiar with the set up of being in a large room with lots of other children and the general hubbub that it entails.
If it's a parent-toddler class, then they will also get used to doing organised activities in a room with other toddlers and with a teacher or adult leading the class.
7
7
Get your baby used to being looked after by others
In the weeks or months before starting nursery, try to arrange some babysitting so that your child gets used to being left with others for periods of time.
Leave your baby or toddler with grandparents or friends for short stretches of time. That way they will get used to different carers doing things in different ways. They will also start to learn that you will always return.
It can help you too by giving you a chance to adjust to being without your little one for short periods of time.
On the first day of nursery
1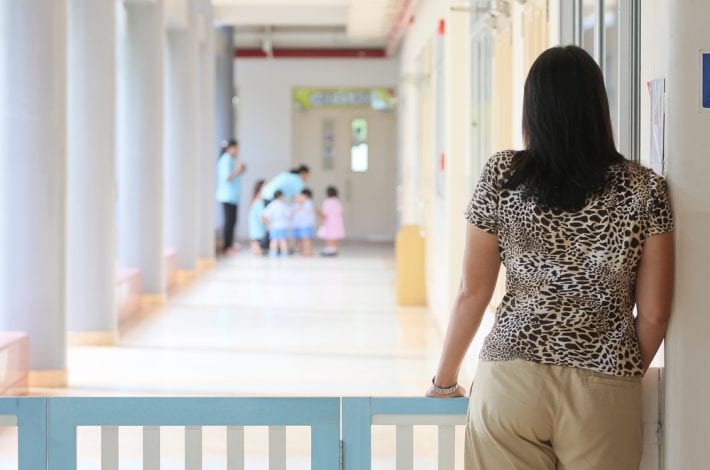 1
Talk about what will happen in the morning
As you start the day remind your child that today is nursery day and talk to them about what will happen.
Break it down into simple steps so that they can understand how the day will go.
Remember to stress how much fun they will have.
2
2
Leave in plenty of time
You don't want to be in a rush and feeling stressed and anxious as you arrive at nursery. Your child will pick up on your nerves and start to feel unsettled too.
Arriving early leaves you a little time to get your child settled and also means that the staff can greet your child before all the rest of the children rush in and demand their attention.
3
3
If possible, transition slowly
If the nursery school is amenable, build up nursery days slowly. Your child might stay for an hour a day and build up in increments.
Gradually they will begin to get used to the fact that you will always return and start to relax and have fun while they are there.
4
4
Don't drag out your goodbye
The first time you leave your child in their class on their own can be stressful. You may not know the best way to go about it.
When it's time for you to leave say goodbye calmly and tell your child you will be back to pick them up later. If you prefer you can say that you are popping round the corner for a coffee and you will be back soon.
Try not to drag out leaving, even if your child is crying when you say goodbye.
Your child's keyworker will be very used to settling in new children and will hopefully comfort her and distract her with toys.
If you still feel anxious then you can phone in just to make sure she is OK.
It can be tempting to try to skip the hard goodbyes and slip out when your child is busy playing happily.
This can make her more upset and anxious when she looks up to see that you're not there so it can be best to say that goodbye so that your child knows that you are gone.
5
5
Be strong!
It's hard. Leaving your baby is so hard. But try to stay strong. Don't let her see you're upset.
It's OK to have a little wobble or even a good old sob after you have left but, in front of her, try to stay as calm and smiley as you can.
6
6
Then distract yourself
We know that it's so hard to leave your child in a new place for the first time and your emotions will probably be running high.
After holding it all in to say goodbye, it helps to plan something to distract yourself from any worries until it is time for you to pick him up again.
Phone your mum/partner/a friend to talk about how you feel or just to have a chat. Or meet up face-to-face for a cuppa and a slice of cake.
If you have time to fill before pick up time then distract yourself with mundane but necessary tasks like tackling the laundry or walking the dog.
7
7
Be on-time for pick-up
Remember to leave plenty of time for the walk or drive back to nursery to make sure you are not late.
You don't want your child to see all the other mums and dads arriving and start looking anxiously for you, only to realise you are not there, when you promised you would be.
Be on time, or even a teensy bit early.
8
8
Don't panic if the first day or week was tough
It's a big step for both you and your baby. If they really didn't settle well and cried before, during or after their first day (or even all three!) then don't panic and immediately write it off as a failure.
Sometimes it takes time for children to settle into a new nursery – often weeks rather than days. If it continues to be hard for you both, keep talking to the nursery staff and ask about things you (and they) can do to make the transition and settling in period easier.
This might mean having a key worker on hand as you drop off your child to focus on them and comfort them.
They could have toys ready that they have enjoyed playing with in the nursery set up, to calm them when they arrive. Or your child could take a comfort toy with them to nursery that they can hold when they feel anxious.
9
9
And finally…banish any mum guilt
Who was it that said: A mother's place is in the wrong?
If there's one thing that makes you feel guilty as a parent it's having to leave your children for any length of time to work.
Parenting is hard enough anyway without having to deal with any (misplaced) guilt. Children are very resilient. They can get used to new routines and new situations, as long as they know they are loved.
Leaving your baby at nursery can hurt your heart but they will not only settle over time but start to have fun and feel happy and comfortable.
After work and after nursery there are still plenty of times to snuggle and giggle and enjoy being together. And, remember, your child's nursery keyworker might be the bees' knees but, at the end of the day, there's no better person than mum.
Checklist: what to pack for the first day of nursery school
Always check with your child's nursery first, as there may be things they will provide or items they prefer you not to bring along.
Here's a checklist of items that your toddler might need for their first day of nursery school:
A change of clothes. Pack 1 or 2 changes of clothes into a little backpack or bag. Add an extra pair of pants or boxers for little accidents. Make sure you label all items of clothing.
Raincoat and wellies. Especially during the winter months you may want to make sure that they pack a raincoat. If your nursery has an outdoor space that gets a bit muddy, you may want to pack some wellington boots as well.
Hat, gloves and scarf or snoody. When the weather gets cold you might want to pack some warm accessories for them for their break times. Make sure you label them with your child's name.
Sunscreen and a sunhat. If it's cold make sure they have a raincoat. If it's sunny, pack a sun hat and sunscreen. (Check your nursery's policy on applying sun cream). It's also worth sending in a pair of wellies for wet days.
Nappies and wipes. If your toddler is still in nappies, ask if you need to send in a supply of nappies and wipes or if the nursery provides them.
Aprons for messy play. Some nurseries ask parents to supply an apron (or old shirt) for painting and messy play.
Medicines. If your child has any medicines then make sure you have extra supplies to give to the nursery. They will need to be labelled and you need to check regularly when they need to be updated. It's worth including a card or note with clear instructions about how and when to administer medicines. Nurseries will require you to fill in medical forms too.
For younger children you may also need:
Formula. If your toddler has formula then the nursery might prefer you to bring it in, in a named and ready made-up bottle.
Nap time essentials. If your child still has a daytime nap the nursery might ask you to bring in a blanket or sleeping bag.
Comfort toys. Check the nursery policy on comfort toys and if your child is allowed to bring them in.
Some frequently asked questions:
1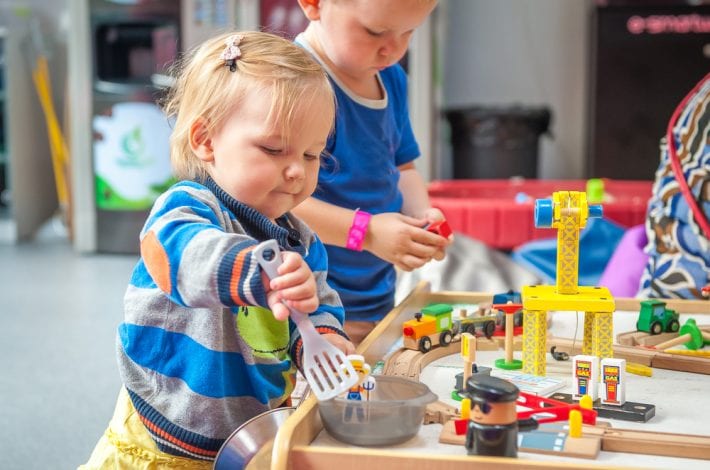 1
How do I prepare my child for nursery?
As well as doing some of the above, the day before going to nursery you can involve your child in preparing for the first day of childcare.
Have him help choose what he wants to wear, pack the backpack, and pick out a cuddly toy for naptime.
2
2
Can my child go to nursery if not potty trained?
This is a big worry for parents. Check with your individual nursery school's policy, but in many cases there is no requirement for your child to be out of nappies before starting nursery.
If you have just started potty training then talk to your child's nursery school and find out how they can support what you are doing at home.
If you've not started yet then rest assured that many nurseries are very used to children who are still in nappies but they are also well placed to support you when you do start toilet training.
3
3
What if my child doesn't eat properly at nursery?
If your toddler will spend mealtimes at nursery, you might be worried that they will have trouble feeding themselves. Or perhaps your child is a fussy eater at mealtimes and you're stressed that they won't eat anything at all while at school.
Nurseries will be used to toddlers at every stage of development. They will have procedures in place to help each child learn to use cutlery to feed themselves but won't bat an eyelid if they have not yet mastered this skill.
It can help to give your toddler plastic knives and forks at home and encourage them to use them but don't worry if they have a little way to go.
If your toddler is a fussy eater you may be surprised how much he will eat when he sees all his little friends all sitting down and eating nicely. He might even be very well-behaved at nursery mealtimes.
And you could end up wishing that this good behaviour could extend to your home mealtimes!
4
4
Will my going back to work affect their first day at nursery school?
If you are sending your child to nursery to return to work then don't do both on the same day, if at all possible. Both are big steps and it's hard to face two new challenges at once.
You are bound to feel wobbly and you don't want to be weeping on your office desk on the first day back. If you can, start your child at nursery before you start work.
That way you can focus totally on your child's first big day and can also take time after you have dropped him off to have a little sob (if you need one). Or to phone your mum or meet a good friend for coffee and cake to distract yourself from any gnawing anxiety.