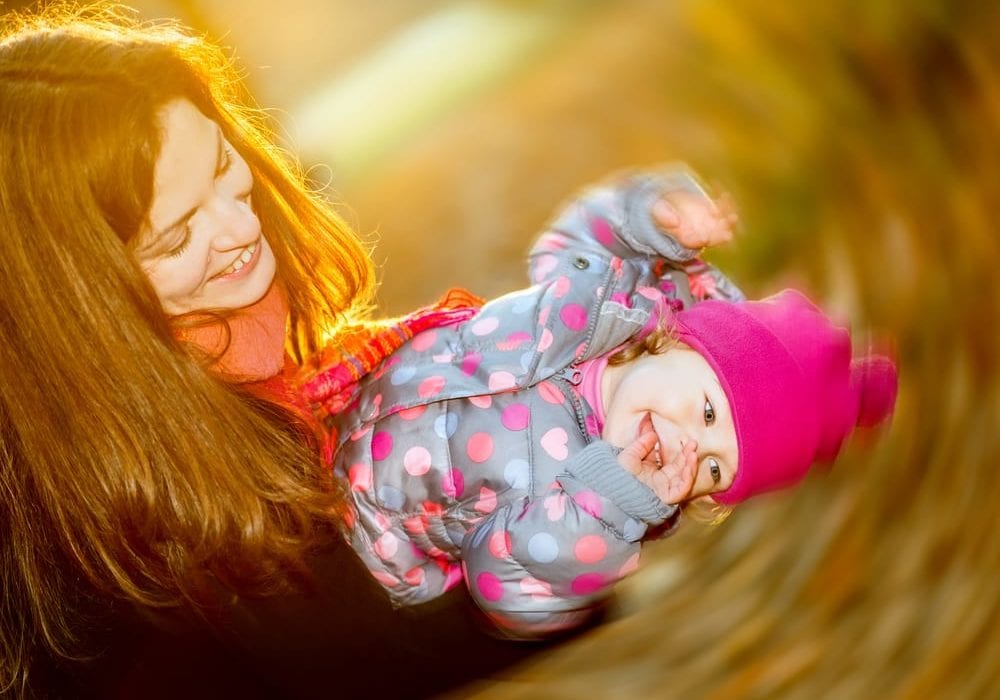 'The time is just flying by'. This is one phrase a lot parents keep repeating.
It's that undying urge to stop the clock so we can enjoy holding those tiny hands, hear those cute laughs and cradle our sleepy little ones for just a bit longer.
Watching your child grow is one of life's most incredible gifts. But we still wish we could hang onto those precious younger years, when they're wide-eyed and innocent, totally reliant on us.
Live in the moment and it can help capture these priceless memories.
Whirlwind of days
Parenthood is like going to a theme park and riding the largest, craziest roller coaster every day. Except this ride lasts a lifetime rather than a few minutes.
From the moment we wake up (sometimes at 4am), to the moment bedtime rolls around – there is laughter, tears, concentration, toilet disasters, more tears, tantrums, smiles, learning, mess, tiredness and more mess.
It's a demanding whirlwind of meeting their needs, while we're left feeling exhausted and quite frankly a little smelly at times when there's no time to shower or even comb our hair!
It's no wonder we find it difficult to fully 'enjoy' every moment.
Parenthood is full on hard work with no breaks. But if we find a few seconds a day to step back, breathe and remind ourselves this isn't forever, we'll find the strength to savour this wonderful short-lived time.
We're capable of incredible things. Pre-children, you probably thought you'd never be able to dance around the living room, sing nursery rhymes at the top of your voice and pull silly faces all day long on two hours sleep?
But we do it – again and again and again. Because we'd do anything for our children. So we owe it to ourselves to pause and get some enjoyment out of each day.

Ignore social media
It's not just the tiresome ride of parenthood that can stop us relishing the little moments. We now have the distractions and pressures of social media.
If we do get a few minutes a day to pick up our cold cup of tea, most of us are likely to grab the smartphone or tablet and scroll through social media (mainly because we want to remind ourselves there is an outside world!).
Escapism is just what we need sometimes. But what we're often also greeted with is people appearing to live a much more exciting life and seemingly doing things a lot better than we are.
Take the parents who manage to take their toddler pretty much everywhere, from fantastic holidays abroad, to weddings and landmarks all over the country.
This can leave us feeling incredibly guilty, like we're not achieving everything we should be.
But if you think about it realistically, as great as those photos are to look back on, those parents are probably also going through a whole lot of faff and stress to get them.
I remember my sister desperately taking her 8 month old to a crazily busy pumpkin picking field. It was the last day it was open and it had been raining loads a few days before, so we were traipsing through mud with a baby and lots of screaming children running around us.
This was all because she'd seen a friend of hers seemingly having a great time here with her baby a few weeks prior, so it was something she felt she had to do.
Don't get me wrong, we too got some great photos and had it not been so busy or rubbish weather, we'd have probably had more fun. However I think if we'd considered these factors and done something indoors or gone next year instead, she'd have felt she was massively missing out, just because her friend had done it.
Every day and every family is different. Sure, planning days out is wonderful, but if the 'great' British weather isn't kind, there's nothing wrong with staying at home and playing indoor games.
We're all guilty of comparing ourselves to others. For kids it doesn't matter if you can't afford a flashy holiday or regular trips to CBeebies Land. Being there is what counts to them.
Making precious memories can be as simple as doing a silly dance together in the kitchen when a pop song comes on the radio or splashing in puddles on the way back from the park.
The washing can wait
Ever find yourself spending more time on chores than spending quality time with your children?
If you've got a touch of OCD like I do, the mess is difficult to ignore. I used to do housework every single day. I would put my baby in her jumperoo, bouncer or plat mat where I could see her and scrub the floors, do the ironing, dusting and sort out washing constantly.
She was having a great time as I'd sing and talk to her as well, but I was never fully engaged with her. After she'd gone to bed I'd spend time looking at photos and having the classic 'I miss her' moments.
One day I decided I wasn't going to be obsessed by chores any more. My new obsession would be spending quality time with my daughter.
I'm very rarely on top of housework these days. The washing basket is always full and there's always crumbs or dust on the floors, but I made sure I spent the last few months of my maternity leave and days off going forward wisely.
Appreciate those firsts and quirks
Of course we all go crazy for those mega milestones like their first steps and first time sleeping through the night! But there's also things like the first time feeding the ducks, first time dropping the dog off at the groomers or first library visit.
There are so many new experiences when they're tiny..
Most parents have some quirky activity or 'funny time' with their children.
I remember feeling incredibly silly for doing this until speaking to other mums and them telling me they do exactly the same. My little girl laughs hysterically when I pretend to be a dinosaur and say 'ra, ra, ra, ra' and slowly creep closely towards her face.
She equally likes it when I flop my hair from side to side across her belly – weird, but the smiles and laughter you get back from doing stuff like this is amazing.
Don't be like me and feel silly for spending time being silly. If anything, make more time for it!
If you've spent lots of time being silly with your little ones, you haven't had an 'unproductive day', you've had an incredible day making the best memories.