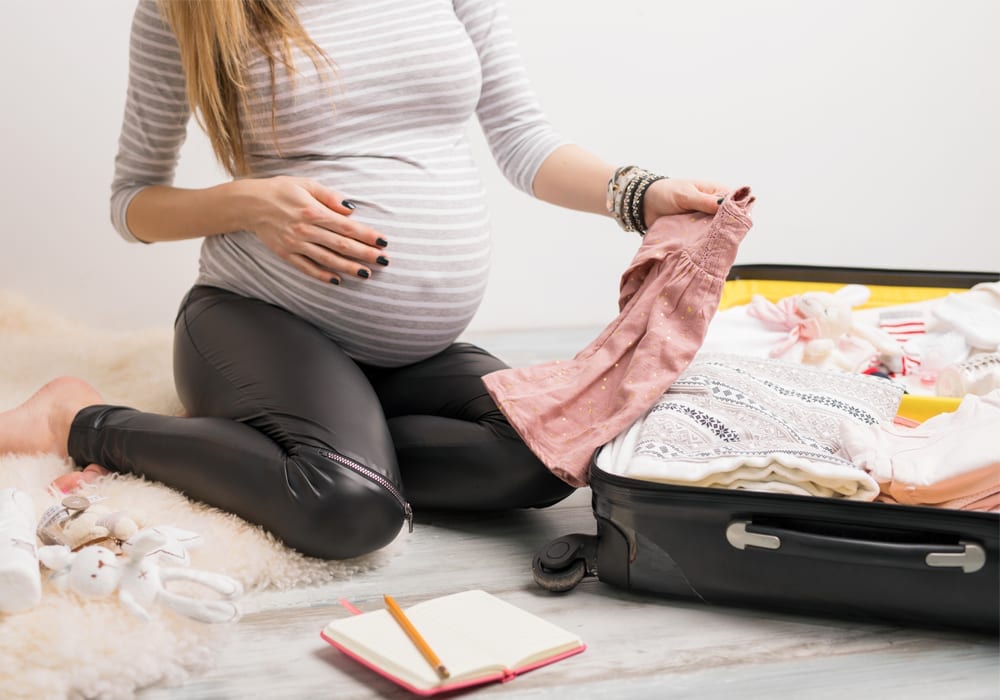 Your bump is growing. You've read all the baby books, gone to all your antenatal classes and your due date is fast approaching.
You've got one important job left to do – packing your hospital bag. But what exactly do you need to pack? You don't want to include everything but the kitchen sink.  You also don't want to pack so light that you miss out on some essentials.
To help out, we've put together a hospital bag checklist printable of essential items which you can download and print out here: FREE Hospital bag checklist printable.
Read on to find a full hospital packing list for mama-to-be, baby and dad, together with a few of our recommendations. That way you can have everything you need ready to go, leaving you free to focus on your birth experience with baby.
Disclaimer: contains affiliate links
Hospital bag checklist for mum
These are the must-haves that will take you through labour and your whole hospital stay. The big things you'll need and the little extras that will make you more comfortable.
1
1

Something to wear in labour
When it comes to picking what to wear in labour, think comfort. Pick something roomy that you can move about in easily. 
Either your favourite comfy outfit or something you've bought especially for labour.
We love this Stripy Maternity Nightdress (Amazon): https://amzn.to/30Vsj6l
2
2
Your birth plan and maternity medical notes
Keep your maternity medical notes in a safe place so they're handy to pop into the top of your hospital bag when the time comes to grab it and go. Pack your birth plan too.
They'll be the last things you pack so they're easy to forget. It can help to pop a post-it note on top of your packed bag to remind you to put them in at the last minute.
3
3
Any medication you need
If you're taking any long-term medication or have an illness that requires short term medication, make sure you pack enough to see you through at least a few days in hospital.
4
4

Cosy socks
Did you know that many mums say they get cold feet in labour? Be prepared by packing a pair of your favourite snuggly socks.
We love these ones from Kindred Bravely, with inspirational mottos for labour and motherhood, which remind you to keep a sense of humour throughout it all!
Kindred Bravely Inspirational Labor Socks (Amazon): https://amzn.to/30YfkRj
5
5
Toiletry bag
Pack everything you need for a night or two away. Travel sized items are good to save space in your luggage. You'll need:
Toothbrush and toothpaste

Cleanser

Facial moisturiser

Shampoo and conditioner

Body wash

Sponge

Deodorant

Hairbrush or comb

Basic makeup items
6
6
Magazines and books
During labour there can be swathes of time when you are waiting around and have nothing to do.
Be prepared by packing books, magazines and any easy to carry hobbies.
7
7

Big water bottle 
Labour is thirsty work and you'll want plenty of cool refreshing drinks to keep you hydrated.
We love Chillys water bottles which keep drinks cool for 24 hours, are eco friendly and leak proof (Amazon): https://amzn.to/2AWiKJJ
8
8
Phone (loaded with music and shows)
Will you pick classical music, whalesong or Salt 'n' Peppa's 'Push It'? Whatever you choose, load up your phone with your favourite playlists to see you through labour.
Clear some space so you can take plenty of videos and photos of the birth. Download your favourite TV shows or even a movie to your phone or tablet and bring them along too.
Oh – and DON'T forget the charger.
9
9
Snacks 
Labour (as the name suggests) is hard work and you'll need to keep your strength up.
Pack lots of snacks to refuel you when you're flagging. Healthy options are great but there's nothing wrong with packing a few sweet treats too.
After all – you'll have earned them.
10
10

Breastfeeding pillow
Breastfeeding can be tricky at the start. One thing that can make a big difference to your own comfort and to getting your baby in the right position is a breastfeeding pillow.
If it's too bulky to pack in your bag, get it ready by the door so that your partner or another visitor can bring it in soon after birth. 
We love My Brest Friend nursing pillow (Amazon): https://amzn.to/322lvVJ
11
11
After birth pyjamas or nighties
You'll need comfy and cosy clothes to wear in the hospital after birth.
Think roomy, snuggly jim jams or nighties that have easy access (through button up fronts) if you're planning to breastfeed.
12
12
LOTS of spare change
We're so used to paying for everything with contactless these days that we don't often have many coins in our purses or pockets. Hospital is the one time that a lot of loose change will come in handy.
You might need it to pay for parking, to pay for drinks and snacks from the vending machine and to pay for the bedside TV.
Start a change jar in the last weeks of pregnancy to build up a stash of coins that you can take into hospital with you.
13
13
High waisted
 (and comfy) knickers
After birth you'll go through a lot of knickers (panties). Forget your fancy pants. Big, comfy, tummy hugging knick-knacks are what you need. 
If you're having a C-Section or if you end up having an emergency C-Section, it's a good idea to pack pants that go above your hips to avoid them rubbing on the C-Section scar while it's still healing.
We love Wirarpa women's cotton high waisted underpants (Amazon): https://amzn.to/2B7OQCx
14
14
Heavy duty sanitary towels
Nobody warns you about the seriously heavy bleeding after birth. It's a case for the most heavy duty pads you can imagine.
The hospital will have some on hand if you forget to pack any but they'll be pretty bulky. It's best to pack pads that mop up the heaviest flow. And to pack lots of them.
15
15
Comfy daytime clothes to wear after birth
Pack some comfy clothes to wear after birth. Either nighties or pyjamas or loose, comfy clothes. If you plan to breastfeed choose tops that are easy to open at the front.
Think comfort over glamour.
16
16

Nursing bras, breast pads and nipple cream
If you're planning to breastfeed you'll need a comfy nursing bra (or two). If you're going to bottle feed you can get away with your maternity bra.
Either way pack plenty of breast pads. Nipple cream is a must for breastfeeding mamas too. 
We love Lansinoh lanolin breastfeeding cream (Amazon): https://amzn.to/2OuykUV
17
17
Glasses or contact lenses
It's all too easy to forget to grab your glasses or contact lenses when you're distracted by contractions and rushing out of the house. If you've got spare pairs of either, pack them early.
If not, write a Post-it note to stick to the top of your bag to remind you to find them and pop them in.
18
18
Dressing gown
It's often really warm on a hospital ward but even, so a comfy dressing gown makes a good cover up as you make your way to and from the bathroom or if you have early visitors.
It's handy for doing night feeds once your baby is home as well.
19
19

Flip flops and slippers
Flip flops sound like something you should pack for a beach holiday rather than the labour ward but you'll be glad you did.
They'll make you feel so much better if you're using communal showers and bathrooms. They can double up as slippers or you can buy cosy slippers as well.
We love these Gumbie flip flops (Amazon): https://amzn.to/2orv6H5
20
20
Going home outfit
After the bubble of being in hospital you'll need some 'proper' clothes to go home in.
You might think your bump will magically vanish and you can pack your favourite outfits from before pregnancy. But unfortunately that's not the case. You'll still have a big bump (just a little squishier) and might be sore from the birth. So pick comfy clothes with elasticated waists.
Also, don't forget to have your baby monitor ready before your little one is born! We've recommended our top 3 baby breathing monitors in this review. In addition to providing a video and audio stream of the nursery, many also track breathing, sleep, and more!
1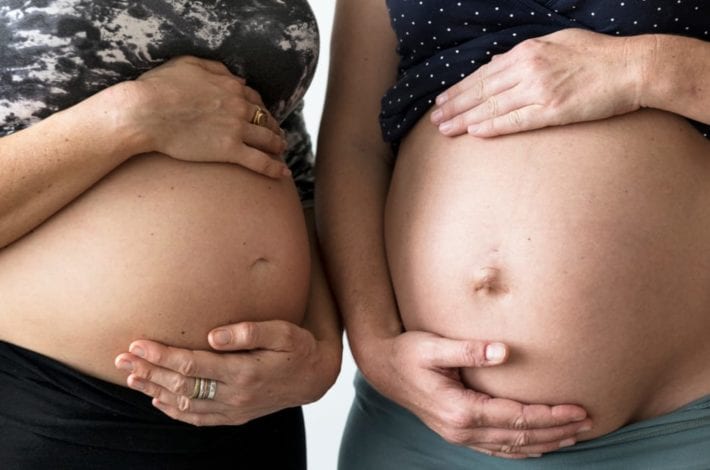 1
Do you have any niggling questions about birth and baby?
Get advice and share experiences in this pregnancy chat forum exclusively for expecting mamas.
Extras for Labour
Here you can find a list of optional extras that may make labour more comfortable for you.
When push comes to shove you might be glad of some more than others, but having all these to hand gives you more options to plan for your best birthing experience.
1
1

TENS machine (optional)
Many mums say that a TENS machine is a godsend in early labour, helping them cope with the pain of contractions.
It's a device with sticky pads to place on your tummy or back, together with a handheld controller. It sends small, safe pulses of electrical current through your skin, giving you a gentle tingling or buzzing sensation. It sounds strange but it really can help distract you from pain and might be worth a try. 
Nursal TENS machine (Amazon): https://amzn.to/2AURawn
2
2
Handheld fan
Another handy item you'll be glad for when you get hot and hectic in labour. 
3
3

Birthing ball
Birthing balls are a great aid for labour. You might be lucky and find there's one you can use on the labour ward – but it's not guaranteed. 
Sitting on a birthing ball in labour increases the blood flow to your uterus and placenta and helps open up the pelvis and hips. And it really helps you to find a comfy position to labour in. You might find that it's one of the best things you take into the maternity ward. 
Trideer Exercise Ball (Amazon): https://amzn.to/2AYrCOR
4
4
Spray bottle of water
Spritzing water on your face in labour can keep you cool down and make you feel a little less hot and hectic. It's so much nicer than a wet flannel. 
Hospital bag checklist for baby:
Here you can find a list of everything your newborn baby will need after birth and in the first few days in the maternity ward.
1
1
Nappies
You might be surprised by quite how many nappies a teeny tiny newborn baby goes through in a day. They can get through as many as 10-12 a day!
So buy a large pack of newborn nappies and start stocking up.
2
2

Vests with front poppers
A pack of five or six vests is perfect. 
It's much easier to change baby's outfits when there are poppers at the front, rather than trying to lift vests over their heads, so make sure they all open from the front.
We love Petit Bateau baby boy vests: https://amzn.to/2ovlURU
3
3
Cotton wool
Newborns have delicate skin, which is sensitive to chemicals and fragrances.
The best way to clean them during a nappy change is with cotton wool dipped in warm water. 
4
4

Sleepsuits
Sleepsuits with easy open front poppers or fastenings which can help make nappy changing easier. Sleepsuits with feet are also good for keeping baby warm and cosy in the first days after birth.
You can pack six sleepsuits for the first days after birth.
We love Kissy Kissy sleepsuits as a special treat for newborns because they're so unbelievably soft (Amazon): https://amzn.to/2p9eIuE
5
5
Nappy sacks
Pack plenty to wrap dirty nappies in, so they can be disposed of easily.
6
6

Scratch mittens
Many babies are born with long and surprisingly sharp nails for something so tiny. And they can't control their hands and arms at first.
Pop in a couple of pairs of scratch mittens to prevent them marking their skin. 
We love these Gleaming Grain scratch mitten and hat set (Amazon): https://amzn.to/2Ox3Bqj
7
7
Hats and booties
Tiny babies can get cold easily. Pack a couple of hats and some booties to keep them nice and snug.
8
8

Muslin cloths
You'll soon find out that these are essential for all new parents.
In the first few days (and weeks and months) after birth you'll probably always have one close to hand.
They're handy for placing over your shoulder as you burp your baby. They're good for mopping up dribbles and milk. Later, they can double up as makeshift bibs, bandanas and even comfort blankets. Buy a big pack and take them with you to use from day one. 
Pack about 10 small muslins for feeding and 4 larger muslins for swaddling baby.
We love Aden and Anais muslin swaddle blankets (Amazon): https://amzn.to/30XRghl
9
9
Going home clothes
If it's warm then a vest, sleepsuit, hat and blanket might be perfect for your baby to go home in.
If it's chillier then baby will need a warm snowsuit or jacket. Remember though, to remove any thick coats or snowsuits before placing your baby in the car seat.
If not they can overheat and the added layers may also prevent the car seat straps from securing them tight enough in the seat.
10
10

Soft blanket
The hospital will provide blankets but you might also like to pack a soft, snugly one of your own. They're good to have on hand for skin-to-skin time and you'll also need it for when you take your baby home. 
We love Mimixiong Blankets, available in 9 colours (Amazon): https://amzn.to/30XdeAX
Hospital bag checklist for dad:
Labour and birth are all about mum and baby. But don't forget that dads are there to support and are part of the birthing process as well and will need some essentials during their hospital stay too.
1
1
Swimwear for water births
If you're planning a water birth, pack the swimming trunks in case you want your partner to join you (for at least some of the time) in the water pool.
2
2
Snacks and drinks
Pack enough for your partner to keep themselves fuelled throughout labour and after birth.
3
3
Entertainment
Labour can be long. It's not just the mama-to-be but the waiting dad that needs something to keep their mind occupied when there's a long stretch of time.
Load up your partner's phone or tablet with apps, shows and games to play. Or take in books, crosswords and hobbies.
4
4
A change of clothes
You might be in hospital overnight or for a few days. Pack comfy clothes for your partner to change into if they need to freshen up.
Little extras
You've got all the essentials covered. These little extras are all things you might not have thought of, but which may make your hospital stay that little bit more comfortable.
1
1
Your own pillow
Of course you'll get a pillow in hospital but there's nothing more comforting (and comfortable) than your own from home.
Pop on a patterned pillow case on it so it doesn't get mixed up with hospital laundry.
2
2
Towel
Hospitals will provide you with a towel but they can be small and scratchy and not the most luxurious of items. It's nicer to bring your own.
Choose one in a dark colour in case it gets stained.
3
3
Hair bobbles
If you've got anything other than super short hair, bobbles will be one of the best things you'll pack.
There's nothing more annoying than having hair sticking to your face as you huff and puff your way through labour.
4
4

Antiseptic wipes
Handy for wiping down surfaces in your hospital room and the communal bathroom so you can keep everything as clean as possible.
Antiseptic hand gel is also good for any visitors to use before they cuddle your tiny newborn. 
We love Babyganics alcohol free sanitizing wipes (Amazon): https://amzn.to/2OGJR3H
5
5
Hand cream
Changing nappies and washing your hands several times a day can dry them out. 
Pop a little tube of hand cream in your bag so you can keep them moisturised.
6
6
Decaf or herbal tea bags
You'll get tea and coffee in hospital but (apart from the first cuppa after birth, which will be the best you've ever had in your life) it can be pretty tepid and tasteless.
And it's doubtful there'll be a choice of herbal or decaf. Pack your own, along with a mini flask and maybe even your favourite mug to treat yourself on the ward.
7
7
Constipation relief
One post-birth worry that new mums seldom share, is the fear of doing the first poo after birth.
If you're constipated then it can be sore, especially if you've had an epidural or stitches. Pop some stool softeners in your toiletry bag just in case.
If you're breastfeeding, double check with your doctor that they're safe to take before packing them.
8
8

This magic spray 
After childbirth you can feel sore and tender. Sprays like this herbal perineal spray can provide soothing relief. You can use it before and after trips to the bathroom and anytime you need a little care down there.
We love Earth Mama Postpartum Perineal spray (Amazon): https://amzn.to/313Hiv1
9
9
Photographs of your older child or children
If you already have a child or older children, it can be comforting to pack a photo of them to place by your bedside.
There's nothing nicer than waking to see their smiling faces, when you can't be with them.
10
10
Lip balm
When you're in labour and everything's sore, the last thing you want is added niggles like chapped lips. Pack some lip balm to ward it off.
11
11
Fruit
Hospital food is not known for being cordon bleu. One thing you might crave is fresh fruit.
It's also really good to help your digestive system get back on track after birth and prevent the dreaded constipation.
12
12

Eye mask
It can be hard to sleep in a hospital ward. An eye mask can be a great help.
They can even help you grab some peace (and naps) in the daytime too. 
We love Unimi Lighblocking Breathable Sleepmask (Amazon): https://amzn.to/320MfpK
13
13
Perfume or room spray
It makes your room smell and feel so much nicer, and so much more like home.
Download and print out our handy Hospital bag checklist printable here, so you can start getting everything ready for your big day.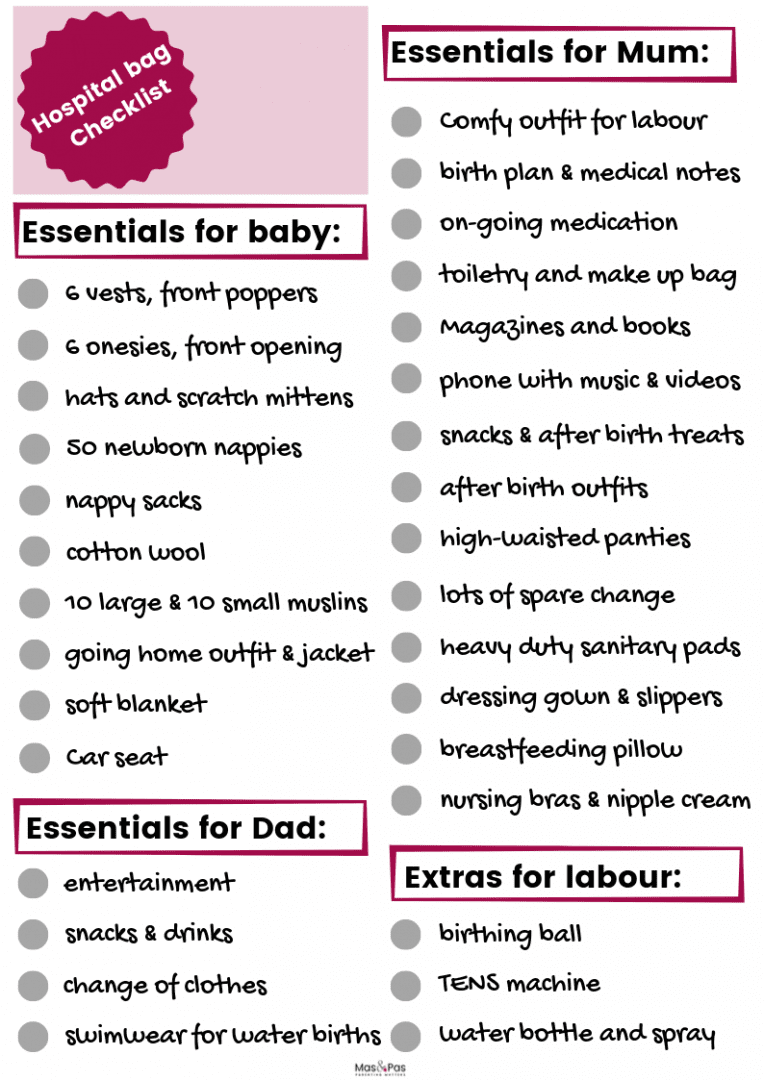 Are you an expecting mama?
Join the Mas & Pas Bump Club chat group.
A place where expecting mamas support each other day by day. As we all move towards our ideal birth experience and prepare to be the very best mamas we can be.