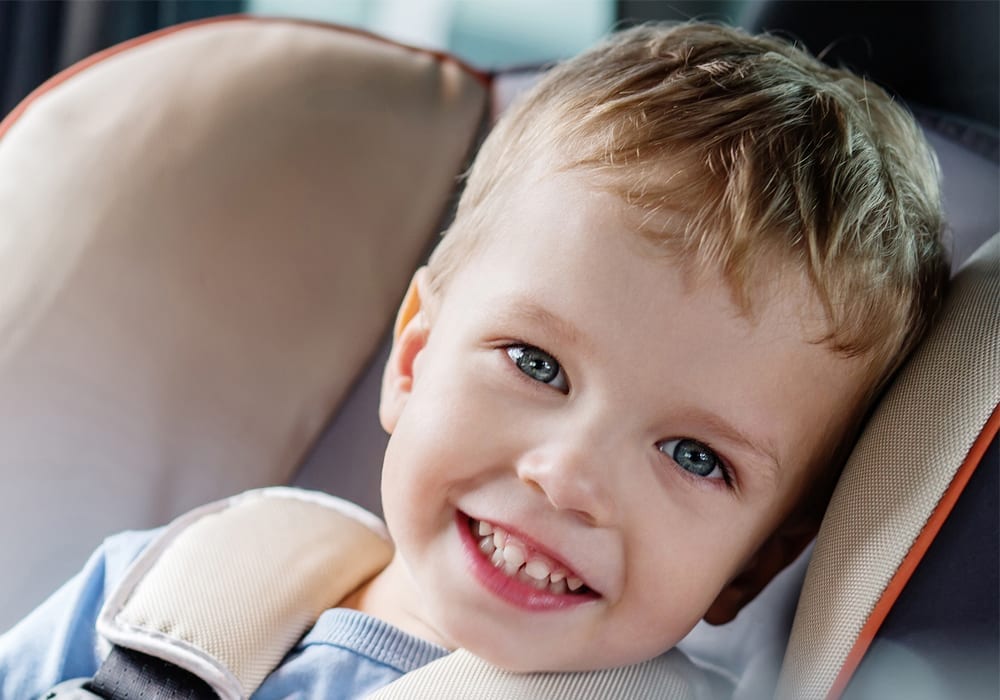 When it comes to choosing travel car seats, one feature which is right at the top of the list is to find a lightweight car seat. One that's compact and easy to carry while offering a high standard of safety and protection.
Because you may be moving it from car to flight to train and back into the car again, it also helps if it's a seat that is quick and easy to fit. 
Lots of today's car seats come with added features, such as washable covers and cup holders, which are handy for long journeys and holidays. 
We outline some elements you might want to consider before choosing your car seat and review 5 of our favourite travel lightweight car seats below as well as 3 further travel systems – where the car seat clips directly onto a pram base, making it helpful for moving around.
Things to consider before buying:
Travel car seats approved for flights
If you're taking a car seat to use on a plane you will need to make sure it is FAA approved (look for a sticker on the side). However, it's worth noting that just because a car seat is FAA approved, it still does not mean that it will be small enough to fit an airplane seat.
If you're using a travel car seat on a flight, bear in mind that most airline seats in are between 17 – 18.5 inches wide. It's best to do your homework and check first. 
Convertible car seats
These grow with your child and convert from rear to front facing. They can last right up to when your newborn baby is a grown toddler or young child. Typically convertible car seats can be used for children from 5 to around 65 pounds.
Choosing a convertible car seat can save you money in the long run, as you don't have to replace the seat when your baby hits the toddler years. 
Weight
You will have to carry your travel car seat about a lot and so weight is a really important consideration. 
Car seats range greatly in terms of how much they weigh. Some, like those below, are super lightweight at 10-15 lbs. Others are not only much heavier, but bulkier, making them a pain to lug about. 
Price
The all singing, all dancing travel car seats (such as the Doona car seat below that converts from a car seat to a stroller in seconds, without even having to lift your baby out) can be pricey.
But if you travel a lot and your budget allows it, you might decide that it's a price worth paying for the convenience.
Other travel car seats are cheaper but might not last you so long. It's worth considering how long each car seat will last you. See if buying one that lasts you longer will save you money in the long term.
Disclaimer: contains affiliate links
Our top 5 lightweight car seats for travel:
Lightweight travel car seat comparison table
Here is a quick summary of our 5 favourite lightweight travel car seats listed in more details below.
| | | | | | | |
| --- | --- | --- | --- | --- | --- | --- |
| Car seat model | Dimensions | Weight | For babies/children weighing: | LATCH (Isofix) system | Extra features | Price* |
| Safety 1st Guide 65 Convertible Car Seat | 27.25 x 18.5 x 20.25″ | 14lbs | 5-65 lbs | No | Washable covers, cup holder, adjustable head support | $97.58 |
| Cosco Scenara NEXT Convertible Car Seat | 29.8 x 17.5 x 16″ | 10.4lbs | 5-40lbs | Yes | Cup holder | $69.99 |
| Chicco Kid Fit 2-in-1 Belt Positioning Booster Car Seat | 28 x 19 x 8.5″ | 10lbs | 30-110lbs | Yes | Washable covers, 2 cup holders | $99.99 |
| Evenflo Stratos 65 Convertible Car Seat | 15.5 x 18.5 x 26″ | 13lbs | 5-65lbs | Yes | Air-flow channels, buckle pockets, 2 cupholders | $128.99 |
| Graco MyRide 65 Convertible Car Seat | 21.1 x 17.3 x 34.5″ | 15.8 lbs | 4-65 lbs | Yes | Cupholders, removable washable covers | $119.99 |
*Prices are guides and may vary.
Travel systems
Another great option for travelling with a baby or toddler is to pick a travel system, combining both a car seat and stroller.
The car seats that are part of these travel systems are often heavier than the lightweight car seats listed above. However because they convert into a stroller or fit onto a pram wheel base, they are very easy to push through airports or stations.
Some are even narrow enough to push comfortably up and down plane or train aisles.
Depending on how you like to travel and how often you do it, it might be worth looking at investing in a good travel system.
Here are 3 of our favourite travel systems compared.
1
1
This is one of the most innovative travel car seats around. It has integrated wheels, which flip down to convert it from a car seat to a stroller in seconds.
If you need to switch back to using the seat you simply fold the wheels back up again. You don't even have to take your baby out when you're converting it.  
It's one of the most expensive travel systems but those who buy it say it's worth every penny. 
Pros:
Easy installation. It has a LATCH (Isofix) base so clicks in place in seconds.
Safety features. With a 5-point harness and great impact protection your baby will be both comfy and safe.
Easy manoeuvrable stroller. When expanded into a stroller this has swivel wheels, a height adjustable handle and a one-touch brake system. These features make it so easy to push around, especially when navigating busy places like airports or train stations.
Compact. As a stroller it's narrow enough to push down the aisle of an aeroplane or train. You don't have to take your baby out to convert it so it's really handy.
Super stylish. The Doona looks great and really stands out in terms of its design. It comes with a blush pink or charcoal grey canopy to shade your baby as well as dark grey bamboo fabric for the seat and head support.
2
2
Graco Travel System Stroller (2 colours) Amazon: https://amzn.to/2lNGo7p
This travel system comes with a car seat for a baby that clicks into place on a stroller. The stroller can be folded up and down using only one hand, making it easier when you're travelling.
Pros:
Easy to fold. The stroller folds up in a second with one hand, leaving your other hand free.
Easy to use. The SnugRide car seat clicks easily into place on the stroller.
Loads of storage. It comes with a tray with a cup holder and a really large basket, perfect for storing all the bits and pieces you need when you travel.
Great price. For a travel system this is a great price.
It is compact but the car seat and stroller are heavy to carry. So it's great if you can push it around but a bit harder if you will need to fold the stroller and carry it.
3
3
This is a nice lightweight three wheeler stroller that comes with a car seat that easily clicks in place. It has a large hood, with UV protection to shade your baby on holiday.
Pros:
Extensive safety features. Britax is one of the best respected names in car seat safety. For the Britax B-Safe they have added a 'SafeCell Impact protection' which provides an energy absorbing base and a steel frame within the carrier to give it strength. Ideal for long car journeys.
Easy to use. The stroller folds up with one hand in seconds. The car seat base clicks on and off quickly and securely.
Lightweight stroller. The frame of the stroller is really light and it is very easy to push around and to carry.
Lots of reclining positions. So your baby can lie back or sit more upright, depending on whether they are awake or sleepy.
Sun protection. The large hood has UV 50 sun protection, as well as a ventilation window to shade your baby and keep them cool in hot weather.
Although as a stroller this is really lightweight and easy to manoeuvre, the car seat itself is the heaviest of all the ones we've reviewed. If you are going to need to carry the seat a lot then just be aware that it's bulky and quite heavy. 
At a glance: Travel system comparison table
| | | | | | | |
| --- | --- | --- | --- | --- | --- | --- |
| Car seat model | Dimensions | Weight | For babies weighing: | LATCH (Isofix) system | Extra features | Price* |
| Doona Infant Car Seat and Latch Base | 27.9 x 20.7 x 18.2″ | 35.3lbs | up to 35 lbs | Yes | One-touch brake, adjustable height handle, canopy, swivel wheels, retractable wheels for easy conversion from seat to stroller | $499.99 |
| Graco FastAction Fold Click Connect Travel System Stroller | 23.74 x 19.09 x 30.79″ | 37.5 lbs | 5-40 lbs | No | One hand fold and carry function, swivel wheels, tray with cup holders, large storage basket | $175.99 |
| Britax Travel System – B-Lively Stroller & B-Safe 35 Infant Car Seat | 35.5 x 43 x 21.75″ | 47.62 lbs | 4-30 lbs | Key Fit One Click System | Canopy, storage basket, 3 wheeler stroller, one-touch brakes | $429.99 |
*Prices are guides and may vary.
If you're going to need to carry your travel car seat around a lot then a specially designed carry bag can make a huge difference.
The Reperkid Car Seat Bag is made of strong nylon fabric and fits most car seats.
It also keeps the seat clean if if it is placed in the hold of an aircraft or stored in the baggage area on a train. It has a front and side handle as well as a shoulder straps, giving you lots of carrying options, including being a hands-free rucksack. 
When you're not using the bag, it folds into a really small zipped pouch, which you can easily pop into your hand luggage or changing bag. The padded backpack straps are adjustable so you can make sure you can carry your seat as comfortably as possible.
It's even got a write on name tab, where you can write your name and contact details, to prevent it being picked up by another passenger on the luggage carousel.
Have baby, will travel, so they say. With these great lightweight car seats and travel system options, you can make your journey a whole lot easier.
Happy holidays!