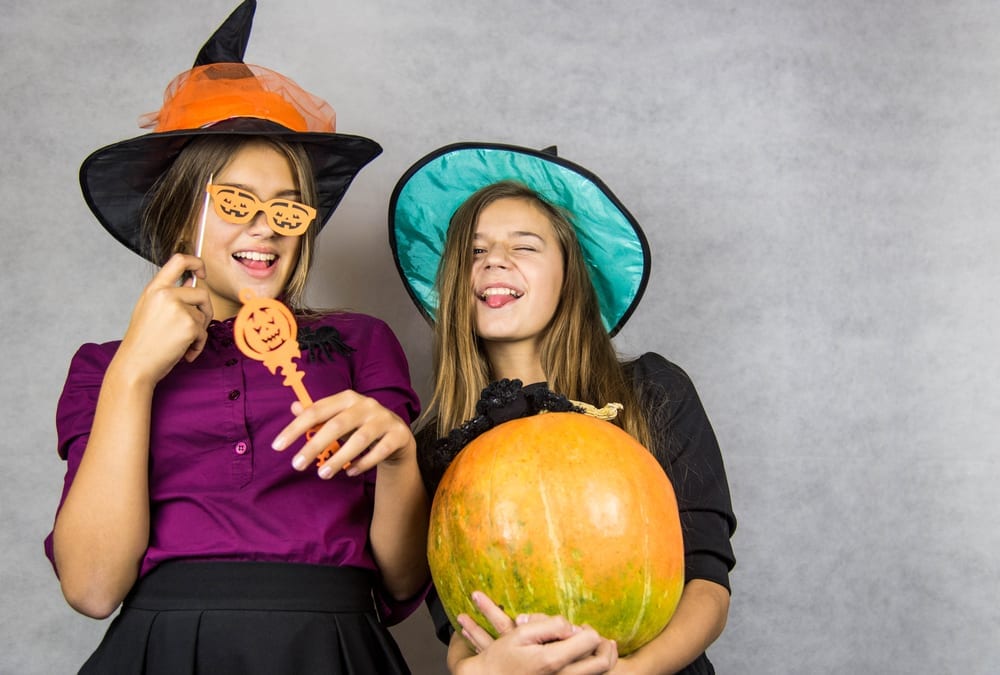 Halloween's coming, Halloween's coming! It's time to carve those pumpkins and get out the spooky decorations.
And it's not just little kids who love all things Halloween.
If you're planning a party we've put together some wickedly good Halloween party games for Tweens and Teens that'll give them a night to remember.
1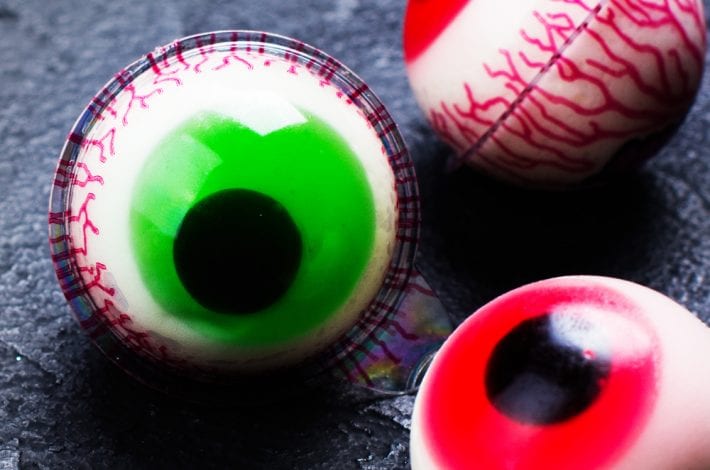 1
Guess the gory feeling game
Fill bowls with some slimy and seriously weird feeling food. We suggest peeling grapes as 'eyeballs', mashing up jelly as 'guts', pouring in cold baked beans as 'entrails', steaming whole cauliflower as a 'brain', and halving figs as 'kidneys'.
Cover each bowl with a cloth so there can be no peeking. Blindfold party guests and ask them to feel what's in each bowl. Watch them cringe with the gory fun!
Anyone who guesses right gets a point. 
2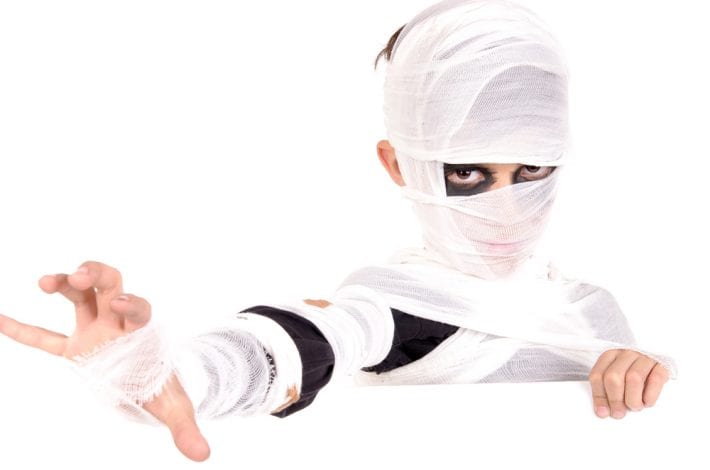 2
Wrap the Mummy
Divide your party guests into pairs or small teams. Arm them with toilet rolls and masking tape.
When you say 'Go' they must wrap a team member in loo roll, leaving only their eyes and mouth free.
When all the mummies are ready they must race to the end of the room. They first one there is the winner!
3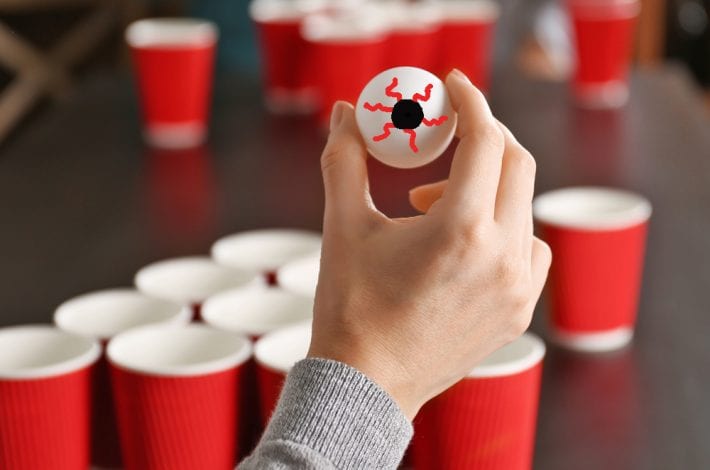 3
Eyeball pong
Gather together a few white ping pong balls. Use Sharpie pens to quickly transform them into eyeballs. You could add black pupils and maybe even red veins.
Set up a pyramid of plastic cups on the table. Fill each cup up with water. You could add red or green food colouring to make it more eerie if you like.
Players must take it in turns to bounce an 'eyeball' ping pong ball on the table and try to land it in one of the cups. They get a point for each eyeball that lands in the water.
Watch them have bags of fun trying this out and the first one to 20 wins!
4
4
Torchlight Halloween treasure hunt
Take some Halloween sweets and wrap each one up in cellophane or tissue paper. You could even coat them with glow-in-the-dark paint or decorate them with glow-in-the-dark stickers if you like.
Then hide them all around the garden.
Give each party guest a torch and a bag or basket and set them off to find as many treats as they can in a spooky dark treasure hunt! 
5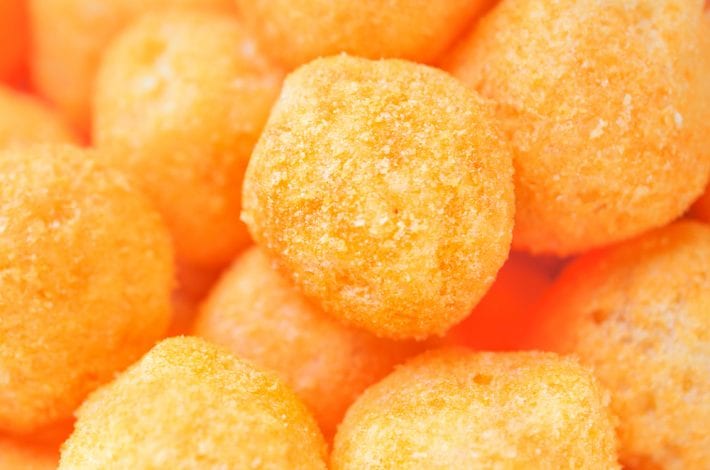 5
Pumpkin face
This game is silly, messy fun that will appeal to Tweens and Teens.
Ask each party guest to smear Vaseline over their face. Then set out plates of cheesy snacks (like Wotsits or cheeseballs) in front of each one.
When you say 'GO' each guest must dip their face into the cheesy snack filled plate and smear it around as much as they can.
After 30 seconds, the one with the most orange cheesy snacks stuck to their face wins!
6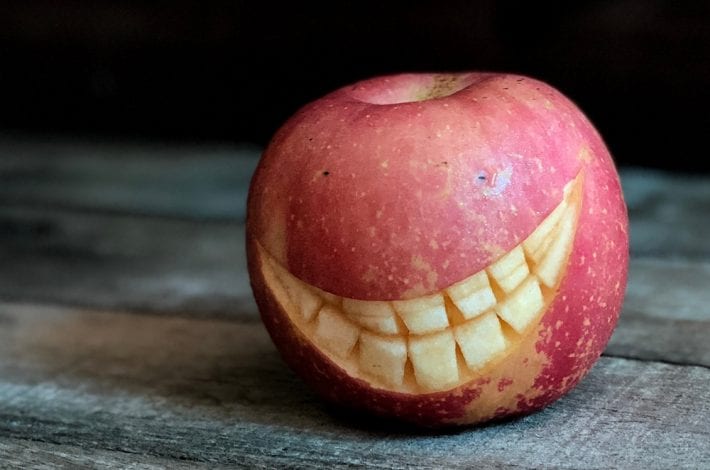 6
Good old Halloween apple race
Each party guest has to kneel down in a line at one end of the room. Stick some masking tape at the other end of the room as a finishing line. 
Place an apple in front of each guest.
Their goal is to push their apple across the room with their noses. No hands allowed.
The first to get their apple across the finish line is the winner!
7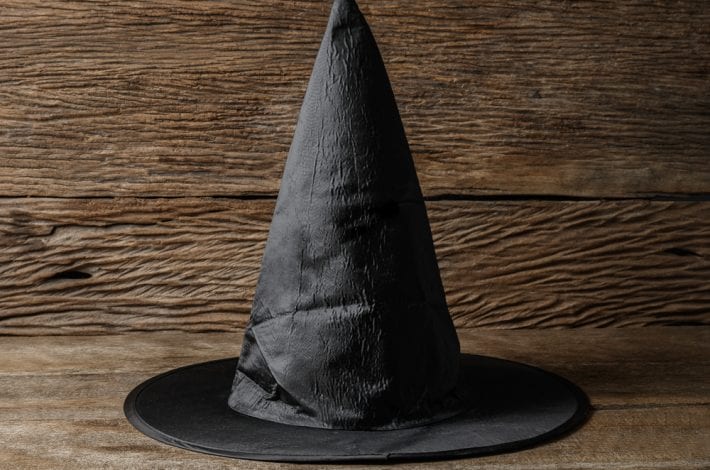 7
Guess the names in the witch's hat
Ask each party guest to write down the names of 10 well-known Halloween characters on a piece of paper.
They can be names from spooky films or stories, names of characters from Halloween films, or even just generic Halloween characters (like ghoul, goblin, spirit etc). Tear up each strip of paper with a name on it. Fold it in half and pop it in a witch's hat.
Divide the players into 2 teams. Each team takes turns to play the game.
The first team picks someone to dip their hand into the hat and take out a name. That person is the only one to see what's on the paper slip. They then have to quickly give their team members clues as to what the name written on the piece of paper is.
They are not allowed to use clues that are: 'sounds like', 'starts with' or any mimes. And for every round a team plays, they can only 'pass' on one name. 
Once the name has been guessed correctly the player then takes another one out of the hat to describe. 
Teams have to work fast and guess as many names as they can in 45 seconds! They get a point for each name guessed correctly.
When their time is up, swap over and the other team has their turn. When the hat is empty tot up the scores to see which team got the most points and wins.
8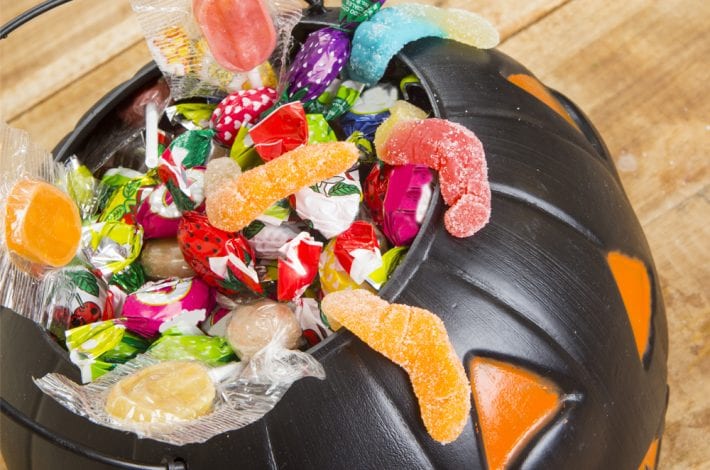 8
Halloween candy toss
Buy some Halloween sweets. Set up 2 large pots or 'cauldrons' on the other side of the room.
Each team takes turns to throw their Halloween candy across the room, to try to get it into the cauldrons.
The team that gets the most sweets into the spooky pots wins!
9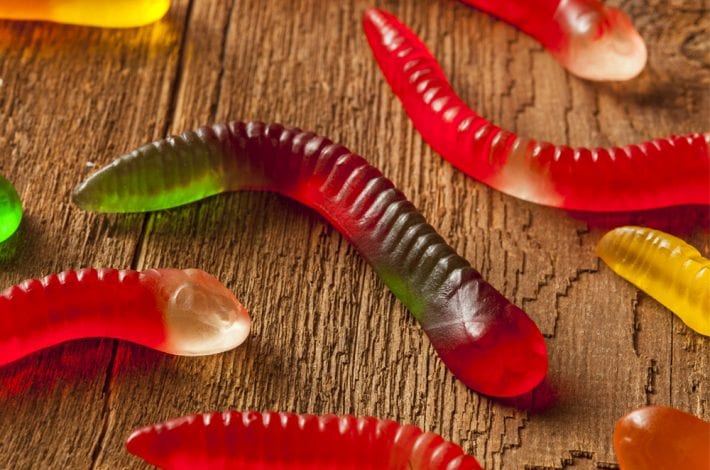 9
Gummy worm messy face race
This one can get really messy!
Set out two paper plates in front of each party guest. Put 5 gummy worms on one plate and cover them with whipped cream. Leave the other plate empty. Blindfold each guest.
When you say 'GO' they have to dig out each gummy worm with their mouth and place them on the empty plate. They can't use their hands! The first to find all 5 worms is the winner.
10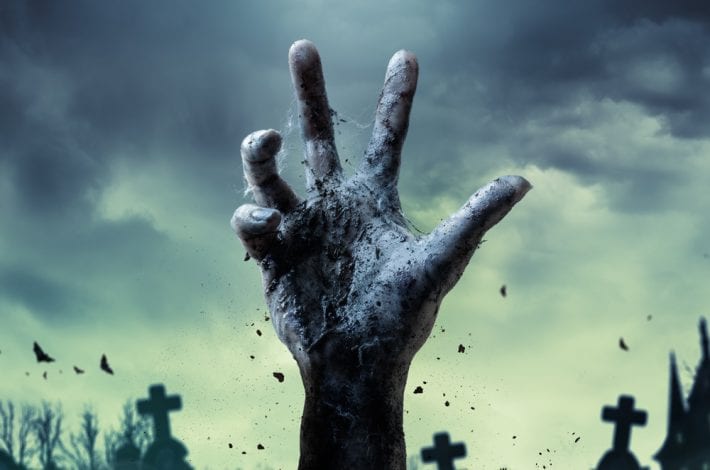 10
Serve up spooky hands
This is a fun way to end a Halloween party for tweens or teens.
Buy plastic or latex gloves and fill each one with popcorn or Halloween candy. Then hang your spooky hands from strings across the party room.
Hand out scissors at the end of your Halloween party. Guests have to free themselves a gruesome hand full of treats to take home as a snack.
Tweens and Teens might claim they are too old for Halloween fun. But these party games might just give them a wickedly good night in!
You can round it all off with a spooky film, popcorn and green 'zombie' smoothies for a Halloween party they'll remember.
Happy Halloween!