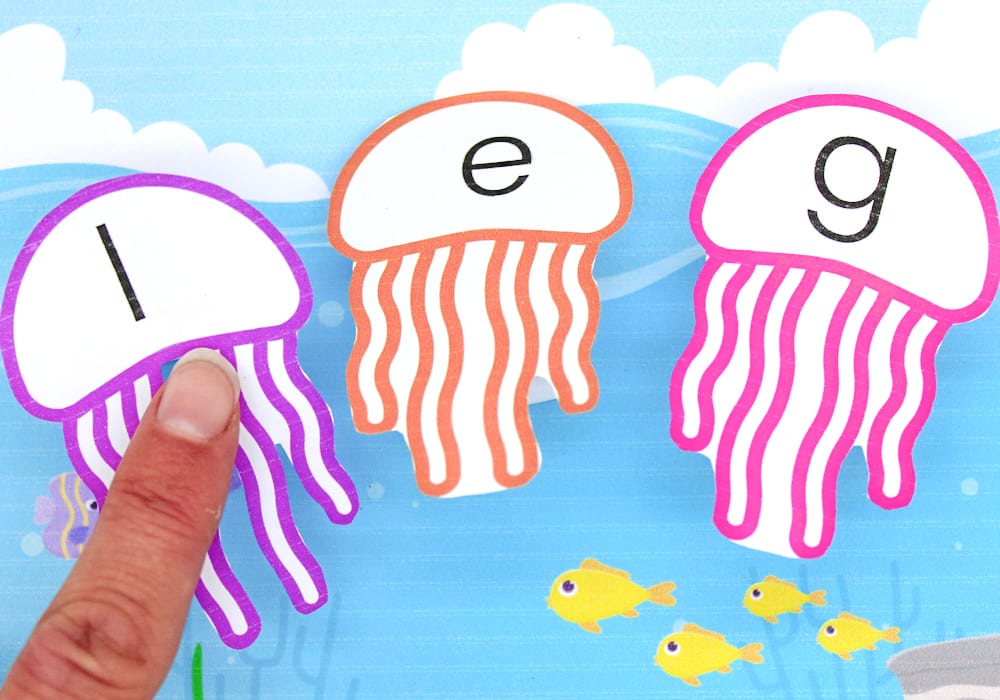 Playtime Learning
Wobbly Jellyfish Word Blending Activity
Make wobbly jellyfish using our free printables below to practise phonics sounds and blending those sounds to read first words. A fun and interactive blending activity for kids to enjoy which is simple to set up too. Because the jellyfish letters wobble, kids will love touching each letter and sounding it out as they read the word they have made.
Summary
Time: 10 minutes
Ages: Little kids and Big kids
Difficulty to set up: Easy peasy
Skill: Reading First Words
How to Teach Blending CVC Words
After learning initial sounds children begin to blend them together to make simple words.
The most common way to start making and reading words is to make CVC words – or Consonant-Vowel-Consonant words. These are easy to read and sound out.
You can then move onto words that rhyme with those first CVC words. For example cat rhymes with mat and bat. This makes it easier for them to practise phonics blending and reading those first words.
1
1
You will need:
Scissors
Glue
Free Wobbly Jellyfish Printables
You can download the first 3 Wobbly Jellyfish Printables here:
Wobbly Jellyfish Reading Activity Printables
Love this game?
You can get extra jellyfish letter printables by signing up to our newsletter below.
You'll be sent the Full Wobbly Jellyfish Reading Activity Pack to print off (also free).
3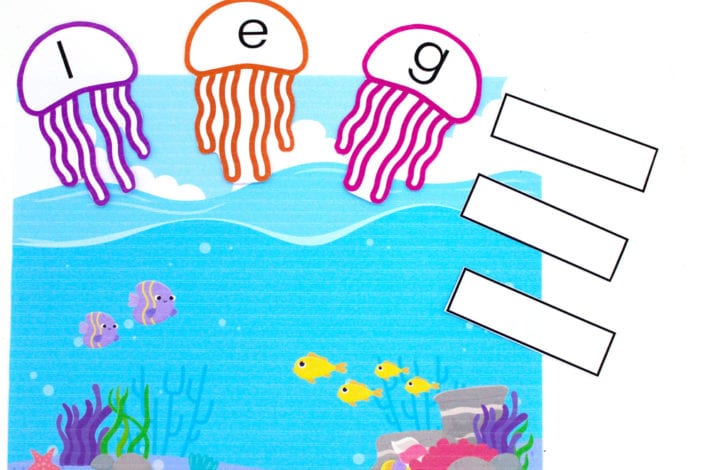 3
Step 1: Cut out all the pieces
Download and print out our Wobbly Jellyfish Printables by following the link below.
You can also sign up to the newsletter for the full jellyfish letter pack to be emailed to you (above). Both are free:
Wobbly Jellyfish Reading Activity Printables
Cut out the jellyfish, the underwater scene and the rectangular paper strips.
4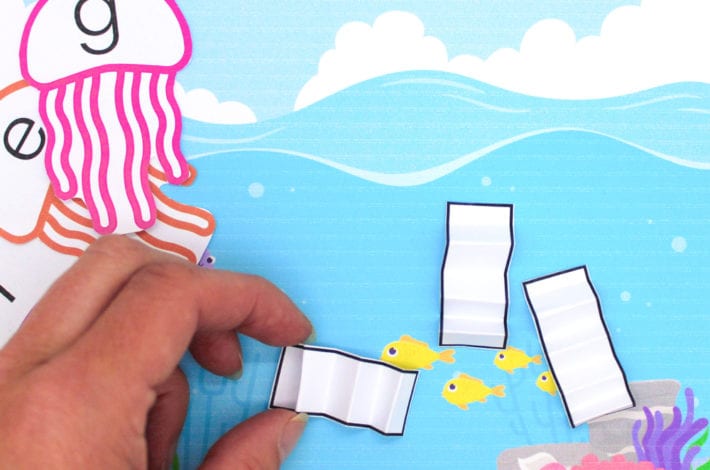 4
Step 2: Make concertina folds
Take each rectangle strip and fold it into a concertina fold.
5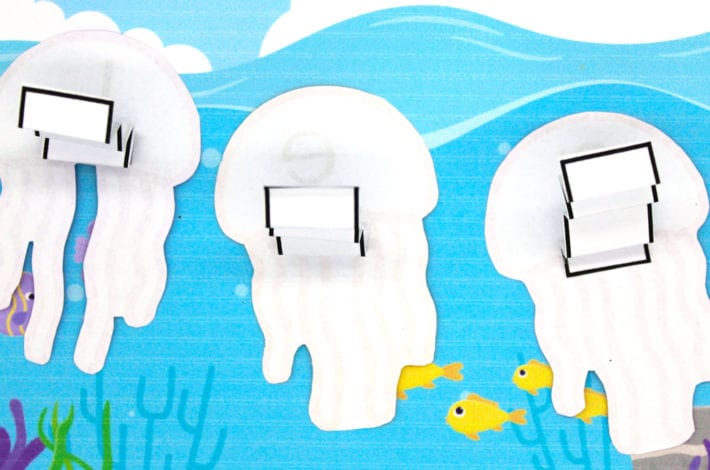 5
Step 3: Stick the concertinas to the jellyfish
Choose 3 jellyfish letters that make up a simple word. (Here we're spelling out the word 'leg').
Place a dab of glue or small ball of blutac on one end of the concertina folded strips. Then stick each one to a jellyfish letter, on the back.
Glue is best if you want to keep that letter jellyfish fixed to that concertina strip. Blutac is better if you want to change around the jellyfish letters to form different words.
6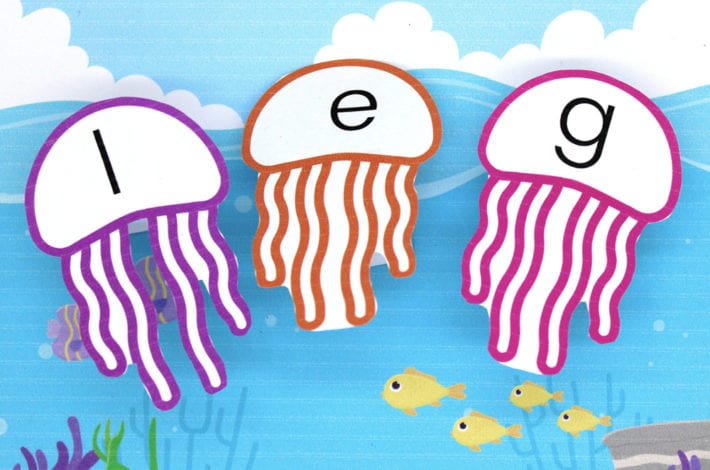 6
Step 4: Glue down the concertina strips
Place another dab of glue on the other end of the concertina fold. Stick it down onto the underwater scene. (You can cellotape it down instead if you prefer.)
Your jellyfish should now appear to be 'floating' over the ocean scene.
Here our jellyfish are spelling out the word 'leg'.
7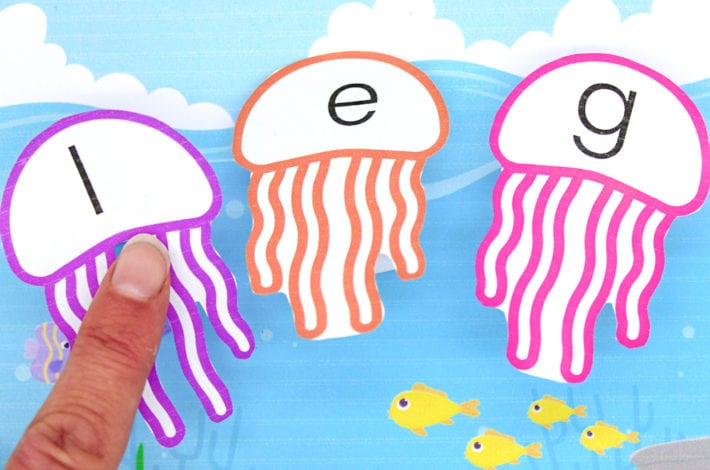 7
Step 5: Wobble the jellyfish and sound out the letters
Ask your child to start with the first jellyfish letter. Press it down with your finger so that it is pushed onto the ocean backdrop, then let it go so that it wobbles back up.
While you're doing this, say the sound that the letter makes. The first letter here is 'lllll'.
Move onto the other jellyfish letters, sounding them out in order.
After you have sounded out all the letters in the word, ask your child if they can try to combine the sounds together to sound out the whole word. This is called blending. 
Here they would say: 'llll' 'eh-eh-eh' 'g-g-g' ——> leg
8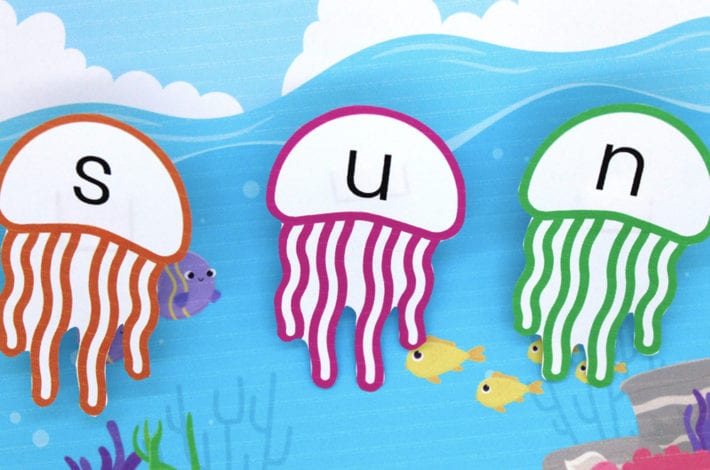 8
Step 6: Make more jellyfish words to read
Play the game again, making different words from the wobbly jellyfish print-outs.
We've provided you with worksheets to make 3 words (leg, pot and sun):
Wobbly Jellyfish Reading Activity Printables
You can also sign up to the newsletter below to get a full Wobbly Jellyfish Activity Pack which has more free printable jellyfish letters to play this game with.
Learning phonics can take a bit of practise at first. Going over the sounds that each letter makes in different ways can really help.
When your child is familiar with the letter sounds, they can start trying to combine those sounds together to read first words.
This blending activity is so hands-on and interactive that reading won't feel like 'work'.
After sticking down their jellyfish words, your child can make each letter wobble, say the sound and practice blending them together. The more they play the more familiar they will get with blending sounds together. Hopefully it will help them along their reading journey.