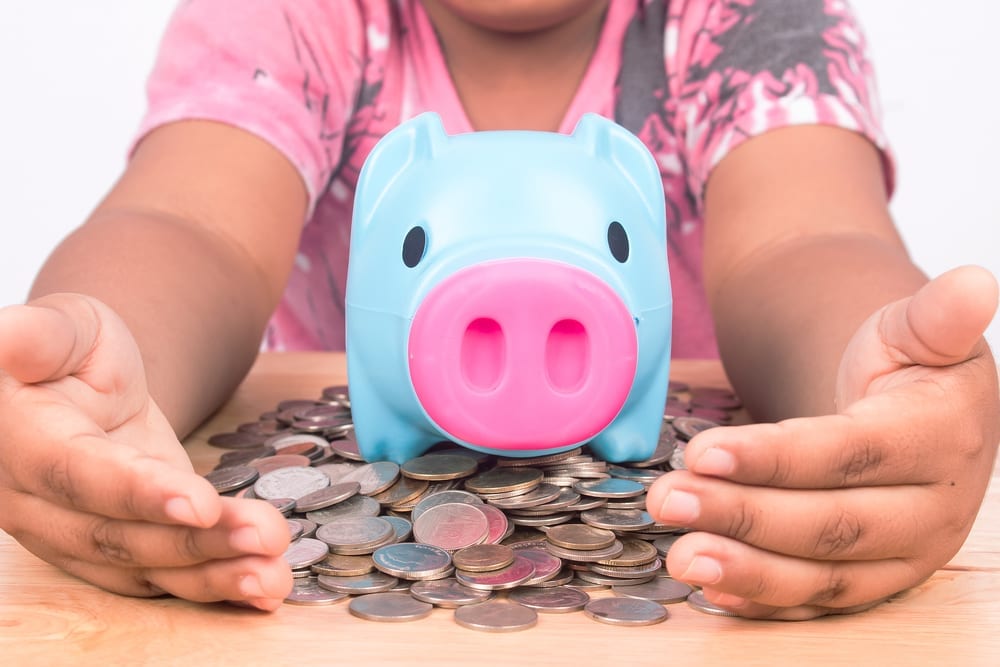 Teaching your children about earning money to save up for the things they really want to buy is a valuable life skill.
It can help them understand the feeling of earning money themselves, as well as show them different ways to make money that might also be enjoyable for them.
Who knows you may ignite the business mind in them that will carry them forward as they go into adulthood!
Here are 16 easy ways for kids to make money. Each takes a little creativity and good old fashioned work.
1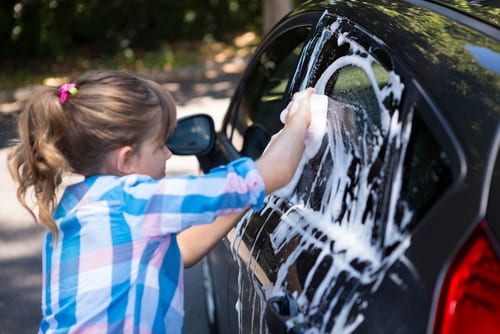 1
Washing cars
Inspire a little entrepreneurial spirit in your child and encourage them to set up their own neighbourhood car wash service.
They could charge a small amount per car and rake in some handy extra cash after school or on weekends.
For kids that love cars this 'job' could also be an enjoyable activity for them.
2
2
Selling their own crafts
Your child could turn their creativity into a money spinner.
They could sell their designs at the end of your drive to neighbours, set up a stall at a school fayre or even set up their own Facebook or Etsy store (under some supervision!)
Check out our Personalised name pots and our Magical snow scene jars for some ideas.
3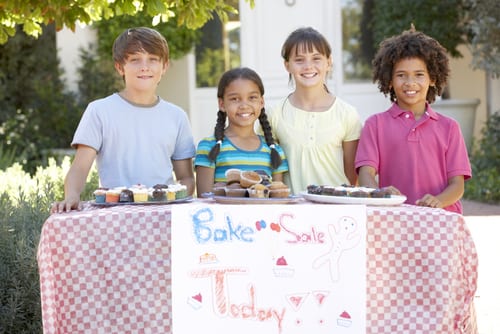 3
Holding a bake sale
You and your child (or your child and some of their friends) could have an almighty baking session and then sell all the goodies at a bake sale.
This can be a real money spinner.
For something a bit more unusual they could even make liver muffins to sell to dog walkers.
4
4
Mowing or raking lawns
Older kids can set themselves up as garden assistants, offering to mow lawns or rake up leaves for houses on your street.
Your neighbours will be forever grateful.
5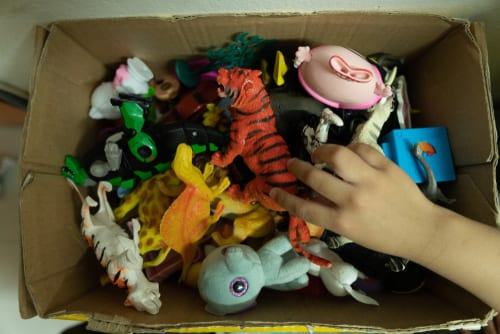 5
Selling old clothes and toys
Get your kids to have an almighty clear out. Their unwanted clothes and toys can earn them a nice pile of cash.
You can all run a stall at a car boot sale or you can show them how to list items on Ebay or Gumtree (just be careful they don't start selling other things too!)
A big clear out and a little effort can bring in some serious extra pocket money.
6
6
Walking dogs or pet sitting
The UK are a nation of pet lovers and we will pay a premium for lovely people to look after our furry friends when we go on holiday or when we're out at work.
Your child could set themselves up as a local dog walker or holiday pet sitter, looking after small pets, such as hamsters, guinea pigs and popping into homes to feed cats.
7
7
Doing a paper round
Once your child is 13 they can apply to do a paper round, delivering newspapers in your local community.
It means putting in some early hours before school but your child can really reap rewards, earning anything up to £50 a month, sometimes more.
8
8
Babysitting
Once your child reaches the age of 15 they might be mature enough to start babysitting.
It helps a lot if you are nearby and can be called upon if they need a bit of help to get the kids to sleep.
It can be a lucrative job for older teens, especially as they can also catch up on their studies as they babysit.
9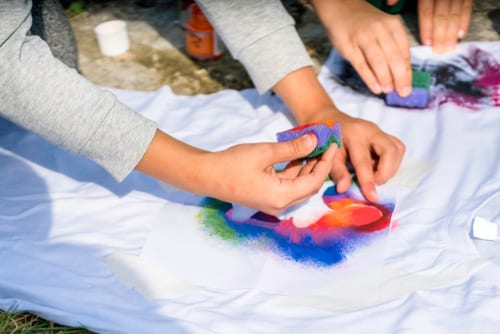 9
Designing T-shirts
Budding fashionistas can design and print their own t-shirts to sell to school friends and neighbours.
10
10
Taking surveys
Teens can make money just be taking surveys online or by phone.
Most survey sites have a minimum age of 13 or 14.
It's important to find a reputable site that you know is safe for children. There's a list here from Well Kept Wallet that could be a great starting point.
11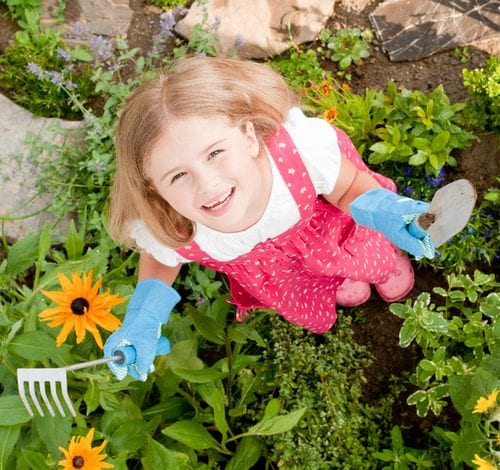 11
Growing their own
Greenfingered kids can grow herbs and plants to sell in their local community.
Homegrown herbs and flowers can be a big seller. As can seasonal veg like tomatoes or potatoes.
12
12
Selling homemade sauces.
Your child could make pasta sauces, jams or chutneys to sell to neighbours, friends and family or at local fayres.
They could also go with more unusual homemade products such as wild garlic pesto.
This can be made from gathering wild garlic and blending it with olive oil, pine nuts, parmesan cheese and lemon juice.
Fresh lemonade is another during the summer months, to sell at a stall.
Made with the freshest ingredients, homemade products can be a big hit.
13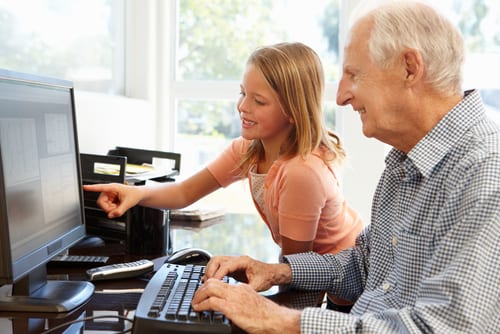 13
Selling their computer whizzery
If your child is a bit of a computer or tech whizz they could offer to go round to less-techy neighbours or friends to teach them how to use their computer, surf the web, set up social media accounts or order things online.
The less computer savvy neighbours will be eternally grateful.
And your child will earn some money imparting some of their knowledge and skills to help others, which is a rewarding experience in itself.
14
14
Tutoring younger children
Kids can make the best teachers. Older children can offer to tutor and help out younger children, who need a little extra help with their school work.
You may discover a passionate educator within your own child.
15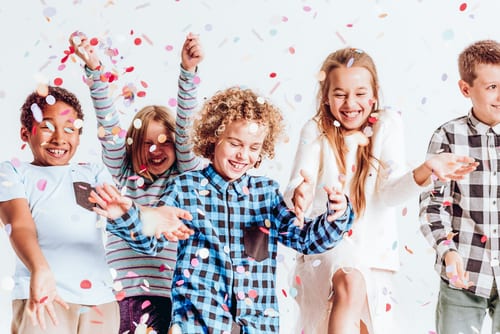 15
Becoming party assistants
Every parent in the land knows how valuable an extra pair of hands can be at kids parties.
Your child could print out flyer or pop notices in local shops offering to be an extra help at kids parties for a small fee.
Chances are they will be snapped up. Their party duties offered could include playing with guests, serving the party, leading party games and helping clear up.
16
16
Face painting
If your child is arty they could offer their services as a face painter at parties, fairs and other local events.
People will pay a nice amount to get their kid's face painted on days out so this can be a real money maker.
So with this great list of ways for kids to make money, your child can take their pick and get earning.
Hopefully they will feel a great sense of achievement when they can go out and buy themselves something with money they've earned with their own two hands.