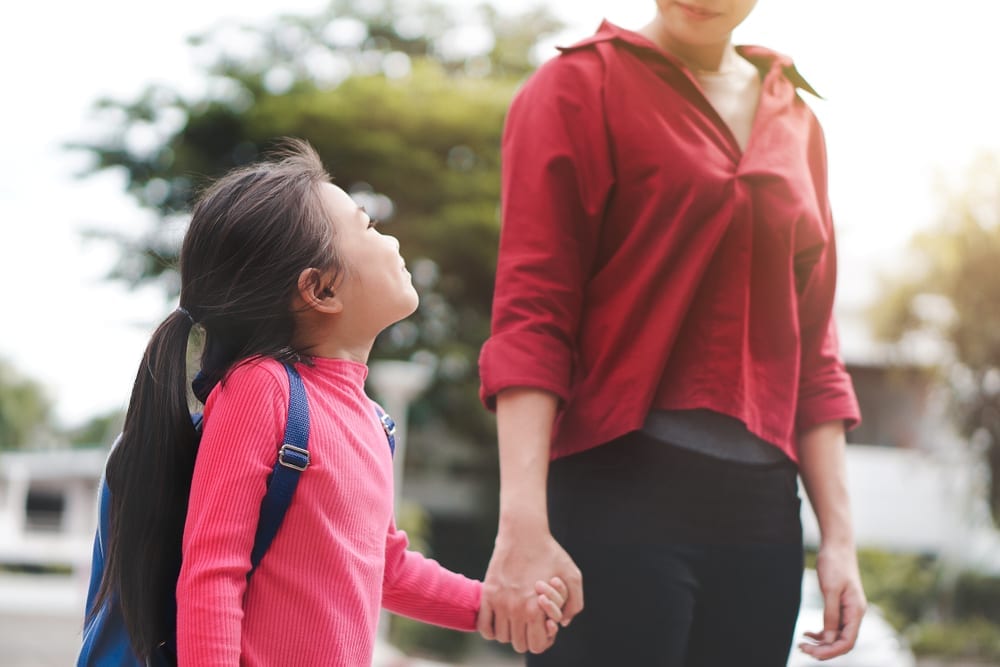 Before my child started school, I'd spent the summer holidays preparing her for the brand new adventure ahead. I cheered her along, promising her that she'd make lots of friends and have a fab time. And she took to school life like a duck to water. I, on the other hand, spent the first term reeling. I hadn't quite realised that I was effectively going back to school as well and had to face the daunting world of playground politics and social stresses that I thought I'd long since left behind.
No-one told me there was a dress code for mums
I rocked up to the school playground dressed in my usual mum gear. This consisted of jeans and a nice top smeared only slightly with a small Marmite handprint, hair scraped back into a 'messy hair don't care' mum-bun. And I felt all wrong. A large number of the other mums were dressed in gym gear. And not just tracky bums and muddy trainers but proper stylish sleek yoga pants and shiny kicks. Were they all planning a quick 5k run on the way home before they tackled the laundry?
Others were decked head to toe in trendy outfits. Their shoes co-ordinating with their bags and their hair perfectly blow dried. I not only felt like the only one who had turned up to a party without knowing the dress code but I started to wonder how on earth all the mums managed to find the time and the energy to look so together.
I've found out since then that some mums even take selfies of their school run outfits and post them up on Instagram. Yes, really. That's a thing. #schoolrunstyle #youwontfindmyphotothere.
How come all the other mums are already besties?
I naively presumed that it would be easy to make friends and find my school playground mum tribe. What I didn't realise was that I would feel left out and lonely just like I did when I was 13, when I hid in the corner of the playground hoping the popular kids wouldn't notice me. I found myself standing on the edges watching all the shiny and confident mums in loud groups. They were chatting about the hilarious thing Sally did on the mum's night out last week and swapping recipes for the amazing pulled pork that Dave made when they all went camping in half term. How did they all become such a tight knit group so quickly?
I seesawed between trying to make myself invisible, lurking in the darkest corner of the playground, pretending I was doing something super important on my phone so no one would notice me and hovering nervously on the edges of one of the mum groups with my best 'please-talk-to-me-I'm-really-nice' smile, hoping that someone would include me too.
That glorious day…
After weeks of feeling ignored and snubbed my heart soared as the Queen Bee of the playground made a headline right towards me one morning. After a quick check to make sure there wasn't someone from her clique standing right behind me, I felt quite giggly and giddy as I realised that she was actually going to talk to me. And as we exchanged words I was so dumbstruck, that it was only when she sashayed off that I realised I had somehow ended up agreeing to single-handedly organise and run the home baking stall at the Christmas Fayre. Help! I couldn't bake anything more complicated than a chocolate crispy cake.
She never spoke to me directly again, by the way, except to wrestle £20 out of my hands to go towards the teacher's end of term John Lewis voucher, which I handed over meekly even though I had been planning to give her a pot plant and a homemade card.
Finding my mum tribe
Things changed when I stopped trying to fit in with the mummy cliques. I kept spotting a lovely normal looking mum, who always looked a bit flustered as she blustered into the playground each morning, just on the bell. I swear one morning the tartan shirt poking out of the top of her coat was actually a pyjama top. When she handed in her tupperware for the bake sale, I strongly suspected that her mince pies had been made by Mr Kipling. But with an extra dusting of icing sugar and a good shake and poke to make them look homemade. She looked like my kind of person.
Channelling all the bravery and making-friends-strategies I had coached my child in, I finally sat next to her on the bench one day and started a conversation. And we became friends. And together we found two other mums just like us. Now the playground is a lovely place and I look forward to going there each day for a chat and a gossip and a giggle.
As for the mum cliques. Turns out they're actually mostly full of nice women too. I've got to know some of them over the year and they're perfectly lovely. They're just a bit daunting in a group.
Keep on keeping on
To all the other mums who feel lonely and left out at the school gates, hang in there. It's not as bad as you first think. Smile, keep on being you. If you see someone with a messy mum-bun on the edges of the playground pretending to do something very important on her phone, why not stroll over and say 'Hello'? She might be your key to making the playground less of a scary place and make it not just bearable but a bit of a highlight in your day over the next seven years.