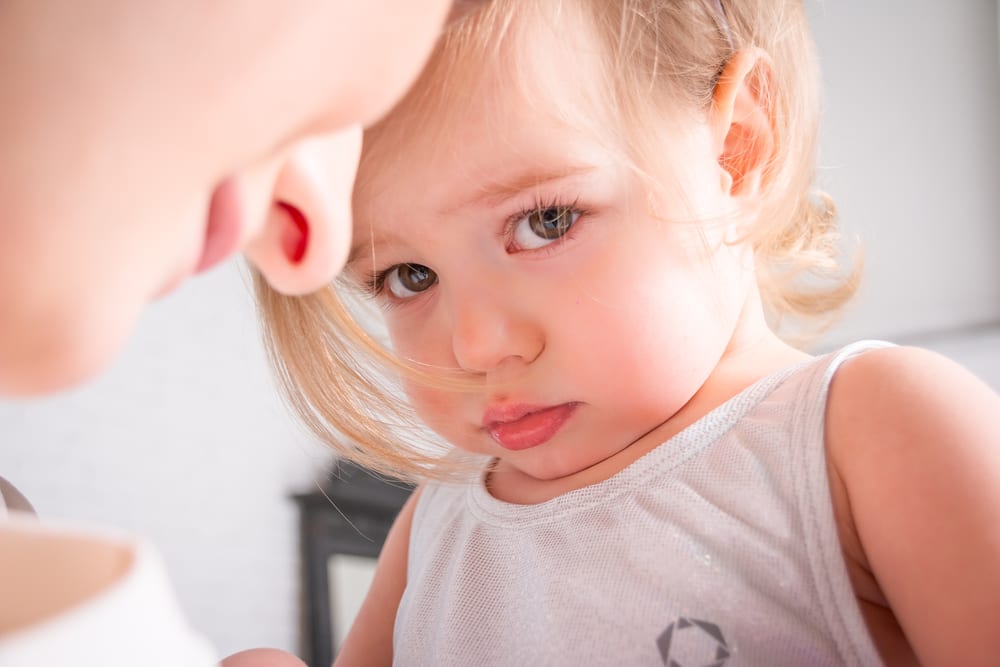 Do you find yourself yelling at your toddler? Losing patience? Being less kind or understanding than you'd like? Frustrated with your child's lack of logic? You're not alone—those are all common experiences for parents of toddlers.
As adorable as they are, toddlers are not always easy to be around—hence the reputation for the "terrible twos," "threenagers," and so on. It's a good thing they give such great cuddles, though, am I right? 😉
As the mother of a toddler, I'm always looking for ways to strengthen communication with my child. I know that better communication can make our daily interactions easier for both of us. As a rule, I'm interested in gentle and respectful parenting methods (like those espoused by Janet Lansbury, Laura Markham, Dr. Shefali Tsabary and Kim John Payne). Much of my reading and learning about parenting has been focused on parenting this way. But, I'm always open to other tools, even if they aren't labeled peaceful or gentle.
I was excited to take the Talking To Toddlers course, taught by Chris Thompson. Inspired by Thompson's background in hypnosis, this popular and long-running course is focused on teaching parents how to better and more effectively communicate with toddlers. But don't get the wrong idea—there's no formal hypnosis in Thompson's methods.
Rather, the course teaches parents communication and conversational skills. It helps you, as a parent, use language effectively for persuasion and influence with your kids.
The idea here is that learning how to talk to toddlers will cut down on tantrums and resistance. You know those days when it feels like you're walking on eggshells around your toddler, afraid that one small request like, "Let's get your shoes on!" will set them off into a crying fit or tantrum? ME TOO. This course is designed to give you the tools to avoid and manage those kinds of situations.
So, let's get into it. What is the Talking To Toddlers course, who should take it, and how will it help your family? My review is below.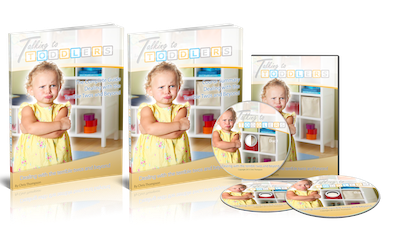 Talking To Toddlers Audio Course
What Is the Talking To Toddlers Course?
The Talking To Toddlers course is an audio course that provides parents with easy and actionable strategies for communicating with toddlers. It consists of twelve modules, each with suggested homework.
Rooted in Thompson's work in hypnosis, the course provides parents with concrete ideas for how to talk to their children: questions to ask, phrases to use, and techniques to drive the conversation to ensure your toddler is listening and cooperating.
About the Course Author, Chris Thompson
Chris Thompson, creator of Talking To Toddlers, is a parenting coach and podcaster.
He is also a Master Hypnotist and hypnosis trainer. Thompson is certified in NLP (neuro linguistic programming).
He hosts a popular podcast called the Brain Software podcast with Mike Mandel. He's also a parent of two kids.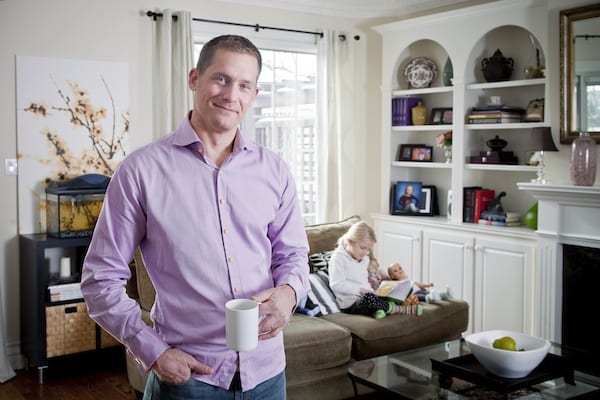 Talking To Toddlers Chris Thompson
Free Parenting Lesson
Before I get into the full review of this course it's worth mentioning that Chris Thompson is offering a free parenting lesson when you sign up to his newsletter.
You can find details about this here:
Talking To Toddlers Course Facts
Free lesson available if you sign up for Thompson's parenting newsletter
$37
60 day money back guarantee
12 audio lessons
Downloadable MP3s
Transcript videos
Lessons range from 10-15 minutes long
Full PDF of all transcripts
Who Is The Course For?
This course is for parents of toddlers and preschoolers: children ages 2-4.
The course is for:
Parents looking for help in dealing with toddler tantrums.
Parents who want to stop shouting at their kids.
Parents who want to stop nagging their kids.
Parents who feel their kids are constantly ignoring them and their requests.
Parents who want their kids to listen to them.
Parents who want to communicate better with their kids.
Parents who want to have a stronger relationship with their kids.
Parents who want to have a more harmonious home life.
Thompson mentions the course is most helpful starting when your child is age two. This is because two-year-olds can understand and speak enough language to make the techniques in the course useful.
So, you could try to use it with younger toddlers (below 24 months), but it may not be as effective.
The techniques could still be quite useful for older children, too (as many of them are based on adults), but that isn't the focus of the course.
Course Format
This course has been in existence since 2014, so it's been available in different formats.
It's been available as an audiobook and set of CDs. The course consists of audio tracks that are about 10-15 minutes long. Thompson is the sole speaker for all of the audio tracks.
There are twelve lessons in the course.
Talking To Toddlers Lesson Topics
| | |
| --- | --- |
| Lesson 01: | Introduction Including Key Concepts |
| Lesson 02: | Double Binds and Presuppositions |
| Lesson 03: | Say NO Without Saying NO |
| Lesson 04: | Yes/NO/Compliance Sets |
| Lesson 05: | Commitment and Consistency |
| Lesson 06: | Reciprocity |
| Lesson 07: | Pick Your Battles |
| Lesson 08: | Reframing |
| Lesson 09: | State Management and Anchoring |
| Lesson 10: | Embedded Comments |
| Lesson 11: | Dealing With Physical Pain |
| Lesson 12: | Threats and Punishment |
Course Access and Technology Requirements
The course is easy to follow and access.
Parents can download the audio tracks directly to their computer, tablet or phone. This is a great aspect of the course, as you can listen to a lesson on your commute, while doing dishes, or even during exercise.
You can also access the course on TalkingToToddlers.com. If you choose to follow along on the website, you can listen to the MP3s or watch videos.
The videos feature the transcript of the audio. Each word appears in bold text as it is spoken. This is a nice touch for accessibility for people who may be deaf, hard of hearing, or have vision disabilities.
There is also the option to download a full PDF guide. The PDF guide consists of a 79-page ebook. The ebook has transcripts for each of the twelve lessons.
The course website features "key learning points" below each recording and video. These are bulleted points that recap the main ideas of each lesson.
The course website also includes homework for each lesson. These are Thompson's suggested follow-up activities, which can include questions to ask yourself or ways to practice the techniques introduced in the lessons.
You do not have to submit the homework back to the course classroom or to Thompson. The homework is for your benefit only.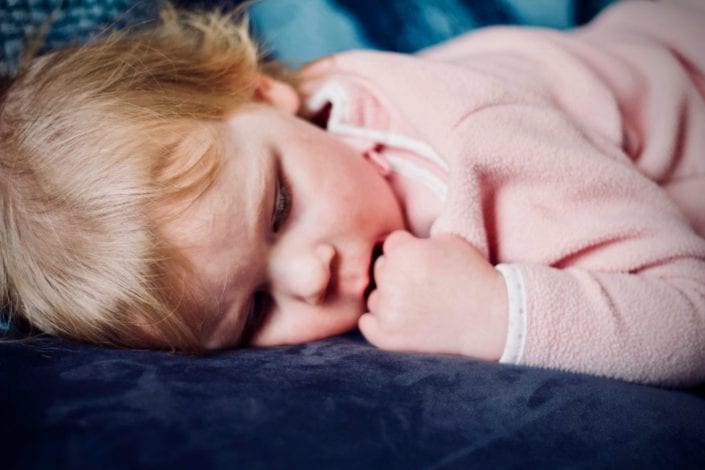 How Long Does The Course Take?
The course is designed to be done over the span of about two weeks. It is suggested that you listen to one audio track per day to stay on track with the two week goal.
You can go faster or slower, as fits your schedule and family.
What Parents Are Saying About It
This is a long-running parenting course, so there are many reviews and reactions online. As a whole, parents seem to like and enjoy the course.
Many people love that the course is short, in bite-size chunks. Most parents agreed that the focus on simple actions makes the ideas easy to try in their families.
Multiple parents say that they were able to see an immediate behavior change in their child after using the tips in "Talking To Toddlers."
Others felt that the course was misleading—some feel the title seems to imply that you will learn how to talk to your toddlers about difficult topics, like death, God, etc. This is not the case.
Talking To Toddlers has an average of 4.2 stars on Goodreads.
My Experience Using The Course
I accessed the Talking To Toddlers course using the course website. I followed the intended design of listening to one lesson each day, then doing the homework with your child and family.
I quickly learned that it is key to actually do the homework. The homework is generally very easy—Thompson will ask you to practice the technique or phrase a question in a different way. Doing the homework helped me actually put the ideas into practice.
The ideas and methods in the course are easy to use right away. Thompson's guidance is clear and encouraging.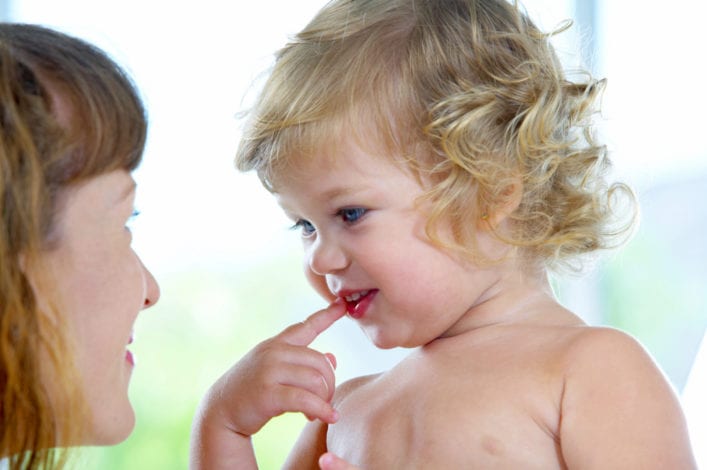 What I Liked And What Worked For Me
The methods Thompson espoused, especially on how and when to frame certain questions or statements, were helpful in getting my toddler to willingly participate in things that are often difficult for us, like picking up toys, putting on pajamas, or heading out the door to an activity.
The tools are practical and easy to implement in your life as a parent ASAP (and in fact, they work much better if you do the "homework" and implement them as soon as you learn them). I wasn't always able to mindfully "do" the homework in my life, but it was helpful, even to have it in the back of my mind as I went through my typical days with my toddler.
After each lesson, I would try to use the language and framing that Thompson suggested, including redirecting, rephrasing, and more. Thompson often uses his personal experience with his own kids as examples, which was interesting to hear as a fellow parent.
During one particularly rough snack time, I used a technique Thompson suggested in "Talking To Toddlers" and was amazed when my son instantly stopped whining and picked up the crackers he'd just thrown on the floor. These methods do work!
I liked that the course also holds parents themselves accountable for their relationships with their children. After all, our relationships with our kids can clearly affect their behavior!
Rather than seeing the child as someone who needs to be tamed or controlled, there are several instances when Thompson asks parents to reflect back on themselves and their reactions.
Doing this can help better the situation for everyone involved. Thompson often asks parents to consider their child's point of view. For me, this is a good and necessary reminder.
The idea that parents say "no" to their kids too often comes up often in "Talking To Toddlers." This resonated with me. I liked how Thompson explained this idea in easy-to-understand terms.
He made it clear that the course methods are not about being a permissive parent, but reconsidering what you say no to and when, so you can lessen the conflict and strife for both you and your child.
One of Thompson's main ideas is that language is a parenting tool. I liked thinking of the skills and framework he teaches as one more tool in my toolbox as a mother. His ideas are simple, but do seem to make a difference.
What I Didn't Like
While I agreed with most of the techniques in the course, there were a few instances where I did feel like the course asked me to manipulate my child in a way that felt uncomfortable. When Thompson used wording like "distract and disarm" in relation to a two-year-old, that gave me some pause.
I don't believe that toddlers are enemies that need to be conquered—they are simply little people who need a lot of help in navigating both their own feelings and the world.
Who This Course Is Not For
I don't think this course is for you if you are interested in a parenting course that has a lot of research behind it. This includes research in child behavior or psychology.
This course is based mostly on communication methods, some of which are based on adult research and behavior. That doesn't mean that they won't be effective for use with your toddler, but it's something to know before you buy.
Evidence-based is not a term I would describe to use the content or methods offered here—but again, that might not be a deal-breaker for you.
If you aren't open to new methods, this course won't work for you. You have to be willing to hear Thompson and try his methods. If you don't have the time, energy, or inclination to change your parenting right now, Talking To Toddlers is probably not a good option for you.
My Rating for Talking To Toddlers
Pros

Cons

Convenient audio format
Based on communication rather than child psychology
Affordable price point
No personalized guidance or way to interact with instructor
Easy to understand
Videos are text only
Actionable strategies
Communication-based approach
My course rating: ⭐⭐⭐⭐ 4 out of 5 stars
Audio Course: Talking To Toddlers
Is Talking To Toddlers a Good Parenting Course? My Overall Thoughts
If you're looking for easy ways to stop yelling and help your child listen to you, you'll certainly find much to appreciate here. Thompson does a great job of giving loving parents real, actionable tools to make life with toddlers and preschoolers easier.
I could picture this course being useful for whole families, even for grandparents, babysitters, or other caregivers. It would be a fun couples activity to take the course together, do the homework separately, and then discuss each lesson. This would be a great way to get on the same page, if you have a partner or co-parent.
I would definitely recommend the course to any parent of a toddler, especially at the affordable price point and with the ease of access via MP3s or on the website.
Thompson's ideas are practical, useful strategies you can easily and quickly implement to have a more harmonious home life. Here's to a happier life with your little one!