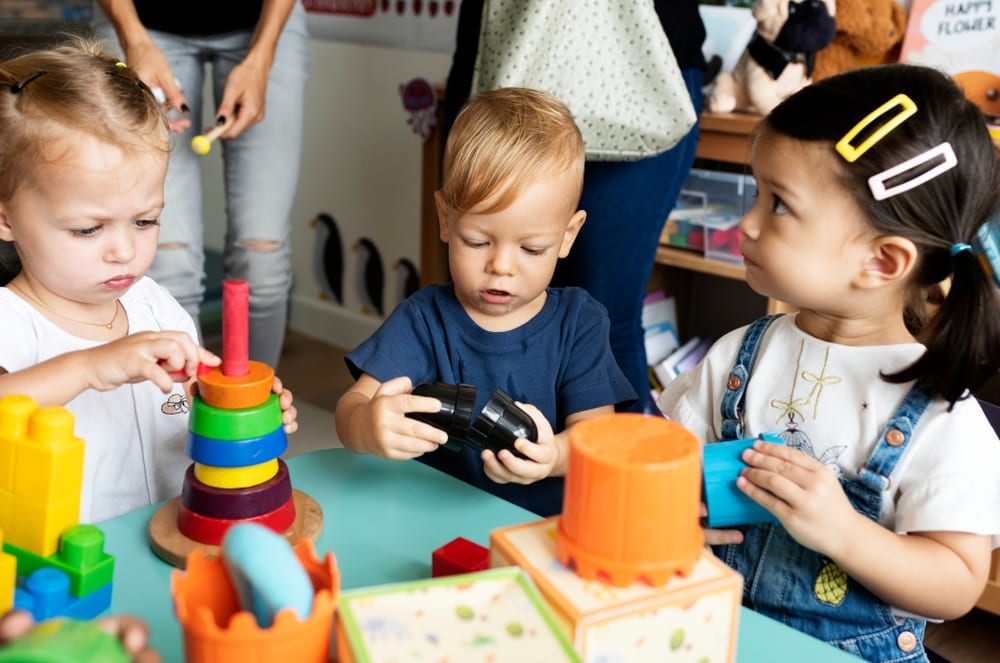 Deciding on a nursery for your child can be daunting as it's a big first step in their school journey. To help we've put together a list of our top 10 independent nurseries in North London. They're all rated outstanding or good by Ofsted are popular with parents in the area.
Perhaps you've just moved to the North or Northwest London area? If so you may be looking for a round up of great nursery schools for your child to get you started.
10 Best Independent Nurseries in North London
Below is our list of the top 10 private nurseries in North London. They're all rated Outstanding or Good by Ofsted and are popular with parents in the North London area.
We've also included a wide range of approaches to early years education so that hopefully you can find one that fits best for you.  
Nursery school is your child's first experience of education (and often their first time away from you). So you want to get it right. But where do you start? Here are some factors you may want to consider:
Preparing Your Child for the 4+ or 7+ Assessments
Pre-preparatory (4-7 years) and preparatory (7-13 years) schools in London are often selective. This means that they assess children before they offer them a place.
The age of intake is usually either at 4 or 7 years old, which is why you've probably heard of the 4+ and 7+ assessments. There are also a few schools that assess children a year later at 5 or at 8 years old instead.
Depending on the school, the competition for spaces can be high. If you have your heart set on your child attending a high performing Preparatory School then this is a factor to consider when selecting a Nursery School for them too.
Why does the nursery school matter for 4+ and 7+ assessments?
Nursery schools can do a great job of preparing young children for these 4+ and 7+ assessments.
Some may also have good relationships with certain preparatory schools which can mean that they send a high number of pupils there. When this happens the nursery school is often considered a 'feeder nursery' for that particular prep school.
If you have a particular prep school in mind for your child, then it's a good idea to research which nurseries are thought to be 'feeders' to that particular school.
Take a look at our list below for some great nursery schools that prepare pupils for the 4+ and 7+ assessments.
Montessori Based Learning
Another important consideration when choosing a nursery schools is what learning method you prefer your child to start with.
The most well-known is the Montessori Method of Education which has become hugely popular over the last 100 years, in particular for the early years education.
The Montessori Method is a child-centred approach to education. The child chooses what they wish to learn, at which point during the day.
It also teaches independence by having a classroom set up in such a way that little children can reach shelves to take out and put back toys on their own. There is a focus on elements such as life skills and learning how to do everyday tasks.
While these methods may sound less traditional, over the years they have had some great results in terms of children's interest in and ability to learn.
As a result many of the nursery schools in the below list incorporate elements of the Montessori Method to their daily learning. Some have it as a stronger influence than others, so this may be something else you wish to consider.
Play-based Nursery Schools
Play-based learning is now considered to be a huge part of early years education. Learning activities are often made into fun games or incorporated into play.
However you may wish your child to enjoy completely free play rather than learning a particular curriculum at nursery school. If so then this is another important consideration to keep in mind when visiting schools.
Outdoor Nursery
Living in an urban environment can mean that our children spend very little time outdoors. This has become an ever increasing concern for parents. So it may be no surprise that Outdoor Nurseries and Schools have been set up and have grown a lot in popularity.
At these schools, children play and learn through outdoor projects, all day long.
Best Newcomer
It's rare to be able to present such a great newcomer to a list of the best north London nursery schools. With stunning facilities and high standards, they're a great option for North London parents. They even have a parent's cafe where they offer coffee at drop off.
Hampstead Hill School (Hampstead)
Nursery and Pre-Prep
Hampstead Hill is a Nursery and Pre-Prep school that takes children from age 2 – 7. Set in the heart of Hampstead in the old church of St Stephens, it has quite a large campus. They have also added additional teaching rooms set out around the church as well as an outdoor space with a range of play equipment for the kids.
This nursery is hugely popular with working parents as it operates a holiday scheme outside of term times. Over the half term, Easter and Summer-time breaks they offer in house and local activities like crafts, cookery and excursions. They also offer childcare in school during the holidays if last minute emergencies come up.
7+ Assessments
Hampstead Hill has an excellent reputation for preparing children for the 7+ assessments. Their students get offers for entry into some of London's top Prep schools. Some of these include UCS, Westminster, Habs and North London Collegiate.
Admissions
Hampstead Hill is non-selective but it is oversubscribed. It's recommended that if you want a place, you put your child's name down as soon after birth as possible. You can do this online on their school application form. There's a link to this here.
Broadhurst School (Hampstead)
This is a small, cosy but highly sought after nursery for children aged 2-4. When they start at age 2 children stay for 3 hours either in the morning or the afternoon. After the first year children move up to full day sessions of 6 hours.
The children are introduced to pre-reading and pre-writing skills and begin practical numeracy. It teaches first phonics and numbers at an early age through play-based learning.
The school also offers a wide range of stimulating activities, including music, yoga, drama, art and craft, free play and stories. There's also a beautiful outdoor playground full of play equipment, where they can play each break time. 
4+ Assessments
Broadhurst has an excellent reputation for preparing children for North London 4+ assessments for highly selective prep schools. This preparation means that the nursery day is quite structured.
After some free play there is table time where children work in small groups with their teachers. They practice a range of skills including developing literacy and numeracy through fun and interactive activities.
How to Apply
There is a huge demand for places and, if you want to apply then it's recommended you do so 'at the earliest stage of pregnancy'.
The morning spaces are like gold dust and go really quickly. So if you can, put your child's name down before the end of your first trimester!
Missed that deadline? There's also a waiting list so it's still worth applying in case a space becomes available.
Broadhurst School
Ages: 2-4
Borough: London Borough of Camden
Address: 19 Greencroft Gardens
London, NW6 3LP
Tel: 020 7328 4280
Website: Broadhurstschool.com
Ofsted report: Good (Nov 2017)
Ready, Steady, Go (Primrose Hill, St John's Wood, Camden)
This is a small but very popular nursery for children aged 3-5. It started with the first centre in Primrose Hill and has since opened at 2 other locations, one in St John's Wood and the other on Fitzroy Road. 
All the children attend 5 days a week from 9pm until 2pm. Children are encouraged to be creative and to play, explore and investigate new skills.
For example they might listen to their heart rates with a stethoscope and then run up Primrose Hill and listen again to see if they have got faster. They also visit the local woods each week to explore the natural world. Here they might make art with sticks and leaves or count with pine cones.
It's a really happy nursery with a lovely feel to the place. It's also been rated Outstanding by OFSTED and places are in high demand.
Admissions
Ready Steady Go recommends registering early, ideally at birth to be guaranteed a place at one of their locations. 
'We do get calls from the hospital', says principal Jennifer Silverton.
Classes for Younger Children
Ready Steady Go also offers pre-school activities to younger children through a 'Beginners' programme. You can find more details about these on their website here. Carers come and stay with the child while they enjoy these sessions.
They also run ABC groups on Monday mornings where they have dance, music and play.
Ready Steady Go
Ages: 3-5
Borough: London borough of Camden
Address: 12a King Henry's Road,
London, NW3 3RP (Primrose Hill Location)
Tel:  020 7586 5862
Website: Readysteadygo.org
Ofsted report: Outstanding (March 2016)
Clowns Nursery (Golders Green)
Clowns Nursery is a very popular day nursery and school that can take babies from as young as 6 months old, all the way up to 5 years old.
As opposed to just being open during term time, Clowns also offers holiday programmes too, which are ideal for working parents. These holiday programmes mean that the school is open for 48 weeks of the year.
During term time parents can also choose to have their children at the school from 8am-6pm if they wish. They offer a range of after school activities within the school, so that children can do all their clubs such as music, PE and drama on the premises after the school hours. 
It's set in a beautiful, large building with a large outdoor garden, packed full of fun play equipment and activities. 
History
The school was set up by Tracy Landy and started off as a tiny day nursery run at her own home. Today it is a busy and vibrant large nursery for babies from 6 months to children up to age 5.
Even though it has grown a great deal since then, the family feel and personal touch Tracy is so passionate about is still evident.
It has an excellent reputation and was recently voted outstanding by OFSTED.
Manor House and Clowns Preschool
Clowns is divided into three main centres:
Day Nursery (6 months – 2 yrs)
The year after children turn 2, they will then progress to one of the two sections of the school:
Clowns Pre-school (2-5 yrs): this has a freer curriculum and is more for children who are entering non-selective primary schools where there is no assessment process. It has a well rounded range of activities.
Manor House (2-4 yrs): this is for children who are sitting for the 4+ assessments to independent schools. It focuses on the development of each child and has a more structured learning plan.
Admissions
Early registration is advised to get a place and specify which of the 2 schools you will prefer (Manor House or Clowns Pre-School). If you do receive an offer make sure to clarify whether you got your preferred choice as they are different sides of the school.
Mulberry House School (West Hampstead)
A well respected co-educational nursery and pre-prep school. Mulberry House has a reputation for getting excellent results in preparing children for 4+ and 7+ assessments to get into some of the top preparatory schools. 
The school runs from age 2-7 and children start after their 2nd birthday. Pupils then have the option to leave at 4+ if they wish to sit the 4+ assessments, or to continue on and sit the 7+ assessments.
The learning is centred around exciting and engaging topics that children love – such as minibeasts, transport and the seaside.
As well as having plenty of fun learning through play in the nursery, the children also visit the outdoor classroom at a local nature reserve each week. There they carry out exciting activities, such as pond dipping and even going on a Gruffalo hunt.
It's also popular with working parents as it is open for 47 weeks a year and can provide wrap around care from 8am-5.45pm.
Places are in high demand so it's advisable to put your child's name down as early as possible after birth. Parents do need to have attended an Open Evening to be able to register.
Mulberry House School
Age: 2-7
Address: 7 Minster Road
West Hampstead
London NW2 3SD
Email: info@mulberryhouseschool.com
Telephone: 020 8452 7340
Website: MulberryHouseSchool.com
Ofsted report: Outstanding (Nov 2018)
Oak Tree Nursery, Devonshire House School (Hampstead)
This is a nursery which is on the grounds of (and is a part of) the much larger Devonshire House Preparatory School. It takes children from 2½ years old for either morning, afternoon or full day sessions. 
The nursery offers lots of opportunities for free play as well as structured times to follow the nursery curriculum. This includes music sessions, weekly PE lessons and Personal, Social, Health and Economic Education (PSHE) lessons where they encourage children to talk about and think about their feelings.
Admissions
Children start Oak Tree nursery at 2½ years of age when they're nappy free. Places are offered subject to an observed play session. Priority is given to siblings but there are spaces for new families too.
Newcomers start at two points during the academic year. Children with birthdays from September to March start the September following their second birthday. And those with birthdays from April to August begin in the January following their second birthday.
After the Nursery years, pupils automatically continue on to the Pre-Prep Devonshire House school. Children can join Devonshire House Pre-Prep from other schools at 4+ but entry at this point is subject to assessment.
Little Elves Montessori (Marylebone)
Little Elves is a very popular Montessori-based nursery. The focus is on letting children learn through play and develop independence and self-confidence.
Children can pick from a wide range of learning experiences, including music, games, creative play, a nature table and arts and crafts.
There's a nice outdoor space with flower beds and pant pots so little ones can get green fingered too.
There's also a great selection extra activities such as ballet, french, music and jungle gym. Some of these run over the Easter, summer and Christmas holidays as well.
Little Elves offers a nurturing and warm environment, and has great reviews from local parents. 
Little Elves Montessori Nursery

Age:

15 months – 5 yrs

Borough

: City of Westminster

Address

: Hayes Place

Marleybone

London, 
NW16UA

Telephone:

020 7258 1277

Email:

elvesmontessori@aol.com

Website:
LittleElvesMontessori.com
Ofsted report
:

Good (Jan 2017)
Destination Schools
North London Forest School Nursery (Hampstead)
There's no such thing as bad weather, just bad clothing.
This is a Norwegian saying and one that certainly stands up when it comes to forest schools. These outdoor nursery school settings are growing in popularity, especially in urban cities.
How It Works
Each day the children are taken to a local outdoor area. From November to April this is often on Hampstead Heath.
Here they are set activities, such as building dens, catching rain water and making animal pictures from sticks. From April to November the school camps out in Belsize Wood nature reserve unless the weather prevents it.
Being outdoors and using natural materials they find doesn't mean that the children are not learning. Quite the opposite. They might count out pine cones, write out letters using sticks in the mud. It's learning through play on a big level. All in the great outdoors.
The school covers traditional curriculum of literacy and mathematics but in a practical, hands on way.
The philosophy behind Forest School is based upon the desire to provide young children with an education which encourages appreciation of the wide natural world, while achieving independence, confidence and high self-esteem. Activities carried out are linked to the National and the Foundation Stage Curriculum, while the children explore and use natural materials found outdoors.
Term Times and Hours
The Forest School offers Morning sessions from 8:30-12 noon, Afternoon sessions from 12.30-4pm or all day sessions from 8:30am-4pm.
The North London Forest School was rated outstanding by OFSTED and ever more local parents love the idea of outdoor learning.
The North London Forest School Nursery
Ages: 2-5 years
Borough: London Borough of Camden
Address: Savernake Road
All Hallow's Church
The Undercroft
London, NW3 2JP
Email: northlondonforestschoolnursery @ yahoo.co.uk
Phone: 07900 830 897
Website: NLForestSchoolNursery.com
Ofsted report: Outstanding (Feb 2017) 
Abercorn Nursery and School (St John's Wood)
Children can enter Abercorn School through the Abercorn Nursery, which runs from 2½ – 5 years of age. It is a vibrant and diverse nursery setting. The school itself is set over three different campuses for the different age groups.
Nursery children can attend for morning or afternoon sessions, moving up to a full day when they are older. Entry is non-selective for the Early Years and after Nursery pupils move automatically through to the Preparatory School.
From Year 2 and above, children coming in from other schools are invited in for a 'taster day' and asked to complete an assessment. This can often be done form their current school. 
The nursery is popular with diplomatic and business families. There are pupils from over 35 different nationalities. It is a school that truly raises global citizens within a cosmopolitan city.
Abercorn places a great emphasis on inclusiveness, and pastoral care as they seek to support each individual child.  It has a happy and nurturing environment and a supportive community for all the families.
Abercorn Nursery School
Ages: 2.5 – 5 yrs (Abercorn School 5-13 years)
Address: Abercorn School
28 Abercorn Place
London, NW8 9XP
Tel: 020 7286 4785
Email: admin@abercornschool.com
Website: Abercornschool.com
ISI Inspection: March 2018
Destination Schools: 13+ from Abercorn School
Northbridge House Nursery & Pre-Prep (Hampstead)
Northbridge House is a co-educational school that starts at 2 years of age with the Nursery, and moves on all the way up to 16 years of age in Hampstead, and 18 years of age in Canonbury.
One of the words that leaps out whenever you hear parents talking or writing about this nursery is 'happy'.
The welcome starts before your child begins, with parent and child sessions running throughout spring and summer terms. New starters can become familiar with the school and staff, making their first day at nursery much less daunting. There's a wealth of positive and fun learning experiences, which children (and parents) love. It's another nursery backed up by an outstanding school inspection report.
Admissions
You can apply online and you must do so by a deadline which is about 10 months before the year your child will begin. The Nursery is non-selective but if your child applying for entry at Pre-Reception level and after, they will be asked to attend a short interview.
N Family Club Nursery (West Hampstead)
Our favourite newcomer to the best nursery schools of North London. It opened in December 2019 so it really is brand new.
However it is an expansion of 2 established and successful N Family Club nurseries in other areas of London. The nursery is just beautiful. It's light and airy with lots of natural wood and beautiful toys.
The nursery curriculum and teaching philosophy blend elements from Rudolf Steiner, Reggio Emilia and Maria Montessori – all who believed that learning through play was central. Art, music and drama are woven into the daily activities, as well as language.
After age 3 the children go on regular trips to the forest for outdoor learning: carrying out activities such as woodland walks, puddle splashing, den building and making natural art.
It's great for working parents, being open 51 weeks a year from 7am-7pm. You can even pick up a coffee at drop off from the parent's cafe and breakfast bar. If that's not at least one reason to look into this nursery – then we don't know what is! 
All of the N Family Club nurseries include Family club activities for children – everything from cookery classes to immersive theatrical shows and interactive book signings.
There's also a programme for parents including yoga, a running club and a range of classes on parenting experiences such as weaning and sleep. Definitely one to check out.
And if there was a category for the most Instagrammable nursery in town, this one would probably win. The outside play area (which is themed like a seaside) is so beautiful.
N Family Club West Hampstead Nursery 
Age: 3 months – 5 years
Address: 13 Woodchurch Road
London
NW6 3PL
Telephone: 020 3865 7402
Website: NFamilyClub.com
Prospectus
Ofsted: Too new yet to have been inspected.
The N Family Club Nursery in St Mary's Community Centre (N16 OEP) was recently rated as outstanding.
All about N Family Club
When did the first N Family Club Nursery Open?
The first nursery opened in 2017 and now N Family Club is building progressive and design-led nurseries across London, creating exciting settings for children and providing real value for families. 
Where are the Nursery Schools?
N Family Club currently has nursery settings in Stoke Newington, London Fields, West Hampstead and Brixton.
What ages do the N Family Club Nurseries cater for?
Places are offered to children aged between 3 months – 5 years.
What hours does the Nursery run for?
The nurseries are open Monday-Friday, 7 'til 7.
Outside of nursery hours, our weekend Family Club provides a monthly programme of one-off events and talks for the whole family to enjoy together, including book signings, shows, sports days and animal workshops. 
What are your main goals or ethos?
N Family Club have set out to rethink early years education, working alongside early years experts to curate a bespoke pedagogy and curriculum.
Taking influence from a vast array of early years theorists and philosophies, N Family Club's approach blends aspects of Reggio Emilia, Jerome Bruner, Montessori and Forest School.
The curriculum is bespoke to each child, placing their personality, needs, and interests at the centre and is devised on a daily basis through a personalised planning process.
Our vision is to rethink early education – to develop a progressive curriculum for today's children; building a sector-leading team culture, and a service that adds real value for families. N Family Club's Education Director
A special welcome
One parent of a child due to start at N Family Club West Hampstead, sent in this photo of a Welcome Pack that the school sent them.
All the items were high quality and thoughtful things her child might need for Nursery School.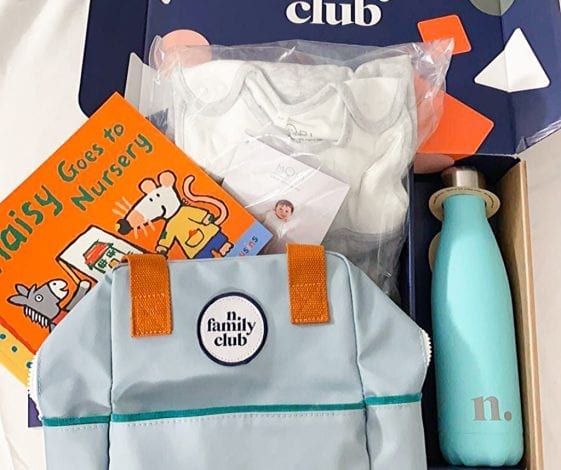 Whether you're thinking ahead and want to give your child the best chance of getting into a top prep school or are looking for a nursery with a gentler and more play centred approach, we hope this list gives you a helpful rundown. And makes your decision a little easier.