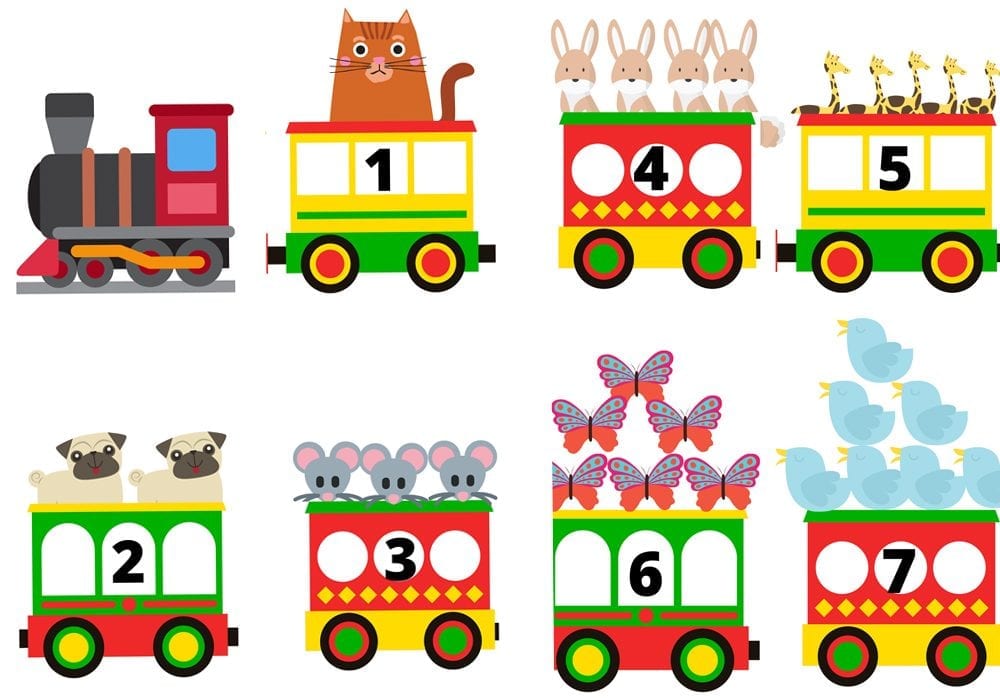 Playtime Learning Activity
Preschoolers can learn the numbers from 1-10 with this number train activity which comes with FREE printables.
Each numbered carriage has that number of animals in it. Can they count out the animals to check it's the same number as the one on the carriage?
Then the carriages get all jumbled up. Can your child put them in order so that they go from 1 – 10?
This is a colorful and fun way to learn those first numbers with this busy animal train express.
Summary:
Time: 10 minutes
Ages: Little kids to Big kids
Difficulty to make: Easy peasy
Skills: Counting and ordering numbers 1-10
1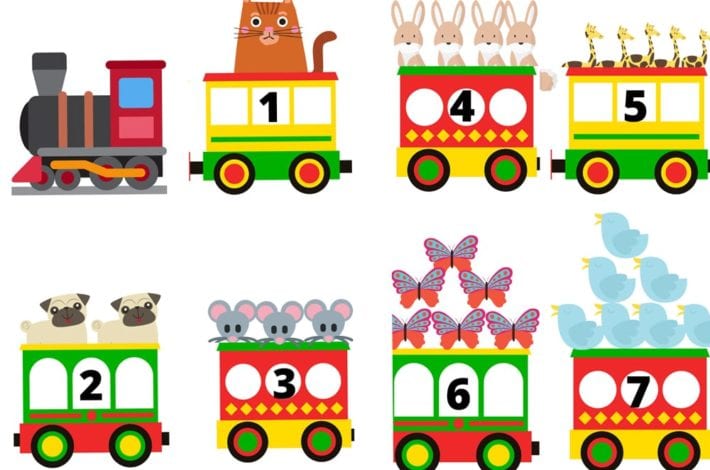 2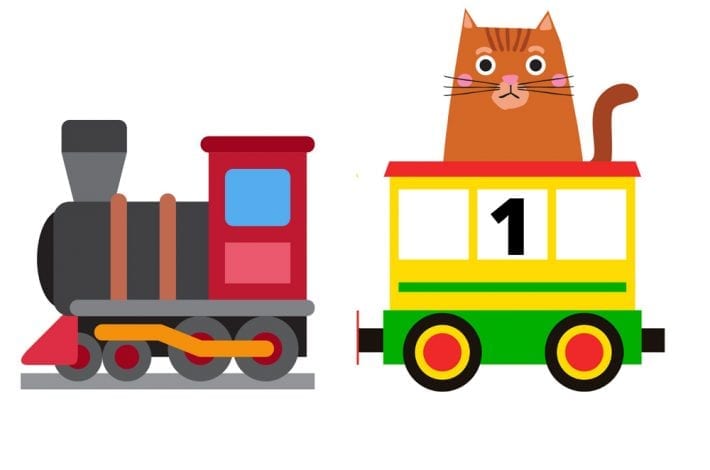 2
Step 1: Print out your Number Train
Click on the links to print out the animal number train:
Train Carriages Numbers 1-3
Train Carriages Numbers 4-7
Train Carriages Numbers 8-10
3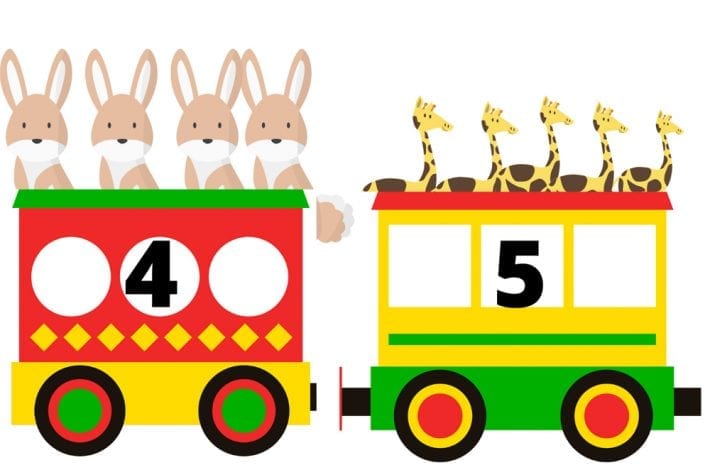 3
Step 2: Cut out your carriages
Cut out rectangles around the train engine and the 10 train carriages.
If you want all these pieces to last longer, you can either print them out onto card or laminate them.
4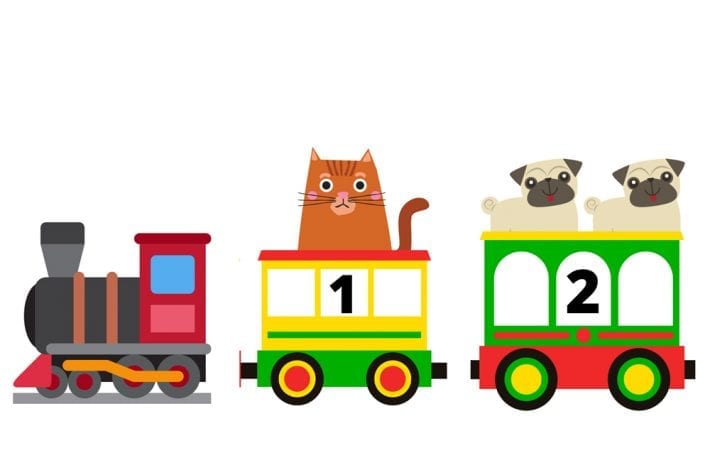 4
Step 3: Count out the animals together
Look at each train carriage together.
What animal is inside? 
How many animals can you see in each carriage?
Count them out together slowly with your index finger. At first they may only be able to count up to 2 or 3.
As they practice counting they will slowly be able to count to bigger numbers like 6 or even 10.
5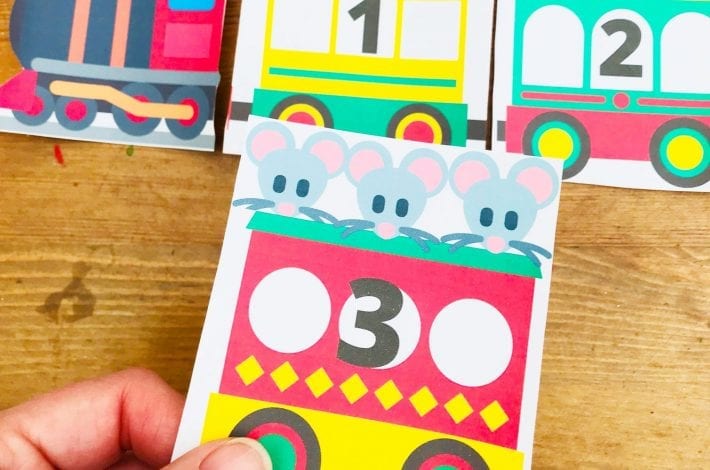 5
Step 4: Help put the train back in order
Shuffle all the train pieces.
Ask your child to find the train engine and place it down first.
Then ask them to find the carriage with 1 animal passenger and the number 1 written on the side.
They should place it behind the engine as the first carriage that the train pulls along.
Now ask them to find the carriage for number 2, 3, 4 and so on.
Can they put together all the pieces so that the train pulls all the carriages in order from 1 to 10?
They can count the animals in each carriage to help them out.
6
6
Learning resources
A great little book to help with learning numbers and counting are these 123 Counting Books.
They use reusable stickers to put the right number of animals on the page with the number.
123 Counting Book with Reusable Stickers
Find on Amazon here.
One reviewer says:
"I bought this in preparation for multiple 10+ hour flights with a toddler. Stickers are winners! Educationally-themed sticker activities, even better."
Latest Chats
Mas & Pas Community Chat Groups
7
7
Animal Number Train
This animal number train is a great playtime learning activity for first numbers. Bright colors and quirky animals help make counting to 10 all the more fun.
Kids can count out the animals from 1 to 10. When you jumble up the carriages your child can put the numbers from 1 to 10 in order again. They learn which number comes before or after the other.
It's an activity you can play again and again to practice those first numbers.
This post may contain some affiliate links. This means that if you click to make a purchase that we may earn a small commission at no extra cost to you.
Latest Chats
Mas & Pas Community Chat Groups