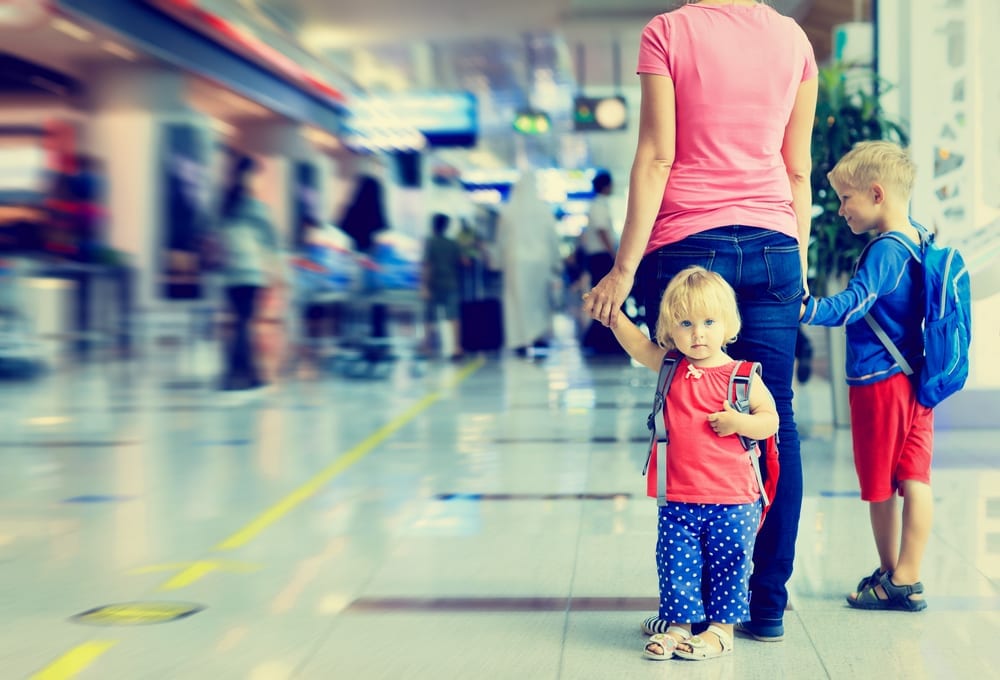 Family holidays are the best. Quality time in a great place making memories that will last a lifetime. But the getting there can be a real nightmare.
We all know that travelling with kids can test even the calmest parent's patience and you can end up arriving at your destination feeling frazzled and exhausted. A little clever prepping, planning and  packing can help make journeys with small children go more smoothly.
Follow these tips for travelling with a toddler on a plane, to give yourself the best chance of arriving at your holiday destination with your nerves and your sanity intact.
1
1
Pack spare clothes and keep them handy
And not just for the kids.
No matter what mode of transport you're taking, pack some spare clothes in a bag that is always to hand.
You can almost guarantee that at least one person will need a spare set. And there's nothing worse than sitting in a hot and crowded air plane or train with a sick covered t-shirt and no spare clothes.
So pack something to change into both for the kids and for the adults.
2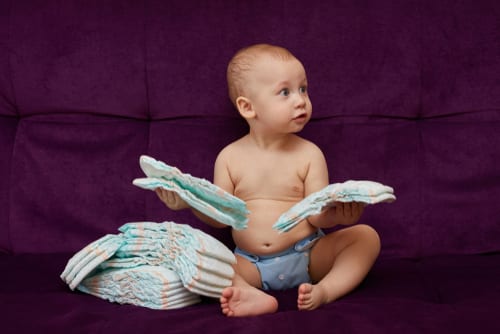 2
Pack more nappies, milk and baby food than you need
You may think you have carefully counted out enough supplies to last the whole journey but the fact is that you never know what will happen along the way.
If your flight or train is delayed, if you miss the ferry or even if you get stuck in a long traffic jam you could be on the road for much longer than you expected. And you don't want to have to do the last leg of the journey without a clean nappy and enough food to keep little ones going.
So our advice is to pack a little bit extra of everything.
3
3
If your journey includes a long trip by car, plan in stops along the way
Add extra time for regular stops. These are handy as toilet breaks or just for the kids to run around and get some fresh air before the next leg of the journey.
Plan where you will stop for any meals beforehand and if you can find somewhere on route that has a play park or garden then all the better.
4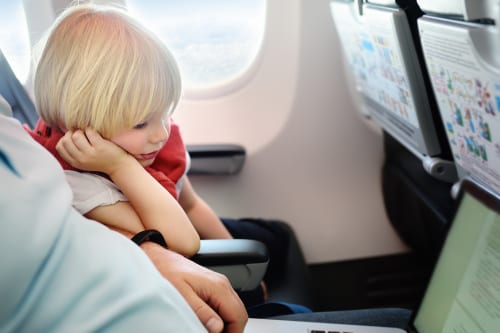 4
Prepare to mop up messes
Whether you're travelling by car, train or plane pack loads of wipes and nappy bags. It can also help to pop a wet flannel in a ziploc bag.
There are going to be spills, spews and dribbles to mop up along your way. Almost guaranteed!
5
5
Don't let go of your buggy until the gate
Ask at check-in for a sticker so you can keep hold of your buggy until boarding. It's a lifesaver when you've got tired kids who can't walk to far off departure gates or who need to curl up for a nap in the departure lounge.
Or better yet buy yourself a buggy that you can take on board with you and that folds into the overhead lockers! The Yoyo buggies are famous for folding into overhead compartments but there are also more economical brands that collapse up just as small and can make all the difference.
6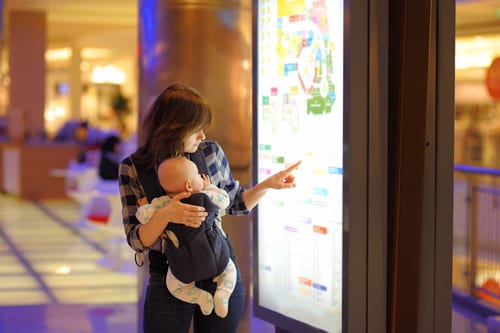 6
Get yourself a baby carrier
If you're not keeping hold of your buggy on board, a baby carrier is worth its weight in gold.  Manoeuvring through departure lounges to the gate, or onto a busy ferry or along a train to the buffet car, it's all so much easier with your baby strapped snugly to your chest.
The sling will also come in handy on holiday walks and days out too.
7
7
Pack something they can lie on (that isn't you)
Travelling can take hours and as much as you love your children the journey will be more difficult if they fall asleep on your lap and pin you into your seat so you can't move – even if you need a wee.
If you've got room pack a pillow, if not an inflatable breastfeeding pillow which makes a nice nest for little ones. It also helps to wear a pashmina so you can use it as a blanket to cover up snoozing kids and keep them cosy.
8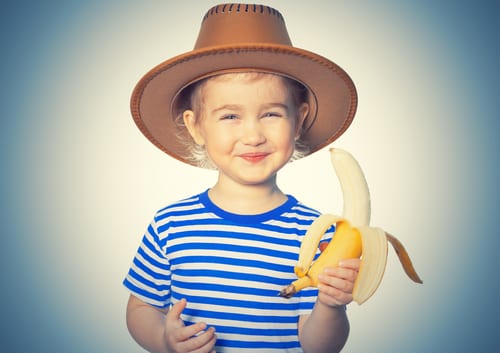 8
Snacks, snacks and more snacks
Pack enough snacks and drinks to keep little people's energy up.
Sugary drinks and bars are not ideal as they will produce energy spikes and then energy slumps, both of which are much harder to handle when cooped up in a confined space.
So pack lots of healthy snacks, such as granola bars, oatcakes, fruit and sandwiches to keep everyone going.
9
9
Pack all the meds
Stock up on all the medicines and first aid kits you normally have at home and take them with you. It can help to get little travel sachets of certain medicines like Calpol which take up less space.
The last thing you need if your child is poorly or has an accident en-route is to end up rushing around in a panic to find Calpol, plasters, savlon or their asthma inhaler.
10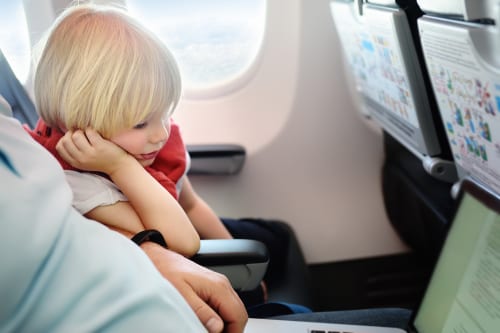 10
Let me entertain you
To keep the kids entertained make sure you have a bag of activities. Load tablets or phones with their favourite films, apps and music.
A pack of cards can be great for impromptu family games while you wait. You could include loads of quiet activities like colouring and sticker books. Also – one of the best things you can pack is actually a balloon. If you find yourself waiting for hours in a departure lounge you can blow it up and have a game of catch! 
You can always improvise too and make your own games. Four wooden coffee stirrers placed in a criss cross on a table make an instant tic tac toe board. And you can use brown and white sugar sachets as the counters.
11
11
Pack a grab-and-go overnight bag
Pop a small bag in the top of your luggage with the kids pyjamas, toothbrushes, spare nappies, and anything you need for the first sleep.
You can just grab this bag and get the kids ready for bed easily when you arrive, without rifling through all the suitcases to find everything you need.
12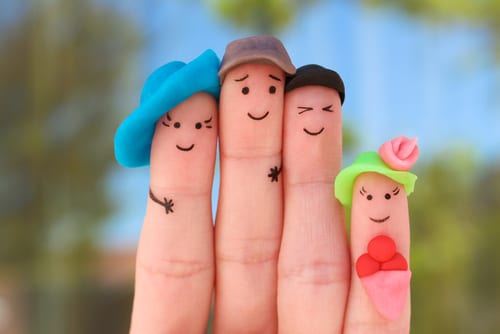 12
Let it go
As Elsa sang, 'Let it gooooo'. You're on holiday. It will all be fine and you'll have a lovely time.
Anything you've forgotten you can buy en route or at the other end. Try to relax and not to stress too much.
The worst thing that can happen is lots of crying, a few sibling squabbles and a bit of poo and sick. Not great, but also not the end of the world.
If you're stuck in a travel nightmare then try to picture a big glass of Pina Colada in your hand when you finally reach your destination!
You've got this.
Happy Holidays.