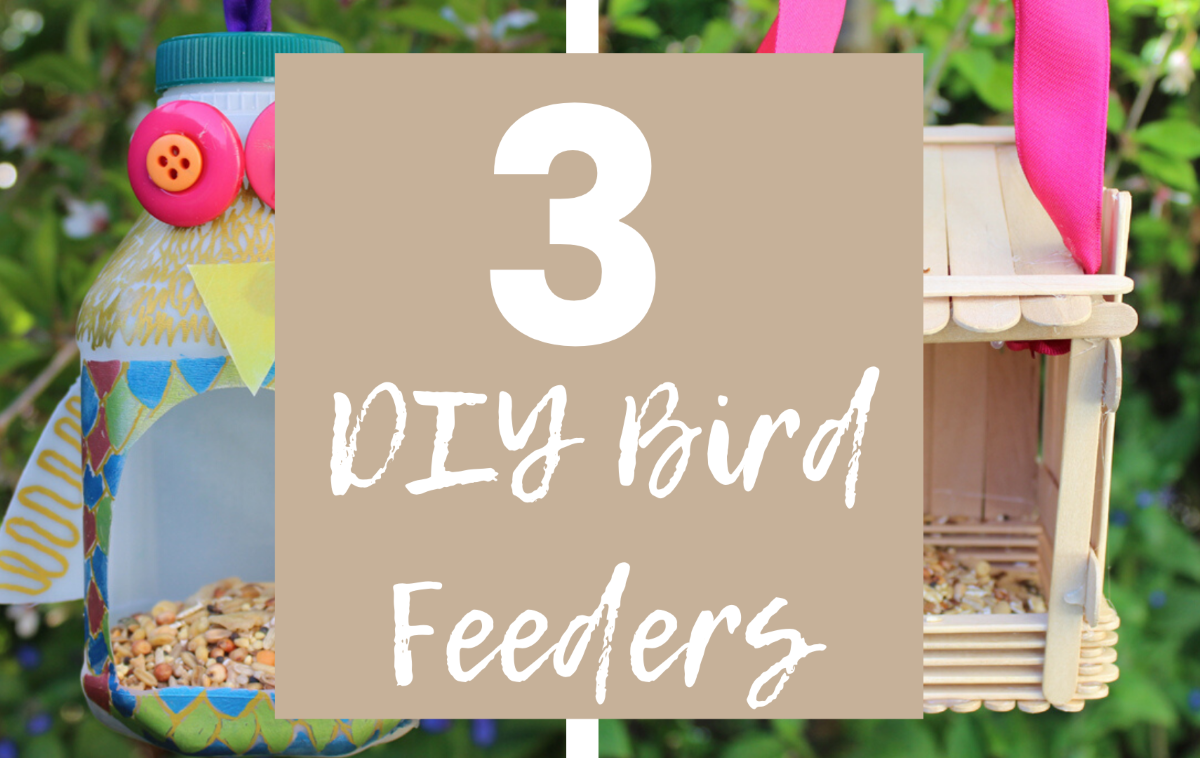 Fun Kids Activities
3 Easy Hanging Bird Feeders
Kids love to connect with wildlife and nature. One great way to show animals that we care is to offer them some food in DIY bird feeders.
Here are 3 easy fuss-free ways to make hanging bird feeders for the garden. They're all made with recycled everyday materials and all quick to put together. They're a great activity to enjoy with the kids.
Tin Can Bird Feeder
One of the quickest and easiest ways to make an instant bird feeder.
You will need:
Recycled can
Paints – we prefer acrylic paints
Ribbon or string
Strong glue or glue gun (optional)
Wooden spoon (optional)
Bird feed (like sunflower seeds)
Instructions:
Wash and dry an old tin can and paint it all over. Acrylic paint covers the metal well.
Once you have painted a background colour let kids decorate it however they like. We printed on bright yellow dots by dipping the end of a pencil in yellow paint.
Glue a wooden spoon inside the can using strong glue or a glue gun (adults should do the glue gun) for birds to perch on.
Add the bird food.
Tie a ribbon tightly around the can to hang it from the tree.
Milk Carton Bird Feeder
Milk cartons can be transformed into woodland creatures or little bird houses. Simply cut open an opening in the front and add your decorations.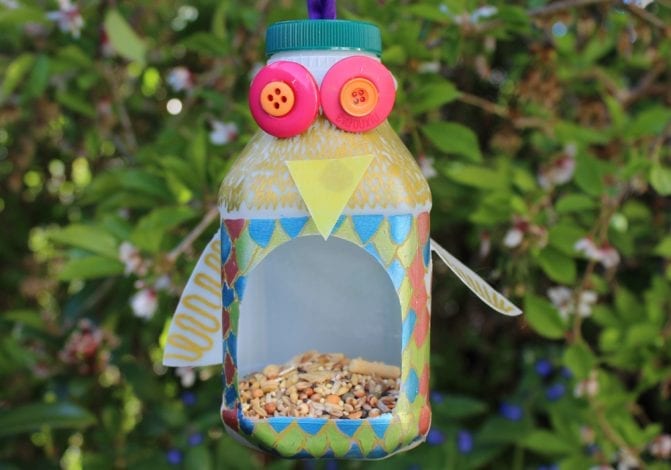 You will need:
Milk carton
Paints – we prefer acrylic paints
Decorations like buttons, sequins, stickers, googly eyes (optional)
String or ribbon
Instructions:
Wash and dry an empty milk carton.
Cut an opening in the front of the milk carton big enough to allow birds to come in.
Decorate the milk carton however you'd like with paints, card or added decorations.
We made ours into an owl by gluing on buttons for eyes. We then cut out a beak and wings from the leftover plastic and stuck them on the front and sides. We used Sharpie pens to decorate the rest of the bottle.
Make a small hole in the lid and thread some ribbon inside. Tie a knot to secure it.
Add bird feed and hang it out on a branch for birds to find.
Popsicle Stick Bird House
By sticking together wooden popsicle sticks you can create a beautiful bird house for your feathered friends.
How to Make a Popsicle Stick Bird House
You will need:
Wooden popsicle sticks – ideally various sizes but any size can work.
Strong glue or glue gun
Instructions:
Line up popsicle sticks in a long row.
Glue 2 across them horizontally to fix them in place with strong glue. This should make your first wall.
Continue until you've made 3 walls, a ceiling and a floor. You can design your house however you like and add any decorations on too.
Loop ribbons through the 4 corners to hang it up. Add some bird food inside to complete it.
Take your pick of which hanging bird feeder looks best to you. Design yours however you like and watch the birds enjoy their treats.