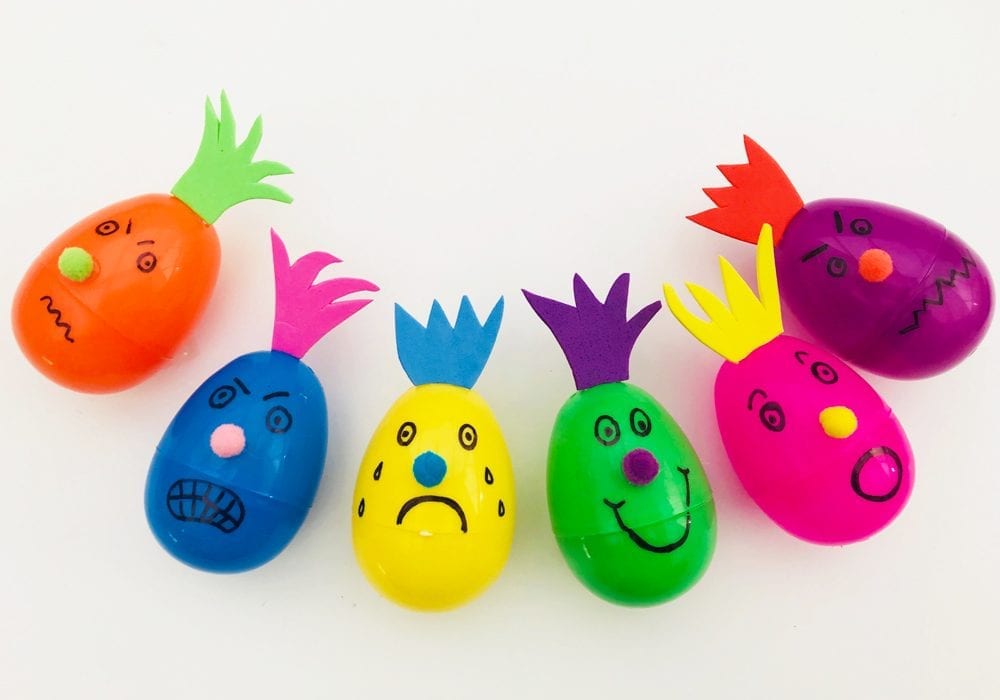 Playtime Learning Emotions
Play this monster emotional eggs activity and teach your child how to recognise and name different feelings.
By looking at the expressions on the eggs, they will begin to understand how our faces show what we are feeling.
Match the names of each emotion to the monster eggs' expressions. Can you pull these faces yourself?
Your child can learn about emotions in a fun and visual way. It helps them start to recognise them, label them and talk about them too.
Summary:
Time: 15 minutes
Age: Little kids to Big kids
Curriculum: Personal, Social and Health Education (PSHE)
Skills: Recognising and naming emotions
1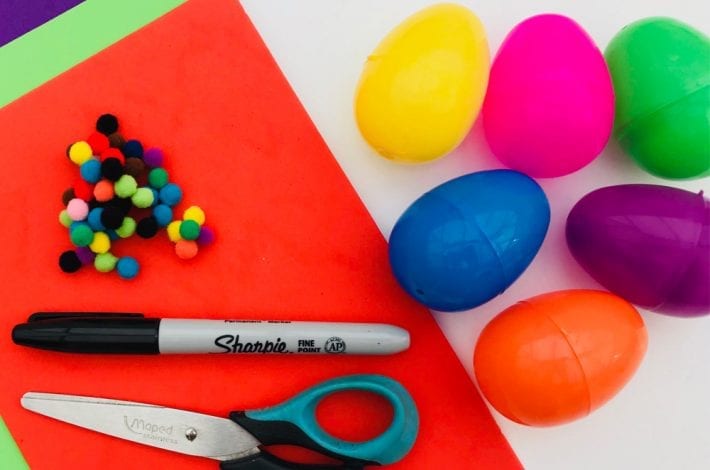 2
2
Step 1: Cut out some groovy monster hair dos
Start with the colorful foam sheets. Cut out some funky hair dos.
3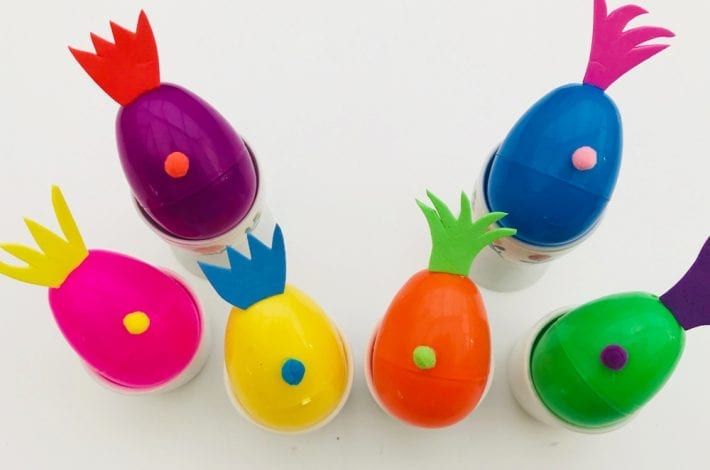 3
Step 2: Glue the hair and noses to your eggs
Take some plastic eggs.
Stick the funky hairdo on top of the plastic egg. If it's a thin sheet of foam then you can fold down a small section at the base of the hair do. Glue this flat section to the top of the egg.
Stick on a mini pom pom for a nose.
4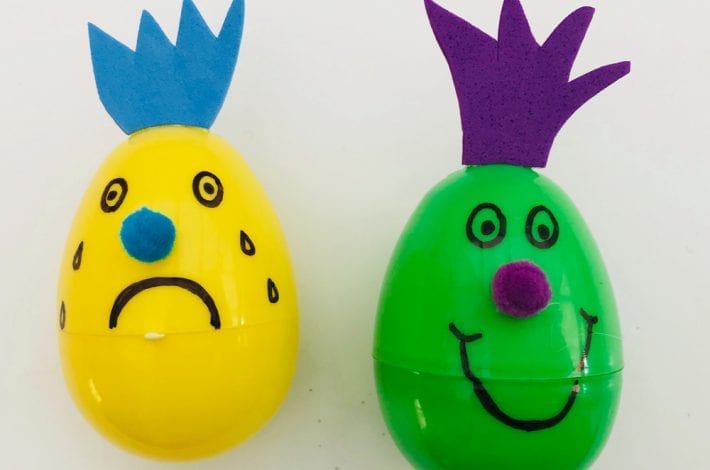 4
Step 3: Draw on the expressions
Using a black Sharpie pen draw an expression on each egg monster.
Make one monster happy, one sad, one shocked, one mad and so on.
You can play around with the expressions freely, or make specific expressions to use with our activity sheet (see below).
5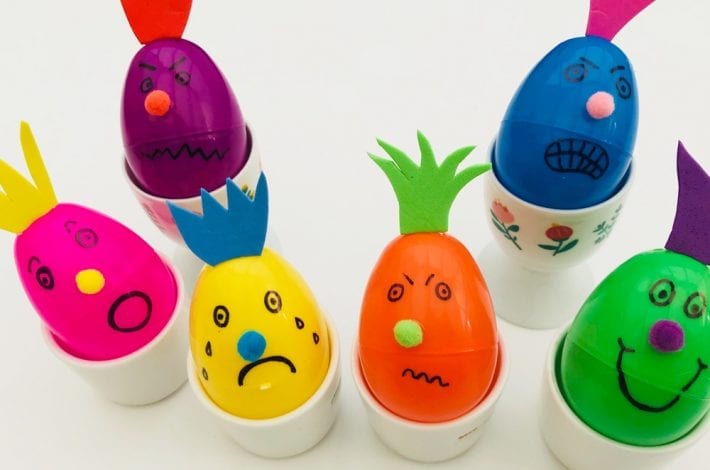 5
Step 4: Make a set of moody monsters to use with our worksheet
Make a set of moody monsters, each with a different expression to show an emotion.
The ones we've used are:
Happy
Sad
Angry
Scared
Worried
Shocked
6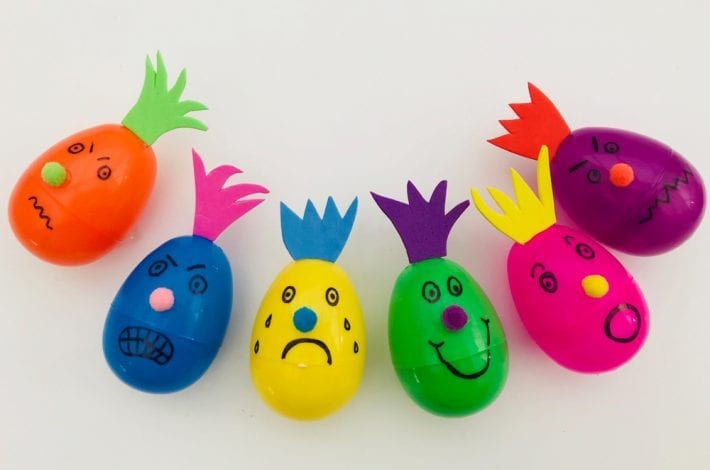 6
Moody monster matching game
Show your child each monster egg, one by one.
Can they tell you what emotion each monster is feeling?
Is the monster Happy? Sad? Angry? Worried?
How do they know?
Ask your child to copy the monster's faces.
Can they make their own face look happy, sad, angry or worried?
7
7
Download our Free Printable Emotion Names (for older kids)
For older children who can read, download our FREE Printable Emotions Worksheet here.
Cut out each cloud which has a different emotion name written on it.
Can your child match the name of the feeling to the right moody monster egg?
8
8
What is making each monster moody?
Ask your child why each monster is feeling their emotion?
Can they think of a reason why one monster is happy? Perhaps it's their birthday.
Why is another monster worried? Maybe they have got a spelling test at Monster School and feel anxious about it?
9
9
Recommended Resources
If you would like to read a book to further explore emotions and feelings with your child, then this is a great one:
Glad Monster, Sad Monster by Ed Emberley
Find on Amazon here.
"Glad, sad, silly, mad – monsters have all kinds of different feelings!…Try on funny masks as you walk through the wide range of moods all little monsters (and kids!) experience."
10
10
Soothing moody monsters
You can complete the activity by asking your child how they might cheer up any of the monsters who are feeling a bit unhappy or upset.
What would make them feel better?
Ask your child what makes them happy and what cheers them up when they feel cross or sad.
This post may contain some affiliate links. This means that if you click to make a purchase that we may earn a small commission at no extra cost to you.