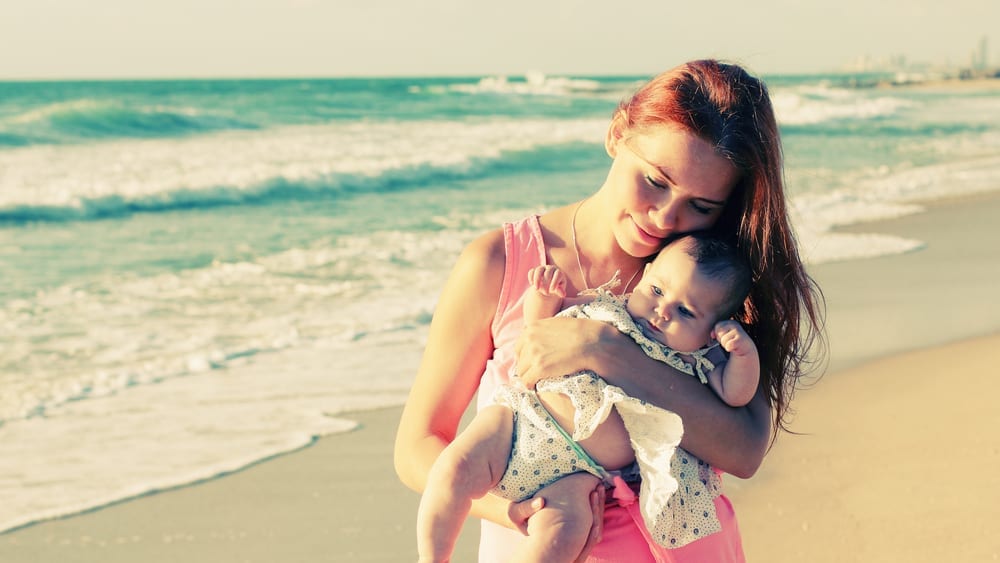 Have baby, will travel. Or so they say.
You might have set out with an adventurous spirit during pregnancy but the reality of travelling once you have a tiny baby can then seem a little daunting.
It doesn't have to be though. Little babies are easy to carry around and easy to entertain.
A bit of preparation and planning can make travelling with a newborn a breeze.
With our guide below we have included 2 FREE downloadable packing checklists:
PACKING CHECKLIST FOR BABY'S AIRPLANE BAG. A packing list of the essentials you will need for your hand luggage when travelling with a baby. You can print and edit it according to your own needs and how long your flight is.
PACKING CHECKLIST FOR BABY'S SUITCASE. A packing list of the items you will need for your baby's suitcase when going on holiday together for the first time. You can print it off and add to it according to what you will need.
1
1
What documentation you will need
Baby's passport
If you're holidaying abroad your baby will need his/her own passport. So allow plenty of time for it to be processed before you book your holiday.
Baby's birth certificate
Your airline may require you to bring baby's birth certificate with you in order to prove baby's age before you travel.
Vaccinations
Make sure your baby has had all their routine vaccinations.
A sign off from your doctor
Airlines might require you to bring a letter from your doctor saying that both you and baby are OK to fly. If so, get these documents ready for before you fly. If your baby has any health concerns or takes medication, always seek medical advice before you travel and make sure you pack enough medication to last you while you are away.
Travel insurance
Check that you have travel insurance for both yourselves and baby.
2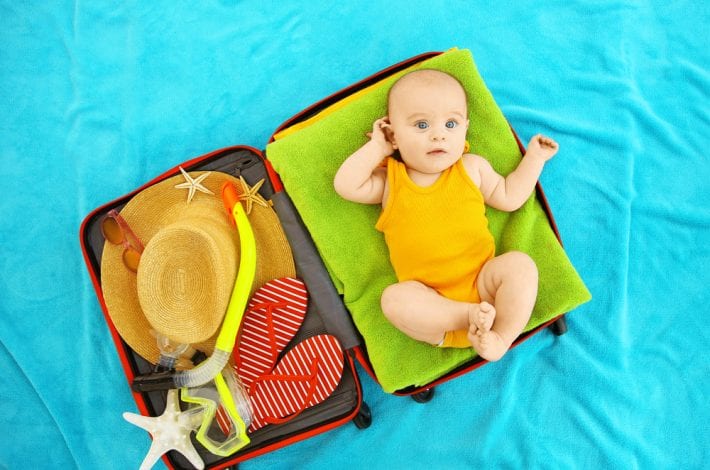 2
Deciding who to take with you on holiday
Looking after a tiny baby is hard work, so consider asking friends or family to join you on your holiday.
You can take turns to look after your baby and that can help you to carve out bits of time to relax. Just being together and sharing the load makes a holiday with a baby much more fun.
3
3
Smart packing when travelling with a newborn
What to include in an air plane bag for baby
The first time you get ready to fly on a plane with baby it can seem daunting. You don't want to forget anything vital, but you also don't want to be carrying 3 pieces of heavy hand luggage around the airport.
To help keep your hand luggage compact, we've put together a list of the essentials for your baby's hand luggage, with our FREE download: PACKING CHECKLIST FOR BABY'S AIRPLANE BAG. You can edit or add to it according to how long your flight is and your individual needs.
Some top baby airplane bag tips:
Always pack a change of clothes for you – as well as for your baby. There's nothing worse than your baby sicking up all down your clothes and having to stay in them for hours.
Pack extra of everything. Add extra nappies, wipes and bottles for your baby, to make sure you are prepared for any travel delays.
Don't forget a few baby toys. Young babies can enjoy rattles and teething toys or even looking at some black and white graphic pictures. For older babies, you could include a few story books and toys that they haven't played with recently to keep them busy. They can be simple things like a bottle of bubbles that you can blow and they can watch float up.
Packing baby's suitcase – what to take on holiday with a baby
When packing a suitcase for baby there are so many things to remember.
In addition to our PACKING CHECKLIST FOR BABY'S AIRPLANE BAG, for the flight itself, we've also put together a concise checklist of items you will need for baby's luggage with our second free download: PACKING CHECKLIST FOR BABY'S SUITCASE. It lists the items that you will need for a 7 day holiday with baby so that you can keep your suitcase size manageable but also have the things that you will need. You can print it off and add to it as you need to.
3 questions to cut down on the baby equipment you travel with
Teeny tiny though they are, little babies need some pretty large equipment to be safe and sound while on holiday. If you put it all down, you could end up travelling with car seats, a stroller travel cots, bouncers etc. 
Cut down on the amount of baby equipment you travel with by asking these 3 simple questions: 
1. What baby equipment can your accommodation provide?
First find out if your holiday accommodation provides any baby equipment. Many hotels or rented apartments can provide cots or cribs for example, as well as sterilisers. 
If baby is very young, then you may want to ask your hotel to buy you a new mattress for the crib that they are providing to be on the safe side. There should be some economical ones available that will be suitable for a short trip and are also affordable. It's recommended that newborn babies sleep on new mattresses to lower the risk of SIDS.
2. What baby equipment can you rent or buy there?
Research whether you can rent any baby equipment when you arrive, to save you packing everything but the kitchen sink.
For your airport transfer, for example, many companies can provide baby car seats. Remember that if you loan, hire or get baby equipment from your destination, check that everything is safe and sturdy before using it.
3. Can you buy a travel buggy?
A travel buggy is a compact stroller which folds into a very small size quickly and easily.
They are so useful on holidays, both for the journey there – as they fit into overhead compartments on planes and don't take up much space in cars – and while on holiday – as they mean you can pop baby in and go out for a walk wherever you are. They're also handy for hanging baby's bag onto, instead of carrying it on your shoulder everywhere.
So if you travel frequently, it could be worth looking at purchasing a travel buggy.

Our favourite travel pram is the Babyzen Yoyo+ stroller. The Yoyo+ model folds up quickly so that it can be stowed in the overhead compartments of air planes.
The stroller comes with a seat suitable for babies over 6 months, when they are able to sit in a reclined position. However, it also has a  Newborn pack  which is sold separately and which can be fitted onto the wheel base. This is a fully reclined newborn nest so that baby can lie flat. It's therefore one of the few travel strollers that offers seating options for newborn babies.
A new Yoyo+ can be pricey but they are also quite sturdy (particularly for travel buggies) so a number of parents choose to use the Yoyo as their everyday stroller at home, as well as for travel. Alternatively you can look at purchasing a second hand Yoyo for a lot less than a new one would cost.
Or if you prefer to travel with your own baby equipment
If you would rather bring your own equipment for baby, there are a few items you might want to consider:
Car seat
Car seats are bulky and heavy to carry around airports and holiday resorts. However they do also have some advantages:
Baby can use a car seat on the flight. If baby has their own plane seat, you can place a car seat on the air plane seat for your baby to sit in while flying.
Car seats can be checked in. If you're travelling with baby on your lap, many air lines allow car seats to be checked in as extra baggage.
Baby will be secured when travelling by car. You will always have a safe car seat with you on holiday to put baby in, for example when travelling by taxi or in hire cars.
Car seats can clip onto pram wheels. Some car seats clip onto pram wheels so you can use them together with your pram as well, if you are packing that too.
If you don't bring a car seat, check if taxis abroad or hire cars can provide one. Always check the safety standards of any hired or borrowed car seats carefully.
Travel bassinet or cot
It might seem like a bulky extra thing to pack but today's travel bassinets are incredibly compact. With your own travel bassinet with you, you'll know that your baby will always have somewhere to sleep that is clean, safe and comfortable.
Alternatively there are also a number of larger travel cribs available that you can check in as part of your luggage. Check that they have two height settings for the mattress so that they can cater for newborn babies, (who can sleep higher up) and larger babies (who can sleep lower down) as they need to have higher crib sides. A larger travel crib has the advantage that you can keep using it as baby grows.
You can also get bouncers that recline to a nap position so that baby can play and nap when you're spending the day somewhere. This Tiny Love 3 in 1 Rocker Napper is very versatile. Baby can play, bounce and relax all in one place.
4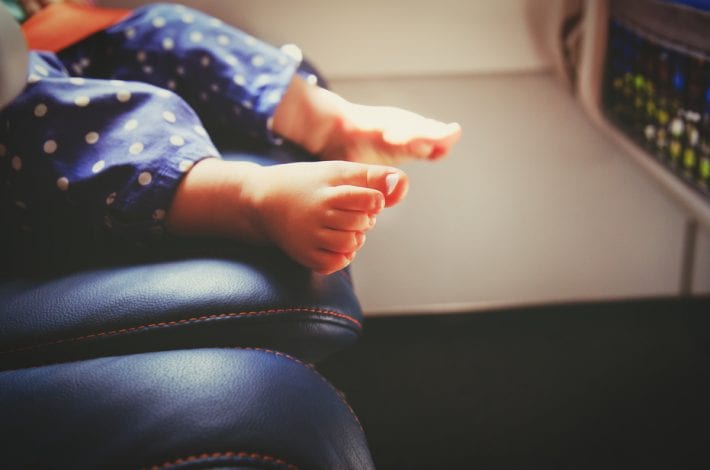 4
Flying with a newborn baby
5 things to do before travelling with baby on a plane:
Check baby's age. Check with your airline from what age your baby can fly. It varies greatly from airline to airline. Some allow babies as young as 2-7 days old while others need babies to be 2 months old.
Decide how to travel with a baby on a plane. Choose whether to hold your baby on your lap during the flight, or to pay for a seat and take a car seat for your baby to sit in. You can see more on planning your flight with a newborn baby here.
Book the best seats on board. These are usually the bulkhead seats which have the most legroom but which need to be booked well in advance. Failing that, if you can sit towards the front of the plane there is usually less turbulence than at the back.
Get the right travel kit. Slings, travel slings and lightweight buggies that fit into overhead compartments can be so valuable when it comes to flying with a newborn.
If you want to find out more about the travel options you have when flying with baby, check out our 9 step plan for flying with a newborn. 
5
5
Choosing your destination
If you're holidaying with a newborn or very young baby then there are a few things to consider when picking where to go.
Above all you want to relax and enjoy the holiday as much as possible.
Babies and hot sunshine don't go together well
Babies should always be kept out of the hot sunshine as much as possible. Their newborn skin is very vulnerable.
It's also recommended that you don't apply sunscreen to babies until they are 6 months old. So if you pick somewhere sunny then you will have to keep your baby in the shade and covered up, in order to be protected from the sun's harmful rays.
That might be reason enough to pick a holiday destination out of season when it's not as hot, or to choose somewhere with a milder climate.[/wrap]
If you do plan a holiday in a hot destination then here are a few ways that you can help baby to stay protected from the sun: 
Pack a pop-up UVA protection tent.
Pack a sun parasol for the buggy to provide as much protection as possible.
Plan naps around the hottest part of the day (11am-3pm) to keep your baby out of the sun as much as possible. Maybe you can get a chance to read a book or nap too at these times.
Feed your baby often to make sure they don't get dehydrated. You can also take a spray bottle to fill with water to keep your baby cool during the day.
Babies don't like the extreme cold either
At the other extreme babies cannot regulate their temperature well and don't like to get too chilly.
So planning a trip to cold or snowy climes may not be the best choice if you're travelling with a newborn or very young baby.
If you do holiday somewhere cold here are a few items you can pack to keep baby cosy and warm while outdoors:
snuggly snowsuit

warm coat

hats

mittens

warm blankets

footmuff for the buggy

warm booties
Book accommodation which will be warm and cosy so that baby is comfortable at home too.
Choose safe destinations
It's best to avoid destinations which have high risk of infectious diseases or have had recent outbreaks. Others require specific vaccinations. Check with your GP if you are concerned about a particular travel destination.
Find the contact details of a paediatrician
Going to a foreign place can be an upheaval.
If your baby does get ill, you will want to have the number of a paediatrician to hand so you can get help as soon as possible.
It's a good idea to look into this before you travel. Ask around and speak to someone at your destination so that you can know what to do in the event of an emergency, or if you need a doctor to come to see baby. That way you will have the contact details ready. 
6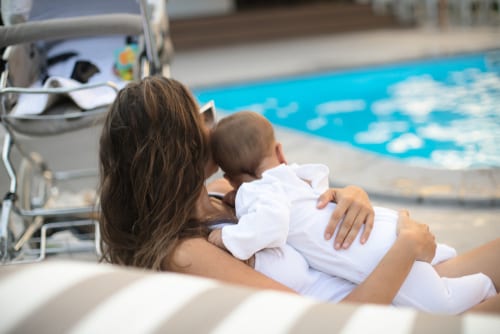 6
Choose the right accommodation for you
When choosing your holiday accommodation you now have your own needs as well as those of your little baby, to keep in mind.  
Rented apartments or villas
Picking an apartment or villa over a hotel can be much more relaxing. They mean you can put your baby down to sleep in the bedroom and then relax in the lounge in the evenings.
You also have all the conveniences of home – a kitchen to wash bottles (maybe even with a dishwasher), you might have a washing machine and dryer, or a garden where you can let your baby play on a mat on the grass.
Double check the access to your hotel or apartment and whether there are lots of steps leading up to the door. If you are using a stroller then a flight of steps makes things so much trickier. If there is no wheelchair access or elevators then consider choosing ground floor accommodation.
Hotel rooms
Adjoining rooms. A good tip when looking for hotel room accommodation is to book adjoining hotel rooms so you can put your baby down to sleep in one room and relax in the other. Your baby can always join you in your room when you go to bed if you prefer.
Junior suites. Some hotels also have 'junior suites' which have a small seating area next to the bed. Sometimes this seating area can be partitioned off from the bedroom area by sliding doors. This can be convenient when travelling with baby as it means that they can sleep in the living area and you can relax in the bedroom until you turn in.
Double rooms. If you book one just double room in the hotel, another idea is to settle baby to sleep in their crib in the bathroom in the dark. That way you can relax in the room while your baby snoozes and bring them back into your room when you're ready for bed.
Rooms with a balcony. A hotel room with a balcony is another good idea as you can put your baby down in the darkened room in the evening and sit out on the balcony to relax.
Look out for bath tubs
Wherever you stay it helps if there's a bath tub. Or at least a sink big enough to bathe your baby. You can even make do with a shower tray filled with water if they have a plug for it.
Bath times are an integral part of many babies' bedtime routines and can calm your baby down, ready to sleep. So it's worth taking a look at the bath tub situation in any holiday accommodation before booking.
7
7
Plan how things will work when you get there
Holidays before baby probably meant long lie-ins, lazy days relaxing by the pool and nights out enjoying a meal and some drinks, watching the sun set.
Once you have a baby, holidays are a very different experience. You know you won't get long lie-ins and lazy days and evenings. So adjust your expectations and accept that things will be different.
But that doesn't mean that they won't be fun, as you can relax and share some special time with your little one.
Time differences, jet lag and baby routines
If you head to a far flung country where there is a big time difference, or even if there's just an hour or two's time difference it can throw your baby off any schedule you've worked so hard to achieve.
Even young babies tend to thrive on routine and throwing them off their schedule can make not only them, but you cranky too. If the time difference is big then do the best you can to adjust baby to the new timezone. Keep to the same routine that you have at home and baby will soon settle into it.
If the time difference is small, it can be easier to stick to your baby's schedule as it was in your home country, without adjusting it for the time difference.
So for example if you go somewhere which is 2 hours ahead and baby normally goes to sleep at 7 pm you can just put them to sleep at 9 pm on holiday. That way no adjustment to the routine is needed.
And best of all you won't need to change the routine back when you fly home.
Breastfeed anywhere
You might feel a little shy and awkward at first but if your baby needs to feed, they need to feed.
Travelling might mean you need to develop a thick skin and be prepared to breastfeed anywhere – at the airport, on the plane, on the beach, in restaurants.
Wear loose clothing and swimsuits that are easy to pull down. If it makes you feel more comfortable get a light and airy nursing cover. And go with the flow.
Formula feeding on holiday
It's worth packing an extra box of the formula your baby is used to in your suitcase, so that you are sure you have enough to last you for your holiday. It only takes one spill or accident of an open box of formula, and you might end up scrambling to find the closest match to your formula at your destination. So our advice is to pack one spare box of formula.  
What water to use when making up feeds on holiday
If you're going abroad it's often not advised to drink the tap water. Even if it can be drunk you may prefer not to use it for baby's feeds. Some tap water abroad may have different levels of minerals, which could upset a small baby's tummy.
You can make up formula feeds with bottled water instead.
When you buy bottled water for feeds then check the mineral content and pick a brand which is low in sodium (look for Na on the label and pick a brand with less than 200 mg per litre. Also check sulphate levels are no higher than 250mg per litre, indicated by SO or SO4 on the labels. (Source, NHS)
You do still need to boil bottled water to make up your baby's feed.
How to sterilise bottles on holiday
Sterilising tablets
If you are not travelling by car, and don't have room for your usual sterilising equipment, then you can buy sterilising tablets. After washing bottles and teats, you can then put them in a large plastic container filled with water, and dissolve one of the tablets in the water. Make sure all bottle parts are submerged for the period of time stated on the packet. Sterilising tablets can be a handy space saving way to sterilise baby's bottles during your holiday, or a good back up to have in case your steriliser breaks down.
Disposable bottles
You can also buy single use, disposable bottles with teats, so that you don't have to worry about any washing or sterilising. These can be pricey but it may be worth it for the added time you'll get to relax on holiday.
Hotel sterilisers
Some hotels provide sterilising equipment which is very helpful. However bear in mind that things can still go wrong with hotel sterilisers. They may break down, or you may arrive to be told that they have run out of sterilisers at the last minute. So while hotel sterilisers are a great option, we always advise packing some sterilising tablets in your luggage as a back up as well.
Water for day trips
If you're heading out for day trips with baby you can take a flask of boiled bottled water, which will keep for about four hours.
You can carry this in your bag  along with some portions of powdered formula. Bibi formula milk powder compartment container is one example of a product that allows you to store formula in individual portions in sealed compartments that can also be stacked on top of each other. That way you just need to empty the portion of formula into a bottle with your boiled water, for your baby's feed to be ready. 
Alternatively you can carry ready mixed formula which is easier but a bit more expensive.
You can still be adventurous while your baby is young
It might require a bit of planning and preparation but travelling to far flung places is actually easier when your baby is small and not yet mobile than when they are a toddler.
You can pop them in a sling and take them with you on your adventures. They sleep a lot, are easy to feed and it's cheaper too!
So, be brave and take that trip! Bon voyage.
Resources
We have included 2 FREE pdf downloads, to make packing a newborn's suitcase for the first time that little bit easier:
Do you have questions about planning that first holiday with baby?
If so get in touch with supportive moms in our parenting chat room:
A space where new moms can chat, ask for advice, share tips and photos or just vent.
This post may contain some affiliate links. This means that if you click to make a purchase that we may earn a small commission at no extra cost to you.