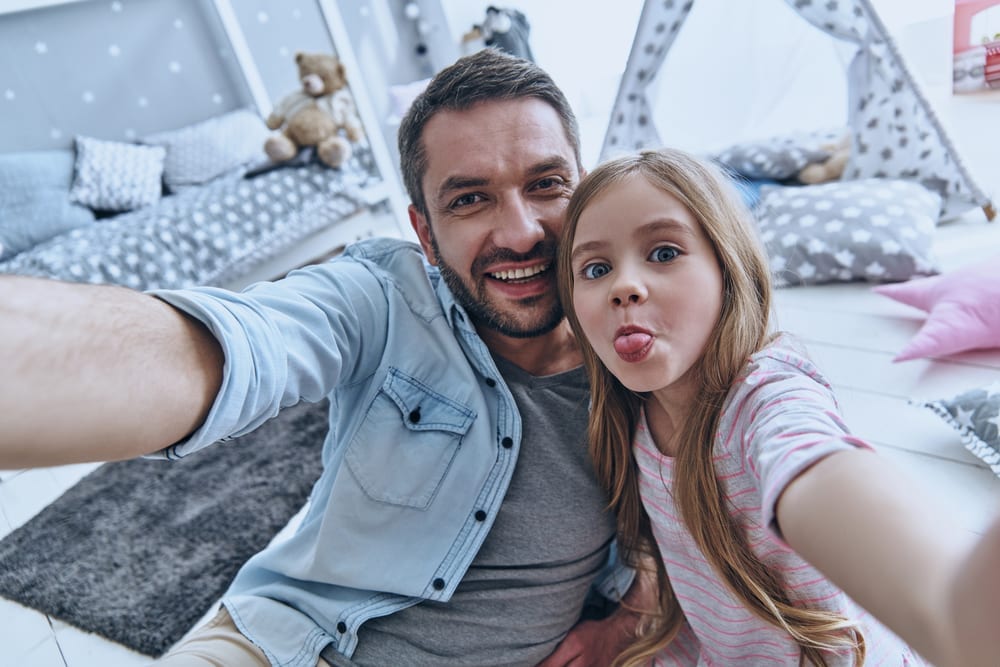 Dads you play such an important role in your daughters' lives. The father-daughter relationship is one like no other.
Our lives get busy and it's easy to let the days and weeks roll on by without making one on one time with your little girl. But when you do, that's when the magic happens.
It doesn't really matter what you do together. What matters is the message you give to her by making the time to devote just to her. To play together and to have the chats and laughter that unfold as you do.
Being a great dad involves simply being there – showing up and getting involved.
It may not seem like a lot to spend an hour playing Lego with your daughter or an hour pottering in the garden together but they will cherish these moments. And these moments are what memories are made of.
Here are 20 fun father daughter activities to try today.
1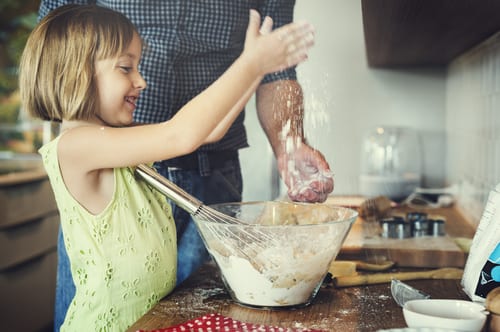 1
The great father daughter bake off
Set yourselves a baking challenge and go head to head in the kitchen.
Who will be star baker and make the best Swiss Roll or the fluffiest meringues? On your marks. Get Set. Bake!
2
2
Go Geocaching
Geocaching is an app where you locate and spend time tracking down treasures hidden all around you.
Head out on an adventure together, searching for a hidden item near you.
Often the actual prize you find can just be something small like an old toy, but the real magic is the time you'll spend together tracking it down.
3
3
Make and fly a kite
Make the biggest and baddest kite you can. There are loads of videos on Youtube to give you ideas, we've included one here.
Take it out for a test drive on a windy day and spend a fun afternoon getting it to fly.
4
4
Build an epic fort
Not just your average fort but THE very best fort you can both imagine.
Or go all out and build a treehouse together.
5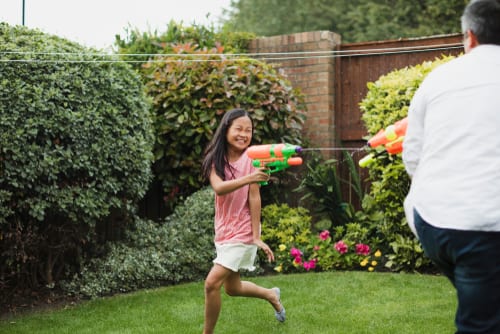 5
Start an almighty water fight
On a sunny day arm yourselves with water bombs, water guns and the hosepipe for an epic water fight.
6
6
Take her to a football game, a ball game or concert of her favourite band
Pick something you love or that you know she's crazy about and make some of the best memories together.
7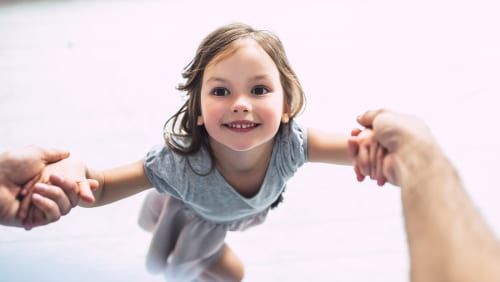 7
Get skating
When did you last put on a pair of skates? Trying a new activity together can be a really great way to bond.
So grab some roller blades or hit your local ice rink and enjoy learning a new skill together.
8
8
Ride rollercoasters
Be daredevils together riding roller coasters and having a go on the most exciting rides at the theme park.
Or, if white-knuckle rides are not your girl's thing ride a Merry Go Round together. So much fun!
9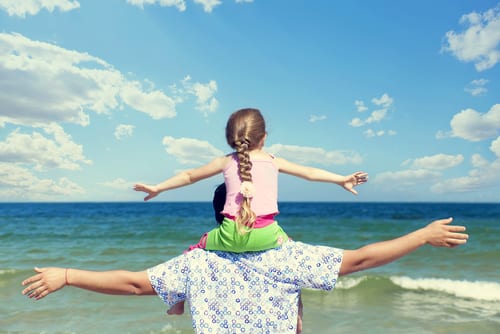 9
Jump the waves
You don't need to wait for the sun to shine to hit the beach. It's a wonderful place to spend time together, whatever the weather.
Jump waves or paddle if you dare, search for shells, look for driftwood or sea glass or just enjoy walking across the bay together.
10
10
Flex your green fingers
Head to your local garden centre and pick out some seeds, bulbs or plants to grow.
Then spend an afternoon flexing your greenfingers as you plant them pots or in the garden.
11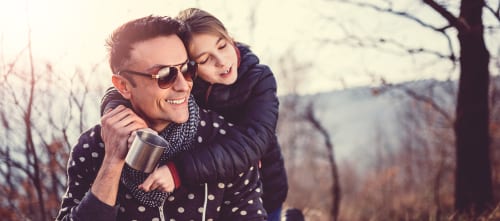 11
Spend a night under the stars
Dig out the tent, dust off the camping stove and spend a night under canvas together, just you and your girl.
Magical memories can be made as you toast marshmallows over a stove and snuggle down in your sleeping bags, chatting before you fall asleep.
12
12
Hit the shops
Shopping might not be your number one choice of how to spend a Saturday afternoon but your daughter will love taking Dad along to help her browse.  
It doesn't have to be for clothes and accessories. Browse second hand bookshops together or vintage record shops.
Find a flea market or vintage fair and enjoy an afternoon exploring the treasures on offer. Shop til you drop (and make sure to take some extra cash with you!)
13
13
Build a go cart
Remember making these as a kid?
It's the perfect project for you to do with your girl and show her how Dad used to tear up the neighbourhood as a boy.
14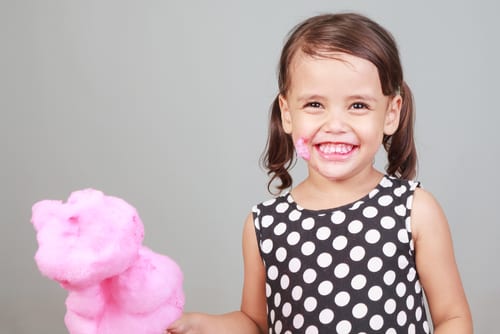 14
Start a Daddy daughter dinner night tradition
Once a month take your little girl out for a special Daddy daughter dinner night. Both of you can get dressed up to the nines and then enjoy a meal out or a special treat.
Your little girl will no doubt have lots of ideas about all the places you can go together. Let her choose and she'll start to look forward to her special Dad day each month.
15
15
Go on a bike ride
Get the bikes out of the shed and head out together on a bike ride. You can just pick a direction and have an adventure to see where you end up or pre plan a special ride in a beautiful area.
Pack treats and drinks in your baskets to enjoy as a pit stop together.
16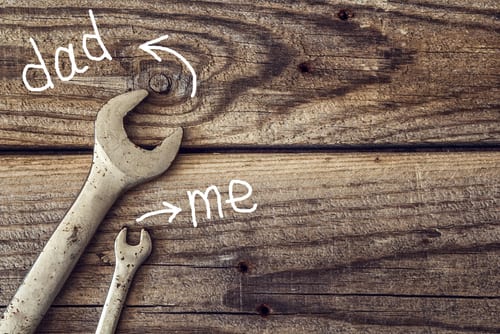 16
Dad's little apprentice
Arm your girl with some tools and a pinny and ask her to be your apprentice for the afternoon. Show her how to check the oil in the car, how to fix a bike or how to bleed the radiators.
If you are always making things from wood, show her how. If you love to paint, teach her too.
You can spend some happy times together and teach her a whole heap of practical skills too that will stand her in good stead.
17
17
Work it out Dad
Find a Youtube video or fitness app and work out together. Or try some yoga poses together.
Can you do 'The tree pose?' Either way, we bet you'll both have great fun trying.
18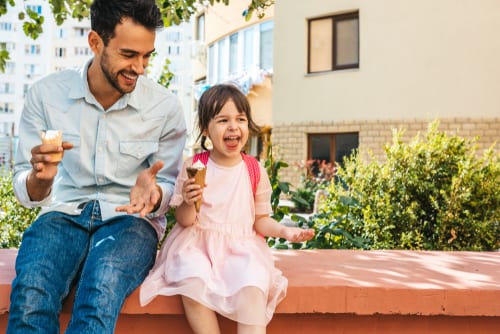 18
We all scream for ice-cream
Especially if you notice that your daughter is looking sad or down, but sometimes just because – scoop her up and take her out for a Daddy-daughter treat.
Drink ginormous cups of hot chocolate with all the trimmings or to eat huge bowls of delicious ice cream.
19
19
Indulge in some dad dancing
Show her your best moves as you boogie together to her favourite songs.
Whether it's perfecting some twirls to 'Let it Go' or shaking your thang to some 'Little Mix' it's all good! Check out this hero dad dancing to Frozen with his son. 
20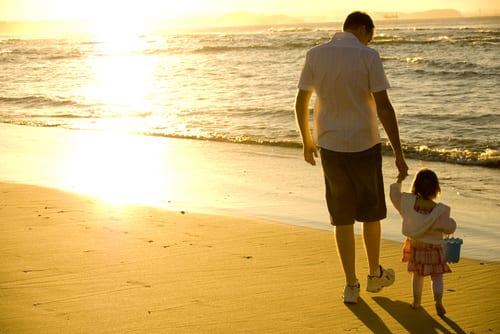 20
Watch a sunset together
The bookends of the day are magical times.
Take some time in the evenings to sit and watch the sunset together and have a chat about your day.
Or if you're more adventurous, set your alarms and sneak out of the house before dawn to find somewhere to spread a blanket and watch the sunrise.